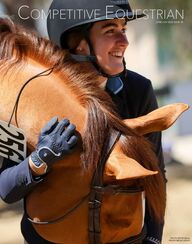 Return to flip book view
The Competitive Equestrian June/July 2022
Page 1
FEATURE ARTICLESBRITTANY HILDEBRANDCATHERINE TYREELENS ENVYKIKI KALTWASSERTHETHE CCOMPETITIVEOMPETITIVE EEQUESTRIANQUESTRIANJUNE/JULY 2022 ISSUE 38PHOTO ©TORI BILAS, PHELPS MEDIA GROUP
Page 2
561-753-3389 | info@phelpsmediagroup.comevent management | website development | public relations | photojournalism | marketing | social media elevating your brand beyond the in-gate. world-class service, worldwide exposure
Page 3
June/July 2022 TCE 3________________________________ThECompETiTivEEquEsTrianJUNE/JULY 2022The Competitive Equestrian© 2022 by Equestrian Communications USA LLC, all rights reserved. This publication may not be reproduced or quoted in whole or in part by any means, printed or electronic, without the written consent of the publisher. Submissions: Magazines will gladly consider all articles, news, letters, and photographs for publication, but assumes no responsibility for unsolicited material. Submissions may be edited. Letters are assumed publishable unless we are advised otherwise. All submissions should meet our ad deadline to facilitate inclusion in next issue.Publisher & Executive EditorLORNA LOWRIE6 Longines Global Champions Tour Miami Gallery by Phelps Sports34 Equitation Across The Pond withEquitation Across The Pond with Hunter Hunter Jumper-Equitation Jumper-Equitation By: Olivia Airhart, Phelps Media Group40 Product Focus: From Conception to Household Name: The Story of Perfect Prep EQ™ By Jessica Brighenti, Phelps Media Group46 Pioneering The Wild West with Ali and Francie Pioneering The Wild West with Ali and Francie Nilforushan Nilforushan By Olivia Airhart, Phelps Media Group56 Thank You Phelps Media Group80 Kentucky Kentucky Horse Shows Spring GalleryHorse Shows Spring Gallery By Sydney Jones, Phelps Media Group 112 HMI Horse Shows Spring GalleryHMI Horse Shows Spring Gallery TCE Photography142 Product Focus: Schulz By Lindsay Brock142 WeRideTogether.Today is leading the charge to end sexual misconduct in sport By Lindsay BrockContentThe Competitive EquestrianEquestrian Communications USA LLCeditor@TheCompetitiveEquestrian.com561-753-3389 | info@phelpsmediagroup.comevent management | website development | public relations | photojournalism | marketing | social media elevating your brand beyond the in-gate. world-class service, worldwide exposurePhoto ©TCE PhotographyContributing WritersOLIVIA AIRHART, PHELPS MEDIA GROUPLINDSAY BROCKJESSICA BRIGHENTI, PHELPS MEDIA GROUPTORI BILAS, PHELPS MEDIA GROUPSYDNEY JONES, PHELPS MEDIA GROUPContributing PhotographersOLIVIA AIRHART, PHELPS MEDIA GROUPJESSICA BRIGHENTI, PHELPS MEDIA GROUPLINDSAY BROCKTORI BILAS, PHELPS MEDIA GROUPGEORGIE HAMMOND, PHELPS MEDIA GROUPSYDNEY JONES, PHELPS MEDIA GROUPHMI HORSE SHOWSTCE PHOTOGRAPHYPHELPS SPORTSCoverBy Tori Bilas, Phelps Media Group
Page 4
Page 5
On the road or in our storeCall: 530-661-0222Email: tackwarehouse@yahoo.com
Page 6
Ashlee Bond soaking in the sun and the crowd with Karoline of Ballmore taking a bowPhoto by Olivia Airhart, Phelps Sports
Page 7
MIAMI 2022Gallery by Phelps Sports
Page 8
Cannes Stars team rider, Johnny Pals and CharliePhoto by Olivia Airhart, Phelps Sports
Page 9
Page 10
Christian Kukuk and Mumbai soaring over the jumps in the €95,200 Global Champions League of Miami Round 1 – 1.50/1.60M CSI5* for the Berlin EaglesPhoto by Olivia Airhart, Phelps Sports
Page 11
Page 12
Jordan Coyle and Ariso coastin over the nal fence in the Grand PrixPhoto by Olivia Airhart, Phelps Sports
Page 13
Page 14
Katrin Eckermann had a heavenly backdrop for an unforgettable victory gallopPhoto by Olivia Airhart, Phelps Sports
Page 15
Page 16
Katrin Eckermann and Cala Mandia heading into the rst round of the Longines Global Champions Tour 1.60m Grand Prix of Miami CSI5*Photo by Olivia Airhart, Phelps Sports
Page 17
Ömer Karaevli and Cheston De La Pomme D'or Z riding for the Istanbul SultansPhoto by Olivia Airhart, Phelps Sports
Page 18
Riders, spectators, and horses were excited to watch competition return to the iconic location following a two-year hiatus due to the COVID-19 pandemicPhoto by Olivia Airhart, Phelps Sports
Page 19
Page 20
Scandinavian Vikings rider, Jordy Van Massenhove watching teammate Yuri Mansur face across the nish linePhoto by Olivia Airhart, Phelps Sports
Page 21
Page 22
Sanne Thijssen and Zeppelin Blue laying down a showstopping round for the crowd on the nal day of competitionPhoto by Olivia Airhart, Phelps Sports
Page 23
Page 24
Shane Sweetnam and Alejandro soaring over the beach-side crowd in the LGCT 1.60m Grand Prix of Miami CSI5* Shane Sweetnam and Alejandro soaring over the beach-side crowd in the LGCT 1.60m Grand Prix of Miami CSI5*Photo by Olivia Airhart, Phelps Sports
Page 25
Page 26
Spectators awaited a nail-biting nish as Katrin Eckermann challenged Shane Sweetnam's leading time as the nal contendor in the Longines Global Champions Tour 1.60m Grand Prix of Miami CSI5*Photo by Olivia Airhart, Phelps Sports
Page 27
Page 28
Taking in the iconic Miami Beach views as Olivier Philippaerts And Zayado compete for the Stockholm HeartsPhoto by Olivia Airhart, Phelps Sports
Page 29
Page 30
Yuri Mansur and Humberto Ask braved the south Florida storm and were the nal pair to compete before the class was cancelled Saturday evening due to inclement weatherPhoto by Olivia Airhart, Phelps Sports
Page 31
Page 32
PHOTOS © CATHRIN CAMMITJANUARY 19 - MARCH 20MAJOR CIRCUITSNOVEMBER 3-7FEI 3*NOVEMBER 10-14 $65,000 USHJA Regional Hunter Derby Championships OVER $5 MILLION IN PRIZE MONEY THIS SEASON FEI 3* FEI 4* WEEKS 2, 3, 5, 6 WEEK 8$50,000 USHJA International DerbyWEEKS 4 & 7$100,000 USHJA West Coast Hunter SpectacularWEEK 8PENDING USEFUSHJA APPROVAL DECEMBER 1-5 DECEMBER 8-12FEI 5*/2* $25,000 USHJA International Derby20212022
Page 33
PHOTOS © CATHRIN CAMMITJANUARY 19 - MARCH 20MAJOR CIRCUITSNOVEMBER 3-7FEI 3*NOVEMBER 10-14 $65,000 USHJA Regional Hunter Derby Championships OVER $5 MILLION IN PRIZE MONEY THIS SEASON FEI 3* FEI 4* WEEKS 2, 3, 5, 6 WEEK 8$50,000 USHJA International DerbyWEEKS 4 & 7$100,000 USHJA West Coast Hunter SpectacularWEEK 8PENDING USEFUSHJA APPROVAL DECEMBER 1-5 DECEMBER 8-12FEI 5*/2* $25,000 USHJA International Derby2021202212th AnnualHUNTER DERBYI s Pr esen t ed ByIn Benefit OfHunter Divisions For All Levels$10,000 Franktown Meadows Hunter Derby$5,000 Non-Pro Hunter Classic • $1,000 Welcome StakeJune 24 - 26, 2022 • Reno, Nevada • FMHunterDerby.com
Page 34
34TCETheCompetitiveEquestrian.comEquitation Across Equitation Across The Pond with The Pond with Hunter Jumper-EquitationHunter Jumper-Equitation HollandBy: Olivia Airhart, Phelps Media GroupAt least once in their life, every young rider fantasizes about basking in the spotlight with a gold medal on the top of the podium or feeling the roar of the cheering crowd as they take their victory gallop in a packed stadium aboard their horse. The grandeur and glamour of the sport of showjumping has always garnered the appeal of the masses in Europe, however, as the only jumping discipline offered throughout a majority of the continent, showjumping holds an unopposed monopoly over the past and present state of the sport. But, two Americas turned Netherland citizens have made it their mission to offer alternative opportunities for young riders through their grassroots organization Hunter Jumper-Equitation Holland. Hunter Jumper-Equitation Holland (HJE Holland) is an up-and-coming organization based out of Green Valley Estate in Deurne, The Netherlands, aiming to bring the American style of riding such as the hunter and equitation divisions to Europe to offer an alternative to the high-speed, high-stakes discipline of time-based jumping competition. By offering friendly, low-pressure events HJE Holland intends to educate young and adult riders alike on the importance of a proper foundation in their riding technique and horse welfare. HJE Holland is pushing against the current to kickstart a new wave of horsemanship and camaraderie that riders of all levels can enjoy. The hunter and equitation disciplines held at HJEH are judged by United States Hunter Jumper Association (USHJA) certied professionals utilizing their rules and time-honored traditions. In the hunter classes, the judge is focused on the performance of the horse or pony while the equitation classes are judged based on a rider's technique and effectiveness over a course of jumps. While these disciplines are open to riders of all ages in both The U.S. and at HJE Holland, these disciplines serve as the American foundation of riding, having produced some of the top athletes seen on the world stage such as McLain Ward, Beezie Madden, Jessica Springsteen, and more. One such rider who grew up with a lucrative career in the junior divisions, Joan Scharffenberger-Laarakkers is helping to lead the change for HJE Holland serving as the Vice President and Head of Training and Development. Scharffenberger-Laarakkers, formerly Scharffenberger, grew up in California and had experienced her rst memories from a Western saddle. At the age of nine, she transitioned to the hunter and equitation divisions and when she reached the age of 15, she formally began competing in the "Big Equitation" divisions and moved to New York to train with Judy Richter, where she went on to win the Junior Jumper Champion of the Florida Circuit, Junior Jumper Champion and Best Child Rider Title at Devon Horse Show, M. Michael Meller of MMM Horseman and QBS Equestrian
Page 35
35 TCEJune / July 2022Equitation Across Equitation Across The Pond with The Pond with Hunter Jumper-EquitationHunter Jumper-Equitation HollandChampion Jr. Hunter at OxRidge Horse Show, and was the winner of the USA National Finals in Equitation - USHJA Medal FInals in 1980. Her stellar career as a junior rider served as s springboard for the talented young athlete to kickstart her professional riding journey. From 1985 to 1995, she served as a member of the US Equestrian Team and was a winner of Nations Cups in Hickstead, Aachen, Copenhagen, Calgary, Washington, New York, and Toronto. Scharffenberger-Laarakkers went on to win the Nations Cup Final in Lanaken, serve as a member of the World Equestrian Games team in Stockholm, was a World Cup winner in Harrisburg, and winner of 5* Grand Prix in Chaudfontaine and Winner of the Lufthansa Trophy Wiesbaden. Following her immense success as a female rider in the late 80s and early 90s Scharffenberger-Laarakkers' philosophy of riding never wavered. In a twist of fate, Scharffenberger-Laarakkers has recently reunited with an old acquaintance from her days as a young rider in an effort to bring the highly successful model of American equitation to their European audience. HJEH has partnered with American equestrian, trainer, owner, and philanthropist M. Michael Meller to found a new and challenging equitation class, the M. Michael Meller International Equitation Medal. Meller, of MMM Horseman and QBS Equestrian, is a lifelong horseman. Having ridden from a young age, the Rhode Island native rose through the ranks of the American equitation system as a junior competing in the "Big Eq" classes and eventually moving on to the showjumping ring. Meller, who always had an eye for picking young mounts, found his niche as a trainer and has aided in producing some of the sport's successful mounts who have gone on to win and compete in FEI WBFSH Jumping World Breeding Championship for Young Horse in Lanaken, the Longines Global Champions Tour shows, and Longines FEI Jumping Nations Cup™ events.Meller and QBS Equestrian's primary goal is to educate and develop young horses and riders to pass on the art of horsemanship to the next generation. With this in mind, Meller founded the M. Michael Meller Style of Riding Award. Awarded to athletes such as Margie Engle, Kent Farrington, Brian Moggre, Eric Navet and many more, the award has been received by showjumpers competing at an international level who exude the highest degree of horsemanship, sportsmanship, and style both in and out of the ring. When Meller decided to cross the pond and expand his ventures in the European market, he partnered with the up-and-coming horse show organization HJE Holland to bring his expertise in the American style to their eager audience. Working alongside friend and fellow rider Joan Scharffenberger- Laarakkers who serves as the Vice President of HJE Holland as well as the Head of Training and Educational Development, Meller wanted to design a competition that would give riders a foundation for proper riding technique and reward them with the prestigious honor of winning the Style Award. Scharffenberger- Laarakkers noted, "I remember walking the course with Michael when we were both young, up-and-coming riders and enjoyed his philosophical outlook on the technical challenges we would come across. According to Michael, most riders seemed to make it much more complicated than necessary, and I agreed! He is full of great ideas, and his vision of bringing horses and riders together to give both a chance to succeed is a wonderful concept and as a result, is at the benet of the horse by putting their welfare rst. His idea of sponsoring this Equitation class with a nal prize here in the Netherlands will stimulate more riders to work hard at perfecting their riding skills and is vital to equitation becoming a lasting discipline here." Meller echoed his longtime colleague stating, "I am honored to have aided in bringing this new class to life along with HJE Holland. The class and the organization are testaments to our core beliefs at QBS Equestrian and MMM Horseman. The care and attention to detail that HJE Holland has invested in developing
Page 36
young horses and riders and teaching them the proper art of horsemanship warrants a round of applause. They are bringing riders back to the basics and creating unique opportunities for them to achieve something that extends beyond a ribbon and a fast time. They can walk away from an HJE Holland show with a better understanding of the fundamentals of riding that serve as building blocks to be truly successful in the sport. I honor the immense effort it has taken on their behalf to bring something up from the grassroots to this level and feel strongly that our aligning beliefs will aid in strengthening the next generation of riders and horses." The M. Michael Meller International Equitation Medal, sponsored by QBS Equestrian is a new equitation jumping competition open to European riders aged 35 and younger. The two-round competition is set at 110 cm with the rst round consisting of 8-14 jumping efforts. The top four scoring riders are called back to ride in a second jumping round as a 'test' designed by the judge. Meller's devotion to developing riders who utilize "form with function" prompted his decision to develop a class where the competitors are rewarded not on how fast they can make it around the technical track, but on how they showcase effective technique and functional form in an effort to create a true partnership with their horse. "Equitation is all about form with function," stated Meller of QBS Equestrian. "It serves as the primary building blocks for a solid understanding of the mechanics of riding and encourages not only proper form and technique, but also good horsemanship and riding with the horse, not just passengering. Each rider has their own unique style that develops as they grow and mature in their technique, but it all comes back to the basics and a proper foundation. I believe equitation rewards those that nd the balance and harmony of a seamless round where the horse and rider move together as one. That is the true meaning of partnership." The class made its inaugural debut during their show held on May 14-15 at Perseverance Eq. Plaza in Ambt Delden. The rst of many to be held, the rider who competes in at least three of the classes over the course of the 2022 season will be eligible to win the M. Michael Meller Style of Riding Award. As an added bonus to the already prestigious title, the winner will receive the opportunity of a lifetime to travel, all expenses paid, to Wellington, Florida to ride and train with top equestrians on behalf of Meller and QBS Equestrian during the 2023 winter show season. Meller explained, "Wellington is the mecca for not just top showjumping, but primarily equitation and hunter divisions. Of the sports' top junior riders who have gone on to win the ASPCA Maclay and other big equitation championship nals, many are based in Wellington for the winters. The rider who showcases the best technique, style, sportsmanship, and horsemanship both in and out of the ring will have the opportunity to train and ride side by side with these top young athletes and learn from the best of the best in the sport." In a world where the sport can seem to operate with tunnel vision, only focused on speed and the height of the jumps, HJE Holland and M. Michael Meller of QBS Equestrian are bringing fresh and diverse developments to the European structure of competitions. By aligning beliefs and core values, their partnership is rooted in the hopes of seeing a change in the next generation of riders who like HJEH and M. Michael Meller put horse welfare rst. Patricia Bade van Motman, President of HJE Holland, with Joan Scharenberger-Laarakkers, Vice President and Head of Training & Educational Development at HJE Holland. Photo by Photo by Mathilde Tarchiani
Page 37
Candice van Motman - Winner of the Child Equitation at HJE Holland Horse ShowMason Phelps (left) and M. Michael Meller (right) presenting Laura Kraut with the M. Michael Meller Style of Riding Award at The National Horse Show. Photo by Taylor Renner, Phelps Media Group
Page 38
2022 KENTUCKY HORSE SHOWS SPRING & SUMMER SERIESWorld Champion Hunter Rider Event $10,000 USHJA International Hunter Derby $5,000 USHJA National Hunter Derby $37,000 CSI 3* Welcome Speed $37,000 CSI 3* Spring Classic $140,000 CSI 3* Hagyard Lexington GP $35,000 Commonwealth Grand Prixsponsored by Audi of Lexington$15,000 Under 25 Grand Prix$5,000 USHJA National Hunter Derby $37,000 CSI 3* Welcome Speed $37,000 CSI 3* Spring Classic $140,000 Mary Rena Murphy GP sponsoredby Hagyard Equine Medical Institute $35,000 Bluegrass Grand Prix sponsored byAudi of Lexington $15,000 U25 Grand PrixKentucky Summer Horse Show Kentucky Summer Classic $25,000 & $50,000 Grand PrixWCHR Qualifying ShowPremier Rated HuntersLevel 5 Jumpers$25,000 & $50,000 Grand PrixPremier Rated HuntersLevel 5 JumpersS a v e t h e D at esKentucky Spring Horse Show Kentucky Spring Classic KHJA Horse Show Bluegrass Festival Horse Show $25,000 & $40,000 Grand PrixWCHR Qualifying ShowPremier Rated HuntersLevel 5 Jumpers$15,000 Welcome Stake & $30,000 Grand PrixPremier Rated HuntersLevel 4 JumpersFeaturingPlatinum Performance/USHJA International HunterDerby ChampionshipOver $321,00 in Awarded in 2021! &Platinum Performance/USHJA Green Hunter IncentiveChampionshipOver $257,000 Awarded in 2021! *Contact USHJA Hunter Department athunterdept@ushja.orgAll Horse Shows FeatureWIHS & NAL Qualifiers plus Show Jumping Hall of Fame Classics$5,000 USHJA National Hunter DerbyMay 10-15 May 17-22Jul. 27-31Aug. 2- 7Aug. 16-21Aug. 24-28USEF Pony Finals Contact ponyfinals@usef.orgAug. 9-14
Page 39
Page 40
From Conception to Household Name: The Story of Perfect Prep EQ™By: Jessica Brighenti, Phelps Media GroupTop professionals understand that the management of performance horses is a ne art. To reach the highest levels of the sport, one must become an expert in all elds, including learning to identify and attain proper farrier and veterinary care, execute eective training practices, and become a correct and communicative rider. Finally, one must properly support their horses' physical and mental wellbeing, beginning in the feed room.Je Morgenstern, Founder and CEO of Perfect Products, knows this well. For years, he's served as a resource to top riders and trainers looking to nutritionally solve common problems aecting the performance of their equine athletes. When the experts need answers to their horse management challenges, Morgenstern is always glad to take their call.How does one become a resource for the equine elite? For this horseman, it began with the quest to solve his own horse's challenges at a time when no eective nutritional solutions existed. Of particular interest was solving the age-old issue of encouraging the horse's mental focus without relying on over-riding or extensive lunging practices.PRODUCT FOCUS | PERFECT PREP EQ™Jennifer Bauersachs and AugustinePhoto by Tori Bilas Phelps Media Group
Page 41
From Conception to Household Name: The Story of Perfect Prep EQ™PRODUCT FOCUS | PERFECT PREP EQ™
Page 42
42TCETheCompetitiveEquestrian.comA horseman among a family of diverse competitors in Western Trail, Hunters and Reining, Morgenstern says of Perfect Products' inception, "I had frequent discussions with other horsemen about a struggle we all shared - the need to bring a cooperative horse to the show ring. We were all seeking a way to ethically create a show ready horse, stay within all the association regulations, while cutting down on lunging and over-riding. I thought to myself, 'I can solve this.' So, I began researching."While equine studies regarding nutritional supplementation for anxiety were scant at the time, Morgenstern looked to human studies. Humans and horses respond similarly to these ingredients, and as Morgenstern puts it, "humans are easier to study - they're better reporters."After thoroughly researching the management of anxiety in humans, he identied successful active ingredients that could be safely implemented into a horse's diet. Morgenstern worked with an FDA and NASC certied manufacturer to develop a test batch of pastes in individual syringes containing vitamins, minerals, and amino acids. With 100 tubes in hand, Morgenstern delivered the syringes to his industry counterparts. "Try this and if you want more, give me a call."When the phone started ringing, a company was born and his agship product, Perfect Prep EQ™, eventually became the household name it is today.The relationships built between Perfect Products' Founder and top professionals have only strengthened over the years. The same riders and trainers who Morgenstern advises now also serve as eld testers for his developing formulas.Jen Bauersachs, top hunter rider and trainer and owner of Spring Hill Farm, has known and worked with Morgenstern for over 16 years. She employs the Perfect Products brand to help assure the health and happiness of her horses. She explains, "Je has helped me tremendously with my program. He asks me to test a lot of his products, and I trust that whatever he has is appropriate to use in the show ring and safe and eective for the horses. I would recommend any product within the Perfect Products brand and would use it condently with my horses."Since the company's launch in 2006, Perfect Products has developed a lineup of innovative nutraceutical solutions for equine anxiety, pain, gastric ailments, muscle and back soreness, joint stiness, and soreness and more. The ecacy of these formulas is renowned in the industry.Most recently, Perfect Products launched performance support formulas FlexSyn™ and EquiBlok™ in suppository tabs, the latest delivery technology for rapid absorption without injections. Easy to give and always show safe, these formulas create an alternative to the old standby methods of injections and NSAIDs that often come with undesirable side eects and withdrawal times. The new formulas are just another example of the research-driven solutions from Perfect Products that address the needs of competitive equine professionals.When asked about the philosophy behind Perfect Products, Morgenstern says, "We identify the problem, we address the metabolic cause of the problem, and then we provide the nutraceutical solution to the highest tier professional horsemen for evaluation. When they call us wanting more, we know we've succeeded." Je Morgenstern
Page 43
Page 44
44TCETheCompetitiveEquestrian.com
Page 45
Page 46
46TCETheCompetitiveEquestrian.comPioneering The Wild Pioneering The Wild West with Ali and Francie West with Ali and Francie NilforushanNilforushanBy: Olivia Airhart, Phelps Media GroupAli Nilforushan high-ving a team member after watching one of his students in the Grand Prix ArenaPhoto by Tori Bilas, Phelps Media GroupOver the past ve years, the California equestrian industry has witnessed a myriad of changes. From exponential growth and the funds being pumped in in preparation for the 2028 Los Angeles Olympics to new horse shows moving in, positive change is apparent, but it would be a lie to say that there is not a dark side to the wild west that is the California equestrian scene. With historic venues on the brink of extinction, battles raging for sanctioned ratings, and EHV spreading like wildre up and down the coast, some equestrians are taking it upon themselves to champion the future of the sport and bring about the much-needed change to make California not just a destination for local riders, but a world-class destination for everyone to enjoy. At the center of these pioneers lie Ali and Francie Nilforushan of Nilforushan Equisport Events. The duo has owned and operated the Temecula Valley National Horse Show Series for four years, and in that short amount of time, they have played a key role in transforming one of the only multi-disciplinary venues in the state. Francie Nilforushan, who showed locally in California as a junior stated, "Growing up, some of my best memories came from showing in county shows at Galway Downs. It looked completely dierent at the time, so dierent it's hard for to me to remember what it looked like. When Ken Smith purchased the property, the place really started to turn around. He built a beautiful wedding venue and invested in the soccer elds that make up the other portion of the expansive property. Ali was always talking about starting a series of horse shows, but when I brought up Galway Downs he said absolutely not. One day we were driving to Thermal and to his dismay, I took a detour and pulled into Galway, insisting that he at least take a look. He immediately saw the potential and the rest is history! I also now get to say, 'I told you so.'"
Page 47
47 TCEJune / July 2022Francie's local roots combined with Ali's Olympic showjumping background provided the perfect foundation for the Temecula Valley National Horse Show Series which includes all levels of competition from puddle jumpers and ponies all the way up to National Grand Prix's which are frequented by the likes of Mandy Porter, Eric Navet, Lorcan Gallagher, Will Simpson, and more of the world's top athletes. As opposed to many of the modern horse show managers, Ali, and Francie above all value the inclusivity and importance of competition for all levels of riders. With the rise of Major League Show Jumping, new venues grasping at FEI sanctioning, and the overall domination of A-rated shows, the industry though growing in terms of infrastructure is becoming less and less accessible and shrinking the pool of opportunity for developing amateur riders to participate in. With this in mind, the Nilforushans have never referred to the rings aside from their Grand Prix Arena as annex rings. Ali Nilforushan expanded upon this stating, "My philosophy is to make sure everyone has a great experience regardless of the level they show at. For example, I tweak the footing in each arena depending upon the classes being held there. Small ponies and grand prix horses both deserve the best quality footing, but each requires a dierent preparation to do their best job. Each arena should feel special, it denitely costs money, but we've worked hard over the last few years to build arenas that Francie and I are proud of. In addition, the courses for those developing levels must be thoughtful and considerate to the level of rider or horse. I'm not looking for a course designer to be a hero or for the course to win. That applies to all levels of competition. I am always personally checking the courses to make sure they are class appropriate. This is made easier by always hiring the best course designers.
Page 48
While we are very much still a work in progress, I am very hands-on to make sure the experience is the best it can be for everyone involved."Francie echoed her husband's mentality stating, "Each person that comes to our shows is important to us. Every time Ali and I pull into our show, and we see every barn lled, we say 'Wow, it's so amazing that this many people have chosen to support us.' Whether they are jumping the grand prix, or entering cross rails for the rst time, we want every rider to have the best experience at NEE. This includes those who take advantage of our OTTB program and the CDP Foundation riders that are competing at our shows. It's always been our mission to create ways to make our sport accessible to more riders. There are so many OTTBs that need homes, so our OTTB incentive program is intended to not only give thoroughbreds a chance at a second career but also an aordable option for riders to have access to our shows. We also committed to oering a scholarship to the two CDP Foundation riders, but after reading the top 10 applications we chose to give all 10 riders credit at our shows. This gave these riders opportunities they would not have had if it wasn't for our partnership with the CDP Foundation."Within the past year, the Nilforushans built another brand-new jumper ring at Galway Downs in addition to remodeling their Grand Hunter arena, resurfacing all the schooling arenas, and added additional permanent exhibitor structures throughout the property. The new arena proclaimed to be a new favorite of Temecula Valley National Horse Show exhibitors, provided much-needed space for the Nilforushans to be able to run their newest venture, the National Equestrian Tournament. Staying true to their core values, The National Equestrian Tournament was created with the idea of allowing all levels of riders both hunters and jumpers to compete for real prize money holding true to the Nilforushan's core mission of making the sport accessible to as many riders as possible. Ali recalled when he rst came up with the idea for the new tournament adding, "I have been racking my brain for years on how to oset the signicant cost associated with our sport. One day, a good friend of ours who is a professional poker player was telling me about their tournaments. They are funded with buy-ins and that's how I came up with the idea. I took it to the next level by oering huge perks and savings so that, in the end, you save more money than the amount you paid to enter the tournament. It also works because the tournament is an overlay on the regular classes. If you're not interested in joining, no problem. If you believe you're competitive in your division and want to jump for serious money, then you enter. The reality is, that not every rider will be a grand prix rider or a top-level hunter rider, but that shouldn't mean you can't jump for serious money in your division. This sport is expensive for every level, but this concept can lessen that blow. This concept can be licensed through USEF, and I hope this gets adopted throughout the country at shows of all levels."The newly constructed Hunter I ring is an exhibitor favoritePhoto by Bailey Beal, Phelps Media GroupThe newly added Jumper 2 arena has some of the best views on the propertyPhoto by Bailey Beal, Phelps Media Group
Page 49
Page 50
Junior riders got to enjoy some cuddle time with their mounts at the NAYC jogPhoto by Tori Bilas, Phelps Media Group
Page 51
Page 52
52TCETheCompetitiveEquestrian.comMavis Spencer, winner of the $5,000 1.35m Welcome Stake during The Temecula Valley National Premier Horse ShowPhoto by Tori Bilas, Phelps Media Group
Page 53
Page 54
Nilforushan Equisport Events new Grand Prix Arena in-gatePhoto by Cassidy Klein, Phelps Media Group
Page 55
Page 56
THANK YOUPhelps Media Group would like to extend a thank you to clients for such an incredible 2022 Winter Equestrian Festival season! The PMG team would like to recognize clients that celebrated success throughout the circuit, and looks forward to supporting clients through an exciting summer and fall show season. Diane Creech and Chrevi's Christo earned 4th place nish in the CDI5* Grand Prix to qualify for the Grand Prix Special in Week 7 of the AGDF
Page 57
Vanessa Creech-Terauds and Fleur de Lis L earned a team gold medal for the Canadian CDIO-U25 for the second year in a row, as well as an individual silver medal for their CDIO-U25 Grand Prix performance
Page 58
Andrew Bourns took a 6-7 nish in the FEI $75,000 CSI 5* CaptiveOne Advisors 1.50m Championship during WEF V aboard Andrew Bourns Sport Horses & QBS Equestrians's mounts Sea TopBlue and Darquito
Page 59
Page 60
Beacon Hill Show Stables saw 10 of their students compete in the WEF Equitation Championship out of the 46 qualied entries, with three of those students nishing in the top 12Carriage Hill Farms' Meredith Gallagher and John Beebe's Gold Label were Circuit Champion in the Thoroughbred Jumpers
Page 61
Erin Brown of the Philadelphia Urban Riding Academy (PURA) presented Missy Clark of North Run with a special award during WEF VII in recognition of her service and support of PURAAngela Calicchio and City Walk won the $10,000 USHJA Hunter Derby Amateur Section during WEF VII
Page 62
Victoria Colvin earned WEF Overall Hunter Rider for the third year in a row
Page 63
Page 64
Becky Conway and Brittany Hildebrand's Jersey Girl topped the WEF V $6,000 Gris Residential CSI2* 1.40m out of 70 entries! ecky Conway and Brittany Hildebrand's Jersey Girl topped the WEF V $6,000 Gris Residential CSI2* 1.40m out of 70 entries!
Page 65
Page 66
Cantalupe V-D Holstenhoeve, Cat Tyree
Page 67
Page 68
Heather Caristo-Williams and QBS Equestrian's Dionysos De La Vigne took an 8th place nish in the $6,000 Bainbridge Co 1.40m
Page 69
Page 70
Daisy Farish piloted Ashland Farms & QBS Equestrian's Graf Compliment to a home a ribbon nish in the FEI $10,000 Hermes Under 25 Welcome
Page 71
Page 72
Kelly Soleau-Millar and Favoriet U sped to victory in the $2,500 CabanaCoast 1.35m during WEF IV
Page 73
Page 74
Jonathon Millar and Favoriet U placed 3rd in the $6,000 Bainbridge Co 1.40m Speed Challenge during WEF I
Page 75
Page 76
MaKayla Langmeier and Raerty Farm LLC's Bahira S won the FEI $12,000 CSI 2* CabanaCoast 1.45m during WEF XII
Page 77
Page 78
The saddle developed with one of the idol in the equestrian sport: Meredith Michaels Beerbaum. The restyle of its minimal and elegant trait is enhanced by an even more extraordinarily comfortable seat which, thanks to its unisex e ect, supports the anatomy of both sexes, making the saddle even more comfortable for female riders.X-MEREDITHDesigned for comfortwww.prestigeitaly.com
Page 79
Dressage at DevonLearn more at DressageatDevon.org
Page 80
Shane Sweetnam and Alejandro claimed victory in Saturday's $140,000 Hagyard Lexington Grand Prix CSI3*Photo by Sydney Jones, Phelps Media Group
Page 81
By: Phelps Media GroupSpring Gallery
Page 82
Great Britain's Amanda Derbyshire and Cornwall BH emerged to the top of the leaderboard as the last to go in Thursday's jump off of the $37,000 Kentucky Spring Classic 1.45m CSI3*Photo by Sydney Jones, Phelps Media Group
Page 83
Page 84
84TCETheCompetitiveEquestrian.comKentucky kissesPhoto by Sydney Jones, Phelps Media Group
Page 85
85 TCEMarch / April 2022Just as they did in 2021, Caroline Mawhinney and Stella Levista return to the Kentucky Horse Park to top the podium once again in the $15,000 Under 25 Grand Prix!Photo by Sydney Jones, Phelps Media Group
Page 86
Santiago Lambre and All In Horses Cava take the win in the $37,000 1.45m Welcome Speed CSI3*Photo by Sydney Jones, Phelps Media Group
Page 87
Page 88
Caroline Mawhinney and Stella Levista soar to the top of the leaderboard in Sunday's $15,000 Under 25 Grand PrixPhoto by Sydney Jones, Phelps Media Group
Page 89
Page 90
Hayden Wheeler poses with her mount, C Tenda after an impressive ridePhoto by Sydney Jones, Phelps Media Group
Page 91
Page 92
Olivia Sweetnam gives Coppertone some loving after the pair claim the blue ribbon in Friday's ASPCA Maclay MedalPhoto by Sydney Jones, Phelps Media Group
Page 93
Page 94
Scott Stewart and Casanova Royal prepare for competition at the beautiful Kentucky Horse ParkPhoto by Sydney Jones, Phelps Media Group
Page 95
Page 96
Kelley Farmer and Meaningful take the win in the $10,000 USHJA International Hunter DerbyPhoto by Sydney Jones, Phelps Media Group
Page 97
Page 98
Lexi Ray pilots Evita through the course in Rolex Stadium during Kentucky Spring IPhoto by Sydney Jones, Phelps Media Group
Page 99
Page 100
Just a girl and her ponyPhoto by Sydney Jones, Phelps Media Group
Page 101
Page 102
Blue ribbon snugglesPhoto by Sydney Jones, Phelps Media Group
Page 103
Page 104
Havens Schatt and Good Vibes take the victory gallop in the Stonelea RingPhoto by Sydney Jones, Phelps Media Group
Page 105
Shane Sweetnam and Alejandro claimed victory in Saturday's $140,000 Hagyard Lexington Grand Prix CSI3*Photo by Sydney Jones, Phelps Media Group
Page 106
You've got a friend in mePhoto by Sydney Jones, Phelps Media Group
Page 107
Page 108
Quite Cassini gets some love after Tessa Downey pilots the pair to a successful ridePhoto by Sydney Jones, Phelps Media Group
Page 109
Page 110
Longines FEI Jumping World Cup Lexington 4*National Horse Show Hunter ClassicChildren's Hunter ClassicAdult Amateur Jumper ClassicShow Jumping Hall of Fame Grand PrixASPCA Maclay National ChampionshipThe Hamel Foundation NHS 3'3" Equitation ChampionshipTaylor Harris Insurance Services Adult Equitation Championships Featuring
Page 111
Longines FEI Jumping World Cup Lexington 4*National Horse Show Hunter ClassicChildren's Hunter ClassicAdult Amateur Jumper ClassicShow Jumping Hall of Fame Grand PrixASPCA Maclay National ChampionshipThe Hamel Foundation NHS 3'3" Equitation ChampionshipTaylor Harris Insurance Services Adult Equitation Championships FeaturingHMI HORSE SHOWSMurieta Equestrian Center, CAHMI Equestrian Classic IJuly 27 – 31, 2022Hunter A | Jumper 4The Kindness ClassicAugust 3 – 7, 2022Hunter A | Jumper 4www. headlandsmanagement.com
Page 112
HMI HORSE SHOWS Spring GalleryBy: © TCE Photography
Page 113
HMI HORSE SHOWS Spring GalleryBy: © TCE Photography
Page 114
Page 115
Page 116
Page 117
Page 118
Page 119
Page 120
Page 121
Page 122
Page 123
Page 124
Page 125
Page 126
Page 127
Page 128
Page 129
Page 130
Page 131
Page 132
Page 133
Page 134
Page 135
Page 136
Page 137
Page 138
Page 139
Page 140
140TCETheCompetitiveEquestrian.com
Page 141
Page 142
Inspiration born from necessity was the mantra that guided Lindsey Schulz to create her namesake brand, Schulz, in 2019. The 1912 Collection, a line of head-turning ring, boot, and helmet bags, was an idea fueled by tragedy and motivated by need.When the Woolsey res devastated southern California during the fall of 2018, Lindsey's childhood barn was one of many lost to the blaze. A competitive dressage rider and lifelong horse lover, Lindsey was left overwhelmed by the thought of rebuilding. "I lost everything - as did everyone else - other than our horses," she said. "We didn't get a chance to grab saddles, bridles, boots, helmets, bits, anything. We arrived at 3am to meet the haulers, taped up all the horses' halters with our phone numbers, loaded them up and left. And then it all burned."It was during the aftermath of the res that I realized doing my part for the environment would require a commitment greater than my own daily lifestyle choices," mused Lindsey. "This meant ensuring every aspect of our products and production were meeting our standards for sustainable practices. It also meant truly functional design." A graduate of CalArts and Otis College of Art and Design, Lindsey's creative eye began leading her down a professional path she didn't see coming."In my art practice, I've been drawn to land art and land artists, studying its whole history, and focusing on making work in collaboration with the land without being harmful," she said. Lindsey drew on her experience as a creative and her passion for the subject when launching her collection. "Feeling a renewed purpose and sense of responsibility, I founded Schulz to provide a more sustainable alternative within the equine industry," she said.The rst iterations of the 1912 Collection were sketches by Lindsey herself, and the debut collection merged real-world utility with enduring elegance and longevity. "A couple months after the res, I ordered new boots to replace the ones I lost. It felt like a fresh start," recalled Lindsey. "Once they had arrived, I started looking for a boot bag. I no longer wanted to compromise on aesthetics or functionality—I needed something protective and durable that would t my style. Equestrian Bag Style Done Right: Meet SchulzBy: Lindsay BrockPRODUCT FOCUS | SCHULZ
Page 143
Equestrian Bag Style Done Right: Meet SchulzPRODUCT FOCUS | SCHULZ
Page 144
144TCETheCompetitiveEquestrian.comSomething that traveled well, especially since I was driving long distances from my new home in Northern California to shows in Los Angeles."When she went to replace the bags that carried her boots, helmet and other gear, she stumbled upon an opportunity. After struggling to nd high-quality options that would stand the test of an equestrian and not create unnecessary waste, she hit the drawing board. Literally. "Somewhere along I-5 in the middle of California, driving home from a show with the back of my car laden with bags, I decided if I can't nd the bags I have in my mind, I should make them myself. I started drawing that day."Lindsey's drawings revealed a collection of bags reecting the attention and care equestrians dedicate to their horses every day. They are intuitive to use for ease and organization. They are durable to stand up against the toughest environments and last a lifetime. They are constructed every step of the way with a responsibility to our environment and planet. Overall, they contribute a new level of care and consideration to how riders navigate their everyday training and travel.During the production process, Lindsey partnered with veteran bagmaker David Riley. He was part of the team at Lowepro, one of the rst companies to make a bag out of recycled material back in the early 2000s. Additionally, Lindsey recruited Pete Hill, a product veteran with extensive experience with brands like Arc'teryx and The North Face, to lead the ocial design eorts.Collectively, the team at Schulz brings together an incredible background in developing bags with lifetime warranties, continuing to educate ourselves on and incorporate the best recycled materials and sustainable alternatives, and in order to creating optimized designs that limit the amount of factory and consumer waste. "I'm honored to collaborate with a group of people so unied by a vision," said Lindsey. "One of the rst sources of inspiration for the 1912 Collection were antiques and vintage products—items that would last and weren't intentionally designed to break down, thus prompting further purchases." Schulz sourced materials from bluesign® certied facilities that eliminate harmful substances, engage renewable energy, and minimize waste. Lindsey hand-selected ethically sourced, vegetable-tanned leather for the debut collection. Each textile and material treatment is carefully tracked to ensure sustainable sourcing and production: no contaminants, heavy metals, or animal dyes.From idea to design to production, Lindsey's goal was to create a gorgeous product with a life cycle that keeps it out of landlls while limiting her company's impact on the environment.
Page 145
145 TCEMarch / April 2022Adrienne Sternlicht by Lindsay Brock
Page 146
Page 147
Page 148
The company also oers a comprehensive trade-in and recycling program as part of its commitment to keep Schulz products out of landlls. If for any reason, buyers are ready to say goodbye to their bag or upgrade to a dierent color collection / new bag generation, Schulz will gladly take it back so each component of every product can be properly recycled or passed along to another equestrian for reuse. Schulz is proud to give a portion of each 1912 Collection purchase back to Project Regeneration, whose mission is to end the climate crisis in one generation—through a transformative approach that honors justice, biodiversity, and human dignity."At this point, we don't have an option on whether we want to be sustainable or not," said Lindsey. "It's something that every brand needs to be right now because we are in such a critical moment."Your bag search ends here! Learn more about Lindsey and the Schulz 1912 Collection at SchulzCollection.com and nd @schulzcollection on Facebook and Instagram.
Page 149
Juan Matute by Lindsay Brock
Page 150
WeRideTogether.Today is leading the charge to end sexual misconduct in sportBy Lindsay BrockNational and international headlines over the last several years have revealed a ubiquitous trend in sport. It's one that's often whispered about in barn aisles, hushed ringside and too often silently accepted. When 17-year-old Maggie Kehring, an up-and-coming equestrian athlete with dreams to live out every pony kid's fantasy and ride on an international level one day, came forward to report that she had been sexually abused by former Olympian and FEI World Cup™ champion Rich Fellers, the horse world was rattled to its core. "I was 16. He was 59," said Kehring. "He was the top of the sport and he had made me into this rider who I'd become, and I had really grown to love myself. I had a lot of trust in him. I really wanted him to be proud of me."Watch Maggie's StoryWarning: This video contains discussions of sexual abuse and misconduct.For Maggie's mother, Carrie Kehring, her daughter's suering was something she couldn't bear seeing other young men and women as well as their parents endure alone. "You can't start to heal until you let it see the light of day," she explained. When the dust was still setting from her own trauma, Carrie ripped open the curtain on sexual abuse in horse sport and let the light ood in. She created WeRideTogether.Today to give a voice to the voiceless and power to the powerless. Launched as a series of PSA videos designed to provide awareness and oer survivors a safe place to share their stories, #WeRideTogether has grown into a global force to help end prolic sexual violence in all sports. How did we get here?"It is easy for a skilled predator to seduce a child into cooperating with them," said child protection advocate Les Nichols in one of the rst PSAs published by WeRideTogether.Today. "That does not make the child complicit."A study conducted by RAINN (Rape, Abuse & Incest National Network), the largest anti-sexual violence organization in America, revealed that a child in the U.S. is sexually abused every nine minutes. That's one in 10 children suering abuse before they turn 18.
Page 151
Page 152
When specically examining sexual abuse in sports, a 2020 Athlete Culture & Climate Survey conducted by the U.S. Center for SafeSport found that 50% of athletes have experienced mild harassment to severe abuse. When those statistics are applied to the 60 million children and teens who participate in organized sports in the U.S. alone, the severity of sexual misconduct in sports is impossible to ignore. So, where does that leave horse sport? According to Nichols, abuse is more prevalent in sports where participants are predominantly female and working one-on-one with a trainer. This seemingly paints the ideal scenario for inappropriate and damaging relationships, harassment and grooming, and ultimately sexual abuse and rape within the equestrian industry. Read more #WeRideTogether Survivor StoriesWarning: This video contains discussions of sexual abuse and misconduct."This is a dark, scary issue that nobody wants to discuss and absolutely nobody wants associated with their sport," said Carrie Kehring. "But it's one that touched my family and one that almost caused my daughter to take her own life. Not talking about it isn't making it go away. So, let's talk about it because we really need to x it."Where are we headed?During the summer of 2021, #WeRideTogether released a series that opened an industry's eyes to how deep sexual misconduct runs in horse sport. Show jumping rider Kendall Bourgeois joined Maggie Kehring in being the rst show jumping athletes to share their stories publicly at WeRideTogether.Today. Bourgeois' message to survivors and the sport is that the time for silence has long expired.Watch Kendall's StoryWarning: This video contains discussions of sexual abuse and misconduct."The only way this industry is going to change is if we stand up and change it and take the steps necessary to make that happen," said Bourgeois, who was a victim of intentional grooming and eventually sexual abuse.
Page 153
153 TCEMarch / April 2022Carrie Kehring's biggest goal when creating WeRideTogether.Today was to aect positive change. Her approach to accomplishing that goal was to let the stories speak for themselves. She learned rst-hand that stories have power, and – for the rst time – it's survivors who are wielding that power on their own terms. "The past doesn't have to be our future," she says. "Survivors are increasingly stepping forward to tell their stories bravely. They've turned the lights on in this dark tunnel, and they're illuminating the way to a safer future. It's time to put an end to the culture of silence. And it has to happen now."After partnering with sexual abuse advocacy group The Army of Survivors, #WeRideTogether expanded its reach to sports beyond equestrian through a PSA entitled "Not Alone," which featured elite athletes from football, diving, gymnastics and equestrian.As part of that PSA, two-time Olympic silver-medal medalist Anne Kursinski recounts the suering she endured in the form of sexual abuse from now-deceased Flintridge Riding Club instructor Jimmy A. Williams. Williams' victims have revealed that he molested multiple girls and young women at the riding club between the mid-1950s and early 1990s. "I was a little kid. And he was God," she told the L.A. Times after being one of the rst equestrian athletes to publicly speak about her abuse in 2018.Together with the #WeRideTogether community, Carrie Kehring and thousands of athletes, parents, and sports organizations are standing up to loudly say, enough is enough. When asked why she decided to endure the pain of coming forward and sharing her story, Maggie Kehring echoed her mother's sentiment and said, "If I can stop it for just one person, that's enough." Join WeRideTogether.Today in making equestrian sport the leader for all other sports to follow. Let's work together to identify and implement mechanisms to ensure that every child who pursues a life in horses can focus on riding and never worry about the risk of abuse. Each one of us has a role in the solution. Whether you are a trainer, a parent, an event manager, or a back-gate sta member, we can all get involved through education and awareness. Start by following #WeRideTogether on Instagram and Facebook, and share the resources available at WeRideTogether.Today. To learn more about getting involved, or how to support #WeRideTogether, visit WeRideTogether.Today/donate.
Page 154
Longines FEI Jumping World Cup Lexington 4*National Horse Show Hunter ClassicChildren's Hunter ClassicAdult Amateur Jumper ClassicShow Jumping Hall of Fame Grand PrixASPCA Maclay National ChampionshipThe Hamel Foundation NHS 3'3" Equitation ChampionshipTaylor Harris Insurance Services Adult Equitation Championships Featuring