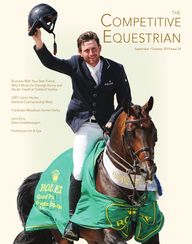 Return to flip book view
TCE SEPT/OCT 2019
Page 1
COMPETITIVE EQUESTRIANSeptember / October 2019 Issue 24 THE Business With Your Best Friend: Why It Works for Darragh Kenny and Hardin Towell at Oakland StablesUSEF Junior Hunter National Championship WestFranktown Meadows Hunter DerbyLens EnvyDana GoedewaagenFarmhouse Inn & Spa
Page 2
Page 3
Page 4
2 TCE September / OctOber 2019________________ThECompETiTivEEquEsTrian2019FLYINGCHANGESThe Competitive EquestrianSeptember/October © 2019 by Silver Oaks Marketing LLC, all rights reserved. This publication may not be reproduced or quoted in whole or in part by any means, printed or electronic, without the written consent of the publisher. Not responsible for replacing issues not delivered due to address changes received after mailing date.Submissions: Magazines will gladly consider all articles, news, letters, and photographs for publication, but assumes no responsibility for unsolicited material. Submissions may be edited. Congratulations and News & Reviews items are published free of charge. Letters are assumed publishable unless we are advised otherwise. All submissions should meet our ad deadline to facilitate inclusion in next issue.CONTENTSSeptember Vol. XXVIII No.9Contributing WritersBARRE DUKESPHELPS MEDIA GROUPContributing PhotographersALDEN CORRIGAN MEDIASTEFANO GRASSOPIERRE COSTABADIERYLEY INGRAMDANA GOEDEWAAGENCreative DirectorANNA BIGWOODPublisher LORNA LOWRIEThe Competitive EquestrianEquestrian Communications USA LLCeditor@TheCompetitiveEquestrian.comFlying ChangesSilver Oaks Marketing LLCmail@FlyingChanges.com42 Club NewsClub NewsServices4 Business With Your Best Friend: Why It Works for Darragh Kenny and Hardin Towell at Oakland Stables By Barre Dukes10 2019 USEF Junior. Hunter Championships West16 USHJA Hunterdon Cup Equitation Classic West22 Farmhouse Inn & Spa38 LENS ENVY Dana Goedewaagen32 Franktown Meadows Hunter Derby37 Giant Steps Charity Classic42 Oregon Hunter Jumper Association Medal Finals69 Calendar70 Trainer Directory76 Services DirectoryOn the CoverDarragh Kenny and Balou Du ReventonContent© Dana Goedewaagen
Page 5
LUXURY COUNTRY ESTATES | EQUESTRIAN PROPERTIES | ACREAGE HOMES | SINCE 1990unrivaled expertise206.650.3015 ■ mariadanieli.comCARNATION ■ 80 ACRESA landmark riverfront estate near town featuring mountain vistas and tremendous open pastures. Four homes, new commercial quality built 100 x 208 covered arena with top-of-the-line footing.SNOHOMISH ■ 5 ACRESCountry retreat in View Ridge Trails at Echo Lake. Manicured and pastoral acreage with paved drive, main residence, guest house and multi-purpose barn.SOLD WOODINVILLE ■ 3 ACRES2,679 square foot home, 8-stall barn, 60 x 120 covered arena, hot and cold wash rack, tack room/lockers, heated waterers, paddocks o stalls and grass pasture areas.NEW SNOHOMISH ■ 2 ACRESCherished gentleman's farm in sought after Clearview location. This timeless custom rambler boasts a terrific great room design. Ample covered parking, a matching 2-stall barn with storage space and tack, paddocks o stalls, plus level fenced pastures.SULTAN ■ 10 ACRES Riverside Ranch. Gorgeous mountain views, 10-acre multi-use horse facility, 20+ stalls, 60 x 218 indoor arena, main home with separate guest quarters.
Page 6
 TCE ________________TheCompetitiveEquestrianA quick internet search will likely advise that a business partnership with a best friend might not be such a good idea, often quoting the well-known phrase that one should never mix business with pleasure. Yet dynamic duos have paved the way across endless platforms of the entrepreneurial world: from middle school friends whose shared love of food turned into the legendary ice cream brand of Ben & Jerry's, to the pair behind one of the largest publicly traded companies worldwide, Charlie Munger and Warren Buffett – even technology used every day like Google and Instagram were co-founded by friends. There are endless examples of why it can work, yet this still seems to be the road less traveled when it comes to the equestrian industry. There are countless family-run operations, but rarely do you see two friends setting out along this journey. However, that is exactly what Darragh Kenny and Hardin Towell decided to do with their business, Oakland Stables.Combining family history, passion for horses and ten years of friendship created quite the careers for Business With Your Best Friend: Why It Works for Darragh Kenny and Hardin Towell at Oakland Stablesthe 31-year-old show jumpers, Kenny of Ireland and Towell of the United States. The world-renowned athletes were lucky enough to merge their worlds into an international enterprise of elite training and high-performance sales.Business for Kenny and Towell was years in the making as the pair began buying and investing in young horses together while still pursuing their own individual careers. In 2015 their partnership developed into a company, aptly named TRK to combine their initials, that the duo ran in part with top Venezuelan show jumping athlete Andres Rodriguez. After Rodriguez passed away in a tragic accident in January of 2016, the business dissolved and Kenny and Towell both continued to buy horses together while developing their personal careers. Soon, Kenny's business of Oakland Stables, which he established in 2012, began expanding to the point where he needed the helping hand of another professional. With Towell in the midst of a career transition from his position as the head trainer at Evergate Stables, it only made sense for the By: Barre DukesDarragh Kenny and Balou Du Reventon in the Longines Global Champions Tour Grand Prix of Chantilly. Photo by/ LGCT-Stefano Grasso
Page 7
 TCE ________________TheCompetitiveEquestrianpair to join forces once again and make their venture ofcial at the beginning of 2018."I think we all became very close during our TRK business and then what happened [to Andres] was very tragic, so I think it brought us even closer. Joining together in Oakland beneted both Hardin and me, and I think it makes us quite strong together," said Kenny of their partnership. "It's very difcult for anyone to run a business in this sport on their own. When you can nd a business partner that is as strong as you are it makes a huge difference." At the time the pair joined forces, both athletes were ranked among the top 50 on the Longines FEI World Rankings. Towell and Kenny wanted to continue to grow their own successful careers while also providing services to up-and-coming athletes with an elite training program, as well as continuing their shared ownership of high-performance hunter and jumper horses under their Oakmont Stables LLC. The duo knew they could run their own businesses individually, but that the operation could be even stronger together."We wanted to be able to do both sides of the ocean and do it really well. We wanted to have that for both of us and for our clients and business," said Kenny, who spends the summer competing in Europe. Oakland's base in Meijel, Netherlands, serves as his home throughout much of the year while Towell competes and trains for the other side of the business on the east coast of the United States. "Not many high-caliber riders work together and trust each other," added Towell. "I think you do not see many top athletes in this industry working together because they are afraid that they'll have their success taken away from them by their partner." Those worries have not proven to be a factor for Towell and Kenny as the pair's trust in one another contributes to the continuing success of their partnership. Oakland Stables ourishes from the duo's ability to play off of each other's strengths and weaknesses, and ultimately, their friendship. "We try to weigh out the weak points in the other and make those points stronger. That's our biggest thing – Hardin Towell and Joli Jumper in the Queen Elizabeth Cup II, Photo- Ryley Ingram-Phelps Media Group
Page 8
 TCE ________________TheCompetitiveEquestrianHardin Towell and Tupac Van De Vrombautshoeve Z, Photo- Ryley Ingram-Phelps Media GroupDarragh Kenny and Balou Du Reventon in the Longines Global Champions Tour of Chantilly. Photo by LGCT-Stefano Grasso I know my weak points and I try to get better at them just as Darragh knows his weak points and he's worked to get better at them," said Towell. "It's a lot easier to have somebody notice these things and tell you while also helping you to improve than doing it all on your own."While Towell has benetted from Kenny's diversity and talent in the ring, Kenny has learned from his counterpart, as well, saying, "I have always really respected how great Hardin was at communicating with people and dealing with clients. He is extremely good at that. The clients can really understand him and he gives them a lot of condence. He is great at communicating with a lot of business people. I've always really respected that and he's helped me a lot with that. We work very well together." Even when arguments do arise, both Kenny and Towell have learned to see the bigger picture and their mutual respect helps the pair through those inevitable roadblocks that any business faces. "We argue like brothers," admits Towell. "It's challenging, but I think it's what makes it right because we can talk to each other completely blunt right away and say what we feel and then we go from there. One of us might not like to hear what the other has to say sometimes, but we completely feel like we can talk to each other. I know there are times where we get mad at each other, but it's not from us not trusting each other. I know what Darragh says comes from the heart and that he wants the best for us." Positive attitudes and open minds keep their business and their relationship moving forward. "I honestly believe that if you want to be successful and have a really good partnership, then you have to be able to say whatever you are thinking to your business partner. I think we have some ghts here and there, but it's always for the benet of the other," maintained Kenny.Their complementary skill sets are also an added benet when it comes to the training program at Oakland Stables. "Everyone that trains with us knows that either Darragh or I will be there," explained Towell. "They come into it knowing that so they're condent in both of us. Clients can keep going with one person because it's the same program between both. We're both very good at training, but we also explain things differently and sometimes have a different approach that might help with a certain horse or a certain student, so it's very good to have a little bit of diversity but still be condent in both of us.""A big goal for us is to educate young riders and continue bringing them up in the sport to help them achieve their goals. Hardin and I both really want that," said Kenny of their training operation. "We've brought young kids in the low [jumpers] up to the 5* grand prix level under our guidance. We want to keep trying to do the best job we can with the people that want to be involved with us."Although Oakland Stables places a great deal of emphasis on the success of its training program for students, Kenny and Towell must also make time to
Page 9
 TCE ________________TheCompetitiveEquestrianDarragh Kenny and Balou Du Reventon in the Longines Global Champions Tour of Chantilly. Photo by LGCT-Stefano Grasso grow themselves and their horses. When the focus must shift to their individual careers, the support between the two remains consistent. When Towell earned the second-place award with the pair's newly-purchased Joli Jumper in the prestigious $500,000 ATCO Queen Elizabeth II Cup at Spruce Meadows in July 2019, he laughed that Kenny was the only person more excited than himself."Joli [Jumper] and our other new horse, Tupac [Van De Vrombautshoeve Z], Darragh and I bought together as an expansion of our business. It was him and I, what we've talked about doing for ten years and what we've been doing for two years," exclaimed Towell. "It's one thing to go out and have someone buy you a lot of horses, but it's another for us to do it ourselves. It's quite cool and it's something both Darragh and I are proud of.""That result was a big thing for us as friends and a big thing for us a business. We put this investment into this horse and he is turning out to be such a superstar," remarked Kenny. "It was late at night for me in Paris to stay up and watch Hardin go, but it's important to both of us. I know Hardin put an awful lot of work into this horse and it's so rewarding to see it pay off."Kenny is no stranger to the winner's circle as he has continued to climb the world rankings through 2019, but he is quick to credit much of his success to his well-run partnership with Towell. "I think I really have a possibility to achieve one of my own goals which is to be ranked in the top 10 in the world. Another huge goal for me is also to ride in the Olympics," said Kenny of his hopes for the 2020 Olympic Games in Tokyo. "I wouldn't be able to go for those goals without Hardin. There's no chance I could do any of this without his support." Towell stands behind Kenny and the goals of Oakland Stables completely. "I enjoy taking care of things over here and riding some of Darragh's horses in America while he's in Europe – he knows what I put in and how I'm behind him. Darragh and I have a lot of goals in this business – a lot of long term goals to grow the business and grow ourselves as riders. We can never stop learning. We're not content in where we are right now – we can always improve."The unwavering support from Towell is reciprocated by Kenny as both athletes set their long-term goals. Towell continued, "Darragh knows that I have my own goals, too. I am looking forward to the fall when I start aiming for the [Longines FEI Jumping] World Cup™qualier classes with our two horses and I will have clients that I am training at those shows, too."Kenny and Towell eat, sleep and breathe horses, their friendship and their business, but at the end of the day the pair would not trade the all-consuming lifestyle they share. "To be able to work with one of your best friends is one of the greatest feelings. You always know that they have your best interest at heart and that's what works really well between us," praised Kenny. "As much as we want our business to do well, we really ght for each other to have success. I think that's a really important thing for people to have."Darragh Kenny and Balou Du Reventon in the €500,000 Rolex Grand Prix in Knokke Hippique. Photo by Scoopdyga - Pierre Costabadie
Page 10
SPORTSDRESSAGEPO OELITE PROPERTIESmarketingpublic relationsphotojournalismevent management561-753-3389 | info@phelpsmediagroup.comsocial mediawebsite developmentPHELPS MEDIA GROUP CLIENTS DARRAGH KENNY (LEFT) AND HARDIN TOWELL (RIGHT) OF OAKLAND STABLESPHELPS MEDIA GROUP CLIENT VICTORIA COLVININTERNATIONAL LEADERS IN EQUESTRIAN SPORTS MEDIA
Page 11
IS YOUR SPORT Taylor, Harris Insurances ServicesWorldwide Equine Insurance SpecialistsTHIShorseinsurance.com800.291.4774Photo Alden Corrigan MediaSPORTSDRESSAGEPO OELITE PROPERTIESmarketingpublic relationsphotojournalismevent management561-753-3389 | info@phelpsmediagroup.comsocial mediawebsite developmentPHELPS MEDIA GROUP CLIENTS DARRAGH KENNY (LEFT) AND HARDIN TOWELL (RIGHT) OF OAKLAND STABLESPHELPS MEDIA GROUP CLIENT VICTORIA COLVININTERNATIONAL LEADERS IN EQUESTRIAN SPORTS MEDIA
Page 12
 TCE ________________TheCompetitiveEquestrianJunior riders brought Sonoma Horse Park alive with excitement for the 2019 USEF Junior Hunter National Championship - West.         National Championship - West. It had been an early was still anybody's opportunity to take the top spot.Jordan Allen and Small Occasion won the Grand and Crowd Pleaser earned Grand Champion in the 3'3'' section.2019 USEF JUNIOR HUNTER NATIONAL CHAMPIONSHIP WESTtrain Jordan. Jordan completed the Classic round with the Under Saddle to earn the title as the Overall Grand Champion 3'6". Small Occasion was named 2019 Best                                    and Crowd Pleaser received the Montserrat Perpetual PHOTOS ALDEN CORRIGAN MEDIA3'6" Grand Jordan Allen & Small Occasion
Page 13
 TCE ________________TheCompetitiveEquestrianSmall Junior Hunter 3'6" 15 & UnderChampionAugusta Iwasaki and LusciousReserve ChampionPayton Potter and The Silver ScreenSmall Junior Hunter 3'6" 16-17ChampionEmily Williams and Beach BoyReserve ChampionJuliette Joseph and San Large Junior Hunter 3'6" 15 & UnderChampion Brooke Morin and For FunReserve ChampionAvery Glynn & King Of HeartsLarge Junior Hunter 3'6" 16-17ChampionJordan Allen and Small OccasionReserve ChampionEmily Williams and BunistarSmall Junior Hunter 3'3" Group AChampionElla Sherman and IllusionReserve Champion Lauren Little and It's CoolmanSmall Junior Hunter 3'3" Group BChampion Grace Russo and Eclair HBCReserve Champion Ava Peck and SambucaLarge Junior Hunter 3'3" 15 & UnderChampionAvery Kalafatas and Calendar Girl Reserve ChampionGabrielle Sokolow and Iconic Large Junior Hunter 3'3" 16-17ChampionGrace McReynolds and Crowd Pleaser Reserve ChampionOlivia Carusi and Sinclair2019 USEF Grand Champion3'6 Junior HunterJordan Allen and Small Occasion2019 USEF Grand Reserve Champion3'6 Junior HunterEmily Williams and Beach Boy2019 USEF Grand Champion3'3Junior HunterGrace McReynolds and Crowd Pleaser2019 USEF Grand Reserve Champion3'3Junior HunterElla Sherman and Illusion2019USEF Junior Hunter National Championship -WestGRAND CHAMPIONSCHAMPIONS3'3" Junior Hunter Grand Grace McReynolds & Crowd PleaserAgusta Iwasaki & Luscious
Page 14
 TCE ________________TheCompetitiveEquestrian
Page 15
 TCE ________________TheCompetitiveEquestrianTop RowStella Wasserman & BossGrace Russo & Eclair HBCEmma Borders & CavitoElla Sherman & IllusionMiddle RowGabrielle Sokolow & SocialiteMarina Boudreau & ChantillyKatie Kotler & SplendidBottom RowStella BuckinghamLove is Love is Love Avery Glynn & So To SpeakClara Bonomi & Cobalt Blue R
Page 16
CELEBRATINGMenlo Charity Horse Show0YEARSBeneting Vista Center for the Blind and Visually Impairedsave the dateMENLOCHARITYHORSESHOW.ORG #MENLO2020AT THE BEAUTIFUL MENLO CIRCUS CLUB IN ATHERTON, CALIFORNIAAugust 4 - 9, 202051970 - 2020
Page 17
For more information, visit www.PasoRoblesHorsePark.comPaso Pumpkins & Ponies • October 17–20, 2019 USEF Regional I (B) RatedPaso Park Fall Classic • October 30–November 3, 2019 USEF National (A) Hunter Rated Paso Park Oak Tree Classic • November 6–10, 2019 USEF National (A) Hunter Rated Turkey Trot & Jump • November 21–24, 2019 *Held the week prior to Thanksgiving USEF Regional I (B) Ratedautumn at the parkClassics feature over $100,000 in prize money including $40,000 Grand Prix and $10,000 USHJA National Hunter Derby.BEST VENUEIN CALIFORNIAVOTED2019
Page 18
 TCE ________________TheCompetitiveEquestrianUSHJA Hunterdon Cup Equitation Classic - West2019 WINNER VIOLET LINDEMANN BARNETT PHOTO GALLERY ALDEN CORRIGAN MEDIAThat moment when you realize you just won the USHJA Hunterdon Cup Equitation Classic (Violet Lindemann Barnett)
Page 19
 TCE ________________TheCompetitiveEquestrianWinner of the USHJA Hunterdon Cup Equitation Classic Violet Lindemann Barnett & CantoblancoStella Buckingham & Calvatos Z
Page 20
 TCE ________________TheCompetitiveEquestrianJuliette Joseph & Efendi.Cate Tomlinson & Elliott(L-R) Jordan Allen, Robyn Steigler, Juliette Joseph, Avery Glynn & Grace McReynoldsWinning Trainer Archie Cox with Sloan Lindemann Barnett
Page 21
 TCE ________________TheCompetitiveEquestrianCate Tomlinson & ElliottZoe Brown & CarpenterUSHJA Hunterdon Cup Equitation Classic Champion Trainer Archie Cox with Sloan Lindemann Barnett
Page 22
*Visit WIHS.org/FreeTickets for program details. Subject to terms and availability.THURSDAY OCT 24, 7PM Barn Night | "Halloween on Horseback"FRIDAY OCT 25, 7PM Military Night | Puissance High JumpSATURDAY OCT 26, 6:45PM World Cup Night | President's CupSHOW HIGHLIGHTSTICKETS START AT $25 FOR SELECTED NIGHTS$2 Tuesday | Free Kids' Day Sat Oct 26 10am-2pmCOMPLIMENTARY TICKET PROGRAM* FOR: Military | First Responders | Teachers Girl & Boy Scouts | DC Public Schoolchildren Federal, State & Local Government Employees*Visit WIHS.org/FreeTickets for program details. Subject to terms and availability.WIHS19_Hospitality_KeyArt_Equiery.indd 1 7/30/2019 2:34:28 PM
Page 23
Page 24
 TCE ________________TheCompetitiveEquestrian
Page 25
Farmhouse Inn is the realization of fth generation Russian River Valley farmers, vineyard owners and siblings, Catherine and Joe Bartolomeis' dream. The dream was to bring an authentic wine country experience to guests of Farmhouse by combining insiders' wine country knowledge and relationships and warm, professional hospitality with their locally grown, simply prepared food, ne wine, farm-to-table spa and luxurious accommodations Farmhouse guests arrive strangers and leave friends.Following the purchase of the property in 2001, the Bartolomeis began a complete and ongoing renovation of the guest rooms, restaurant, grounds and spa, which transformed the Farmhouse into a top-rated wine country property. In 2014, the Bartolomeis have just completed an $8 million expansion adding 9 new luxury guest rooms, and brand new "stable" spa, and completely upgraded grounds."The inspiration for the spa was a house that Ellen Degeneras designed in Southern CA. it was a converted horse stable and I loved it. I asked our design team to come up with a "renovated" stable for our spa. The horse image just 'animates' the space and was meant to be more illusion than entirely literal. The murals were painted by Tina Wainwright. She is a local artist who we love." Catherine Bartolomei explained.FARMHOUSE INNSPA SPLENDOR MEETS A SONOMA SETTING
Page 26
 TCE ________________TheCompetitiveEquestrianstructure built in 2014. With wide shutters, tall ceilings, stable doors and custom equestrian drawings, the Spa at Farmhouse is already catching the attention of many design publications. The Spa brings the outdoors in, with outdoor spaces off of each treatment room where guests can shower or lounge following their treatments. Under the direction of world-renowned spa partners Francis and Alexander, The Spa at Farmhouse is a small, intimate retreat offering personalized services that include massage, facials, hot stone and aromatherapy. Reecting the Farmhouse Inn philosophy of using pure, fresh, seasonal ingredients, the spa features natural, handmade artisan products in an unhurried, tranquil environment. It is truly 3000 square feet of tranquility.The Farmhouse is comprised of historic buildings and new buildings built in an historic style. Originally built in 1873, the completely restored classic American farmhouse houses the Michelin One Star restaurant. In 2014, working with world renowned resort architects, SB Architects out of San Francisco, and famed interior designer, Myra Hoefer out of Healdsburg, CA, an $8 million addition and renovation of the property completely transformed the Farmhouse into one of America's premiere destination resorts. Property-wide, the Bartolomeis have found a beautiful balance between rustic and elegant furnishing and fabrics, creating a serene, farm-fresh environment property-wide.The Spa is one of America's rst true Farm-to-Table spas and is housed in the beautiful open-air, horse-stable-inspired
Page 27
Second Flight DerbyFences ~2'-2'3" with high options to 2'6"First Flight DerbyFences ~2'6"-2'9" with high options to 3'Working Hunters Pairs Over FencesHunt TeamsThe John P Brooks MFH DerbyField Hunters Over FencesFences to 3'3" with high options to 3'6"Senior High Point & Junior High PointFor the Young Entry Leadline Hunters & Ponied Leadline HuntersHunter Pace will Run Concurrently with the Hunter Trails ALL PARTICIPATING RIDERS ARE INVITEDTO HUNT WITH WHC ON OPENING DAY SUNDAY, OCTOBER 6th58th Annual Hunter TrialsTraditional Two Round Derbies on the GrassLakewood, WA Saturday, October 5th 2019For details Please Contact Michaela Hansen(253) 266-1062, michaelahansen44@gmail.com
Page 28
 TCE ________________TheCompetitiveEquestrianDana Goedewaagen started developing her eye for photographing horses as an eight-year-old taking lessons with pony trainer Emerson Burr at the Faireld County Hunt Club (FCHC) in Westport, Connecticut. Burr taught her the importance of a solid work ethic and attention to detail. He revealed the amazing things that can happen when horses and humans connect.By 18, Dana decided she didn't have the resources or talent to pursue a riding career. Instead, she became a groom at FCHC, caring for a barn full of brilliant hunters and jumpers, including Leslie Burr-(Lenehan)-Howard's rst big Grand Prix jumper, Chase the Clouds. It was a thrilling, heady time—until Chase the Clouds colicked and died. "It was my rst great loss, my rst heartbreak," Dana says. She left FCHC soon after he died.Dana Goedewaagen Jerry Nielsen, Sr. owner of the Thoroughbred breeding facility at Sunnyeld Farm in Bedford, New York, hired Dana to groom for his daughters, Karen and Sandy, both leading competitors on the junior hunter-jumper circuit. At Sunnyeld, Dana cared for an impressive string of show jumpers, including Watership Down and French Leave. After Karen and Sandy aged out of junior competition, Dana settled into grooming for Mary and Harvey Waller at Orleton Farm in Stockbridge, Massachusetts. Grooming is grueling. After decades of working with horses 365 days a year, Dana made a clean break from the horse business and began a new career as a respiratory therapist, a job that allowed her time to pursue personal interests.
Page 29
 TCE ________________TheCompetitiveEquestrianLENS ENVYSeven years ago, a desire to create homemade Christmas gifts inspired Goedewaagen to try her hand at photography. Not long after she picked up her rst digital SLR, the work ethic she learned from Emerson Burr kicked in and she became determined to master the art of capturing life through a camera lens. A chance visit to Orleton Farm turned photographing horses into an obsession. From the beginning, Dana's photographs have shown her groom's eye for detail and connection. Her work focuses on capturing individual personalities and the physical, emotional, even spiritual links that bond horses and humans. She particularly loves to photograph people who care for horses—grooms, farriers, veterinarians—and to depict the unique chemistry between equines and their caregivers.To further support grooms and their work, Goedewaagen photographs for The Grooms Award, which is presented to the groom of the winning horse at events including the Pennsylvania National Horse Show, the Devon Horse Show, and the Del Mar National Horse Show. As a volunteer photographer for Equine Advocates in Valatie, New York, she helps raise funds to support 80 rescued horses, donkeys and mules.Dana appreciates every step of the winding road that led from her rst riding lessons to her current life as a respiratory therapist and equine photographer. "I've been lucky," she says, "I've had amazing jobs, met incredible people. For over 10 years, I didn't look at or touch a horse. I thought I never wanted to see another one. Photography brought horses back into my life. It's a wonderful gift."
Page 30
Page 31
Page 32
Giant Steps Charity ClassicPhoto Gallery by Alden Corrigan MediaGrand Prix Sponsor Laura Wasserman High Fiving Zazou HoffmanAugusta Iwasaki & Small OccasionWinner of the $7,500 USHJA National Hunter Derby Professionals Nick Haness & Crowd PleaserPatrick Seaton StablesThe unicorn inspired Candy BarCenter Court Blue ribbon
Page 33
Augusta Iwasaki & Small OccasionNick Haness receiving his USHJA International Hunter Derby ribbon while giving Giant Steps Rider a stuffed pony.Winner of the $7,500 USHJA National Hunter Derby Professionals Nick Haness & Crowd PleaserTop 12 riders with their ribbons and Giant Steps ridersAya ClearPark City
Page 34
Clara Bonomi & Cobalt RKylee Arbuckle & Opulance Katie Gardner & Philadelpha StoryKelly Poon & All About BlueWinner of the $20,000 USHJA International Hunter Derby Presented by The Lindemann-Barnett Family John French & Center CourtRibbon to pony ratioMeredith Herman
Page 35
Clara Bonomi & Cobalt RMeredith Herman
Page 36
 TCE ________________TheCompetitiveEquestrianThe 10th Annual Franktown Meadows Hunter Derby welcomed many new entrants, all whom enjoyed the atmosphere and calm setting that is Franktown Meadows. The iconic Sierra Nevada mountain range is the stunning backdrop for this spectacular Derby weekend and draws leading professional and amateur riders from across the country. Riders loved the opportunity to take to the pristine Franktown Meadows grass Derby Field. This this annual charitable event supports the Juvenile Diabetes Research Foundation.The event began on a Friday, this year and Nick Haness and Doubled up started the weekend by winning both os the Welcome Stake sponsored by Looking Stone Farm and Cavallo Stables."This is our rst year coming to Franktown Meadows and we are really happy to be here. It's spectacular, it's beautiful, the views, and the wonderful grass footing. I think all of the The 10th Annual Franktown Meadows Hunter Derby Does Not Disappointhorses are loving it here and so are we, Nick shared. Now that we are here and starting to compete, and we can see how well the horses are going here, I think we will come back every year."Nick continued to talk about the successful day and the young horse that led the eld, "I was really pleased with Reese's today, he is only a 6 year-old and the youngest horse that we brought to compete. He really shined the most today, so that was very exciting. I can tell his brain is happy here, and he feels really at peace. There are many places to exercise and trail ride around the facility and the horses can relax." Everyone arrived on the second day to more beautiful weather and to watch or compete in the $10,000 Franktown Meadows 3' Hunter Derby, presented by Taylor, Harris Insurance Specialists.Winner of the $30,000 USHJA International Hunter Derby Sponsored by Friends of Franktown Meadows Kylee Arbuckle, Fanciful & Silver State Pony Club
Page 37
Winner of the $30,000 USHJA International Hunter Derby Sponsored by Friends of Franktown Meadows Kylee Arbuckle, Fanciful & Silver State Pony ClubAlexis Meadows and her trainer Morley Abey of Morley Abey Show Jumping were enjoying their trip to Franktown Meadows and even more delighted when Legato came through to win the class. "Jenny Karazissis has been one of my biggest role models and I have wanted to attend Franktown Meadows Hunter Derby since I heard about Jenny winning the Derby a couple of years ago. Franktown Meadows Hunter Derby has received so much good press, deservedly, as it is really special what they are doing here, and the community feeling that they have created. We had the opportunity to attend this year and Morley was kind enough to make it happen. Even though the barn is split between continents as Joie is traveling in Europe with a client. Morley and I are having an absolute blast, this facility is astoundingly beautiful. Truthfully one of the best parts has been hanging out here at the barn and enjoying the community in which we are surrounded. Being here and on this eld is fantastic, it really is so unbelievable, my gosh, I have never seen anything so spectacular. It has been so wonderful to be able to compete out there this weekend. 100% we will be back, I cannot thank Lynne MacLean, Aimee LaFayette and Natalie Garnett and all the family enough for the time and effort it takes to put on an event like this. It is a one-of-a-kind experience. It really is idilic here." Meadows exclaimed.Darby Furth Bonomi also a rst time visitor to the event had a great time too, as both of her horses excelled on the derby eld to take home 1st and 3rd place ribbons in the $5,000 3'-3'3" Non-Pro Hunter Classic, presented by Balmoral. "DaVinci and I have been together now for 4 years and he has come so far. In the old days he was a little spooky, a log always bit him, so that was hard, but now today he is just so wonderful. The fence I was worried about was the log fence, as we had not had the opportunity to practice over it yesterday, and it was a lot of logs. However, today he jumped it like a champ, he didn't even look at the log Ravenswood & owner Lisa WuNick Haness & Verdict Alexis Meadows
Page 38
and was an absolute dream boat. He certainly has grown up over the years, and logs are not as big of a deal now. He really loves it here, but of course all of the horses love it here, as soon as you get out on that derby eld they start to relax. When you get to gallop the footing feels spongy, another reason for all of the horses to be super Nick Haness & Cortese Jenny Karazissis & Ravenswoodhappy at Franktown Meadows. I look forward to coming back again next year, I love riding on grass and I have to say this is the nicest grass eld I have ever ridden on. The setting and the sheer beauty of this venue it really is unparalleled." Sunday brought more sun and smiling faces as the event lled again with horses, riders and spectators for what was to be a three round thriller, as Kyle Arbuckle riding Emma Townsend's Fanciful went head-to-head with Jenny Karazissis on Lisa Wu's Ravenswood to win the $30,000 USHJA International Hunter Derby.The two riders were tied at the end of the Handy Round with a score of 360 and the decision was made for both riders to complete an additional Handy Round to break the tie, and ultimately decide the winner. Karazissis was rst to enter the eld on Ravenswood, and was awarded a third round score of 182, resulting in an overall score of 542. The gauntlet had been tossed. Arbuckle rose to the challenge piloting Fanciful to a total third round score of 196 including her rst perfect 100 from judge 1, to ultimately take the win with overall score of 542.
Page 39
 TCE ________________TheCompetitiveEquestrianWinner of the Non-Pro Hunter Classic 3'-3'3" Sponsored byBalmoral Darby Furth Bonomi & DaVinciKylee Arbuckle & DavinciFMHD for kids and kids at heartSonoma Valley Stables VIP TableThis was a very special day for thishorse and rider combination as it wastheir rst Derby together, and Kylee'srst International Derby win. "Fancifulwas amazing, and it was really fun tocompete at Franktown Meadows. Thisreally is my favorite horse show of theyear, and to be successful here is justthe icing on the cake. I am so happy tohave won such a prestigious class. I wishthat Emma [Fanciful's owner] could havebeen here with us to celebrate. He reallyrose to the occasion for me, as I wasexcited and a little nervous entering theeld after Jenny, but I had condencethat he would put in a great effort forme." Arbuckle explained.Trainer Ned Glynn of Sonoma ValleyStables was ecstatic over the duo'ssuccess. "It was a lot more fun once itwas all over, then when it is actuallyhappening. It was super exciting for ouryoung rider to go up against arguablyone of the best Derby riders of all time.Jenny had a really good trip, which wasincredibly nerve racking as Kylee waswaiting in the wings. To watch Kyleego in there and ride the way she didwas incredibly exciting and incrediblyrewarding. I have never been involvedwith a ride off for the biggest class ofthe show, but there is a rst time foreverything, so you might as well make itbig when it happens."

Page 40
 TCE ________________TheCompetitiveEquestrianAnd the winner is......Kylee Arbuckle (as Jenny Karazissis looks on)Joey Pedroni & All The TalkColor Guard Rider Jillian ShawRed Rock Hounds
Page 41
Congratulations to Avery Glynn and Cocon 4 on their win in the CPHA Junior Medal Finals!Thank you to everyone at Sonoma ValleyStables & Elvenstar for all of your support of this wonderful teamsonomavalleystables.com (707) 249-1673
Page 42
Congratulations Kylee Arbuckle &Fanciful W inners of the $30,000 Franktown Meadows USHJA International Hunter Derby
Page 43
Emma Townsend and The Townsend Family would like to thank Franktown Meadows for hosting a wonderful event.
Page 44
42 OHJA meDAL FINALS prOGrAm sEpTEmbEr 20192019 Medal FinalsProgramWelcome to the OHJA's 2019 Medal FinalsRiders competed in qualifying OHJA medal classes throughout the show year to accumulate enough points to secure a place in this years' Medal Finals competition.During Medal Finals riders are tested on their horsemanship knowledge and riding ability. "Phase One" of Medal Finals is a written test on horsemanship that takes place Friday morning, August 30th. All Medal Finals riders must complete the written test Friday morning before their rst riding round ("Phase Two"). The written test is worth a total of 10 points. The written test score is combined with the rider's rst round score; the combined top ten scores in each division will advance to the Final Round, which takes place during the afternoon on Saturday, August 31st. Please join us during and after the Final Round for the OHJA BBQ and Fundraiser, generously sponsored by Purina. Tickets for the BBQ can be purchased in the show ofce or at the BBQ. All proceeds benet the OHJA, a non-prot organization. Please check with the show ofce for the start times of these events.The Oregon Hunter Jumper Association takes this opportunity to thank all of its sponsors, including those that donated prizes. It is because of the continued support from our sponsors, donors, and members that the OHJA is able to continue its mission; to bring together the equestrian community, to promote horsemanship and sportsmanship, to encourage and promote public support of the equestrian community, and to enhance the knowledge of equestrian competition. I would also like to give a big thank you to Team NW for hosting the OHJA Medal Finals and for their continued support of the OHJA.On behalf of the OHJA Board of Directors, we congratulate all of our competitors and wish them the best of luck!Sincerely,Rebekah SwanOHJA President
Page 45
Gallops Saddlery is proud to be a part of the 2019 OHJA Medal Finals.Best of luck to all the Competitors.
Page 46
44 OHJA meDAL FINALS prOGrAm sEpTEmbEr 2019What is a Medal Class?A medal class is an equitation class in which the rider com-petes to qualify for a "medal nal" at the end of the year.Who is Eligible to Compete in a Medal Class?To qualify for the OHJA Medal Finals, a rider must accumu-late at least 10 points during the show season. However, once entries close for the show holding the OHJA Medal Finals, OHJA, in consultation with show management, may invite up to 10 additional riders who have not accumulated 10 points, starting with the highest point earnersHow are OHJA Medal Classes Conducted?At least 3 riders must complete the course for the class to count toward the OHJA Medal Finals and for the medal to be awarded. Riders in the Mini Medal classes compete over fences not to exceed 2'6", riders in the Children's and Adult Amateur Medal classes compete over fences not to exceed 3', and riders in the Junior/Senior Medal classes compete over fences 3'6" in height. There must be a "ride-off" in each medal class between at least the top 2 riders, with 4 recommended.How do Riders Accumulate Medal Points?Points are accumulated based upon a rider's placing in qual-ifying classes. Ten points are awarded for 1st place, 6 points for 2nd place, 4 points for 3rd place, 3 points for 4th place, and 2 points for 5th place. Riders who win Mini Medal and Children's Medal qualifying classes may continue to com-pete until they accumulate 25 points, and riders who win Adult Amateur and Junior/Senior Medal classes may con-tinue to compete until the Medal Finals.Who is Eligible to Competein OHJA Medal Finals?To qualify for the OHJA Medal Finals, a rider must accu-mulate at least 10 points during the show season. However, once entries close for the show holding the OHJA Medal Finals, show management is allowed to invite up to 10 ad-ditional riders who have not accumulated 10 points, starting with the highest point earners.How are OHJA Medal Finals Conducted?All riders in the OHJA Medal Finals compete in 1 round over fences and take a written test. Scores from the 1st round and written test are combined to determine the top 10 nalists, who then compete in a 2nd round of testing called a"ride off". In the Children's, Adult Amateur, and Junior/Senior Medal Finals, the "ride off" is over fences. However, in the Mini Medal Finals, the "ride-off" cannot include testing over fences; it must be on the at or the judge may ask the riders horsemanship questions. Prizes are awarded through 10th place, entries permitting.MEDAL FINALS FAQs
Page 47
sEpTEmbEr 2019 OHJA meDAL FINALS prOGrAm 452018 MEDAL WINNERS2018 Medal Finals WinnsJUNIOR MINI MEDAL Katrina GilletteADULT MINI MEDAL Ariel HurstCHILDREN'S MEDAL Bali SchockADULT MEDAL Rachel GeringerJUNIOR/SENIOR 3'3 MEDAL Kennedy DukeJUNIOR/SENIOR 3'6 MEDAL Sophie Lang
Page 48
46 OHJA meDAL FINALS prOGrAm sEpTEmbEr 2019PerformMYLER BITS®IRIDEON®T3 SADDLE PADS BUCASbesttoklat.comWOOF WEAR CHAMPION HELMETS ROECKL GLOVES SUPERQUILTAT YOUR BEST WITH THE
Page 49
sEpTEmbEr 2019 OHJA meDAL FINALS prOGrAm 47PerformMYLER BITS®IRIDEON®T3 SADDLE PADS BUCASbesttoklat.comWOOF WEAR CHAMPION HELMETS ROECKL GLOVES SUPERQUILTAT YOUR BEST WITH THE
Page 50
48 OHJA meDAL FINALS prOGrAm sEpTEmbEr 2019971-404-5296PNWEQUINELAW.COMHorse sales, leases, and breeding • Boarding, training, and riding instruction • Risk assessment and management • Ownership and registration • Business entity formation, governance, taxation, and employment • Veterinary malpractice and negligence • Horse and rider injuries • Debt collection and creditors' rightsoregon and Washington• Professionally designed, BRAND NEW equestrian facility• 120x200 full enclosed indoor arena with Equilo footing• Heated viewing room• 12x12 stalls with attached runs• Variety of grass paddocks • Nelson automatic waterers• Heated groom & wash stalls• 2 permanent restrooms • Private tack lockers• 120x200 outdoor arena with GGT footing• Riding paths all around the property• 24 hr management on property• Fully fenced with automatic gateON-SITE TRAINER ZOE CONLEE WINNING TIME TRAININGGRAND OPENING SEPTEMBER 201917026 NE 92nd Ave | Battle Ground, WA 98604 | 503.781.1112 HEIRLOOMEQUESTRIANCENTER.COMTHE PLACE TO BE IN SOUTHWEST WASHINGTON!Now accepting reservations for board and training, contact 503.781.1112 to take a tour!• Professionally designed, BRAND NEW equestrian facility• 120x200 full enclosed indoor arena with Equilo footing• Heated viewing room• 12x12 stalls with attached runs• Variety of grass paddocks • Nelson automatic waterers• Heated groom & wash stalls• 2 permanent restrooms • Private tack lockers• 120x200 outdoor arena with GGT footing• Riding paths all around the property• 24 hr management on property• Fully fenced with automatic gateON-SITE TRAINER ZOE CONLEE WINNING TIME TRAININGGRAND OPENING SEPTEMBER 201917026 NE 92nd Ave | Battle Ground, WA 98604 | 503.781.1112 HEIRLOOMEQUESTRIANCENTER.COMTHE PLACE TO BE IN SOUTHWEST WASHINGTON!Now accepting reservations for board and training, contact 503.781.1112 to take a tour!GOOD LUCK TO ALL MEDAL FINAL COMPETITORS
Page 51
sEpTEmbEr 2019 OHJA meDAL FINALS prOGrAm 492019 MEDAL FINALS QUALIFIERS*Junior Mini MedalAdult Amateur MedalCongratulations & Best of LuckAnna ClarkRegan SzambelanJessica HeinauerKatrina GilletteLily SterlingJasmine BrowningMarian EhlersIsabel BakerKate ConnorsChloe ReynoldsKarsen KadienCate MorseMarielle RuderSebastian ErhanPiper BloomBailey GrastyMolly BlountSophia BrownElla DelgadoCharlee AbbottLeah SandozAnna MansurJames ColeAvery RayEmily HolmesSiena SchreinerEthan GrastyBrooklyn CorneliusSolana HickeyChildren's Medal *This list reects all medal nals qualiers based upon results received, and membership and point corrections processed, as of August 10, 2019Adult Mini MedalAlecia DeRooShannon StreckerKimberly BeveridgeLisa WestarpRonna McHugh-LemastersKaty LidsterKimberly MacKayLaura OlsonTressa BlankenshipAriel HurstLindsay KnightLow Junior/Senior MedalGrace DuffyKate HagertyElsa BrotzLow Junior/Senior MedalCampbell RayMadison HughstonZoe Stascausky
Page 52
www.swantraining.netbeka@swantraining.netBEKA SWAN (503) 349-0314
Page 53
Swan Training would like to congratulate all the OHJA 2019 medal nalists and wishes everyone the best of luck.
Page 54
farmstore.com20 Locations throughout Oregon & WashingtonLivestock Feeds & SupplementsEquine NutritionCompanion AnimalShow FeedFding Your PaionOHJA-2018_Horse-Show-ad_one.indd 2 12/9/18 12:19 PM
Page 55
farmstore.com20 Locations throughout Oregon & WashingtonLivestock Feeds & SupplementsEquine NutritionCompanion AnimalShow FeedFding Your PaionOHJA-2018_Horse-Show-ad_one.indd 2 12/9/18 12:19 PMWILCO REWARDS. WHERE EVERYONE'S FAMILY.FEED | LIVESTOCK | HARDWARE & PAINT | PETGROOMING | LAWN & GARDEN | LIFESTYLE CLOTHING20 Locations throughout Oregon & Washingtonfarmstore.comFind A Store Near You:OHJA-2018_Horse-Show-ad_one.indd 1 12/9/18 12:12 PM
Page 56
Contact Us:Catherine Cruger, Kendall Entler, Stephanie Parker, Mari Valceschini(541) 848-8519Some Day Farm LLC 20361 Tumalo Rd, Bend, Oregonwww.SomeDayFarmLLC.comTo All2019 OHJA Medal Finalists Some Day Farm Good Luck SAVIN HILL FARMGood Luck to All Medal Finalistsfrom
Page 57
sEpTEmbEr 2019 OHJA meDAL FINALS prOGrAm 55SAVIN HILL FARMank You TEAM NW EQUESTRIAN SPORTS for hosting the 2019 MEDAL FINALSFounded in 1978, OHJA's purpose is to:• Promote the interest of owners and exhibitors by ensuring fair competition & sportsmanship• Help improve and develop the quality of hunters and jumpers within the state• Bolster public support of the hunter, jumper and hunt seat equitation industry• Expand and enhance the image of equestrian competition• Provide academic scholarships to accredited schools of higher education• Financially support junior members competing at regional and national level eventsOHJA is a 501(c)(3) non-profit organization dedicated to the promotion of hunters, jumpers and hunt seat equitation.Good Luck to All Medal Finalistsfrom
Page 58
Free Ice Cream!Free BBQFree Fun!PresentsSatu rday, Sept. 2111:00a m - 2:00pmSatu rday, Sept. 2111:00a m - 2:00pmstBouncy House, Free BBQ, Live Music, Huge Raffle, 20+ Animals to pet and see,Giveaways, balloonist, Free Ice Cream!Pet Adoption, Games, Face Painting, Costumed Character, Baby Goats & an African Crested Porcupine!CommunityAppreciation Day145 NE GILMAN BLVD ISSAQUAH, WA 98027(425) 392- 6469 www.grangesupply.com/thegrangeissaquah/grangesupplyissaquahSpecializing in Equine Farm | Mortality/Major Medical | Equine Liability | Equine Events | Equine Club & Liabilitywww.jogtrot.comCompetitive quotation support at 1-800-JOG-TROT (425-689-0004)heather@sea-mountain.comawa i t s youGive your horse the proper feed andsupplements so they cankeep ridingwith you. 145 NE GILMAN BLVD ISSAQUAH, WA 98027(425) 392- 6469 www.grangesupply.com/thegrangeissaquah/grangesupplyissaquahWashington's Feed Store.™ 22216 Sweeney Road SE, Maple Valley, WA 98038 www.huntersruneq.com Owner: Colleen Armstrong Trainers: Angie Chamberlin & Meghann Gjersten Asst: Lindsay Levy www.huntersruneq.com Quidam Van De Kapel Quimby: This wonderful 16.1 hand warmblood gelding has auto lead changes, loads of experience in the jumper ring and quiet enough for the hunter ring. Most recently Quimby was the 2017 Zone IX Horse of the Year and Washington State Hunter Jumper year-end 1.0 meter Children's Jumper champion, having moved up with his junior rider from their 2016 year-end championship in 0.9 meter Chrildren's Jumper. Quimby is brave in the ring and super fun to jump. He's available for sale with possible lease options considered. Contact: Meghann Gjersten mobile: (425) 358-0578 e-mail: hunrunmeg@gmail.com
Page 59
September 2019 www.eINw.org 57www.EINW.orgDressage Report By Gunn Cooper, Dressage DirectorOn Saturday July 13th, at the Champagne Classic, I had the privilege to announce the winners of Equestrians Institute's rst annual High-Performance dressage award winners. By providing $5,000 in prize money we wanted to show support for our members who are riding and competing at the highest level of dressage. e qualifying scores were an average of the highest score earned at the Chablis/Beaujolais in June and on Saturday July 13th at the Champagne Classic. Congratulations to this year's winners:FEI OPEN Champion $2,500 - Alyssa Pitts riding Geronimo R at PSG/Intermediate I and earning an average score of 71.434%FEI OPEN Reserve $1,000 - Paige Ruhl riding Yatzee Fpf at Grand Prix and earning an average score of 63.995%FEI OPEN Runner UP $500 - Jessica Wisdom riding Rocero Svs at PSG at the Beaujolais and earning a score of 70.588%FEI AA Champion $500 - Kathryn Lewis riding Doemaar at PSG and earning an average score of 64.338% (thank you for donating the prize money back to EI to seed next year's awards!)FEI JR/YR Champion $500 - Mckenzie Milburn riding Zero Branco at FEI Junior Tests and earning an average score of 66.215%Board of DirectorsBoardofDirectors@einw.org Diana Axness diana@einw.org Trish Camozzi-Ekberg trish@einw.org Gunn Cooper gunn@einw.org Meika Decher meika@einw.org Merridy Hance merridy@einw.org Penny Leggott penny@einw.org Kathryn Lewis kathryn@einw.org Sarah Johnson sarah@einw.org Chris Bredeson chris@einw.org Laurie McLaughlin lauriemc@einw.org Jo Renn jo@einw.orgAdministration Membership membership@einw.org Bookkeeper bookkeeper@einw.org Volunteers volunteers@einw.org Grants grants@einw.org Website/Email webmaster@einw.orgDriving Events & Clinicdriving@einw.org Sarah Johnson sarah@einw.org Diana Axness diana@einw.org Merridy Hance merridy@einw.org Leslie McGinnis leslie@einw.orgEventing Horse Trials & Clinicseventing@einw.org Meika Decher meika@einw.org Penny Leggott penny@einw.org Heidi Hansen heidi@einw.orgDressage Shows & Clinicsdressage@einw.org Gunn Cooper gunn@einw.org Markay Kerr markay@einw.org Kathryn Lewis kathryn@einw.org Peter Rothschild pgr@tsandm.com Kaye Phaneuf phaneuf@canby.comSport Horse Breeding Shows & Clinics Chris Bredeson chris@einw.org Laurie McLaughlin lauriemc@einw.orgSince there was no AA Reserve or JR/YR Reserve Champion we decided instead to award that money to Jessica Wisdom by providing a special Runners Up category, since she had qualied at the Beaujolais but was not able to ride at the Champagne Classic due to an injury.We also had the regular Show High Point and Trophy winners in addition to also providing breed High Point ribbons for a number of breed organizations that oer such programs. If you are interested in further details, go to our website einw.org.Driving Report By Diana Axness, Driving DirectorOn August 9th through the 11th, the driving division held our rst American Driving Society recognized Combined Driving Event (CDE) at Donida Farm Equestrian Center. It was a tight squeeze making all of the elements of a full CDE t into the available space - but we did it! It would not have been possible without the expert guidance of Marc Johnson (our course designer), the outstanding support from Dave and Gwen Blake (Donida owners), and the hard work of those on the EI driving committee. ank you all!Congratulations to the overall winners of each of the divisions:Training Level - Suzi DixonPreliminary Level - Mandy HoodIntermediate Level - Karen MilojevichOur last driving event of the season is a two day driving trial on September14th and 15th. It will be at Donida Farm Equestrian Center, of course!We hope to see you there as either a driver, volunteer, or spectator!"Molly Martin and H Wrendition winning High Point for top Hungarian.""Vuitton, ridden by owner and adult amateur, Jessica Mayer."
Page 60
58 www.oregoNDreSSage.com September 2019Oregon Dressage Society e Voltewww.oregondressage.comODS President's Note: By Karen CheekeIncluded in this issue is the Oregon Dressage Society's Board of Directors Organizational Chart. ere are many committees, oce, and administrative positions that need to be covered in order for the ODS Board to support the activities, events, and shows the membership enjoys. ODS only has 14 elected positions on the board. ese individuals dedicate many hours to board business and generously oer additional volunteer time on many committees as well. Elections for 8 new board member positions will be happening soon. In addition to the board positions, we need our members to volunteer for various administrative positions and to organize and run events throughout our area that are supported by ODS funds. e ODS Board is also open to supporting ideas for new events to be added if members step forward to organize and run them. We have the potential to oer a lot more to our membership, and yet we must have a broader group of our members supporting what is already in place by volunteering some time in areas that interest them. To learn more and see how your skills and interests can t into the many opportunities available, please contact the ODS Board by email: odsinfo@oregondressage.comODS Trainers' Workshop October 18 and 19, 2019 at Whip and Spur in Wilsonville, Oregonis much anticipated 3rd Annual event is fast approaching. If you want to apply to be a demo rider at the Trainers Continuing Education Workshop with Catherine Haddad Staller - the deadline to register is September 15, 2019. e link to register through Eventbrite is on the ODS Webpage. ODS League Rider Performance Program - Applications Due September 30ere is a new Award Program available for ODS members and the rst deadline is September 30, 2019. For more information, visit our website: oregondressage.com/celebrate/awards/Mid Valley Chapter's August Business Meeting and Dressage Pool Noodle Pony Freestyle Championships. Chapter members enjoyed dinner at Karen McCurdy's home. We craed pool noodles into magnicent ponies which we rode to music. We had a lot of fun. MVC has their meetings on the 2nd Monday of each month. Come join the fun!Oregon Dressage Society is a USDF Group Member; ODS members are automatically USDF Group Members. 2019 Executive CommitteePresident: Karen Cheeke | (541) 740-8837 | president@oregondressage.comVice President: Valerie Hallberg - Stallings | (541) 817-6386 | vicepresident@oregondressage.com Secretary: Sarah Diebert | (360) 574-3733 | secretary@oregondressage.com Treasurer: VacantDirectors at LargeLisa Koch | lisakoch3@gmail.comLynette Hammon | youth@oregondressage.com Emily Kenyon | emilyekenyon@gmail.comKeaton Hoy | keatonhoy2018@icloud.comBrett Stallings | bsaiedail@gmail.comSarah Diebert | sjdiebert@comcast.netKaren Cheeke | president@oregondressage.comBrittney Castell | brittneycastell@gmail.comEileen Parent | eileenpar@msn.comRegional RepresentativesNorth Region: Jo Renn | (508) 335-6103 | jorenn22@yahoo.com, Kathy Casey | kathycaseydressage@gmail.comCentral Region: Jamie Lewellyn | Jannelewellyn@gmail.comSouth Region: Valerie Hallberg-Stallings | (541) 817-6386 | valer329@gmail.comEast Region: VacantCommittee ChairsAdult Committee: Brett Stallings | adults@oregondressage.comAwards Committee: Valerie Hallberg-Stallings | awards@gmail.comChampionship Show: VacantCompetitions Committee: Sarah Diebert | (360) 574-3733 | competitions@oregondressage.com Finance Committee: Valerie Hallberg-Stallings | (541) 817-6386 | valer329@gmail.comPara Committee: Karina Molatore | (503) 523-8084 | karina.molatore@gmail.comYouth Committee: Lynette Hammon | youth@oregondressage.com Additional State PositionsHorse/Rider Awards: VacantSpecial Awards: Valerie Stallings | specialawards@oregondressage.com Editor/Policies & Procedures: Mary Packard | marypackard@mindspring.com & Valerie Stallings (see Vice President)ODS Librarian: Amanda Wilgenburg | (360) 426-8939 crookedtailfarm@msn.com4H Liaison: VacantHistorian: Kim Hixson | (509) 698-6778Chapter Ocers: Listed on ODS WebsiteAdministration: General Information: Karen Cheeke ODSinfo@oregondressage.com | (541) 740-8837Membership: Jo Renn | membership@oregondressage.com Financials: Mail: Sarah Diebert | insurance@oregondressage.comWebmaster: Valerie Stallings | webmaster@oregondressage.com Website Calendar: Karen McCurdy | calendar@oregondressage.com Insurance: Sarah Diebert | insurance@oregondressage.com Publications (Flying Changes Club News)): Anna Bigwood | publications@oregondressage.com
Page 61
Fall FestivalValerie Stallings, ChairBrett Lynn StallingsSarah DiebertPolicies & ProceduresValerie StallingsMary PackardPublicationsSara DiebertAnna BigwoodWebsiteValerie StallingsFinance & 1099sChapter SupportKaren CheekeRegional RepsMembershipsJo Renn (til Nov. 1)Show ApprovalSarah DiebertInsuranceSarah DiebertPrimary ContactKaren CheekeHistorian / LibraryKim HixsonAmanda WilgenburgMerchandiseJo RennPara (Ad Hoc)Karina MolatoreSarah AshbyYouth ProgramsLynette HammonGaye McCabeBrittney CastellYouth CampLynette HammonADMINBOARDOFFICECOMMITTEESSHOWS EDUCATIONVice President & Region Rep. - SValerie StallingsDirector at LargeLisa KochRegion Rep. - NKathy CaseyPresident & Director at LargeKaren CheekeFinanceValerie StallingsAndrea MerekChampionshipChair: OPENManager: Peter RothschildSecretary: Mary NealSponsorships: Emily KenyonHospitality: Jo RennVolunteers: Karen PiperProgram: Sarah DiebertPhoto: Mary CorneliousAwardsValerie StallingsNominatingSarah DiebertMarketing (Ad Hoc)Emily KenyonJo RennLynette HammonMary PackardLeague Championship Valerie Stallings, Chair NW ExpoOPENFrancy Haupt(Demo Riders)Junior/Young Rider Lynette HammonAdult TeamKaren CheekeODS CompetitionsSarah Diebert, ChairSiobhan BarkerKay PhanefAdult ProgramsBrett Lynn Stallings, ChairFrancy HauptEmily KenyonEducationValerie Stallings, ChairSecretary & Director at LargeSarah DiebertDirector at LargeEmily KenyonRegion Rep. - CJamie LewellynDirector at LargeEileen ParentDirector at LargeKeaton HoyDirector at LargeLynette HammonDirector at LargeBrittney CastellRegion Rep. - EDirector at LargeBrett Lynn StallingsTreasurer Trainer Workshop (Ad Hoc) Lisa Koch, ChairMarsha WilliamsJill CampbellAnna Bigwood
Page 62
60 www.wSHJa.org September 2019Washington State Hunter Jumper Associationwww.WSHJA.orgWSHJA BOARD OF DIRECTORS 2019President: Jamie Smith Vice President: Quinn PartridgeTreasurer: Miranda SalmeriSecretary: Ellen Con Hunter Rep: Alexis Taylor SilvernaleEquitation Rep: Nora ThomasAmateur Rep: Francesca HelinaPony Rep: Paige Wagter Jumper Rep: Laina PatersonJunior Reps: Maggie Nealon & Katie Kotler Members at Large:Tory BovaLisa CrittendenTye Hinckley-PatrickEllen MillerSara Petersen Contact info available on wshja.orgWSHJA is a non-prot, member-run association reliant on generous sponsors, charitable volunteers, and avid participation of the hunter/jumper community to accomplish its mission—championing the achievements of and serving the interests of both its riders and horses—to ensure a thriving equestrian culture in the Pacic Northwest.Danielle BogardusSave e Datee Evergreen Classic is ON for this year! Look for it July 31 – August 4th. More details forthcoming – visit wshja.org or evergreenclassic.com for more details!THANK YOU to our sta, volunteers, sponsors, and exhibitors who contributed their talents to the 2019 Spring National horse shows. We are truly grateful for your support.Congratulations to the Spring National Inaugural, Spring National Hunter, & Spring National Outreach winners!Become a Member of WSHJA in 2019With your membership, you'll receive these great benets:Complimentary Flying Changes magazine subscriptionPoints accumulation in the WSHJA State or National Year End Award programsAccess to WSHJA's Educational and Competition Finals Scholarship programsEarly access to clinics and other educational opportunitiesOpportunity to take part in the Washington state hunter jumper industry by attending the Annual Meeting of the Members (in December 2019) and voting for the 2020 WSHJA Executive Board of Directors.With your support, next year WSHJA will: Provide annual scholarships to help junior and amateur members pursue ambitions in the Hunter Jumper sportHost educational opportunities for membersProduce great, local horse shows in the Seattle area every yearCelebrate members' achievements at the annual awards banquetCreate an equitable competitive environment with State and National point programsHaven't signed up to become a member with WSHJA yet?Contact Mary Cristy at memberservices@wshja.org to sign up today!
Page 63
September 2019 www.oregoNHuNterJumper.org 61Check Your PointsPlease track your points on oregon-hunterjumper.org. Points now available through ermal week 5. Join OHJA todayNow is the perfect moment to visit oregonhunterjumper.org to renew your OHJA membership for 2019, or become a new member. Volunteer with OHJA!Oregon Hunter Jumper Association is run on a team of volunteers. Please lend a hand to the OHJA in the 2019 season. For more information https://www.oregonhunterjumper.org/volunteers/ Oregon Hunter Jumper Association would like to sincerely thank all 2018 volunteers!Sponsorshipse OHJA is a non-prot, volunteer run organization that relies on sponsorships and donations to provide everything from ribbons at the year-end awards banquet, to prizes for medal nals, to educational scholarships. If you are interested in supporting the OHJA or know someone who might be, please contact the OHJA fundraising chair at fundraising@oregonhunterjumper.org OHJA Board MembersPresidentKathryn Hall (971) 404-5296 khall@pnwequinelaw.comVice PresidentRebekah Swan (503) 349-0314 beka@swantraining.netTreasurerSam Shahbazi (503) 320-6137 Shahbazi.sameera@gmail.com SecretaryLeah Lively (503) 442- 2624 lclively@gmail.comJumper Representative: Meg Dunne 339-223-2356 megdunnetraining@gmail.comHunter Representative:Dustin Goodwin (971) 219 8586 dustingoodwin00@gmail.comEquitation Representative:Nicole Bourgeois (339) 223-2356 nicolebourgeois7@gmail.comMembers at LargeAkiko Hamada stellarsporthorses@gmail.comJoe Regan arborgroveequestrian@gmail.comRobin Rothe robin.quietrein@gmail.comJunior RepsKaylyn McGrady Hatte Hamilton Izzy Lively Oregon Hunter/Jumper Associationwww.oregonhunterjumper.org
Page 64
62 LpSDc September 2019LOWER PUGET SOUNDDRESSAGE CLUBwww.lpsdc.comLPSDC CHAMPIONSHIPS AND OPEN SHOW Entries are open for the culminating event of our show season! The LPSDC Championships will be held at Aspen Farms in Yelm Washington on Saturday October 12th and Sunday October 13th. In addition, there will be an OPEN Schooling Show happening at the same time and venue! This provides another opportunity to get your horse out and enjoy a venue that is rarely open to dressage riders. Entries are open until October 1st. Any mailed entries postmarked after closing date accepted only if ride times available and subject to additional fees. Go to Foxvillage EQ Entries to sign up!The Championship classes are open for riders that qualied at LPSDC schooling shows during the show year November 1, 2018 – October 1, 2019. The last two LPSDC schooling shows are September 14 and 15 at Kitsap Saddle Club. To qualify for a Championship class, the rider must have earned two qualifying scores of 55% per level, per division and from two different judges, at two separate competitions.The Open Show is open for everyone. You do not have to be a LPSDC member to enter. If you become a LPSDC member or renew your membership by January 31, 2020 your rides at the 2019 Open show can (with a qualifying score) count towards the Year End Awards held in 2021. The event will have two rings, stalling for 40 horses, haul-ins allowed, 10 RV hookups and plenty of room for camping. Dogs are welcome as long as on a leash and kept away from the Dressage Courts. LPSDC member and Region 6 Representative Jo Renn has graciously offered to be Show Manager. Christine Erikson is Show Secretary and is handling all registrations (through EQ Entries). We are also planning a Saturday afternoon Wine Event to celebrate all our achievements through the show season and our rst year as an independent GMO!LPSDC President, Lea McCullough
Page 65
September 2019 LpSDc 63LPSDC PRESIDENT SHINES AT SUMMERVALEWe have a very dedicated Board of Directors for Lower Puget Sound Dressage Club. Our President and avid rider, Lea McCullough embodies all the attributes of a leader and horse advocate that make dressage such a special sport. She and her beautiful mare, Sunshine enjoyed a fantastic weekend at the Summervale August show. This Recognized Show, hosted by Paula Helm and Jennifer Williams is always a treat for any rider who participates. Under the mentorship of Coach Delicia Sorenson, Lea and Sunshine wowed the crowd with a dynamic Fourth Level Freestyle and a win for her Fourth Level Test 3 on Saturday. In Lea's words – "I was PROUD to be the mama at the end of Sunshine's leadrope all weekend". Lea is a USDF "L" Graduate and will host a Recognized Show at her Chalice Farm on October 6th. COMING DOWN TO THE WIRE – LAST SHOWS OF THE SEASON!Here we are – at the end of the season:LPSDC President, Lea McCullough Mary S. DeLorey, DVMToll Free 866.208.1268www.nwequinedentistry.comNorthwest Equine DentistryNorthwest Equine DentistryServing horses and their owners in Washington and Idaho.I Focus on Superior Dental CareSo you can Focus on Superior Performance
Page 66
64 LpSDc September 2019WoodbrookHunt ClubLakewood, WAwww.woodbrookhuntclub.comMASTERS OF FOXHOUNDS:MFH - Melody FleckensteinSr. Jt. MFH - Michael Wager Jt. MFH - Tami Masters Jt. MFH - Margo ForstromJt. MFH - Lorna AndersonMFH Emeritus - Jean Brooks Sr. Ad. MFH - Joanna Herrigstad Sr. Ad. MFH - RJ Argenzio-West HUNT STAFF:Huntsman - Jennifer HansenKennelmadam - Sarah GlaserWhips - Michael Wager, Tami Masters, Sarah Glaser, Patty StiemertFox Club - Eric Stiemert, Simon Chapman, Tami MastersFieldmasters - Emily Rang, Margo Forstrom, Debra Flynn, Melody Fleckenstein, RJ West, Michelle HoedemanBOARD OF DIRECTORS:President - Kate GormallyVice-President - Michaela HansenSecretary - Michelle HoedemanTreasurer - Deborah GiddingsPast Pres. - Debra FlynnTrustees:Lorna AndersonJoan BurlingamePatty Stiemert Margaret Keerseresa LazaresJennifer MecumSave the date!Saturday, September 14th—Kick-O DinnerWe're having a pig roast! Watch your email for the RSVP invite. Dinner tickets are $50 for adults and we're trying a new family price of $125 for two adults and their children. Saturday, October 5th—WHC 58th Annual Hunter Trials and Hunter PaceDerbies on the grass, pairs and teams over fences, leadline, VIP tailgating (bring your best Virginia Gold Cup Style—there may be prizes for spectators!) We're gearing up for a great day!Sunday, October 6th—Opening DayOur 93rd hunt season starts o at 11am the day aer the hunter trials. As always, the capping fee is waived for competitors. Saturday, February 29, 2020—WHC Hunt Ball!More details to comeAn Ordinary August MorningFor those of us who live "o the strip" (local parlance for the farms of the Woodbrook neighborhood), getting to a 9am hound exercise can take some doing. ere's trac to contend with—and many of us do literally wade through the army to get there. ere's always a list of other things we should be doing, things closer to home, things more lucrative, things that nag in the backs of our minds. A hunt is an event, planned for and dressed for, a day tidily set aside for, but hound exercise is a brisk trot wedged into an already tightly scheduled day. Friday the 16th dawned with no sunshine to herald the delights it would hold. An ordinary morning of rushing and tacking—and did I mention I'd persuaded Emily Rang that she could easily ride at nine and be back to the oce in time for a lunch meeting? e rst sign of unexpected extra fun came when our small eld spied Monsieur Fox Simon climbing into the hound truck that usually only ferries water on hound exercises. Try as we might, we couldn't see if he had a scent bag with him—perhaps he was out for a lark, eager to see how the new puppies have integrated into the hunting pack—but no! ose of us who'd serendipitously roused ourselves to come "out for a trot" would get to watch the rst hunting work of the J litter. Joshua, Jolene, Jumpstart, Jazz, Jodhpur, Jeddy, and JBLM were to make their debut!e warm up consisted of a brisk trot around Lake Mondress and the pack struck the line near the intersection of the fence line and the Elledge Crossing Mainline. e voice was immediate and robust. e pack hunted straight and hot until they found their quarry—whereupon we realized that a dierent sort of young entry had a rst that day. Oliver Wallace (all of ve-and-one-third) le his trusty ride in the hound truck to run in the footsteps of one of his heroes. Ollie has walked out with the pack most of the summer (he's now adept at avoiding puppies on couples) and he decided he was ready to follow Simon and lay his rst line. e pack and Ollie were jubilant at their accomplishments. So many young things growing up. en we realized we'd checked in the middle of a wasp's nest—ah August.e eld took a detour (to avoid wasps) and met the pack in the Logistics Center Oaks where they watered and had a rest. Despite the hour, the inauspicious day—overcast and cool—meant that the fox, hounds, and horses were able to muster the energy for another line. Emily and her CONTACT INFORMATIONwww.woodbrookhuntclub.com is your greatest resource to learn more about drag fox hunting with us, our hounds, activities, and club history. Like us on Facebook!Questions and information requests are best directed to: Melody Fleckenstein, MFH (425) 417-4003 woodbrookhuntclub@gmail.comJennifer Hansen, Huntsman (253) 377-4892 huntsmanhansen@gmail.comMichelle Hoedeman , Membership (253) -273-6414 michelle2teach@hotmail.comJoshua, Jolene, Jumpstart, Jazz, Jodhpur, Jeddy, and JBLM were to make their debut!e warm up consisted of a brisk trot around Lake Mondress and the pack struck the line near the intersection of the fence line and the Elledge Crossing Mainline. e voice was immediate and robust. e pack hunted straight and hot until they found their quarry—whereupon we realized that a dierent sort of young entry had a rst that day. Oliver Wallace (all of ve-and-one-third) le his trusty ride in the hound truck to run in the footsteps of one of his heroes. Ollie has walked out with the pack most of the summer (he's now adept at avoiding puppies on couples) and he decided he was ready to follow Simon and lay his rst line. e pack and Ollie were jubilant at their accomplishments. So many young things growing up. en we realized we'd checked in the middle of a wasp's nest—ah August.e eld took a detour (to avoid wasps) and met the pack in the Logistics Center Oaks where they watered and had a rest. Despite the hour, the inauspicious day—overcast and cool—meant that the fox, hounds, and horses were able to muster the energy for another line. Emily and her young horse Tally excused
Page 67
"Thank you, Mike Osinski, instructor extraordinaire - you are a dreamcatcher!" Shelly Johnson
Page 68
66 www.wooDbrookHuNtcLub.com September 2019themselves (noon meetings beckoned) and the eld hacked to the ridge side of McCall Hill. e hounds cast in the wetland (currently dry) known as the Mallard Pond (no ducks presently in residence) and hunted the line to the edge of the Hunter Trials Field. Monsieur Fox (no doubt faster without the aid of his kit-fox Ollie) ran a splendid line and the eld was graced with strong voice (Joshua inherited his grandmother Ketchup's voice, so he may be one-eyed, but he has twice the sound!) A proud huntsman and her sta hacked the pack back to the kennel and the eld dispersed o to our usual Friday aernoons. Making the trek for hound exercise is a gamble—some days it's a trot around the block and some days it's a barn-burner.Michaela HansenBoard Member IntroductionsNew board members come and go, in threes each year, and they never quite receive the introduc-tion or fanfare they deserve. To this end we'll be introducing a board member each month, with a few pertinent details and a few questions from the Proust Questionnaire (posthumously edited by the ghost of Siegfried Sassoon). This month we showcase Theresa Lazares, our new Membership Chair. For years the membership duties have been borne by our Hon. Secretary Michelle Hodeman, assisted by R.J. West, Advisory MFH. is year we were lucky to snag eresa and put her to work. She's a welcoming face in the hunt eld and her eye for eBay keeps many of the sta spily dressed—if you have membership questions please reach out to her. She's in the roster, and soon will be in charge of updating it, so you can be sure her phone number is correct!eresa's rst season hunting was back in 1986, when Diane Amoroso was hunting the pack. She mostly played polo in the eighties before the hunting bug caught her. As a member on-and-o through the nineties eresa married her husband Danny and raised two children on their farm in Gig Harbor. eresa came back to WHC a few years ago and has hunted her een-year-old, bay, Oldenburg mare Indee for the past few seasons. She was awarded her colors at the end of the last season and we look forward to her delightful presence in the hunt eld.eresa's answers to selected questions from the Proust Question-naire (posthumously edited by the ghost of Siegfried Sassoon) Your favorite virtue? I don't have one.What quality do you most appreciate in your friends? LoyaltyWhere would you like to live? Right where I'm at.Your favorite movie star? Anthony HopkinsYour favorite hunting memory? When Kate, Michaela, and I got lost on area 9 and ended up at a dead end. We had a lovely aernoon making up our own hunt trying to nd the rest of the hunt. Your favorite mount? IndeeWhat is your idea of perfect happiness?At the end of the day having a glass of wine beside my re pit, watching my horses graze in their pastures.If you could change one thing about yourself, what would it be? I'd like to be 30 years younger.What do you consider your greatest achievement? Raising my kids.If you were to die and come back as a person, animal, or a thing, what would it be? As a dog, they're always so happy. It's your way of life… It's our business to protect it! www.bluebridle.com (800) 526-1711 • (908) 735-6362 Mortality • Major Medical • Surgical • Colic • Farmowners Equine Liability • Care, Custody or Control Blue Bridle Insurance Agency, Inc., P.O. Box 27, Pittstown, NJ 08867
Page 69
September 2019 www.wooDbrookHuNtcLub.com 67ACHEKMBFe View From the DrivewayHumans are peculiar creatures—they have very strong opinions on all the places one should not li one's leg. e rules of the human pack can be a bit mystifying. ey frequently look at me, sigh, and say, "Jupiter, you're not supposed to be in the house." I'm not sure what those words mean, so I ignore them. On the whole, I think I've distilled the rules down to a few simple guidelines: • Don't get on the furniture, except when no one's looking. • Short people bring snacks, short dogs bring trouble. •Only pee in places where you can still see the sky.•Make sure you're not the only dog who can reach the table top during human meals; ey think if they walk away from a dish of food it should stay exactly as they le it, so you don't want to be the only one liable for doing the responsible thing and nishing that food.All in all, it's not hard to be a barn dog. e humans are very fond of standing in the middle of the arena and telling other people what to do—they even nd strangers to come do it! e last stranger, Wendy Murdoch, thought I was delightful (she's not wrong) and I helped her with two days of standing in the arena. (e plate leavings were exceptional.)Beyond that, we're nally back to fun—Jenn got the scent bottle out this morning! I found her alchemical laboratory soon aer I moved in (can't keep a good nose o the job). e humans call it the "wash rack," but it's where she hangs the lures and mixes potions of scent. Everyone else kept on tacking horses—as if magic weren't happening before our very noses. With a few pours and swirls she conjured a red fox and then sealed it up in a little bag for Simon to carry.'Twasn't proper lines we ran, but little nds so the pups could work their noses. Aer the rst, she let us work through the bracken and brambles. ose pups found Simon and the hound truck, but they worked true and didn't babble. I think they'll learn the game just ne. e days are nally shortening, and might even cool o, so real hunting will be next. It's a good thing I've gotten the humans and their house all gured out, they've added a new one to the pack. ey call him William. So far he's just noisy, but I imagine he'll grow up like the rest of the human pups and start dropping treats. Regards,Jupiter
Page 70
503.663.1515 ColumbiaEquine.comColumbia Equine Hospital Technology. Experience. Compassion. Scott Hansen, DVM • Greg Schmid, DVM • Christy Sandquist, DVM • Paul Duff, DVMDavid Klugh, DVM, FAVD27841 SE Orient Dr • Gresham, OR 97080Columbia Equine Hospital offers a full range of ambulatory, hospital and referral services. Our skilled and compassionate team looks forward to offering your equine athlete the best in lameness and medicine diagnostics.
Page 71
September 2019 2019 eveNt DateS 69September 2019 7 Rolling Rock Farm Hunter Jumper Show Series #4, Sherwood, OR Contact: Jan Hammond 503-702-4215 or info@RollingRockFarm.com. www.RollingRockFarm.com 503-625-9550 Entries online at Horseshowtime.com 11-15 Northwest Autumn Classic - Monroe, WA . C o n t a c t : D i a n n e J o h n s o n - 4 2 5 - 8 2 3 - 2 8 0 2 14 LOEC's 11th Annual Nancy Wild Medal Finals at LO Hunt . Contact Kristin Spurgeon at showmanager@loequestrian.org2019 EVENTS CALENDAR 14 Lower Puget Sound Dressage Club, Final Fall Fling Schooling Show #1. Location: Kitsap Saddle Club, Port Orchard, WA. More information lpsdc.com 15 Lower Puget Sound Dressage Club, Final Fall Fling Schooling Show #2. Location: Kitsap Saddle Club, Port Orchard, WA. More information lpsdc.com 14-15 Equestrians Institute Anne Gribbons Dressage Clinic, Snohomish, WA, email dressage@einw.org 14-15 Equestrians Institute Driving Trial, Donida Farm Equestrian Center, Auburn, WA, email driving@einw.org 14-15 Equestrians Institute Jan Ebeling Dressage Clinic, Snohomish, WA, email dressage@einw.org14-15 Equestrians Institute Eventing Horse Trials II, Washington State Horse Park, Cle Elum, WA, eventing@einw.org 21 Quarry Ridge Horse Shows. Contact: www.quarryridgefarm.com, Facebook: Quarry Ridge Horse Shows, Text: 360-909-860527-29 Twin Rivers Dressage Summer Camp at Silvertail Farm, Creswell, OR Contact:jaimielewellyn@gmail.comOctober 2019 6 LOEC's Eventing Derby at LO Hunt. Contact Kristin Spurgeon at showmanager@loequestrian.org 10 -14 O c t o b e r C l a s s i c - M o n r o e , W A - M o n r o e, WA . Contact: Dianne Johnson - 425 -823-2802 12-13 D e b b i e S p e n c e D r e s s a g e C l i n i c , M o l a l l a , Or Contact: Karen Miller 503 880-9376 voice/text unlimitedclassics@gmail.com 18-19 ODS Trainers Workshop Instructor: Catherine Haddad-Staller. Location: Whip 'n Spur, Wilsonville, OR. Info: Lisa Koch, lisakoch3@gmail.com 19-20 Equestrians Institute Anne Gribbons Dressage Clinic, Snohomish, WA, email dressage@einw.orgNovember 2019 9 -10 D e b b i e S p e n c e D r e s s a g e C l i n i c , M o l a l l a , Or Contact: Karen Miller 503 880-9376 voice/text unlimitedclassics@gmail.comDecember 2019 7- 8 D e b b i e S p e n c e D r e s s a g e C l i n i c , M o l a l l a , Or Contact: Karen Miller 503 880-9376 voice/text unlimitedclassics@gmail.com 503.663.1515 ColumbiaEquine.comColumbia Equine Hospital Technology. Experience. Compassion. Scott Hansen, DVM • Greg Schmid, DVM • Christy Sandquist, DVM • Paul Duff, DVMDavid Klugh, DVM, FAVD27841 SE Orient Dr • Gresham, OR 97080Columbia Equine Hospital offers a full range of ambulatory, hospital and referral services. Our skilled and compassionate team looks forward to offering your equine athlete the best in lameness and medicine diagnostics.Keeping Horses Healthy, Happy and Performing at Their Best360.568.3111pilchuckvet.com Snohomish, WAplease send2020 show dates to mail@flyingchanges.com
Page 72
70 www.FLyINgcHaNgeS.com September 2019Hunters, jumpers, equitation, dressage, sales, clinics. Complete indoor/outdoor facilities & grass paddocks. Field jumps & 75 acres of elds & trails. Our Virginia roots oer you a three generation business. Brawley FarmsSouth Salem, OR (503) 743-4414brawleyfarm@aol.comwww.brawleyfarms.com Trainer:Judy BrawleyHunters, jumpers, equitation, sales, clinics& basic dressage. Quality school horses & lease program. Beginning to advanced—Pleasure to show ring; We have the experience to help you reach your goals. Brawley Farms North, LLCWilsonville Equestrian Center, Boeckman Road Wilsonville, OR 97070(503) 932-9283 (Cell)dbrawley1962@yahoo.comwww.brawleyfarmsnorth.comTrainers: Debbie & Judy BrawleyPremier training facility. Stalls w/runs, large grass turnouts, all weather no mud turn-outs. Stableguard system, providing 24hr camera surveillance for individual monitor-ing and control of your horse's health and safety. Charlton Ridge Farm, LLCKaitlyn Eigner, Trainer503-349-4533, kaitlyneigner@gmail.comwww.charltonridgefarm.comHunters,Jumper, Equitation, Sales, Ponies.The Pacic Northwest's Premier Equine Brokerage and Marketing Company. Consignments, Guided Buying Tours, Online Marketing.cascadiasporthorses.comCascadia SporthorsesKelly Marriner-Smith17528 Painter Loop Rd. NE Hubbard, OR 97032503-913-0887TRAINER & STABLES DIRECTORY - OREGONHunters, Jumpers, Equitation, Training, Lessons and Clinics. Positive training for both horse and rider. Located just minutes from Hunter Creek show facility. Echelon Training, LLC34680 NE Kramien RdNewberg, Or 97132(541) 420-9711 echelonhunterjumpers@gmail.comwww.echelonhunterjumpers.comTrainer: Kathy Kerron. USEF "R" Hunter/Equitation JudgeHunters, jumpers, equitation - training, lessons, sales, clinics. School horses available. Large, beautiful barn 90x200 indoor, lovely outdoor arena, turnout. Quality training, instruction & care for your horse.Christus Farm, Inc.PO Box 2261Jasper, OR 97438(541) 726-1505 linda@christusfarm.comwww.christusfarm.comAmy Gau, Linda Kienlen, Melissa BrotzThe Sherwood Forest28303 SW Baker Rd.Sherwood, OR 97140www.flipsidehorses.comPhilippa Melski & Kristen Whiteside(503) 516-4965 Jumpers, Hunters, Equitation, Young Horses and Investment HorsesFlip SideCornerstone is a beautiful, full-care hunter/jumper facility specializing in the preparation of horse & rider for the show ring. Quality school horses & lease horses.Cornerstone Equestrian, LLC8310 NW Kaiser Rd, Portland, OR 97231 (503) 351-3253 farm(503) 351-1002 celljump@cornerstonehj.comwww.cornerstonehj.comTrainer: Linda WorleyPremiere Hunter/Jumper facility with emphasis on equitation & horsemanship. Covered arena & grass derby eld. Two miles west of I-5 at exit 271. Arbor Grove Equestrian, Inc. 7359 Highway 219 NEWoodburn, OR 97071(503) 981-1978(626) 644-6771 (cell)www.arborgroveequestrian.comRob Perkins - Owner/TrainerJoe Regan - Owner/ TrainerFallBrooks Farm is a beautiful dressage & vaulting training facility w/indoor & outdoor arenas, round pens, pastures, trails & a friendly, supportive atmosphere. We teach in a kind, enthusiastic & compassionate style. Top horse care in large, clean, matted stalls with runs and 3x/day feeding.FallBrooks FarmNorth Plains, OR 97133Barn: (503) 647-2755FallBrooksFarm@gmail.comwww.FallBrooksFarm.com Manager/Vaulting Trainer: Suzanne DetolDressage Trainer: Ashlyn WaggonerPremier Facility 100x200, 60x120 Arenas, 60' Round Pen, 12x12x42' Stall/Paddock, Adult Hobby Riders, Quite Peaceful Setting, Year around Pasture. Equitation Instruction, Professional Training, Horseback Birthday Parties, Experienced Horse Rental/Leasing.Herrold Stables & Farm32900 SW Wohler StHillsboro, OR 97123(971) 235-4529 call/text www.HerroldStables.com French Hill Farm & Riding Academy15770 NE Eilers RdAurora, OR 97002 (503) 678-6336; www.frenchhillfarm.com Owners: Nancy & Al JubitzPremier riding academy for ages 6 & up. All abilities. Excellent instructors. Experienced lesson horses. Summer Camps. Horse Shows. Beautiful facility. Board and training with Stellar Sport Horses.Crescendo FarmsKatie & Allan TwomblyBarn: 14245 SW Pleasant Valley RdMail: 19809 SW Aten Rd, Beaverton, OR 97007Cell: (503) 703-7950katie.crescendofarms@gmail.comwww.crescendofarms.comExcellent full care boarding facility, includes daily turn out in large grass fields. Specialized care & handling for young horses & lay up situations. Lessons & lease horses also available. Hunters/Eq., Dressage, Centered Riding, Contemporary Alexander Technique and Natural Horsemanship.Capstone Equestrian60360 Horse Butte RdBend OR 97702Lindsey Garner 541-610-4173Tara Niculescu 503-702-0880capstonebend@gmail.comwww.capstonehj.comHunters, jumpers, equitation, sales and investment horses. Beautiful facility with daily turnout, large indoor arena, and outdoor sand and grass arenas.
Page 73
71 www.FLyINgcHaNgeS.com September 2019Hunters, Jumpers, Equitation, Leasing & Sales. Focusing on complete horsemanship & preparation for the show ring.Stellar Sport HorsesFrench Hill Farm15770 NE Eilers RdAurora, OR 97002(503) 678-2025stellarsporthorses@gmail.comTrainer: Akiko HamadaAreas of focus include: equitation, hunter jumper training, horseback riding lessons, professional horse training, horse boarding, and also has a variety of horses for sale. We can accommodate your needs and help to shape you into the kind of rider that ts your goals and objectives.Some Day Farm20361 Tumalo RdBend, OR 97701Trainer: Cathrine Cruger(541) 848 8519catcruger@yahoo.comwww.somedayfarmllc.comHunter, jumper, equitation. School horses available, lease horses also available.Rain Creek Farm20833 S Redland RdOregon City, OR 97045(503) 631-8000(503) 819-7651 cellwww.raincreekfarms.comTrainer: Vicki ZachariasPO Box 92525475 SW Baker RdSherwood, OR 97140(503) 625-9550 (b); (503) 702-4215 (c)www.RollingRockFarm.com Premier training facility for horse & rider. 2 covered arenas 80x200 for hunters & 60x90 for young horses & riders. 100x200 all-weather outdoor arena. Access to trails. Acres of turnout. Owners on-siteRolling Rock Farm LLCLessons for all ages & skill levels. Quality lesson horses in a safe, fun, family-friendly environment—whether you are preparing for the 'A' rated show program or simply want to get your basics down.Quiet Rein Riding School9470 S Bakers Ferry RdOregon City, OR 97045 Trainer: Jill McGrady/Jill@quietrein.com(503) 544-7999Trainer: Robin Rothe/robin.quietrein@gmail.com(520) 358-1079 - www.quietrein.comTRAINER & STABLES DIRECTORY - OREGON2725 Iron Mountain BlvdLake Oswego, OR 97034lohmanager@lakeoswegohunt.com www.lakeoswegohunt.com Lovely historic LOH provides full service boarding, including 4 feedings per day and daily turnout in all weather paddocks with grass option in summer. Our Riding Academy offers beginning English lessons and wonderful summer camps and we offer advanced training programs in a variety of disciplines. Our prime central loca-tion on 19 acres in the heart of Lake Oswego can't be beat in terms of convenience and gas savings. Visit us today!Lake Oswego Hunt ClubLibbi L. Peltz, DVM, TrainerLocated at Venture Farm20130 South End Rd, Oregon City, OR 97045Mailing: PO Box 1168, Mulino, OR 97042(503) 998-7319 cellHunters/Jumpers, Equitation. Lessons & Training for all ages, beginners to show ring competitors. Lesson / Lease horses. Libbi L. Peltz DVM available for your horse's Veterinary care.Libbi Peltz TrainingHunters, jumpers, equitation, investment horses, sales, training, lessons & clinics.Oz Incorporated22665 S Central Point Road, Canby OR 97013Barn: (503) 651-3418 / Shelly (503) 704 7985ozinc@yahoo.comwww.ozincorporated.comTrainers: Je & Shelly Campf Dustin GoodwinIngrid Thornquist & James Hook, OwnersSherwood, OR 97140(503) 819-8519 (c) Ingrid@merlinswood.com; www.merlinswood.comDressage & basic horsemanship lessons. School horses available. Private, quiet, full-care facility. Rehabilitation & layup care available. 12x12 stalls w/runs, 70x144 covered/lighted arena, pasture turnout, individual or group. 15 min. from I-5 Wilsonville exit, 15 min from 99w Sherwood.Merlin's WoodHunters. Jumpers. Equitation. Investment. Sales. Daily turnout with a large indoor arena. NCEA riding help. All levels welcome.Imagination Lane, LLC36851 NE Wilsonville RdNewberg, OR 97132Nicole Bourgeois (503) 310-9982Kendall Bourgeois (503) 476-7862imaginationlanellc@gmail.comwww.imaginationlanellc.com775 SW Advance Rd Wilsonville, OR 97070(503) 682-8897Quality full-care boarding, full-size indoor dressage & jumping arena, turnout, clinics, instruction in basic equitation to CT in a friendly, supportive atmosphere.Sleepy Hollow Farm, LtdShannon Vandermolen, Trainer22262 SW Staord RdTualatin, OR 97062(503) 927-7190madeventer1984@yahoo.comFull and Partial training packages for hunters, jumpers and eventers. Limited school horse lessons. Quality show barn in relaxed family farm setting. Sales and Leases available. Call Shannon.Pete's Place LLCDisciplined, compassionate, and methodical training to awaken a horse's love and eagerness for its work as well as lessons and training for beginning through advanced riders of all ages. Full care board of the highest quality.Hawkins Equine, LLC16030 SW Holly Hill Road, Hillsboro OR 97123(503) 475-6236hawkinsequinellc@gmail.comwww.hawkinsequinellc.comTrainer: Ashley HawkinSavin Hill is a Hunter Jumper program tailored to provide a well rounded atmosphere of fun, education, and safety that emphasizes horsemanship and teamwork creating a healthy climate for horse and rider. We attend both schooling and rated shows in Oregon and on the West coast and boast our own beautiful boutique facility just Southwest of Beaverton and Tigard.Savin HillSarah Savin503-550-9691ssavin@savinhillfarm.comwww.savinhillfarm.com
Page 74
72 www.FLyINgcHaNgeS.com September 2019TRAINER & STABLES DIRECTORY - OREGONOregon City, OR 97045 ((971) 285- 2144 (503) 631-3289; www.strowbridgestables.comDressage training 30 years experience. Relax & enjoy the journey with your horse. Lessons designed individually for each horse & rider team. Indoor/outdoor arenas w/excellent footing. For more information contact Katie Gustafson (503) 631-3289 or stubbiedog@ccgmail.net.Strowbridge StablesSwan Training16091 SW Wilsonville Rd. Wilsonville, OR 97070(503) 349-0314Trainer: Rebekah Swanwww.swantraining.netHunters, Jumpers, Equitation. Whip 'n Spur continues with a tradition of the highest quality training & horse care in the Northwest. Home of Swan Training.Tom Murray DressageViola Farm28815 S. Needy Rd.Canby, Oregon 97013(626) 644 3008tommurraydressage@gmail.comNow accepting clients at this exciting new facility.Full-care boarding, dressage training & sales. www.TomMurrayDressage.comDressage training/lesson program & clinics. Full care, daily large turnouts year round, large mirrored indoor arena, round pen, large matted stalls, & superb amenities. Surrounded by over 3,000 acres of BLM land w/year round trails. Trailer parking, fully fenced, gated, & video monitored. Conveniently located just 15 min. east of I-205. Owner lives on site for 24 hour care.Tracie Bjugan Dressage LLCLocated at West Side Stables17265 SW Swank RdSherwood, OR 97140Tracie Bjugan (503) 705-2207 / traciebjugan@gmail.comwww.tbjugandressage.comUSDF Gold, Silver, Bronze medalist. Accomplished competitor with multiple awards. Dedicated instructor, international horse shopping, using technology enhancing instruction, starting horses, retraining difficult horses. Available for clinics and travel. Templeton Equestrian CenterDave and Shanna Templeton Owners21285 S. Lower Highland Rd., Beavercreek, OR 97004(503) 632.2433 Barn(503) 388.1809 Megan Pugh – TrainerCarrie Harnden – Clinician, Alfredo Hernandez - ClinicianTriple Rise Equestrian Center85687 Pine Grove Rd, Eugene, OR 97405 (541) 954-5312 Owners: Mike & Mollie GallawayTrainer: Mike GallawayTrainer: Lauren Buck 541-543-1467www.triplerisehorseshows.comHunters/jumpers, equitation, school horses boarding, training, indoor/outdoor arenas.valleyvistafarm.com11355 NW Valley Vista Road, Hillsboro, OR(503) 647-0444 or valleyvistafarm@gmail.comSelf care boarding in Helvetia area. 10 minutes from Tanasbourne or Bethany. Small, private, mud-free facility. 12'x12' matted stalls with outdoor covered 12'x12' paddocks. Covered 80'x160' arena with Equiloft footing, 60' all-weather round arena. Summer pastures, winter all-weather turnouts. Quiet country roads for hacks. Daily self care required.Valley Vista FarmPO Box 60Lorane, OR 97451(541) 359-8040UnicornRanch@msn.com 80 acres of pastures, woods, trails, cross-country course. Outdoor arena & big, mirrored indoor arena w/viewing, tack & club rooms. Cross ties, 2 round pens, big holding pad-docks. Birthing stalls w/insulated viewing room. Daily turnout, stall cleaning. Feeding 2x per day. Blanketing. Special needs horse care. Surveillance cameras, gated. Trainers welcome. Standing pure Lusitano stallion, Disco Daydream.Unicorn RanchJumpers, Hunters, Equitation & Sales. Competitive show barn, catering to beginners thru Grand Prix. Full service care w/daily turn-out, indoor arena & all-weather outdoor. Full/Half Lease/School Horse Lessons available.Venture Farm20130 South End RoadOregon City, OR 97045Owner/Trainer: Megan Jordan(503) 539-2283 / meg@venturefarmincAssistant Trainer: Heather Northup (541) 914-0407 Antonio Castellanos (503) 209-7109 www.venturefarminc.comEventing, Dressage and Vaulting.Full care board, daily turn-out Julie Hook, Trainer, USEA Level IV InstructorMalcolm Hook, operations managerKayde Undraitis, AssistantTalisman Farm15988 NE Eilers RoadAurora, OR 97002503-678-1016 julie@talismanfarm.us/malcolm@talismanfarm.usDIRECTORYWASHINGTONAt a gorgeous facility minutes from downtown Bellevue and close to Seattle, owner-trainer Alexis Taylor Silvernale and her sta oer customized top-level training and quality care for horses and riders. Aleron Training Stables5800 125th Lane NEKirkland, WA 98033(206) 295-4122Trainer: Alexis Taylor Silvernalewww.aleronstables.comClare Warren / Corene Smith Located at Potcreek Meadow Farm18804 NE 106th STRedmond, WA 98052 www.archwayeqsports.com Archway Farms is a private equestrian training facility dedicated to preparing horses and their riders for the competitive hunter/jumper horse show circuits. We are located in Woodinville, Washington, near Seattle and the eastside.Clare: 206-669-1287 cwarren@archwayeqsports.comCorey: 206-200-7101 coreys@archwayeqsports.comArchway Equestrian Sports, LLCAbsolute Hunter Jumpers oers instruction and training in Hunters, Jumpers, and Eq-uitation. Absolute H/J is an A-Circuit show barn, specializing in working with horses & riders of all ages & all levels. We pride ourselves on teaching clear communication between horse and rider, creating a life long relationship. We teach from the ground up so as to instill condence between you and your horse partner. Absolute Hunter JumpersLisa Shane, Owner/Trainer20722 SE 34th St., Sammamish, WA 98027Phone: (425) 281-3559Email: ljshane@gmail.comAbsolute Hunter Jumpers oers instruction and training in Hunters, Jumpers, and Equitation. Absolute H/J is an A-Circuit show barn, specializing in working with horses & riders of all ages & all levels. We pride ourselves on teaching clear communication between horse and rider, creating a life long relationship. We teach from the ground up so as to instill condence between you and your horse partner. Westport Stables LLCWendy Krohn7501 Wagner Creek RoadTalent, OR 97540(415) 377-2855Westportstables@icloud.comwww.westportstables.com
Page 75
73 www.FLyINgcHaNgeS.com September 2019Shannon Morris6504 44th Ave NE, Olympia, WA 98516(360) 280-3191www.forestparkequestriancenter.comQuality boarding, training, lessons. Incredible facility. 14x14 stalls, individual tack lockers, huge indoor & outdoor rings. Miles of trails. Dressage & jumping lessons offered. Haul-ins welcome.Forest Park Equestrian Center25722 SE Tiger Mountain RdIssaquah, WA 98027HarmonyRidgeEquestrian@gmail.comwww.HarmonyRidgeEquestrian.net(425) 246 6786Conveniently located just 10 minutes off I-99 and Hwy18, our beautiful facility includes a 90 x 200 covered arena with brand new footing, turn out 7 days a week in our completely dry private paddocks, flexible training schedule, heated tack room, meticulous care and plenty of other amenities for both horse and rider to enjoy. Come be part of the Harmony Ridge team and family.Harmony Ridge Equestrian CenterHunters Run Equestrian Center LLCColleen Armstrong, OwnerColleen Armstrong, Angie Chamberlin & Meghann Armstrong, Trainers22216 Sweeney Rd SE, Maple Valley, WA 98038(425) 432-8962info@huntersruneq.com, www.huntersruneq.comHunters. Jumpers, Equitation, Sales, Leases, school horses, boarding, training, indoor/outdoor arenas, daily turnout on grass pastures.Top-of-the-line establishment with full amenities. Small community but large facility, for dressage, horsemanship progress, and fun. Over-sized stalls, indoor & outdoor arenas, round pen, etc. Variety of turnout options. Beautiful elds, hills & woods, with direct access to trails. Tucked away at the end of two lanes, 2.8 miles from Hwy 520 & downtown Redmond.Lane's End LLCNancy Thacher, owner/ trainer, USDF Gold Medalist, retired dressage judge(425) 868-1655; Nancy_thacher@hotmail.com20430 NE 108th St.Redmond, WA 98053www.lanesendfarmnw.comNancy Free, Trainer26919 112th St. E.Buckley, WA 98321(360) 829-9181 farm; (253) 381-2533 cellwww.brassringfarmllc.netHunters, Equitation, Investments, Leases, Sales & Clinics.Brass Ring Farm, LLCInternational competitors Ann and Vinton Karrasch bring decades of excellence in hunter/jumper training, clinics, showing and sales. Now located in the Pacic Northwest.Equestrian PerformanceAt Misty Hollow Farm in Woodinville, WAVinton Karrasch 949.795.1104Ann Karrasch 949.291.1407info@equestrianperformance.comwww.equestrianperformance.com TRAINER & STABLES DIRECTORY - WASHINGTONJonnie Brooks Owner/Trainer7014 180th St SESnohomish, Wa. 98296425-269-2605brooksideeq@gmail.comBrookside-equestrian.com Hunters, Jumpers, Equitation, Lessons and Sales. Located just 5 minutes north of Woodinville, o of Highway 9. Fully inclosed indoor arena, spacious outdoor arena and large grass pastures for daily turnout. Training programs are individually tailored to each horse and rider.Brookside 23118 NE 37th Ave.Ridgefield, WA(360) 887-8087 www.farmhillequestriancenter.comHome of Suzan Davis Atkinson Dressage & Rebecca Buehler \Dressage and Jump Instruction. A full-service dressage & jump facility, located 2 mi. east of the I-5 exit 11, FarmHill features a 60x150 mirrored indoor dressage arena, full-court outdoor dressage arena, 100x300 outdoor jump arena, covered round pen. We provide superb care for our horses & their humans!Hunters, Jumpers, Equitation, Lessons, Leases & Sales. Training program customized to meet your riding goals. Indoor & outdoor arenas, individual paddocks for daily turnout, large stalls & heated viewing lounge.Encanto Valley Farm24246 275th Ave SE, Maple Valley, WA 98038(425) 766-1625encantovalleyfarm@gmail.comwww.encantovalleyfarm.comTrainer: Morgan Carr, USHJA CertiedFarmhill Equestrian Center, LLCKorina Winkler Owner/Manager1613 NE 259th StRidgefield, WA 98642(503) 730-7490 officeemeraldvalleystables@gmail.com Equi-librium Equestrian, Jessica Wisdom 253-230-9764 features a "135x62 newly remodeled, mirrored indoor arena & a newly renovated 235x121 outdoor arena with all-weather footing over 25 newly renovated turnout paddocks. Located on 50 acres with trails.Emerald Valley StablesDerby Farms was established in 1980 by Pamela Pentz who has been a dressage trainer/instructor and USEF "R" Dressage judge ever since. We provide excellent boarding (full care with turn out), training and instruction in dressage at all levels and we have a few excellent school horses for riders in need of mounts. We are also an Oldenburg breeding farm and breed wonderful horses for the amateur market. We stand the amazing Grand Prix stallion Rodioso.Derby Farms17720 NE Woodinville-Duvall Rd.Woodinville, WA 98072425-483-9583www.derbyfarms.com15811 NE 175th St Woodinville, WA 98072(425) 481-7866; http://www.fivecfarms.comHome of Molly Martin Dressage Training, Stones Throw Farm with Sarah Lorenz, & Stephanie Craig and Cherry Blossom Farm Hunter Jumpers. We are a full service boarding facility with large individual turnout paddocks & fields, indoor & all weather outdoor arenas, grass jumping field, & covered roundpen. A positive atmosphere for both horse & rider. Sales, lease & training programs available. Welcoming Kristi Gravrock, now providing lesson horses for hunter/jumper instruction. Also has openings for training horses.Five C Farms53 www.FlyingChanges.Com april 2019Lauren Crooks (206) 660-1992Crooksshowjumping@gmail.com16530 Robinson RdSnohomish, WALauren Crooks: (206) 660-1992James Brennan: (561) 310-7897Crooksshowjumping@gmail.com Crooks Show Jumping caters to the serious athlete with the opportunity to train and compete throughout North America and Europe. Our state of the art facility is located just 25 minutes north of downtownBellevue.www.crooksshowjumping.com
Page 76
74 www.FLyINgcHaNgeS.com September 2019 TRAINER & STABLES DIRECTORY - WASHINGTONFull service providing great care & education at an aordable price. Indoor & outdoor arenas, round pen, locker room, wash rack. Lesson horse pro-gram for all skill levels.Phoenix Farm Hunters & Jumpers8832 222nd St SEWoodinville, WA 98077(206) 229-2711Trainer: Teri Duplasswww.phoenixfarm.comRed Gate Farm is a full service training facility.We oer everything from Lessons to "A" circuit horse shows and have horses and ponies available for lease. We also provide a fun Summer Day Camp for ages 6-12.Red Gate Farm23836 SE 24th StreetSammamish, WA 98075 jamie425@earthlink.net / (425) 392-0111Trainer: Jamie Smithwww.facebook.com/redgatefarmtrainingWashington's leading Hunter & Jumper training facility.Easily accessible from Seattle and all points on the Eastside. We provide top level training for horse and rider in a comfortable, family atmosphere. First lesson to the National level, our trainers can support you and your hunter, jumper, and equitation goals. We will help you reach your full potential.Parkside Stables Morgan & Nora Thomas Trainers13020 NE 39th Street, Bellevue, WA. 98005. (425) 885-5025 Parksidestables@msn.comwww.parksidestables.comState of the art dressage training facility located in Snohomish Washington USDF Bronze, Silver and Gold medalist and National competitor, Catherine ReidOering lessons, training and sales.Reid Sporthorses / Pumpkin Farms17732 Butler Rd, Snohomish, WA 98290Catherine Reid, Trainer (720) 641 7319reidsporthorses@hotmail.comwww.pumpkinfarmsdressage.comDenison Rauw, Owner/Manager2056 Palo Alto RoadSequim, WA(360) 582-9514www.nodawayfarm.comExperienced, quality full-care specializing in retirement, post-surgery, injury, and equine senior care • Tranquil 20-acre farm provides superior climate for horse health • Year-around pasture board or lay-up stall board with state-of-the-art barn and field shelters • Vacation board with close access to Olympic National Forest and Olympic National Park • Partners with Still Creek CPR & First Aid Training for Equestrians www.stillcreekcpr.com. • Nodaway Farm – Horse Care with Heart.Nodaway FarmHunter Jumper training facility operated by third generation horse trainer, Shelly Kerron. Quality lesson horse program. Beginner thru accomplished show rider.Legacy Hunters & Jumpers, Inc.19802 NE 148th StWoodinville, WA 98077trainer@legacyhuntersandjumpers.com(425) 869-1527Trainer: Shelly Kerron Trainer: Lizzie Kerron Assistant Trainer/Instructor: Hannah Podgorski Barn Manager/Instructor: Leanne Wortleywww.legacyhuntersjumpers.com10710 S Sherman RdSpokane, WA 99224Owner: Christel Carlson Manager: Gail Mackie Phone Mgr. (509) 999 6611 Owner(509) 993 6786 www.spokanesporthorse.com Training, Boarding, Showing, Breeding Farm on 150 Acres. 7 Level 3 USDF Shows, 2 USEA Events, All levels, Many Clinics, schooling shows and events.Great lay over just off I-90.Spokane Sport Horse Farm, LLCSummervale Premier Dressage provides an Elite Equestrian Sales experience in dressage horses for sale. We make dreams come true matching top quality dressage horses to their partners.Summervale Premier Dressage29722 - 22nd Ave ERoy, WA 98580www.SummervalePremierDressage.comdressagespecialties@yahoo.com253-381-2811We oer training for both the horse & rider looking to compete & have fun in a team environment. Hunters, jumpers, equitation, sales, leases, & clinics. Full care boarding & beautiful covered arena.Sundance Equestrian Industries18221 236th Ave NE, Woodinville, WA 98077(425) 205-3775USHJA Certied Trainers: Katherine Wade-Easley & Chelsea CrabbAssistant Trainer: Danika Greenwww.sundanceequestrian.comTrainers: John Turner, Jack Hammond,Quinn Partridge & Keri Bailey24221 NE Union Hill Road, Redmond, WA 98053Mailing address: P. O. Box 816, Mercer Island, WA 98040 (206) 396-2681 John; (253) 686-0221 Quinnthumbsupfarm@aol.comwww.thumbsupfarm.com Hunters, Jumpers, Equitation, Sales, Leases, ClinicsThumbs Up FarmSonja Vracko, S Judge, Dressage Trainer, Clinician14050 18th NEWoodinville, WA 98072(425) 417-3222; sonjavracko@msn.com; www.sonjavracko.com'S'JUDGE DRESSAGE, CLINICIAN, TRAINER.BEGINNERS THROUGH GRAND PRIXView Ridge Farm10821 Wacky Nut Way, Bainbridge Island, WA 98110(206)780-1617 Barn Manager: Marlo Parhammanager@wackynutfarm.com; www.wackynutfarm.comA premier dressage training & boarding facility offering lessons and training at all levels through FEI. Regular clinics and active show participation. Excellent individualized care includes 4 daily feedings, stalls cleaned twice daily, year-round turn out, all 15 stalls w paddocks. Indoor arena 80x180 w excellent footing, mirrors, heated viewing area, outdoor 100x200. All season farm trail. Heated tack room w private lockers, rider kitchen, heated groom areas. Resident caretaker.Trainer, Emily Sorensen: www.sorensendressage.com/about/ Wacky Nut Equestrian Farm38206 SE Gibson Road, Washougal, WA 98671Owner: Rick Bishoprick (360)-831-4304info@windyridgewashougal.com; windyridgewashougal.comWe offer full care boarding, blankets and fly mask changing (weather depending), feeding of Eastern Oregon hay included (grain not included). We are on 86 acres with access to trails, indoor and outdoor arenas, 5/8 mile race track, cross country course, several guest trainers, 60 foot lighted indoor round pen, 12x12 stalls, large group or individual turnout, tack lockers, cross tie tack up areas, and hot water wash racks.Windy Ridge Farm Inc.9368 NE Derby WayKingston, WA 98346 Trainers: Cindy Daniels, Sara Petersen, & Lisa Crittenden(360) 860-1335; (425) 466-5662woodsidestables@msn.com; woodsidestables.comHunters, Jumpers, Equitation, Sales, Leases, School Horse Lessons. Full-care facility with indoor & outdoor rings, state-of-the-art footing, & daily turn out. Close to trails.Woodside Stables
Page 77
75 www.FLyINgcHaNgeS.com September 2019USEF "R" Dressage judge. Available for private instruction, training & clinics.Deborah Spence849-28 Gore RdOnalaska, WA 98570(360) 985-7438; (360) 269-1119 cellcbds@tds.netCurrent openings available at Riders Edge Farm for boarding, full or partial training & private lessons. Classical dressage instruction & training oered with an emphasis on relaxation & suppling exercises. Improve your communication & partnership with your horse.Jana Steffen DressageJana Steen@ Riders Edge FarmRedmond, WA(206) 920-2902; janastef@yahoo.com www.jsteendressage.com;Lisa WeisDressage Training & Instruction(508) 693 1704lis8weis@gmail.comStanwood, WA 98292Over 25 years experience, USDF L Graduate and medalist, Bachelors of Education, Potomac Horse Center Graduate, Two year apprenticeship with german F.N.Reitlehrer. Available for travel.RiderPilates® LLC19610 NE 116th StRedmond, WA 98053(425) 246-9033 cell bglosten@gmail.com; www.riderpilates.comImprove body awareness, balance & function for better riding. Beth teaches studio pilates lessons & classes & riding position lessons.S Judge, Dressage Clinician, Trainer(425) 417-3222View Ridge Farm14050 18th NE, Woodinville, WA 98072sonjavracko@msn.com; www.sonjavracko.com'S'JUDGE DRESSAGE, CLINICIAN, TRAINER.BEGINNERS THROUGH GRAND PRIXSonja Vracko@ FarmHill Equestrian Center, LLC23118 NE 37th AveRidgefield, WA(503) 719-2795REBuehler@gmail.com Jumping and dressage. Kind, beneficial instruction for riders, and careful, effective train-ing for horses. Rebecca has evented through the Advanced level, and holds her Pony Club "A" rating, CHA certification, and "Stage 3" with the British Horse Society. Rebecca BuehlerTraining and instruction from current CDI trainer and competitor. Developed numerous successful FEI horses from youngsters. Beginners through Grand Prix,all levels and breeds welcome. Also available for clinics.Heather Oleson Dressage10695 S. Bremer RoadCanby, OR 97013(503) 887-0995olesonh@gmail.com, www.heather-oleson.comInstructor, clinician, small "r" judge, trainer thru Grand Prix Level. Many state & regional championships. Successfully bringing young riders & adult amateurs up thru the levels. Kathy Casey Dressagekathycaseydressage@gmail.comWhistle Star Farm11871 S Riggs Damm RdCanby, Ore. 97013971-506 -7786Cathy Mahoncathy@harmonyandhealingwithhorses.com(360)430-0430www.harmonyandhealingwithhorses.comExperienced certified Centered Riding instructor with 30 years as rider, trainer and teacher. Offering top quality lessons to beginners as well as experienced dressage riders in balanced, classic riding. Private lessons at your own arena with one on one approach to improve body posture and awareness with immediate results. Available in Cowlitz, Clark and Lewis Counties.Centered RidingFoxre DressageNancy Barnes @Foxfire DressageP.O. Box 516Eagle Creek, OR 97022(503-860-0802)Dressage lessons using biomechanical techniques & natural horsemanship knowledge to inspire confidence & harmony between horse & rider. Traveling Dressage Training and InstructionMichelle Ives-Purdy / Darrel Purdy503 317 8051darrelpurdy@gmail.comwww.ultimatepiaffe.comQuality Dressage should be available to everyone. Dressage duo brings their lifetime of experience to your door. Decades of championship success with a diversity of pairs.The Greatest Reward—the Journey.The Ultimate PiaffeINSTRUCTOR DIRECTORY Suzan Davis Atkinson Dressage@ Farmhill Equestrian Center,LLC23118 NE 37th AveRidgeeld, WA(503) 476-4125 SuzanDavisAtkinson@gmail.comBHSI certied FEI Dressage, with over 35 years experience. Positive and constructive classical dressage training. Unique ability to create a harmonious working partnership for you and your horse. Master in the art of long lining as well as in-hand techniques through piae and passage. All breeds welcome!Blake Dressage has over 50 years of training and competition experience on local, national and international levels. We oer instruction, training, clinics and coaching for all levels thru FEI.Blake DressageGwen Blake 360 507-9306Rebecca Blake 360 507-1438Breeland Equestrian SchoolCorvallis, OR (541) 753-4000USDF Bronze medalist, triple-credentialed teacher, former OSU Horse Center Director, offers lessons/training in dressage, jump/trails. Focus on freeing energy blocks in spine & centered riding, releasing true potential. 4H/PC discounts. Customized clinics, will travel.
Page 78
Services DirectoryPage 76 September 2019We produce ground rubber for athletic surfaces & arena footing. 1/2" granules $225/ton; 1/4" granules $300/ton. Call for more info or plant specials. Rubber Granulators, Inc.Rubber Arena Footing Marysville, WA 98271(360) 658-7754(360) 653-6430 fax www.rubbergranulators.comArena Rehab Specialists™Rick TriplettSultan, WA 98294(425) 923-7909; www.Arena-Rehab.comImprovements Plus, Inc. IMPROPI 085 J3Experts in riding arena renovation & construction, with decades of experience in the Pacific NW climate. Sales of the finest footing additives & indoor dust control that REALLY WORKS. Consultation services. We offer services with your horses in mind, by a life-long horseman. Efcient Arena, Inc.Mark RowleyCanby, OR 97013 (503) 266-1563CCB#155808; efficientarena.comExpert installation of indoor/outdoor arena bases & footings in the Pacific Northwest. All weather, laser graded, full con-struction or repairs. The experience of over 385 arenas with corresponding references. Exclusive distributor of Equiloft™ rubber/fiber mixtures, sands, organics, fibers, felts.Equine Facility DesignMatt Johnson, Architect107 SE Washington St., Ste 265Portland, OR 97214(503) 650-1663; office@equinefacilitydesign.comequinefacilitydesign.com Building design, site planning, planning approvals for large & small scale equestrian facilities; private homes, barns & acreage; boarding, training & breed-ing facilities.Storybook Horse FarmJohn Hartley & Alexis Atchinson5852 Scotts Valley RoadYoncalla, OR 97499Owners/operators (541) 849-2251Breeders of outstanding Canadians, Warmbloods & Sporthorses for eventing, jumping and dressage. Bred for quality, raised for performance.www.storybookhorsefarm.comwww.facebook.com/storybookhorsefarmEQUESTRIAN SERVICES DIRECTORYALU Jumps USA 933W. Potrero RoadThousand Oaks, CA 91361(800) 287-1738www.ALUJumpsUSA.comAordable - Virtually Indestructible - Lightweight but sturdy - Weather Resistant - Easy to Handle and Carry. Customization available.The ALU Jumps collection oers something for every taste, from simple white to vibrant colors with many dierent designs - ideal for training as well as competition. Wellington, FL(888) 247-8169 www.valuefoams.com sales@valuefoams.comWe oer aordable lightweight (30 lb), 4' x 6', interlocking, cushioned, and waterproof stable mats for a more comfortable and healthier stable oor matting -- as oppose to hard and heavy to move rubber mats. Reduces use of shavings, aids against hock sores, reduces stocking, and encourages rest and lying down. Our comfortable Performatz™ mats are also ideal for injured horses, older horse with hoof/joint/arthritic issues, equine hospitals/clinics on concrete oors, trailers, and equine aircraft transportation. With Performatz™ your special horse will be comfortable, healthier, and happier. Performatz™ is a product of Value Foam, Inc., a Southern California based medical and veterinary orthotic foam company. Los Angeles, CA(909) 260-0094BREEDERS & BREEDING SERVICESARENAS AND EQUINE BUILDINGSQuality Riding Arena Bases & SurfacesPre-Engineered Traditional Wood Barns, Equestrian Facilities, Timber Frame Barn Homes, Barn Shops and Recreational buildings, Shipped to your site nationwide!Barn Pros Equestrian FacilitiesNationwide14567 169th Drive SEMonroe, WA 98272barns@barnpros.com866.844.2276www.barnpros.comfarm+barnLinda Royer(503) 789-565014432 Livesay Rd, Oregon City, OR 97045Linda@farmplusbarn.comwww.farmplusbarn.com Design of sites+structures for horses+people.CLIPPING Stacey Sikorski(425) 501-5997eqclippingservices@gmail.com 20+ years professional experience clipping horses for show & work. Reasonable rates, references available. Western Washington & beyond. Call or e-mail for appointment.Back o'Beyond FarmMaggi Clark, B.H.S.A.I.Foaling Service(360) 435 - 047321521 Jordan RdArlington, WA 98223Equine Nursery and Maternity CenterUnwed Mares Welcome.Chalice Fitness9390 Orchard Ave. SEPort Orchard, WA 98367chalicefitness@gmail.comwww.chalicefitness.comWhy Equestrian Fitness?Feel stronger and more balanced in the saddleSafety is key. If you are strong, you can be safe!Be a better partner to your horse. We require them to be athletes in their sport. We should return the favor.Look GREAT in those white breechesFeel empowered and self-confidentLove the skin your in!FITNESS TRAININGCUSTOM RIDING BOOTSKatie NubelTucci Made To MeasureTel: 503.457.7560Email: Katie@francotucci.comwww.francotucci.comFitnessworkshopEquestrianImprove your posture in the saddle and fitness for riding.vitalityforever.cb@gmail.com | 503-449-5739VITALITYFOREVER.ORGfor theCarly's lessons improved my posture so much that my dressage test scores increased by 10 points.- Patti G.Carly Belle has been in the wellness industry since 1999 and has been riding horses since 1986. Horses are her heart and teaching better mobility is her passion.Please email today to book the two-day clinic at your equine facility.
Page 79
Page 77September 2019Services DirectoryKathryn A. Hall, PCKathryn A. HallAttorney at LawPO Box 771, Hillsboro, OR 97123(971) 404-5296; khall@pnwequinelaw.comwww.pnwequinelaw.comA full-service equine law firm, licensed to practice in Oregon & Washington. Horse sales, leases, & breeding • Boarding, training & riding instruction • Risk assessment & management • Ownership & registration • Business entity formation, gov-ernance, taxation, & employment • Veterinary malpractice & negligence • Liability for horse injuries • Debt collection & creditors' rights • Litigation & appeals • USEF, USHJA, USDF & OHJA member.Herrold Stables & Farm32900 SW Wohler StHillsboro, OR 97123(971) 235-4529 call/text www.HerroldStables.com FUN HORSE CAMP - Spring/Summer 2016, Horse-manship, Equitation, jumping, trail, driving, Crafts, Horse Painting, ages 4-16. Camp divided by ability. Experienced school horse provided. See website to sign up.HORSE CAMPSREAL ESTATEThoroughbred Real Estate GroupRyann Reinhofer16365 Boones Ferry Rd. Lake Oswego, 97035503.709.2370ryann@thoroughbredREGroup.comwww.thoroughbredREGroup.com Assisting all levels of Buyers and Sellers with Equestrian Property Expertise. Residential Hobby Farms to Commercial Boarding Facilities and Everything in Between. Serving the Portland Metro Areas and Beyond. Home is Where the Hooves Are!INSURANCEPHOTOGRAPHY AND VIDEOLEGALJana Peterson PhotographyVancouver, WA(310) 804-4848info@janaphotography.comwww.janapetersonphotography.com Turning your memories into art… Equine & Human Photography & Fine Art.Equine Legal Solutions, PC24150 S. Highland Crest Dr. Beavercreek, OR 97004Toll free: (866) 385-2972; www.equinelegalsolutions.comA full-service equine law firm licensed to practice in Oregon, Washington, California & New York. See our website for a wide variety of equine legal forms.EQUESTRIAN SERVICES DIRECTORYMary Cornelius PhotographyServing the Pacific NW & beyond since 1980Based in Portland, OR(503) 936-4503; mary@marycornelius.comwww.marycornelius.comAll things Equestrian Sport, portraiture, promotion, equestrian product & Fine Art Imager. Select competitive events. Movement & conformation specialist. Photo Sessions at your location. Accredited international photojournalist.EMO Agency, Inc.400 Rosedale CourtWarrenton, VA 201861 (800) 347-3552 home ofce(540) 347-5906 faxDaran Lockhart, Agent (541) 513-4776 www.RideEMO.comInsurance services for equine & equine farm & liability & related products.HAY AND FEED SUPPLY & MANAGEMENTUnion Mills Feed14822 S Union Mills Rd, Mulino, OR 97042(503) 829-2386umfeed@molalla.netwww.unionmillsfeed.com English & Western Tack. Horse supplements & sup-plies. Western Gift items. Custom feed made daily. Friendly service & custom orders. In business since 1877.Charles WhiteHay Broker | USDA ReporterWholesale: (707) 396 7989Retail: (707) 396 7988charleswhitehay@gmail.comAlfalfa | Alfalfa Grass | Orchard GrassMeadow | Timothy | Grain | StrawPurina Feed QUALITY | CONSISTENCY | VARIETYEcological & Agricultural Consulting Claudia S. Ingham, PhDSalem, OR 97306(503) 341-0743Eco.Ag.Consultation@gmail.comEquineEssentialsOregon.comPasture management for equestrian and small farms seeking to maintain animal health, forage quality & site stability. Meet your farm goals with Claudia's com-prehensive and practical approach developed through her knowledge as ARIA-certied riding instructor and published ecologist. Heidi Pace Davalosheidid@johnlscott.com(425) 870-3334Nancy Reillynancyreilly@johnlscott.com(425) 417-0024Raquel DavalosRaquelD@johnlscott.com(425) 760-8600Specializing in equestrian & farm properties, serving North King & Snohomish Counties. Providing protection for your horse, your farm, your equine liability. • Mortality • Medical • Surgical • Colic • Farmowners • Liability It's your way of life… It's our business to protect it! Call 800-526-1711 or 908-735-6362 For info visit bluebridle.com Blue Bridle Insurance Agency, Inc. P.O. Box 27, Pittstown, NJ 08867 Licensed in 42 states.
Page 80
Services DirectoryPage 78 September 2019N2 SaddlesN2 Saddlery offers custom-fittted dressage saddles designed for a perfect fit. Linda PoetschNorthwest Contact for custom fitting and purchase. (503) 830-0337Linda is located in Portland, ORNorthwest Saddles, LLCKari WetherillWA/OR State Agent for County Saddlery(360) 771-3663kari.wetherill@countysaddlery.com www.nwsaddles.com; www.facebook.com/countypnwwww.countysaddlery.comProviding a solution to all your saddle fitting needs. Services include a full evaluation of your horse & current saddle, new saddle fittings, & saddle adjust-ments.Custom SaddleryStacy Berger(530) 409 3199stacy@mysaddle.comwww.mysaddlefitter.net Saddle fitting consultation, re-flocking, tree adjust-ments, billet replacements on most brands. All work done on-site. Oregon rep for Custom Saddlery. Dressage & Jumping models to test ride. Lemke Saddle Services, Inc.www.LemkeSaddle.comSDLsaddle.com925-286-1434Sheryl Lemke/SDL specializes in fitting New & Used saddles for all riders & horses since 1984. Exams, Reflocking, Consultation & Clinics around the USA.Double D Blanket Cleaning & MendingHillsboro, OR(503) 781-3954; doubledblankets@gmail.comPick up & drop off at your barn. 15% discount for vol-ume orders (12+ blankets/sheets). Fast turn around.KiamaLise HerresKiama@windermere.comwww.EnchantingHomesandFarms.com11000 151st Ave NE, Redmond, (Cell) 206-679-5322/ (Office) 425-462-8000Windermere Stellar Realty Group, Inc.Casey Franklin220 A Ave, Ste 200Lake Oswego, OR 97034(503) 539-7709 cfranklin@windermere.com; www.caseyfranklin.withwre.comLISTING • BUYING • REFERRALS • Buying & selling farm & residential properties in the greater Portland & Willamette Valley areas. Providing trusted & reliable real estate services for equestrian enthusiasts & profes-sionals. Albion SaddlesPaula Helmwww.HelmSaddles.com(425) 457-1105 I believe horse & rider can be comfortable in their saddle. Let my problem-solving skills & the full spec-trum of Albion's options achieve that for you.Balanced Equine Saddle FittingServices, LLCFormarly Anderson Equine Saddle Fitting Services23515 NE Novelty Hill Rd, Suite B221 #391,Redmond, WA 98053(425) 954-6559www.balancedequinesaddlefit.com Offering the only independent SMS Qualified saddle fitter in the PNW. Proud retailer of six brands of quali-ty english-made saddles. For the love of the horse.Custom SaddleryAnja Swenson(208) 841-5730 Based in Monroe, WAanja@mysaddle.comwww.mysaddle.com Saddle fitting consultation, re-flocking, tree adjust-ments, billet straps replaced on most brands. All work done on-site. NW rep for Custom Saddlery. Dressage & Jumping models to test ride. "Simply the best dres-sage saddles on the market."—Steffen Peters. Rep for NSC SaddlesTACK AND TACK STORES REPAIRS AND BLANKET CLEANINGSADDLE SUPPLIERS AND FITTINGBarb's BlanketsServing Clark County, WA(360) 904-3617; (360) 882-1469widbarb@msn.com; barbsblankets.comWashing, repairing, & waterproofing of horse blan-kets. Serving Clark County, WA. Free pick up & deliv-ery at most barns. Quality service, reasonable rates.Absolute Horse, Inc.2221 NE 3rd St, Ste BBend, OR 97701(541) 388-3855www.TheAbsoluteHorse.comThe Absolute Horse has been dedicated to providing English and Western riding equipment, apparel, gifts and more to Central Oregon horse enthusiasts. By providing quality products and friendly, expert customer service The Absolute Horse has become Bend's largest equestrian specialty store!Addiken Saddle Fitting LLCKelsey Nicholls info@addikensaddlefitting.com(425) 954-6559www.addikensaddlefitting.com Independent Saddle Fitter trained by the Society of Master Saddlers serving the Pacific NW. Specializing in English saddle fitting, reflocking, and repair ser-vices. Retailer of Hastilow, Kent & Masters, Fairfax and Thorowgood Saddles. Consignments available!Providing expertise in everything equestrian from estates to full working facilities.Kimberly Crouse TenhulzenTenhulzen Real Estate Equestrian & Estate Property Specialist(206) 409-0771kimberly@tenhulzenRE.comwww.tenhulzenrealestate.comEQUESTRIAN SERVICES DIRECTORYHorsewears25053 S Pike AveOregon City, OR 97045www.horsewears.com(503) 632-1550; info@horsewears.com "Horsewears for what your horse wears" In continuous business since 1994. Horse blanket laundry & repair. Pick up/delivery (minimums apply).At Schleese, we make innitely adjustable saddles specically for female riders and their horses to deliver maximum comfort, performance and prevent long-term damage. Custom designed for the physiology of women, riders will experience truly life changing comfort and responsiveness. Our craftsmanship is world class and our superior tting practices are unparalleled in the industry.Schleese Saddlery Service Ltd.34 Centennial AveHolland Landing, ONL9N 1H2800.225.2242saddlesforwomen.comA Bit Less Consignment165 NE Greenwood Ave, Ste CBend, OR 97701(541) 323-3262Facebook: A Bit Less2,500 sf of gently used tack, clothing, stable supplies, blankets, boots, saddles, & horse related gear, English & Western. Check Our Deals of the Week Connect On Facebook @TheAbsoluteHorseHooks Leather and Tack5605 146th St. SWEdmonds, WA 98026(425) 743-6387; (425) 772-7665 (cell)tackmantoo@gmail.com; www.chuckhooks.comSaddle & tack repair, & hand crafting of leather. Twenty-two years in the same location. All work guar-anteed.
Page 81
Page 79September 2019Services DirectoryEquine Sports Massage Therapy ServicesRachel Pekala, E.S.M.T.Portland and Corvallis, OR541-760-3747Offering experienced, multi-modality equine mas-sage services in the Portland tri-county and Corvallis/Eugene areas. Serving all breeds and disciplines. Find us on Facebook by searching "Rachel Pekala, ESMT". Appointments can be scheduled via call or text.Heart to Heart HealingLiza Burney, J.D.(503) 502-5186www.heart-to-heart-healing.com In person & remote healing for you & your horse. Experience the benefits of energy healing. Personal appointments support physical as well as mental/emotional health for people and horses. Clinics & classes so you can learn to maintain your horse's health & well-being, reduce stress, develop inner peace.High Point Equine MassageJennifer Lovell, certified LAMP971 217 8131www.highpointequinewellness.comServing Oregon since 2014. Massage, bodywork and exercise plans tailored to your horse's needs, whether they are a retired pleasure horse or an actively competing show horse.Matrix Therapy ProductsDeborah Powell503-632-7187www.therapyproducts.netinfo@therapyproducts.netMatrix Therapy Products is your source for therapy equipment. Best-Vet Microcurrent for locating soreness and injury recovery, Infrasound Qi Gong Massagers, VibraVM for COPD, Laser/LED Light Therapy,Thermotex Infrared Blanket, and more. Courses available for bodyworkers and DIY therapy.Free catalogs & e-mail newsletter sign-up upon request!Northwest Veterinary AcupunctureMegan Wickersham, DVM, CVAMobile Services based out of Battle Ground, WAServing SW Washington & NW Oregon(360) 666-9501; www.nwvetacupuncture.comMobile equine veterinary acupuncture. Acupuncture can be used to ease pain, promote healing & allow your equine athlete perform to the best of its ability or lead a comfortable retirement.Campf Transport, Inc.Jay Campf,PO Box 293, Canby, OR 97013(503) 329 - 0412(503) 651-1342 (Fax)campftransport@yahoo.comLocal & Long Distance hauling. For show and pleasure, mares & foals. Small trailer or semi trailer.TRANSPORT & TRAILERSVETERINARY AND EQUINE HEALTHTack shop specializing in Eventing, Hunter/Jumper & Dressage, with experts on-site for advice & custom saddle-tting; UPS shipments daily. Gallops Saddlery17937 SW McEwan Rd. TIgard, OR 97224(503) 639-6347www.facebook.com/gallops www.gallopssaddlery.comOlson's is proud to be Bellevue's oldest business and your premier resource for saddles, tack, boots, helmets, apparel, and more. Whether you're taking a rst lesson or are an experienced professional, their team would love to help nd the perfect equipment for horse and rider. Specialists on sta for custom boots, saddles, apparel, and tack. Please call for custom appointments.Olson's Tack Shop11408 NE 2nd PlaceBellevue, WA 98004Call or Text: (425) 454-9453Email: info@olsonstack.comshop.olsonstack.comColumbia Equine Hospital27841 SE Orient DrGresham, OR 97080(503) 663-1515 24 Hrswww.columbiaequine.com Experienced, quality equine are in Portland & SW WA. We offer a full range of services including lame-ness evaluation, pre-purchase exams, state-of-the-art diagnostics, dentistry, surgery, acupuncture, repro-duction, & preventative care.East Meets WestAcupuncture & ChiropracticAudrey Staton, DVM(541) 683-6373; www.eastwestdvm.com Certified in Traditional Chinese Veterinary Medicine & Chiropractic.EQUESTRIAN SERVICES DIRECTORYEquine Sports Massage TherapyJackie Paul, certified E.S.M.T.(503) 631-8457; cell (503) 267-1045jackie@arabianvines.com; www.arabianvines.comSince 1993. Barn calls, clinics, shows. Ease muscle spasm, improve circulation, enhance muscle tone & boost athletic performance & endurance through SPORTS MASSAGE. Call today to help your horse achieve maximum potential.One to Win Horse Transportation Portland area(888) 663-3804 toll free(503) 703-7703 cellGive Your Horse the Ultimate Ride.Extra care at no extra cost. Long distance & local shows. Priority service on every horse. Layovers on long runs. Over 20 years experience. Referrals available.  ADVANCEDLAMENESSTHERAPIESANDDIAGNOSTICSPRP •IRAP•STEM CELL THERAPY•SHOCK WAVE THERAPY• DIGITAL RADIOGRAPHY •DIGITAL ULTRASONAGRAPHY• REHABILITATION 541.689.0205•www.deloeste.vet•Eugene,ORGid-De-Up Boutique511 North Main Street Phoenix, OR 97535541-535-1588giddeupbarkins@aol.comwww.gid-de-up.comGid-De-Up Boutique is an English tack store located in the Rogue Valley of Southern Oregon. We special-ize in tack and apparel for Hunter/Jumper, Dressage, Eventing, Pony Club and 4-H riders. Blankets, tack, apparel, boots, helmets, horse care, y care, supple-ments, and so much more!
Page 82
Services DirectoryPage 80 September 2019Performance Horse Massage TherapyKristi L. Zimbelman, LMP, CCST, LAMP14325 200th Ave SE, Renton, WA 98059(425) 922-3919 www.performancehorsemassagetherapy.comTreatment tailored to the horse's individual activity levels using deep tissue, trigger point, myofascial release to decrease muscle pain, increase range of motion, decrease recovery time & promote overall well-being.Pilchuck Veterinary Hospital360-568-3111 Equine Care & 24/7 ER11308 92nd St SESnohomish, WA 98290www.pilchuckvet.com; www.facebook.com/pvhequineFounded in 1963, Pilchuck Veterinary Hospital offers comprehensive equine referral & ambulatory ser-vices, 24/7 emergency, & specialized care for the sport horse through the Equine Performance Sports Medicine Institute.Pioneer Veterinary Services, P.C.Medicine & Surgery of the Horse Since 1977Steven M. Haugen, DVM(503) 648-647233845 SW Tualatin Valley HwyHillsboro, OR 97123 PioneerVet@att.net; www.pioneervetservices.comEquine ambulatory veterinary practice providing quality, personalized care & practices preventative medicine. We offer dentistry, pre-purchase exams, lameness exams, Cold Laser therapy for lameness, eye, tendon & suspensory problems.Rocky Bay Equine Veterinary Services12604 189th Avenue KPN, Gig Harbor, WA 98329(253) 858-4529www.rockybayequine.comQuality, compassionate veterinary care for the life of your animal companions.Your trusted health care partners serving equine and small ruminant patients in Gig Harbor, Key Peninsula, Port Orchard, Belfair, Silverdale, Poulsbo.S. Moore TrainingShelly Moore33431 Nieblock LnCreswell, OR 97426(541) 895-3196; wisdomhorse@hotmail.com Offering outstanding personalized care and training for both you and your horse. New indoor arena. Clinics, consulting, bodywork, rehab, lay-up, training and lessons. Systematic Mindful Teaching. TTouch, TTeam, Equine Touch, Horseoneship, Centered Riding, Bio-Scan/Light, Alpha-Sonic, Vitafloor.Spinnaker Farm Equine Veterinary ClinicHeather J. Wenzell, DVMPO Box 3384, Lacey, WA 98509(360) 584-3964 Ambulatory equine practice serving WA & OR. Performance dentistry, lameness, reproduction, pre-ventative health care, & emergency services offered. Comprehensive veterinary care for the performance equine utilizing power dentistry, digital radiography & ultrasound capabilities. See our website for specif-ics & experience: www.spinnakerfarmequine.comOregon Equine, Inc.Janine Wilson, DVM, CAC(503) 631-4100; www.orequine.comAmbulatory PracticeServing the Greater Portland Tri-County Area Dr. Wilson offers a personalized, experienced approach to diagnosis & treatment of your horse. Her practice philosophy emphasizes client education, treatment options, & open communication while practicing evidence-based lameness, medicine, & chiropractic care. As a rider, Dr. Wilson understands the relationship between you & your equine partner & welcomes the opportunity to help you with your horse.Pacific Crest SporthorseBarb Crabbe, DVMJennifer Posey, DVM15056 S. Spangler Rd.Oregon City, OR 97045PO Box 526, Beavercreek, OR 97004 (503) 632-6336; www.pacificcrestsporthorse.comVeterinary care for the performance horse including lameness diagnostics & treatment, dentistry, preven-tative health plans & emergency care. We offer full reproductive services including breeding with fresh & frozen semen, foaling & limited boarding for brood-mares & foals at our farm. Now offering acupuncture. Warmblood horses for sale.Peak Performance EquineSport Horse Veterinary MedicineCierra Dedeker, DVM(503) 403-9617 Office/Appointments(503) 403-9617 Cell/EmergenciesDrCierra@gmail.com Mobile equine veterinary practice specializing in sports medicine. Mobile digital radiology & ultrasound available. Everything your sport horse needs to perform at their peak! Leave your trailer unhitched & we will come to you. Practice area includes Yamhill, Washington & Clackamas counties in Oregon. Check out our website for more information: Peakperformanceequinepllc.com.Pegasus Equine Rehabilitation7620 260th Ave NERedmond, WA 98053(425) 898-1060 officewww.pegasustrainingcenter.comState-of-the-art rehabilitation center for all breeds & disciplines. Featuring a hyperbaric oxygen chamber, swimming pool, underwater treadmill, eurocizers & more! Great for post surgery recovery, physical thera-py & conditioning.West Winds Equine MassageSabina Pariser (206) 661 3263Equine massage therapist that encourages an organic and intuitive therapeutic process with all of the horses in her care. Sabina specializes in a wide variety of modalities, including, myofascial release, stress point, and trigger point therapy. EQUESTRIAN SERVICES DIRECTORYProviding Excellence in Diagnostics andComprehensive Veterinary Careof the Equine Athlete for over 20 Years18175 NE Hwy 240, Newberg, Oregon 97132503-554-0227Please visit us at www.oakhurstequine.comOakhurstEQUINE VETERINARY SERVICESANNUAL SERVICES DIRECTORY LISTINGIN PRINT AND ONLINE$150 LINE LISTING AND LOGO $180 PER YEAR LINE LISTING, LOGO AND WEBSITE OR EMAIL LINK $350 CUSTOM DESIGN LISTINGRESERVE YOUR SPOT IN THE NEXT ISSUE ONLINE ATFLYING CHANGES.COM
Page 83
Your competitive option for business promotion in the equestrian marketplace.PHOTOGRAPH by Kathy Russell Photography CM Hadfield's SaddleryDESIGN SERVICESWEBSITE ADDIGITAL &PRINT MARKETING MATERIALSTHE COMPETITIVE EQUESTRIANFind out more @THECOMPETITIVEEQUESTRIAN.COMFollow us @facebook.com/thecompetitiveequestrianinstagram.com/thecompetitiveequestrianANNOUNCING OUR TRANSITION TO A DIGITAL PUBLICATIONTHE COMPETITVE EQUESTRIAN REDEFINING THE EQUESTRIANDIGITAL MAGAZINE
Page 84
©Liz Soroka photohamptonclassic.comThe Hampton ClassicJoin Us Next Year...August 23 - 30, 2020Congratulations to all 2019 competitors!