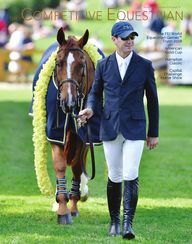 Return to flip book view
TCE NOV/DEC 2018
Page 1
November/December 2018 Issue 19The FEI World Equestrian Games™ Tryon 2018American Gold CupHampton Classic Capital Challenge Horse ShowTHE COMPETITIVE EQUESTRIAN
Page 2
OSPHOS® (clodronate injection)Bisphosphonate For use in horses only.Brief Summary (For Full Prescribing Information, see package insert)CAUTION: Federal (USA) law restricts this drug to use by or on the order of a licensed veterinarian. DESCRIPTION: Clodronate disodium is a non-amino, chloro- containing bisphosphonate. Chemically, clodronate disodium is (dichloromethylene) diphosphonic acid disodium salt and is manufactured from the tetrahydrate form.INDICATION: For the control of clinical signs associated with navicular syndrome in horses.CONTRAINDICATIONS: Horses with hypersensitivity to clodronate disodium should not receive OSPHOS.WARNINGS: Do not use in horses intended for human consumption. HUMAN WARNINGS: Not for human use. Keep this and all drugs out of the reach of children. Consult a physician in case of acci-dental human exposure.PRECAUTIONS: As a class, bisphosphonates may be associ-ated with gastrointestinal and renal toxicity. Sensitivity to drug associated adverse reactions varies with the individual patient. Renal and gastrointestinal adverse reactions may be associated with plasma concentrations of the drug. Bisphosphonates are excreted by the kidney; therefore, conditions causing renal im-pairment may increase plasma bisphosphonate concentrations resulting in an increased risk for adverse reactions. Concurrent administration of other potentially nephrotoxic drugs should be approached with caution and renal function should be mon-itored. Use of bisphosphonates in patients with conditions or diseases affecting renal function is not recommended. Administration of bisphosphonates has been associated with abdominal pain (colic), discomfort, and agitation in horses. Clinical signs usually occur shortly after drug administration and may be associated with alterations in intestinal motility. In horses treated with OSPHOS these clinical signs usually began within 2 hours of treatment. Horses should be monitored for at least 2 hours following administration of OSPHOS.Bisphosphonates affect plasma concentrations of some min-erals and electrolytes such as calcium, magnesium and po-tassium, immediately post-treatment, with effects lasting up to several hours. Caution should be used when administering bisphosphonates to horses with conditions affecting mineral or electrolyte homeostasis (e.g. hyperkalemic periodic paralysis, hypocalcemia, etc.).The safe use of OSPHOS has not been evaluated in horses less than 4 years of age. The effect of bisphosphonates on the skel-eton of growing horses has not been studied; however, bisphos-phonates inhibit osteoclast activity which impacts bone turnover and may affect bone growth.Bisphosphonates should not be used in pregnant or lactating mares, or mares intended for breeding. The safe use of OSPHOS has not been evaluated in breeding horses or pregnant or lac-tating mares. Bisphosphonates are incorporated into the bone matrix, from where they are gradually released over periods of months to years. The extent of bisphosphonate incorporation into adult bone, and hence, the amount available for release back into the systemic circulation, is directly related to the to-tal dose and duration of bisphosphonate use. Bisphosphonates have been shown to cause fetal developmental abnormalities in laboratory animals. The uptake of bisphosphonates into fetal bone may be greater than into maternal bone creating a possible risk for skeletal or other abnormalities in the fetus. Many drugs, including bisphosphonates, may be excreted in milk and may be absorbed by nursing animals.Increased bone fragility has been observed in animals treated with bisphosphonates at high doses or for long periods of time. Bisphosphonates inhibit bone resorption and decrease bone turnover which may lead to an inability to repair micro damage within the bone. In humans, atypical femur fractures have been reported in patients on long term bisphosphonate therapy; how-ever, a causal relationship has not been established.ADVERSE REACTIONS: The most common adverse reactions reported in the field study were clinical signs of discomfort or nervousness, colic and/or pawing. Other signs reported were lip licking, yawning, head shaking, injection site swelling, and hives/pruritus.Distributed by: Dechra Veterinary Products7015 College Boulevard, Suite 525Overland Park, KS 66211 866-933-2472© 2016 Dechra Ltd. OSPHOS is a registered trademark of Dechra Ltd. All rights reserved.NADA 141-427, Approved by FDAOSPHOS® controls the clinical signs associated with Navicular SyndromeLearn more online www.dechra-us.comwww.osphos.comEasily Administeredvia intramuscular injectionWell Tolerated*in clinical trialsProven Efficacy*at 6 months post treatmentNo Reconstitution RequiredAs with all drugs, side effects may occur. In field studies, the most common side effects reported were signs of discomfort or nervousness, colic, and/or pawing. OSPHOS should not be used in pregnant or lactating mares, or mares intended for breeding. Use of OSPHOS in patients with conditions affecting renal function or mineral or electrolyte homeostasis is not recommended. Refer to the prescribing information for complete details or visit www.dechra-us.com or call 866.933.2472.* Freedom of Information Summary, Original New Animal Drug Application, NADA 141-427, for OSPHOS. April 28, 2014. Dechra Veterinary Products US and the Dechra D logo are registered trademarks of Dechra Pharmaceuticals PLC. © 2016 Dechra Ltd.CAUTION: Federal law restricts this drug to use by or on the order of licensed veterinarian. Osphos_ad_dual_dressage_CompEQ.indd 1 12/2/16 8:41 AM
Page 3
Page 4
2 TCE September/OctOber 2018________________ThECompETiTivEEquEsTrian2018FLYING CHANGESThe Competitive EquestrianNovember / December© 2018 by Silver Oaks Marketing LLC, all rights reserved. This publication may not be reproduced or quoted in whole or in part by any means, printed or electronic, without the written consent of the publisher. Not responsible for replacing issues not delivered due to address changes received after mailing date.Submissions: Magazines will gladly consider all articles, news, letters, and photographs for publication, but assumes no responsibility for unsolicited material. Submissions may be edited. Congratulations and News & Reviews items are published free of charge. Letters are assumed publishable unless we are advised otherwise. All submissions should meet our ad deadline to facilitate inclusion in next issue.CONTENTSNovember 2018, Vol. XXVII No.11Contributing WritersCAROLINE NICKOLAUS / PHELPS MEDIA GROUPEMILY RIDEN / JUMP MEDIATHE HAMPTON CLASSICFEI WORLD EQUESTRIAN GAMES™ TRYON 2018ASHLEY MATCHETT WOODSContributing PhotographersALDEN CORRIGAN MEDIAELENA LUSENTICreative DirectorANNA BIGWOODPublisher LORNA LOWRIEFlying ChangesSilver Oaks Marketing LLCmail@FlyingChanges.com The Competitive EquestrianEquestrian Communications USA LLCeditor@TheCompetitiveEquestrian.com56 Club NewsClub NewsServices8 The FEI World Equestrian Games™ Tryon 201822 Capital Challenge Celebrates 25 Years of Top Competition By Emily Riden / Jump Media30 Lens Envy: Elena Lusenti34 Hampton Classic Horse Show42 Molly Ashe Cawley and D'Arnita Earn Career-Best Victory at 2018 American Gold Cup By Caroline Nickolaus / Phelps Media Group48 Menlo Charity Horse Show54 Darby Bonomi PhD Reclaim Joy for Connection and Success By Ashley Matchett Woods 52 Index68 Calendar69 Trainer Directory76 Services Directory© Elena LusentiOn the CoverAlden Corrigan MediaContent
Page 5
© Elena Lusenti206.650.3015maria@mariadanieli.commariadanieli .comEQUESTRIAN PROPERTIES COUNTRY ESTATES HOMES on ACREAGE SINCE 1990CARNATION ■ $1,178,000One of a kind all-in-one equestrian living on 20 acresSTANWOOD ■ $1,295,000Half-Trak Farm equestrian view estate on 12+ acresCARNATION ■ RANCHO SANTA LISA ■ $3,700,000Landmark riverfront equestrian estate on nearly 80 acresSNOHOMISH ■ $1,149,000Fales RoadCARNATION ■ $2,830,000Hilltop HavenSNOQUALMIE ■ $1,795,000Moon ValleySNOHOMISH ■ PUMPKIN FARM ■ $3,100,000A world class horse facility, easy reach to Seattle & EastsideSOLD SOLD SOLD
Page 6
49th ANNUAL Menlo Charity Horse ShowBenefitingVista Center for the Blind and Visually ImpairedAUGUST 6 - 11, 2019 At the Beautiful Menlo Circus Club in Atherton, CaliforniaMENLOCHARITYHORSESHOW.ORG #MENLO2019save the date
Page 7
September/OctOber 2018 TCE 5________________ThECompETiTivEEquEsTrian
Page 8
Page 9
DARBY BONOMI PhDperformance consultantA LEG UP FOR EQUESTRIANS & THEIR FAMILIESThe wisdom and perspectivefor enjoyment and successwww.DARBYBONOMI.comFor appointments: 415.713.4234darby@darbybonomi.comKaty Boyd Photography
Page 10
Photo Gallery By Alden Corrigan MediaThe FEI World Equestrian Games™ Tryon 2018 (WEG), hosted only for the second time ever in the United States, captivated the global equestrian community from September 11-23, 2018 at Tryon International Equestrian Center (TIEC), welcoming world championship caliber competition for each of the eight FEI-sanctioned disciplines: Dressage, Driving, Endurance, Eventing, Jumping, Para-Dressage, Reining, and Vaulting over the two-week timeframe. The WEG is held every four years in the middle of the Summer Olympic cycle and features top equestrian competitors from around the world vying for top team and individual titles in their respective disciplines. The story of WEG arriving in Tryon, NC, was different than initially anticipated, as Mark Bellissimo and the Tryon Equestrian Partners stepped in over halfway through the planning cycle to save the event after host city, Bromont, dropped their nomination. Working on an 18-month timeline instead of a four-year plan, the team at TIEC had to work quickly to ensure that the sporting venues and infrastructure were complete for the start. The event ofcially opened on Tuesday, September 11, a day before competition began, welcoming the world to Western North Carolina with special words spoken by President of the FEI, Ingmar de Vos, and Chief Executive Ofcer of Tryon 2018, Mark Bellissimo. Grammy-nominated country music artist Hunter Hayes wowed the crowds, following an emotional Parade of Nations to ofcially commence the start of competition."This WEG showcased incredible sport in each of the disciplines hosted throughout the two weeks; some of the best competition in history," said Michael Stone, President of the Tryon 2018 Organizing Committee. "We're proud of what we were able to accomplish in such a short time frame and our team worked incredibly hard to make sure we were able to deliver these Games for the athletes, horses, and spectators." In one of the most highly anticipated showdowns of the event, Helgstrand Dressage competition featured the world's collective best on one single stage, a rarity in the sport. Isabell Werth of Germany and her superb mare, Bella Rose, who had been absent from the international Dressage competition circuit for nearly four years due to an injury, returned in incredible form. The duo went toe-to-toe with the United State's top combination and current world number one, Laura Graves and Verdades, who sit atop the world standings after their astounding performances in Tryon. "This was my answer to all those who did not understand how I could leave the world's number one horse at home for this one. Most horse people here know how close I am to Bella and to bring her back after the long recovery after WEG 2014 is extra special. We always knew it could be a risk, but it is like that with every horse," said Werth tearfully, describing her emotion over winning aboard her special mount. Riders hailing from Great Britain stormed to the top of the leaderboard in Mars, Incorporated Eventing, nishing on the lowest combined team score in the history of WEG, as all four team riders completed each of the three phases and nished within the optimum time on Cross-Country. Ros Canter nished as victor on the individual podium for the British team as well, their rst individual win since 2006. "Allstar B was absolutely amazing. He was an absolute hero. I had an amazing experience in there," commented Canter on her double Gold accomplishment for Team GBR. "I kept saying to myself just let him do his job and I am so proud. He is just phenomenal. There were quite a few tears when I found out, which isn't normal for me. It's just incredible for me and the whole support team behind Team Great Britain. It's just the most incredible feeling and a very surreal day."Johnson Controls Reining saw the rst ever Individual Gold medal for the nation of Belgium, won by Bernard Fonck, while the top guns of Team USA secured Team Gold, continuing their dominance in the discipline. Cade McCutcheon, the youngest competitor for Team USA at the age of eighteen, nished in a run-off for third place to take individual Bronze aboard his mount Custom Made Gun. The second week of the event brought Jumping, Para-Dressage, Driving, and Vaulting competition to TIEC, featuring another six days of outstanding sport. Jumping remains one of the most popular spectator disciplines, and expectations were high as teams and riders from around the world descended upon U.S. Trust Arena. The FEI World Equestrian Games™ Tryon 2018: In ReviewMission accomplished McLain Ward (USA) & Clinta
Page 11
november/december 2018 TCE 9________________TheCompetitiveEquestrianIn what will be remembered as one of the best demonstrations of top sport in history, the Bank of America Merrill Lynch Jumping Team and Individual Finals featured many of the world's best riders going head-to-head for two of the most prestigious honors available in international competition for the discipline of Jumping. Ultimately after a strong display of prowess from the Swiss team, it was the United States that made their mark on the leaderboard after an unprecedented team jump-off against Sweden for Gold. McLain Ward, Adrienne Sternlicht, Laura Kraut, and Devin Ryan composed the team for the United States. Sweden captured the Silver medal, while the Germans took home Bronze. Laura Kraut (USA) & ZeremonieDevin Ryan (USA) & Eddie BlueAdrienne Sternlicht (USA) & CristallineGold Medalists Team USA (L-R) McLain Ward, Adrienne Sternlicht, Laura Kraut & Devin RyannMcLain Ward (USA) & Clinta
Page 12
10 TCE November/december 2018________________TheCompetitiveEquestrian(L-R) Individual Silver Medalist Martin Fuchs (SUI), Gold Medlaist Simone Blum(GER) & Bronze Medalist Steve Guerdat (SUI) Martin Fuchs (SUI) & ClooneyIndividual Overall World Champion Simone Blum (GER) & DSP AliceSteve Guerdat (SUI) & BiancaLongines world #1 Harrie Smolders (NED) & Don VHP Z N.O.P. Max Kühner (AUT) & Chardonnay
Page 13
november/december 2018 TCE 11________________TheCompetitiveEquestrianGolden girl Rosalind Canter's hardwarePhoto Gallery By Alden Corrigan MediaGold Medalists Team Great BritainRosalind Canter (GBR) & Allstar BTryon 2018 Eventing ChampIons Team Great BritainPiggy French (GBR) & Quarrycrest EchoTom McEwen (GBR) & Toledo de Kerser
Page 14
12 TCE November/december 2018________________TheCompetitiveEquestrianAfter a 40 year draught Padraig McCarthy (IRL) brings home the silver Isabell Werth (GER) & Bella RoseIngrid Klimke (GER) & SAP Hale Bob OLDPhoto Gallery By Alden Corrigan MediaL-R Laura Graves, Isabel Werth & Charlotte Dujardin"I knew the situation. I had one fence down and then I knew I couldn't afford a time fault. I got a second opportunity in the jump-off. I wanted to go in and just do the best round I could. All the guys came through brilliantly and I am so proud to be American today," said team anchor and veteran McLain Ward, who piloted his rst-time champion mount, Clinta, to an outstanding performance for Team USA. In an incredible display of resiliency and mental stamina, the home team rose to the occasion to outlast the Swedish team in a nail-biting effort during an incredibly rare championship jump-off. The team celebrated their victory on familiar soil; a testament to the development and persistence that the program developed by Robert Ridland, has held them accountable to for the last few years. "This was sport at its best," said U.S. Chef d'Equipe Robert Ridland. "The odds on a jump-off being required were incredible, although we realized it was a possibility. This, today, is why we do it. We have been dreaming about this for so long. We have a tremendous group of talented riders."Simone Blum, an underdog and youngster in a eld of established and renowned competitors, wowed on her mare DSP Alice for Germany, ultimately taking the coveted honor as world champion, the youngest woman to ever do so. The female duo of Blum and DSP Alice, did not accumulate a single jumping fault over ve rounds of competition, an incredible feat for the rising stars. "I cannot believe it," said Blum of her FEI World Equestrian Games™ debut. "I cannot describe my feelings. It is just the perfect day. Alice performed the whole week without any jumping faults. She is such a careful horse with the biggest heart. I was a little bit nervous today, but I stayed focused and knew that if I rode well then she never normally touches a pole."For more information on the FEI World Equestrian Games™ Tryon 2018, please visit www.tryon2018.com.
Page 15
november/december 2018 TCE 13________________TheCompetitiveEquestrianL-R Laura Graves, Isabel Werth & Charlotte DujardinIsabell Werth (GER) & Bella Rose Laura Graves (USA) & VerdadesCharlotte Dujardin (GBR) & Mount St John Freestyle Sönke Rothenberger (GER) & CosmoSteen Peters (USA) & Suppenkasper
Page 16
Photo Gallery By Alden Corrigan MediaTeam USA GoldIndividual Gold Medalist Bernard Fonck (BEL) & What A WaveIndividual Bronze Medalist Cade McCutcheon (USA) & Custom Made GunFranco Bertolani (BRA) & Wimpys Little ColonelJordan Larson (USA) & ARC GunnabeabigstarCasey Deary (USA) & Heavy Duty Chex
Page 17
Individual Silver Medalist Dan Huss (USA) & Ms DreamyIndividual Bronze Medalist Cade McCutcheon (USA) & Custom Made GunCade McCutcheon & Custom Made GunAxel Pesek (FRA)
Page 18
João Felipe Andrade C S Lacerda (BRA) & Gunner Dun It Again Mirko Midili (ITA) Ann Poels (BEL) & Made In Walla Brazilian cheering team for João Felipe Andrade C S Lacerda & Gunner Dun It AgainRobyn Schiller (AUS) & Smart Like Steady Warwick Schiller & Plenty Of GunsDan James (AUS) & Don Magnum
Page 19
november/december 2018 TCE 17________________TheCompetitiveEquestrianAnn Poels (BEL) & Made In Walla
Page 20
THEGEORGE MORRIS CLINIC• Former U.S.E.T Coach • Internaonal Clinician •NOVEMBER 30th and DECEMBER 1st & 2nd, 2018Held AtTimberline MeadowsHome of Rich Fellers Stables LLC15065 S Kirk Rd, Oregon City, OR 97045SECTIONS OFFERED3'6" (9:00 am - 11:00 am)4' Jumper (11:15 am - 1:15 pm)4'3" & Up Jumper (2:30 pm - 4:30 pm)FEESRider's Fee - $900°°Spectator Day Fee (Daily) - $100°°Spectator Session Fee - $40°°RichFellersStablesLLC.comFOR MORE INFO, CALL RICH or SHELLEY FELLERSRich (503) 781-0413 • Shelley (503) 704-1238Limited Stabling Available
Page 21
Page 22
20 TCE November/december 2018________________TheCompetitiveEquestrianDavid Ziegler - Photo by Gary CoppageFit is Everything.saddlesforwomen.com | info@schleese.com | 800.225.2242 JetéCover ground with easeand freedom and takeight to great heights inthe Schleese Jeté Saddlefeaturing the onlyshoulder relief panelon the market.Experience the truefreedom & performanceof your horse with the JetéProduct Hightlight - Jete - Flying Changes - March 2018OL.pdf 1 2/20/18 11:29:15 AMDonna & Joe Parker . (800) 321-5723 . www.Equine-ins.comequine mortalityfarm & ranch commercialtrainer liabilityequine surgical & major medical insurancecare, custody & controlworkers' compensation & employers liabilityenjoy yourtime in the saddlewe have you covered!EQUINE INSURANCECDI 0545437 - a division of Parker General InsuranceParker General/Equine Insurance has been our Farm, Auto, Liability and Equine Mortality Company for over a decade. They have given us personal and attentive care when we needed them. That's the most important service an Insurance Agent can offer. I can and do recommend them highly.Gry McFarlaneIan McFarlane photo ©Robin Francis Felix
Page 23
David Ziegler - Photo by Gary CoppageFit is Everything.saddlesforwomen.com | info@schleese.com | 800.225.2242 JetéCover ground with easeand freedom and takeight to great heights inthe Schleese Jeté Saddlefeaturing the onlyshoulder relief panelon the market.Experience the truefreedom & performanceof your horse with the JetéProduct Hightlight - Jete - Flying Changes - March 2018OL.pdf 1 2/20/18 11:29:15 AM
Page 24
Back to back Professional WCHR Challenge winner Liza Boyd on Ohh La La The 25th Capital Challenge Horse Show Photo Gallery by Alden Corrigan MediaWinners of the $50,000 WCHR Pro Challenge Latte De Muze & Amanda SteegeLyons Creek Bellini & Martha Ingram
Page 25
november/december 2018 TCE 23________________TheCompetitiveEquestrianKarli Postel has lots of love for Banksy Back to back Professional WCHR Challenge winner Liza Boyd on Ohh La La Winners of the $25,000 USHJA International Hunter Derby Presented by Dr. Daryl K. Hoffman Surf's Up & Demi StieglerCapital Challenge Celebrates 25 Years of Top CompetitionBy Emily Riden/Jump MediaTwo and a half decades ago, Oliver Kennedy and Billy Glass started the Capital Challenge Horse Show at the Prince George's Equestrian Center in Upper Marlboro, MD, with a vision of what it could one day become. On September 28 – October 7, that show – now recognized as a U.S. Equestrian Heritage Competition – celebrated its 25th anniversary with an event that has more than realized their vision. Over the course of the 10-day show, more than $375,000 in prize money was awarded and more than 1,500 entries vied for top honors in classes including ve year-end equitation nals, nine World Championship Hunter Rider (WCHR) Challenge classes (including the $50,000 WCHR Professional Challenge, sponsored by e Gochman Family and Radwanski Enterprises), the $25,000 North American Green Hunter Championship, and the $10,000 WCHR Professional Finals. Liza Boyd of Camden, SC, and Amanda Steege of Ocala, FL, earned two of the show's most prestigious honors during the 25th anniversary event.For the second consecutive year, Boyd topped the nation's best hunter riders to win the $10,000 WCHR Professional Finals, sponsored by Radwanski Enterprises. "It's a great feeling; it's exciting," said Boyd of her win, which came only aer each of the top four riders in the WCHR Pro Finals took turns rotating rides on four horses generously donated by Claiborne Bishop/e Barracks and the University of Virginia (UVA) in a unique catch-riding format. Steege's headline victory came aboard Latte de Muze in the $50,000 WCHR Professional Challenge."He's such a pro," said Steege of the seven-year-old Belgian Warmblood gelding owned by Cheryl Olsten. "I think Latte just thinks that this is how all horses do it. He loves it, and he does it, but I don't think he thinks it's any big deal."In the $25,000 North American Green Hunter Championship, sponsored by e Wheeler Family, victory went to Laena Romond of Somers, NY, riding Traveller, owned by Catherine Cowie. Later that same day, Karli Postel of Westlake Village, CA, riding Banksy, owned by Grace Russo, captured the win in the $5,000 WCHR Developing Pro Challenge. Among the junior and amateur competitors celebrating success at the Capital Challenge Horse Show, few had more of a banner week than Martha Ingram of Nashville, TN. e 21-year-old kicked o the horse show with the win in the North American Adult Amateur Equitation Championship riding Airport 48, during the BigEq.com Equitation Weekend. Ingram then returned to win the $2,500 WCHR 3'3" Amateur-Owner Challenge aboard Lyons Creek Bellini on October 4, and two days later, she and Airport 48 also topped the Ariat National Adult Medal Final. "I'm feeling really ecstatic," said Ingram. "As the rst national horse show [of the indoor season], you've been working all year and you want to come in and have a good horse show and set your season o. It's just been a whirlwind, and I couldn't be happier."To learn more about the Capital Challenge Horse Show and to view a full list of winners from all of the hunter, jumper, and equitation competition oered at the year-end event, visit www.CapitalChallenge.org. Winner of the Ariat National Adult Medal Finals Martha Ingram on Airport 48
Page 26
Bunistar & Jenny KarazissisCatch Me & Becky GochmanChampion Green Hunter 3'9" Banksy & John FrenchShapley's Best Turned Out Horse for the Professional Finals, Moonshot ridden by Sandy Ferrel and groomed by Juan Vargas and Luis EscalaraWilliam Steinkraus estate memorabilia including his 1972 Munich Olympic trunk, ribbons from Aachen. 1962 British Jumping Derby trophy and so much more on display at Hammond & HinmanGorgeous iconic CCHS trophies
Page 27
Boss & John French winner of the Tribute Award Presented by Rivers Edge and Scott StewartReserve Champion WCHR Junior 3'3" Challenge Avery Glynn & Meridian Boss & John French
Page 28
Champion High Performance Hunter Catch Me & Scott StewartFibonacci & Chris PayneHammond & Hinman BoutiqueOld Springhouse Lifetime Achievement Award 2018 Winner Tom WrightWinner of all 4 rounds of the Professional WCHR Challenge Liza Boyd on Ohh La La Winner of the Handy Round 1 to determine the Final Four, Scott Stewart & Private Life and Best Groom Fernando Bonia
Page 29
Small Occasion & August IwasakiTom Brennan inducting Capital Challenge Horse Show into the elite group of Heritage Horse ShowsThe one and only Betty OareBelgravia & Lindsay Maxwell
Page 30
Irideon Riding Wear, saddle pads, and misc tack!(overstocks, samples, prototypes, seconds & one-of-a-kinds!) November 2018Location Toklat Originals115 foothills Rd, Lake oSwego, or 97034prices marked up to70% off!W arehouse Sunday 11 : 10am - 4pmthFRIDAY 9 : 9am - 6pmthSATURDAy 10 : 9am - 5pmth
Page 31
Irideon Riding Wear, saddle pads, and misc tack!(overstocks, samples, prototypes, seconds & one-of-a-kinds!) November 2018Location Toklat Originals115 foothills Rd, Lake oSwego, or 97034prices marked up to70% off!W arehouse Sunday 11 : 10am - 4pmthFRIDAY 9 : 9am - 6pmthSATURDAy 10 : 9am - 5pmthThis terric equestrian property contains a very cool 60s vibe home and multiple barns containing a total of 17 stalls. The grounds also feature both an indoor and an outdoor arena (150 x 50 feet each). The shy 5-acre property is in a fantastic location with one-mile proximity to Lord Hill Regional Park and miles of equestrian trails. Boasting rolling pastures and brand-new fencing, this space is ideal for retreats, a residence, and/or a multi-trainer facility. The home exhibits a master suite on the main oor plus four large bedrooms upstairs. Each bedroom has huge windows with all-around territorial views. Perfect for guests and entertaining, the outdoor patio has a brick replace, grill, and wonderful views of the grounds. The multitude of modern updates include new roof, furnace, hot water tanks, ooring, hardware, garage doors with openers, and exterior paint. This is a truly exceptional place!Exceptional Equestrian EnclaveManaging Broker 206.920.0697sally@sallygregg.comSallyGregg.comSally Gregg$1,495,0004.9-Acre Lot · 5 Bedrooms · 2.75 BathsBuilt 1965
Page 32
LENS ENVYLENALUSNTIElena Lusenti was born in Milan, Italy. From her earliest memories her passion for horses, distant lands and all forms of art were and are today her inspiration as an artist. Elena dedicates herself to capturing the essence of horse and rider, bringing her insightful eye to a world she knows well, having competed with great success on her legendary stallion Larone, aboard whom she won the National Horse Show in New York City in 2003 in the High Junior Amateur Division. Her ability to capture the moment was a natural transition from rider to photographer of the horse world. In 2014 she was the recipient of the acclaimed PDN Photo Annual Award in New York for her unique and fresh approach to equestrian photography.Her images appear in Taschen's book 'The Dog in Photography' (2018) , in Assouline's upcoming coffee table book on The World of Wellington (expected release January 2019, title to be announced) and in the book 'WEF, The Equestrian Lifestyle Destination', produced in partnership with the Winter Equestrian Festival (2013). Her fine art photography, taken during a lifetime of travels across the world, testify to Elena's ability to capture the beauty of the human spirit, of the horse, and every situation.During WEF, Elena focuses her work on portrait commissions of riders and their equestrian partners. Elena travels between Wellington FL and Italy
Page 33
Page 34
Page 35
Page 36
34 TCE November/december 2018________________TheCompetitiveEquestrianTHE HAMPTON CLASSICPhoto Gallery by Alden Corrigan MediaWinners of the $300,000 Hampton Classic Grand Prix CSI 4* HH Gigi's Girl & McLain Ward
Page 37
Winner of the $10,000 Jr/AO Welcome Stake Briley KoernerWinner of the $75,000 Longines Cup Indra Van De Oude Heihoef & Shane SweetnamMcLain Ward's Win in the $300,000 Hampton Classic Grand Prix Presented by Douglas Elliman Highlighted a Spectacular 43rd Annual Hampton Classice 43rd annual Hampton Classic Horse Show featured more than 200 classes of hunter, jumper and equitation competition for approximately 1600 horses and riders of all ages and abilities. ey competed in six beautifully manicured show rings across 60 acres. Riders from twelve nations – including Olympic and World Cup champions – competed in ve FEI classes, culminating in a brilliant win by McLain Ward in the $300,000 Hampton Classic Grand Prix CSI**** presented by Douglas Elliman. It was a record seventh win for Ward in the Classic's featured event.Ireland's Shane Sweetnam won the $30,000 Longines Rider Challenge as the Classic's leading open jumper rider for the second time. Sweetnam received a stunning Longines timepiece and a check for $30,000. Sweetnam, who previously won the award in 2015, also won watches for winning the $75,000 Douglas Elliman Grand Prix Qualier presented by Longines on Friday aernoon, and the $70,000 Longines Cup on Saturday, in addition to one for nishing second in Sunday's nal Grand Prix, giving him a total of four for the weekend.Sweetnam's win in the $75,000 Douglas Elliman Grand Prix Qualier earned approximately $10,000 for the Group for the East End through the Hampton Classic's Jump for Charity program, one of the Classic's many charitable initiatives. Saturday's LONGINES Cup featured, Clear the Jump for Just World, with Longines partnering with JustWorld International to donate meals to impoverished countries around the world. LONGINES presented a check for ve thousand meals to JustWorld International.For the 13th year, the Classic hosted the Long Island Horse Show Series for Riders with Disabilities Championship Finals Presented by BNB Bank. Twenty riders across three divisions competed for the year-end titles aer qualifying through a series of horse shows throughout the summer.e Classic also hosted its 8th annual Adoption & Animal Welfare Day, sponsored by Gotham Enterprizes with the support of the EQUUS Foundation. Rescue dogs, cats and horses from a variety of animal rescues and shelters on Long Island and beyond were available for adoption. Eleven local and regional rescues for small and large animals took part, raising awareness around adoption, with cats and dogs being screened and adopted on-site.e Hampton Classic showcased beauty not only in the show rings, but across all areas of the spectacular 60-acre show grounds, including the luxurious Agneta Currey Boutique Garden and Stable Row, featuring more than 80 vendors.Located near the Hamptons' famed beaches, restaurants, nightclubs and boutiques, the Hampton Classic is a celebrity hot spot. Among those in attendance at this year's Classic were Bobby Flay, Billy Joel, Brooke Shields, Michael Bloomberg, Donna Karan, Martha Stewart, Christy Turlington, Real Housewives of New York stars Kelly Bensimon, Luann de Lesseps and Ramona Singer, and Congressmen Steve Israel (D-NY), Peter King (R-NY) and Betty McCollum (D-MN).For complete horse show results and more information on the Hampton Classic Horse Show, please visit the Hampton Classic website at www.hamptonclassic.com or call (631) 537-3177. Hampton Classic Horse Show, Inc. is a 501(c)(3) charitable corporation.
Page 38
Adamus & Leslie Wright236541
Page 39
1. Attention to detail...Carol Hoffman2. Luster receiving his fans3. Winner of the $10,000 Jr/AO Welcome Stake (1.40m) For Jef VD Wezelse4. Exclusive & Jimmy Torano5. Stick & Ball6. Paris & Lola Head7. Cat Ballou & Molly Ashe8. Peter Pletcher in his happy place9. Catch Me & Scott Stewart10. Cordolensky & Scott Stewart10987
Page 40
Winning Tablescape Bikoff Second Place Winner Chateau D'esclans Whispering AngelTABLE DECOR COMPETITIONPhoto Gallery by Alden Corrigan Media1st2ndThe Bridgehampton Florist live marigold tableclothAttention to detail at Laurel Crown FarmsPresentation is everythingFoodies paradise at Silver Tide StablesOver the top presentation at Firey Farm
Page 41
Third Place Winner Stephanie Brown Beamer 3rdStirrup inspired centerpieces at Lilee Fell FlowersBrown Harris StevensBountiful Boar's HeadGift boxes at Cottages & GardensCutting board place settings at Douglas EllimanAttention to detail at Laurel Crown FarmsOver the top presentation at Firey Farm
Page 42
3100 Bickford Ave. SnohomishWA 98290 1-800-242-5367www.BickfordTrailers.com"Your home for Trails West"www.sidesaddletackshop.com10414 NE Halsey Street • Portland, OR 97220503-256-1964 or 888-694-3585 Happy ThanksgivingNew Winter Riding Gloves, Turn Out Blankets, Cozy Socks, Fleece BreechesWe Have Gift Certificates
Page 43
Page 44
42 TCE November/december 2018________________TheCompetitiveEquestrianMolly Ashe Cawley and D'Arnita Earn Career-Best Victory at 2018 American Gold CupBy Caroline Nickolaus / Phelps Media GroupWinner of the $204,000 American Gold Cup CSI 4*-W Presented by Longines Molly Ashe Cawley & D'ArnitaAn annual event that showcases world-class international show jumping competition, the 2018 American Gold Cup CSI4*-W took place from Wednesday, Sept. 26, through Sunday, Sept. 30, and celebrated its seventh year being held at the breathtaking Old Salem Farm. This year's show marked its fourth year as part of the Longines FEI Jumping World Cup™ North American League and, in typical fashion, hosted an international lineup of renowned equestrian athletes and their incredible horses.Fresh off a team gold medal finish at the 2018 FEI World Equestrian Games™ just one week prior, three of the four members of the NetJets® U.S. Show Jumping Team — McLain Ward, Adrienne Sternlicht and Devin Ryan —made the trip from Tryon, North Carolina, to North Salem, New York, to showcase their talents and compete at the renowned American Gold Cup.Ultimately, it was the United States' Molly Ashe Cawley who earned a spot on the coveted American Gold Cup trophy after she and Louisburg Farm's 10-year-old Dutch Warmblood mare D'Arnita captured the $204,000 Longines FEI Jumping World Cup™ New York CSI4*-W in front of a packed crowd of more than 5,500 show jumping fans on Sunday to close out the show's highlight event."It means a lot to win a class of this magnitude," said Cawley. "[D'Arnita] was 6 coming 7 when we got her. This is her biggest outing so far to date and I was thrilled with her. I thought she answered all of the questions and really rose to the occasion. I'm super excited. I think there are plenty more to come. She's really a super horse. Every time she wins, it means a lot to us because she's been a fighter and she's just a class act. I'm super excited to have her."The talented pair raced to beat the clock in the jump-off, passing through the timers in a quick 36.76 seconds, just a hair ahead of second place finishers Margie Engle (USA) and Royce by one-tenth of a second. This achievement not only marked D'Arnita's most prestigious win of her career thus far, but also Cawley's first time securing the illustrious title. Mattias Tromp (USA) rounded out the top three spots riding Quinta, while Lucy Davis (USA), trainer at Old Salem Farm, finished in the fourth place position aboard Caracho.In addition, Ward captured three wins throughout the week aboard a new string of horses, including Thursday's $2,500 Staller 1.35m Jumper class with Queen Jane, owned by Walstib Stables LLC, Friday's $80,000 American Gold Cup Qualifier CSI4*-W with Contagious, owned by Beechwood Stables LLC, and Saturday's $70,000 Fidelity Investments® Classic CSI4* with Tradition De La Roque, owned by Kessler Show Stables Europe B.V.Prior to the start of Sunday afternoon's action, the crowd gathered to honor Ward's legendary partner, Rothchild, during a well-deserved retirement ceremony. Some of their notable career achievements include winning individual gold and team bronze for the USA at the 2015 Pan American Games in Toronto, Canada."He looks amazing and he is happier and healthier than ever," said Ward. "It's nice to be able to retire him in such a good state. Obviously, he had a brilliant career and he really was my buddy. That horse really defied the odds and did some incredible things and is probably pound-for-pound the best horse I have ever ridden because of the things he overcame. It's sad to see his career end in one way, but it's a great memory and he's still healthy and happy."Mark your calendars as the 49th edition of the American Gold Cup returns to Old Salem Farm next yearSept. 11–15, 2019!
Page 45
november/december 2018 TCE 43________________TheCompetitiveEquestrianMattias Tromp & Crack Elle ChavannaiseWinner of the M. Michael Neller Style Award Margie Engle & RoyceWinner of the $204,000 American Gold Cup CSI 4*-W Presented by Longines Molly Ashe Cawley & D'Arnita
Page 46
Winner of the $35,000 Welcome Stake Kristen Vanderveen & Faustino De TiliWinner of the $70,000 1.50m Classic Presented by Fidelity Investments McLain Ward & Tradition De La RoqueMcLain Ward & HH Gigi's GirlOld Salem Farm stone entranceWinners of the $35,000 Herme's Sellier 1.45m Kristen Vanderveen & Bull Run's Prince of PeaceDaisy Farish & Great White
Page 47
Hunter Siebel & Pure Abundance - Retirement CeremonyRothchild's retirement garland of yellow carnationsBeautiful Fall Day at American Gold CupAdrienne Sternlicht & Quidam MBLeft: Peter Lutz & Robin De PonthualWillie Tynan & ClassicDaisy Farish & Great White
Page 48
It's your way of life… It's our business to protect it! www.bluebridle.com (800) 526-1711 • (908) 735-6362 Mortality • Major Medical • Surgical • Colic • Farmowners Equine Liability • Care, Custody or Control Blue Bridle Insurance Agency, Inc., P.O. Box 27, Pittstown, NJ 08867 Specializing in Equine Farm | Mortality/Major Medical | Equine Liability | Equine Events | Equine Club & Liabilitywww.jogtrot.comCompetitive quotation support at 1-800-JOG-TROT (425-689-0004)heather@sea-mountain.comawa it s youGive your horse the proper feed andsupplements so they cankeep ridingwith you. 145 NE GILMAN BLVD ISSAQUAH, WA 98027(425) 392-6469 www.grangesupply.com/thegrangeissaquah/grangesupplyissaquahWashington's Feed Store.™ 22216 Sweeney Road SE, Maple Valley, WA 98038 www.huntersruneq.com Owner: Colleen Armstrong Trainers: Angie Chamberlin & Meghann Gjersten Asst: Lindsay Levy www.huntersruneq.com Quidam Van De Kapel Quimby: This wonderful 16.1 hand warmblood gelding has auto lead changes, loads of experience in the jumper ring and quiet enough for the hunter ring. Most recently Quimby was the 2017 Zone IX Horse of the Year and Washington State Hunter Jumper year-end 1.0 meter Children's Jumper champion, having moved up with his junior rider from their 2016 year-end championship in 0.9 meter Chrildren's Jumper. Quimby is brave in the ring and super fun to jump. He's available for sale with possible lease options considered. Contact: Meghann Gjersten mobile: (425) 358-0578 e-mail: hunrunmeg@gmail.com *Please show this Ad to receive the deal.all Horse TreatsBuy 2,Get 1 FREEWashington's Feed Store.Washington's Feed Store.™145 NE GILMAN BLVD ISSAQUAH, WA 98027(425) 392- 6469 www.grangesupply.comBy Stacey SikorskiA Professional Groom for 25+ YearsTrusted On-site Equine Clipping Serving the Greater Puget Sound AreaTo schedule: 425.501.5997 or eqclippingservices@gmail.comView Stacey's work and learn more: equineclipping.com•  Body Clipping•  Trace Clipping•  Show Clipping•  Mane Pulling•  And More
Page 49
november/december 2018 TCE 47________________TheCompetitiveEquestrian
Page 50
Winners of the $40,000 Stephen SIlver Grand Prix Fellini 131 & Taylor SiebelCasallo & Stella WassermanMenlo Blues
Page 51
Winners of the Windy Hill Larry Mayeld 1.20m Horse & Hound Dakoda Mower on Dollar & Nick Wells with Maddie (below)48th Annual Menlo Charity Horse Show Photo Gallery by Alden Corrigan MediaNatalie Gerst & EviolitaBanksy & Karli PostelWinners of the $25,000 USHJA International Hunter Derby Presented by Dr. Daryl K. Hoffman Surf's Up & Demi Stiegler
Page 52
(L-R) Lee Flick with Green Conformation Hunter Reserve Champion Always Social and Champion John Bragg and Now We're Talkin'$2,500 Pacic Union 3'3" Junior Hunter Classic Champion King Of Hearts & Avery Glynn Lindemann-BarnettPuissance R & Jenny Karazissis3'6" Green Hunter Champion Atellia No. 5 & Nick HanessHighlander & Marisa Metzger
Page 53
Land RoverWinners of the $10,000 Rhys Vineyards Ryman Memorial Speed Class The Flying Ham & Carly AnthonyCourtney Pacheco said yes to Jason Hogue!Hunter Siebel & Pure Abundance - Retirement CeremonyLindsay Archer & Camerone Camerone retiring and leaving the show ring for the last timeChampionship Chairs
Page 54
52 TCE November/december 2018________________TheCompetitiveEquestrian 503.663.1515 ColumbiaEquine.com Columbia Equine Hospital Technology. Experience. Compassion. Scott W Hansen, DVM • Megan Rioux-Forker, DVM, CVA Greg Schmid, DVM • Christy Sandquist, DVM David Klugh, DVM, FAVD 27841 SE Orient Dr • Gresham, OR 97080 Columbia Equine Hospital offers a full range of ambulatory, hospital and referral services. Now booking Chiropractic appointments with Dr. Greg Schmid! ACCEPTING NEW FARRIER CLIENTS• Over 10 years of experience including work with Dr. Mark Revenaugh, DVM• Apprenticed with Joe McKee• Dedicated to ongoing education• References available(503) 830-9580 • Wilsonville, OregonAPRIL AD PLACEDBickford Trailer Sales ................................................... 40Blue Bridle Insurance .................................................. 46Casey Franllin .............................................................. 18Cheval Insurance ......................................................... 5Columbia Equine Hospital ........................................... 52Dar & Darcie Real Estate .............................................. 19Dechra......................................................................... Inside Front Ecient Arena............................................................. 53Equine Clipping ........................................................... 46Equine Insurance ......................................................... 20Equine Omega Complete ............................................ 1Gallops ........................................................................ Back CoverGrange Equine Supply ................................................. 46George Morris Clinic .................................................... 18JR Swan Farrier ............................................................ 52Leg Up with Darby Bonomi ................................. 7Lola ............................................................................. 4Maria Danielli Real Estate ............................................ 3Oakhurst ..................................................................... 68Olson's Tack ................................................................. Inside FrontPilchuck....................................................................... 68Real Estate .................................................................. 29Ryann Reinhofer ......................................................... 5/6Sea / Mountain Ins ...................................................... 46Schleese Saddlery ....................................................... 21Sidesaddle Tack ........................................................... 40Spane Buildings .......................................................... Inside BackTeam NW Shows ......................................................... 17Templeton Equestrian Center ...................................... 33Toklat .......................................................................... 28TUCCI ........................................................................... Back CoverVoltaire ....................................................................... 52Zuccalotto ................................................................... 41INDEX
Page 55
Page 56
Dr. Darby Bonomi takes a fresh look at achievement in equestrian sport – shifting the focus from rider performance to riding enjoyment. Her philosophy: reclaim the joy in your ride, get connected and the success happens – however you dene it for you that day.Darby also looks beyond the rider and helps families unravel their toughest challenges — from how to choose a training program to how to communicate with their rider on show days. Her Leg Up practice is built on her vision of long-term health and happiness of riders, horses, and their support systems. She has the wisdom of 25 years as a practicing psychologist and a life-long participation in the equestrian world as a rider, parent and owner. Courageous – Inspired – InspiringDarby grew up in San Francisco and when she was 10 her family acquired a ranch outside of Healdsburg, California. Despite having no experience, she felt the undeniable call -- the barn was heaven. It was a place to nd solitude and peace, and the relationship with horses was serenity. Once her parents realized horses were here to stay, Darby worked with trainers Lu and Butch Thomas at their Willow Tree Farm and then with Linda and Champ Hough at Sutton Place. As a Junior, Darby was able to achieve her goal of competing in the Maclay Medal Final at Madison Square Garden. Looking back, she credits Linda with the basis of some of her current practices with her simple message "You're good. Just ride" – in other words be in the present with your horse, let go of the mental process and just feel the ride. Later that notion became the touchstone for Leg Up consulting. Frontline CredentialsAs Darby reached the age for academic pursuit, the horses left her life temporarily – but they'd be back! Darby received her doctorate at California School of Professional Psychology in Berkeley and postdoctoral degree at the San Francisco Psychoanalytic Institute (now The SF Center for Psychoanalysis).For almost 20 years she maintained a private clinical practice, working primarily with adults and teens in long-term psychotherapy and psychoanalysis. She also supervised psychiatric residents at several hospitals and was on the faculty at the SF Psychoanalytic Institute. And then, a realization: rather than treating mental illness, Darby had a vision for fostering psychological health. Back to the Barn for The Equestrian MentorThe desire to be fully present with and for her children was the catalyst for Darby to close her psychology practice and embark on a new path. For several years, she was a full-time mother – and Darby realized the barn was again part of the family -- her older daughter, Adele, had the draw – she had to ride. As her own children became riders and more independent, Darby found herself being sought out by other parents and riders for advice and counsel -- after all, she was successfully juggling 2 daughters' and her own A-circuit riding – a role model! Earlier in 2018, she launched Leg Up Performance Coaching -- combining her passion for equestrian sports with many years of clinical work. From her unique vantage point, she provides tools and perspective for riders Reclaim Joy for Connection and SuccessBy Ashley Matchett Woods'If you lead with joy, success will follow.' - Darby Bonomi, PhDDr. Darby Bonomi "In our current fast paced and competitive world, it's easy to lose touch with what drew us to the sport.. The big picture gets lost in a world where blue ribbons and championships are revered and small quiet moments of triumph or progress go unnoticed.I provide riders and their families with the tools and the perspective to navigate the complex equestrian world, while staying connected to what is most important."K-Doc and Darby at Madison Square Garden (Maclay Finals), 1980
Page 57
november/december 2018 TCE 55________________TheCompetitiveEquestrianDarby and Claraand their families to navigate the complex equestrian world. She guides and reminds us to focus on the joy and gratitude we have for our generous equine partners.Courage: to have fear and act anywayDarby knew she was on to something when her thoughtful blog entry -- Transform Fear into Joy -- garnered feedback from all kinds of equestrians and organizations. She struck a nerve -- it has become her signature program. The series was born from answering the question what's your biggest obstacle? The answer: myself! Darby's clients learn to utilize anxiety rather than be paralyzed by it — both in and out of the saddle. Ask Darby her perspective on fear and she'll answer you with condence: "embrace it, use it, and take a step forward -- and do it again tomorrow."Darby's formula is simple: Connect – Enjoy – SucceedDarby works on the phone, Facetime, in-person – whatever works best for youFind out more at DarbyBonomi.com Contact Darby for a free initial introduction Darby@DarbyBonomi.comThe Big PictureLeg Up also provides the ideal platform for Darby's ultimate goal: elevate the horse community—educate, inform, and empower riders and owners with the information and tools to help them reclaim the joy in their sport—that's what results in improved performance and greater well-being.She is involved in our national governing body and also plans to nish training to become a USEF judge. She hopes to become a spokesperson and advocate for owners and riders on a national level, making our sport more accessible, more accountable, and more visible to the general public. Darby writes a regular column for the website Street to Stable and publishes her insightful blog regularly. Recently she gave her talk "Fear No Fear" at Giant Steps Therapeutic Equestrian Center and gives similar talks at training stables and other small groups. *Ashley Matchett Woods is the owner of Branded By EQ Business Consulting & Marketing Services and The Equestrian's Concierge retail store located at Sonoma Horse Park in Northern California. She is a freelance writer and blogger as well as a life-long hunter-jumper rider.Darby and AdeleDarby and ZingDarby and Little Wing
Page 58
56 www.EINw.org NovEmbEr 2018www.EINW.orgPresident's Report By Diana AxnessEquestrians Institute's show season is now over for 2018. It's been a busy and fun year. e only items le on the calendar for 2018 are a couple of fabulous dressage clinic and the annual meeting. e annual meeting is scheduled for 10:30am on November 17th at the Fall City Library. During the meeting we will review the 2018 year and vote in the 2019 board of directors. While the board of directors is responsible for the overall management of Equestrians Institute, the "heavy liing" of planning/organizing/managing the competitions and clinics is performed by the committees supporting each of the divisions. The board and the committee members are all Board of DirectorsBoardofDirectors@einw.org Diana Axness diana@einw.org Trish Camozzi-Ekberg trish@einw.org Gunn Cooper gunn@einw.org Meika Decher meika@einw.org Merridy Hance merridy@einw.org Penny Leggott penny@einw.org Kathryn Lewis kathryn@einw.org Sarah Johnson sarah@einw.org Chris Bredeson chris@einw.org Laurie McLaughlin lauriemc@einw.org Jo Renn jo@einw.orgAdministration Membership membership@einw.org Bookkeeper bookkeeper@einw.org Volunteers volunteers@einw.org Grants grants@einw.org Website/Email webmaster@einw.orgDriving Events & Clinicdriving@einw.org Sarah Johnson sarah@einw.org Diana Axness diana@einw.org Merridy Hance merridy@einw.org Leslie McGinnis leslie@einw.orgEventing Horse Trials & Clinicseventing@einw.org Meika Decher meika@einw.org Penny Leggott penny@einw.org Heidi Hansen heidi@einw.orgDressage Shows & Clinicsdressage@einw.org Gunn Cooper gunn@einw.org Markay Kerr markay@einw.org Kathryn Lewis kathryn@einw.org Peter Rothschild pgr@tsandm.com Kaye Phaneuf phaneuf@canby.comSport Horse Breeding Shows & Clinics Chris Bredeson chris@einw.org Laurie McLaughlin lauriemc@einw.orgvolunteers. Equestrians Institute is fortunate to have such a dedicated group of individuals who are willing to pool their time and talents so that the Northwest Equestrian community can enjoy the competitions and clinics oered. is group of people has my heartfelt thanks for all of the ne and hard work they did in 2018. Well done!Dressage ReportBy Gunn CooperSince EI dressage did not have any events in August or September I have nothing to report about that, instead I am going to tell you about a fabulous trip I took to Iceland with my family in the beginning of August. My two sisters and I have been riding since we were little girls and have for some time talked about going to Iceland to ride Icelandic horses. My little sister turned 60 this year so we decided that this was the year to do it, a last-minute conict prevented her from coming but my husband and daughter joined us instead. Iceland is a unique and very beautiful place. e whole country is volcanic and reminded me of Hawaii's Big Island without the lush tropical foliage, instead they have moss, grass and low bushes. ere are only 300,000 islanders living in Iceland and most of them, 200,000 lives in the capital Reykjavik. Once you leave the capital the landscape is either lava elds or grass lands. Just about every house you pass has two or three horses in
Page 59
NovEmbEr 2018 www.EINw.org 57the back yard. We asked about this and found out that the Icelandic horse is very hardy and is only fed hay, they have no need for any supplements or oats. During the summer they are just turned out on private or public pastures and everyone grows their own hay to feed during the cold part of the year. is makes it very economical to keep a couple of horses and the Icelanders we talked to are very proud of their horses. We went on two rides, one with all four of us. On that one we rode with a young German woman as our guide through an open pasture landscape surrounded by volcanic mountains in the distance. Since all of us knew how to ride we got to do the tolt (the fourth gate Icelanders have that is like a very smooth trot) as well as a fun gallop up a hill on the way home. My sister and I went on a second ride, just the two of us accompanied by a young woman from Sweden. We told them we were very experience riders and were therefore assigned younger horses that were much nicer than the ones we had on our rst ride. is time we rode along a very dramatic gorge, it was almost like a mini-Grand Canyon setting. It was just the three of us and we got to do a lot of tolting and cantering. When we were about a mile away from home riding along a dirt road with a busy highway on one side and a deep drainage ditch on the other side, my sisters horse decided that he had had enough of walking and wanted to get home. Without any warning at all he just took o and bolted, my horse did the same thing. Like I said earlier, I have ridden all my life, but this was the rst time I was on a horse that not only couldn't be stopped, it was not even possible to slow it down. We were ripping on the reins and yelling in English, Swedish and German at the horses to slow down, but nothing worked. Someone who heard this story told me that the problem was that we didn't speak Icelandic, but I don't think so, these horses just had it in their head that they wanted to go home and that is what they did. e little Swedish girl and her horse couldn't even keep up with us. I have never ridden so fast in my whole life and it was terrifying to be so totally out of control. But we survived, luckily there was no bucking involved. e moral of the story is, don't brag about having ridden all your life, at least not when you're in Iceland, or you might just have the ride of your life!
Page 60
58 www.orEgoNDrEssagE.com NovEmbEr 2018Oregon Dressage Society is a USDF Group Member; ODS members are automatically USDF Group Members. 2018 Executive CommitteePresident: Karen Cheeke | (541) 740-8837 | kontessakeen@hotmail.comPresident Elect: Emily Kenyon | (541) 510-1761 | emilyekenyon@gmail.comSecretary: Valerie Hallberg - Stallings | (541) 817-6386 | valer329@gmail.comTreasurer: Gaye McCabe | (503) 378-0309 | j-g.mccabe@juno.comDirectors at LargeLisa Koch | (541) 410-5968 | lisakoch3@gmail.com Jessica Rattner | (503) 830-9994 | jessica.rattner@gmail.com Anna Bigwood | (503) 539-3793 | abigwood@comcast.netEmily Kenyon (see President Elect)Gaye McCabe (see Treasurer)Regional RepresentativesNorth Region (2): Sam Clement | samclem@microsoft.com Jo Renn | (508) 335-6103 | jorenn22@yahoo.comCentral Region: Karen Cheeke | (541) 740-8837 | kontessakeen@hotmail.comSouth Region: Brett Lynn Stallings| (541) 817-6401 | bsaiedail@gmail.comEast Region: Sharm Daggett | (541) 426-3728 | sharm@wallowacounty.comCommittee ChairsAdult Committee: Sam ClementsAwards Committee: Ed Miller | (541) 890-5085 | eamgroup@aol.comChampionship Show: Jennifer Milburn | (541) 231-7247| dressageshowmanager@gmail.comCompetitions Committee: Sarah Diebert | (360) 574-3733 | sjdiebert@comcast.netDSHB Committee: VacantFinance Committee: Gaye McCabe (see Treasurer) Para Committee: Karina Molatore | (503) 523-8084 | karina.molatore@gmail.comYouth Committee: (see Treasurer)Additional State PositionsAsst. Treasurer: Jorine Rietman | (503) 849-8235 | j.rietman@comcast.netAwards/USEF Shows: Christopher Main | (503) 389-0191 | christopher@haywardfarm.comAwards: Ed Miller | (541) 482-2902Awards/Special: Valerie Stallings (see secretary)Editor/Policies & Procedures: Ed Miller (see Awards)ODS Librarian: Amanda Wilgenburg | (360) 426-8939 crookedtailfarm@msn.com4H Liaison: Joyce Stride | (503) 647-0168Historian: Kim Hixson | (509) 698-6778Chapter Ocers: Listed on ODS WebsiteAdministration: General Information: Karen Cheeke (ODS email and cell phone, (503) 681-2337 | (503) 681-3873 fax | oce@oregondressage.com)Membership: Jo Renn | jorenn22@yahoo.comMail, Financials: Gaye McCabe | j-g.mccabe@juno.comQuickBooks: Jorine Reitman | j.reitman@comcast.net1099s: Helen Ferguson | ferguson@canby.comInsurance: Marsha Williams | gotothebarn.mw@gmail.comWebsite Master: Mary Packard | marypackard@mindspring.comWebsite Calendar: Karen McCurdy | karen.mccurdy@icloud.com Show Approvals & Publications (test booklet & roster): Sarah Diebert | sjdiebert@comcast.netPublications (instructor brochure & Flying Changes): Anna Bigwood | abigwood@comcast.netOregon Dressage Society e VolteODS President's Note: By Karen CheekeOur 2019 ODS Ocers have been elected and ocially took oce at the end of the General Meeting at the Fall Gala on October 27, 2018. I, Karen Cheeke, return as President; Valerie Stahlings, former secretary, is Vice President; Sarah Diebert is Secretary; and Dolores Morgan is Treasurer.I hope everyone who attended the weekend with Lisa Wilcox, enjoyed the experience. e annual special awards banquet and silent auction is also typically a fun time. Unfortunately, I was not able to attend this year because of a prior out of country engagement. ODS is proud to be able to sponsor these events and we look forward to bringing more events like this to our members next year. Please let us know about any ideas you might have.e beginning of October I enjoyed a trip down to Central Point to nish up the competition year at the State of Jeerson USDF/USEF Recognized Show. e State of Jeerson Dressage Chapter of ODS put on a very nice show. While it is the last recognized show of our season in the Northwest, it actually is the rst of qualiers for the 2019 show year. is is a good one to add to next year's calendar. In mid-October I traveled with a dierent horse to the ODS League Finals Show at Donida Farms Equestrian Center in Auburn, www.oregondressage.comWashington. e Lower Puget Sound Dressage Chapter of ODS put the show on this year. e show has not run the last couple years. e LPSD Chapter did a wonderful job of early advertising and the show was a full day with several riders going up from Oregon. ey revived excitement for ODS League Finals Show – LPSDC president Lea McCullough participated on her newest mount, SunshineKaren and Ileana
Page 61
NovEmbEr 2018 www.orEgoNDrEssagE.com 59the League Championships, which we hope continues into next year. ODS is seeking chapters interested in running the 2019 League Championships. e ODS Board is also exploring the possibility of developing a medals program for the League riders. Stay tuned for more information about the possibilities.ODS has had an annual ODS USDF/USEF Championships since 1981. We are currently seeking a committee chair and members to be sure we have a successful show in 2019. An experienced show secretary is already willing to continue on, but we need a Show Manager and committee members to produce this show, which is planned once again be held at Devonwood Equestrian Center. Contact me if you have interest in this committee. Several Regions 6 and ODS members will be heading to Utah at the end of November to attend the USDF Convention – Dressage Elevated. All ODS members are invited and encouraged to attend. If you have ideas or concerns you want brought forth to USDF, please contact the delegates attending from the ODS Board: Karen Cheeke, Emily Kenyon, and Sam Clement. Jo Renn and Gaye McCabe also plan to attend. Plans are underway for the ODS Annual Retreat which includes the rst quarterly meeting of the year, educational activities, and networking opportunities. Board members are required to attend this annual event and we strongly encourage all committee chairs and representatives from each of our ODS Chapters to come and participate and CHAPTER NEWS: Lower Puget Sound Dressage SHOW SEASON 2018With over 500 tests ridden and judged this year, LPSDC has had a phenomenal show season. We even added an additional show to accommodate all our riders and members! A special thank-you goes out to all our area trainers who take the time to coach and bring their students to the LPSDC shows. eir eort is our reward in having such successful full shows!!And now it is time to take a well-deserved break! To summarize our show season:MAY FLOWERS May 6th at Kitsap Saddle ClubOn an absolutely beautiful sunny day at Kitsap Saddle Club, we hosted our rst show of the season with great success. Amanda Wilgenburg "L Judge" and scribe Jo Renn had a very long day with 81 rides starting at 8am sharp and ending just aer 7pm in the evening. Congratulations are in order to some of our high scores of the day – Carrie Gregory and Hummer yme for their 2d Level Musical Freestyle (70.5) and Linda Coates-Markle (Open) and Rafael for Western Dressage Level 4-1 (68.6). JOLLY JUNE June 10th at Kitsap Saddle ClubBraving thunder and at times, torrential rain, riders joined in on our second show of the year held June 10th at Kitsap Saddle Club. We had 77 rides on the schedule and want to thank our judges at C: Nicole Charbonneau "r" and Carrie Gregory "L" for ociating at the very long day. Congratulations to our high point JR/YR of the day – Marissa Block riding Zannity in Intro and receiving a 70% for her ride.learn at this fun event. It is a great opportunity to learn more about what is happening in ODS and to bring your ideas to the board. We also have fun and get to know some of our fellow members. Please watch for registration and more details of this event which is going to be at Silver Falls Lodge the weekend of January 25 through 27. We hope to see more members participating in all or part. of this weekend. I am looking forward to the 2019 ODS year. Please contact
Page 62
60 www.orEgoNDrEssagE.com NovEmbEr 2018SIZZLING SUMMER July 9th at Chalice FarmsGorgeous day, beautiful horses and talented riders all came together for our 3rd show held at Chalice Farms. Having "S" Judge Dolly Hannon from Arvada, Colorado ociate was a very special honor for our club. With 77 rides on the schedule, it was a long day and many thanks go to Show Manager Jordan Heslep and owners Lea and Mark McCullough for all their care and organization that made the show ow smoothly for all. Congratulations to Ellie Combs (AA) for her ride on Ff Zarah Moon winning Training Level TOC with a 70%. is show was followed a Ride and Review with Dolly the next day. is weekend was made even more eventful with our Summer Barbeque held on Saturday evening. HOT AUGUST NIGHTS August 18th and 19th at Bainbridge Island Saddle Club Two very full shows judged by eresa Morine "r" and Deborah Spence "R" on each day. Both days were completely full and huge thanks go to show manager Carrie Guthrie-Whitlow for taking on the weekend. Congratulations to Lea McCullough (AA) and Resolution on a score of 71.9% riding a Prix St. George test and to Marilyn Gustafson (AA) and Starlette for receiving 73.4% for their Intro A ride. FALL FLING I September 16th at Kitsap Saddle ClubAnother full show! Many thanks to Kimmy Weise "L" for judging and Show Manager Jo Renn for spending a long day managing the show. e weather was testy and depending upon the time of day, riders were basking in sun or drowning in rain! Congratulations to some of our top scoring rides – Carley Stratton (JR/YR) on Terry Wood winning Training TOC with 69% and to Christine Erikson (AA) and Allegria for winning 3rd Level and up with a 66.8%. FALL FLING II September 30th at Green Hills Farm To end the season, we added a show! And within a week of opening entries…it was full. is was a great season ender at a lovely venue judged by Linda Coates-Markle "L" and managed very capably by Jordan Heslep. For this show, we added some eventing tests as well as Intro Supervised and Western Dressage. Congratulations to Makenna Kottre (JR/YR) and Freedom on scoring 68.5% on a 1st Level TOC and to Tatyana Morz (JR/YR) and Fourth Dimension scoring 69.7% on the other 1st Level TOC. We are so proud of our Young Riders!!The whole family came out to celebrate a century ride by Sharon Scott and Shazzy
Page 63
NovEmbEr 2018 www.orEgoNDrEssagE.com 61ODS REGIONAL FINALS & OPEN SHOW: October 13th and 14th at Donida Farm is was the revival of a show which has not happened for the past couple years. It was quite a success, and was met with enthusiasm from both riders and organizers. is was a year-end nale for those who have participated in ODS league shows (non-USDF recognized) through the year. It included classes at Intro through Second Level as well as Freestyle and Western Dressage. anks to some great sponsors, we were able to oer a "big show" feel, great prizes, and still keep prices reasonable. For many of our league show participants, this was their rst experience traveling to a multi-day show with stabling. e friendly atmosphere, and great weather this weekend oered them a positive introduction to moving up in the sport. We also had the very special event of Sharon Scott doing her "Century Ride" on her horse Shazzy. is is a recognition sponsored by e Dressage Foundation for a horse and rider who's combined ages add to 100 or more. Keep your eyes out for the full article which will be coming in the December issue of Flying Changes!Show manager Jo Renn presenting a reserve-champion award to Jordan Banks and Xena (rst level open) Musical Freestyle Champion Allegria (ridden by Ann Christine Erikson) modeling the trophy cooler (it may need some alterations for pony-size)Jessy Olson and Thor The Mustang were quite successful in multiple divisions of both regular and western dressage
Page 64
Once upon a time the Military forts in our country had those mounted boys in blue who defended our forts, repelled hostiles. shipped o to distance wars in defense of our country and may have rescued a few maidens tied to railroad tracks. In an eort to keep their horses t and have a dandy time while doing it, they devised a number of activities. Each fort had such delights as horse shows, a polo team and a mounted hunt. Eventing was an aspect of training/pleasure as well. us it was for Woodbrook Hunt Club. It began as a migration of members from the Seattle Hunt Club south in the early 1900s and morphed into a recognized hunt in 1926 with Fort Lewis (Now Joint Base Lewis McChord) as it's "hunt country". WHC purchased 5 acres next to the base and the Club House our founders built there continues with creative maintenance. Until recently there were only three hunts still stationed at military reservations. Now, there is only one that touts itself as aliated with such and that is Leavenworth. What constitutes "aliated" is not quite certain but, Woodbrook enjoys a long standing, friendly, formally leased, cooperation with the Army that we jealously guard and appreciate. Whereas other hunts in our country struggle to gain access to private properties by schmoozing area farmers and staying ahead of encroaching development, we have thousands of stunning acres to enjoy in the areas JBLM makes available to us on any given hunt day. Granted, they are assigned but, we gladly cooperate. It saves dodging rie re and other unfriendly things. e cavalry was a brief glory that we owe to, you guessed it, General George S. Patton. …and you thought all he did was save the Lipizzaner's? Patton moved the 115th Cavalry from Wyoming to Fort Lewis in 1940. It was mechanized in 1942 but, during his time here, he hunted with us and, as we all know, was a dedicated horseman. So are we! 62 www.wooDbrookHuNtclub.com NovEmbEr 2018WoodbrookHunt ClubLakewood, WAwww.woodbrookhuntclub.come Babbler by Andy Lorig:THERE GOES THE CAVALRY: BUT, NOT THE HUNTContact InformationOur website www.woodbrookhuntclub.com is your greatest resource to learn more about drag fox hunting with us, our hounds, activities, and club history. Like us on Facebook!Questions and information requests are best directed to: Melody Fleckenstein, MFH (425) 417-4003 woodbrookhuntclub@gmail.comJennifer Hansen, Huntsman (253) 377-4892 huntsmanhansen@gmail.comMichelle Hoedeman , Membership (253) -273-6414 michelle2teach@hotmail.comGeneral George PattonMASTERS OF FOXHOUNDS:MFH - Melody FleckensteinSr. Jt. MFH - Michael Wager Jt. MFH - Tami Masters MFH Emeritus - Jean Brooks Sr. Ad. MFH - Joanna Herrigstad Sr. Ad. MFH - RJ Argenzio-West HUNT STAFF:Huntsman - Jennifer HansenKennelmadam - Sarah GlaserWhips - Michael Wager, Tami Masters, Sarah Glaser, Patty StiemertFox Club - Eric Stiemert, Simon Chapman, Tami MastersFieldmasters - Emily Rang, Margo Forstrom, Debra Flynn, Melody Fleckenstein, RJ West, Michelle HoedemanBOARD OF DIRECTORS:President - Kate GormallyVice-President - Michaela HansenSecretary - Michelle HoedemanTreasurer - Deborah GiddingsPast Pres. - Debra FlynnTrustees:Lorna AndersonJessica BradleyJoan BurlingameMissy McGanAubrey RothPatty Stiemert
Page 65
Want To Come Watch A Hunt By Car?Very oen where we hunt allows a car caravan to follow us along the way, with great viewing of the hounds running, sta and huntsman working, and the elds jumping. It also gives viewers a chance to see some breathtaking beautiful woods and prairies that are typical of this part of the Pacic Northwest. Parents like to come and watch their kids, or non-riding friends, spouses and partners get a kick out of participating in this way on a hunt. en everyone comes back to the clubhouse for a hearty hunt "breakfast" around a roaring re in the clubhouse. If you'd like to do this, email us at woodbrookhuntclub@gmail.com, some fun hunts to come and watch are the Blessing of the Hounds Hunt, Opening Day Hunt and our Junior Pony Club Hunt! Tally ho!e Real Heroes of the Hunt are the Fox Draglayers, All Welcome!!Have you ever wondered if you have what it takes to out fox our awesome pack of hounds? Our hounds on a hunt are following a "drag" scent laid along the trails by humans on ATVs, bikes, or on foot. Over the years the human runners seem to be producing the best "voice" from a pack of foxhounds, the cry they make when they "hit" the scent and are o in hot pursuit of wherever that scent came from. e best drag layers or as we like to refer to them as our "foxes" try and simulate the way a fox would run across country, which might mean crossing a creek, running along the top of a huge felled tree, or doubling back over your tracks. It can be as much fun for the drag layers as it is the hounds!We recently held our rst Fox Clinic, where Simon Chapman, one of our drag layers shared with runners what it takes to outfox a pack of hounds. We will be holding another clinic soon, where you will actually run with foxes, learn some of the intriguing ways wild foxes run, how scent is mixed, and maybe have a hound or two try and catch you! If you just like to run and see dierent country, or are a non-hunting spouse, partner or friend of a WHC member and want to participate in a hunt, just not from the back of a horse (although riding skills come in handy sometimes) this could be for you! e reward as shown in the picture of Simon being "caught" by a hound is all the reward our foxes need! To have a pack of hounds behind you in full cry is very exciting they say, dragman Eric Stiemert has even climbed trees to watch the hounds work his scent. He once forded a pretty good sized pond and was sitting on the other side hidden but watching the hounds try and gure out where he went, when one swam into the pond and over to where Eric was hiding, then the hound swam back and brought the rest of the hounds back to Eric! If you are interested in learning more about drag laying with the Woodbrook Hunt Club, contact dragsman Simon Chapman at 253-209-7281 with any questions.NovEmbEr 2018 www.wooDbrookHuNtclub.com 63Dragsman Eric Stiemert running a drag line through our hunt countryDragsman Simon Chapman being rewarded by with a kiss from hound KentNOVEMBERDay Date Time Type LocationFri 2nd, 10:am Hound Exercise KennelsSat 3rd, 11:am Hunt 7NSun 4th, 11:am Hunt TBATue 6th, 10:am Training Hunt TBAFri 9th, 10:am Training Hunt TBATue 13th, 10:am Training Hunt TBAFri 16th, 10:am Hound Exercise KennelsTue 20th, 10:am Training Hunt TBAFri 23rd, 11:am Hunt TA 9, 10Sat 24th, 11:am Hunt TA 7N, 8Tue 27th, 10:am Training Hunt TBA
Page 66
Washington State Hunter Jumper Associationwww.WSHJA.orgWSHJA 2018 BOARD OF DIRECTORSPresident: Jamie Smith Vice President: Quinn PartridgeTreasurer: Miranda SalmeriSecretary: Ellen Con Hunter Rep: Alexis Silvernale Equitation Rep: Nora Thomas Amateur Rep: Peter Brandon Pony Rep: Tara Devlin Jumper Rep: Laina Paterson-SummersJunior Reps: Olivia Brandon & Payton Smith Members at Large:Tory BovaFrancesca HelinaSara PetersenPaige WagterClare Warren Contact info available on wshja.orgWSHJA is a non-prot, member-run association reliant on generous sponsors, charitable volunteers, and avid participation of the hunter/jumper community to accomplish its mission—championing the achievements of and serving the interests of both its riders and horses—to ensure a thriving equestrian culture in the Pacic Northwest.ank you to all competitors, volunteers, sta, and sponsors who helped make WSHJA's inaugural Outreach horse show a great success!Congratulations to Winners from the Highlight October Classic Championships!Junior/Amateur Hunter Derby Champion: Prescott & Emma RobinsWSHJA Good Seat & Hands Final, 2'6", Champion: Amanda DedeoGambler's Choice in Costume Champion: Lark Ascending & Sydney OstranderGambler's Choice Best Costume winner: Vantage Point & Sarah Hallman-LuhnPrescott & Emma RobinsVantage Point & Sarah Hallman-Luhn64 www.wsHJa.org NovEmbEr 2018
Page 67
PNW Child/Adult Equitation Final winner: Vivienne WoodPNW Short Stirrup Pony Equitation Final winner: Adely n TomanPNW Children's Pony Equitation Final winner: Sophia WirtzPNW Short/Long Stirrup Horse Equitation Final winner: Zoe RyderPNW Pre-Child/Adult Equitation Final winner: Soa UlloaPNW Low Adult Equitation Final winner: Ayla BlissPNW Low Child Equitation Final winner: Lauren Bowseranks to all who competed and supported the October Classic! SAVE OUR DATES!December 4th WSHJA Annual Meeting (details forthcoming)January 5th WSHJA Annual Banquet at the Hyatt Regency BellevueAll points will close November 30th. Any points-related questions must be submitted at least 48 hours in advance of November 30. Please check your points online at wshja.org and submit inquiries to points@wshja.org.Perpetual Trophy Winners: please return your perpetual trophies NO LATER than December 31st to Olson's Tack Shop!Lark Ascending & Sydney OstranderNovEmbEr 2018 www.wsHJa.org 65
Page 68
66 www.orEgoNHuNtErJumpEr.org NovEmbEr 2018membership or with point tracking, please contact Kathy Hall at khall@pnwequinelaw.comFor Family Membership, make sure that all family members' emails are included in order for each member to vote in elections. OHJA Board MembersPresidentRebekah Swan (503) 349-0314 beka@swantraining.netVice PresidentKathy Hall (971) 404-5296 khall@pnwequinelaw.com TreasurerJoe Regan (626) 644 6771 joe@arborgroveequestrian.comSecretaryMartha Brooks (541) 944-1797 paxdiemec@gmail.comJumper Representative: (520) 358-1079Robin Rothe robin.quietrein@gmail.comHunter Representative:Dustin Goodwin (971) 219 8586 dustingoodwin00@gmail.comEquitation Representative:Leah Lively (503) 442- 2624 lclively@gmail.com Members at LargeAkiko Hamada stellarsporthorses@gmail.comElise Conlee eaconlee@yahoo.comSam Shahbazi sam@gallopssaddlery.comTrish Helmer historygallopson@hotmail.comJunior RepsSerin Von Marenholtz Izzy Lively Amazon Smile and Fred Meyer RewardsA portion of what you already spend at Fred Meyer and on Amazon can be returned to the organization simply by signing up the OHJA as your charity of choice. e Oregon Hunter Jumper Association is a non-prot organization and therefore can receive back a portion of your expenditures. If you signed OHJA up on Fred Meyer rewards in the past, you will have to relist it for the current year as they start fresh on all accounts each year.Oregon Hunter/Jumper Associationwww.oregonhunterjumper.orgRule ProposalsRule proposals must be submitted by Nov 6th. If there are any rules you would like to see enacted by the organization then please write them up and submit no later than Nov 6th to Kathy Hall at khall@pnwequinelaw.comCheck Your PointsAs the 2018 show season starts winding down, check your points for accuracy. Renewals and joining must be completed prior to showing for your points to count. ere are no retroactive points given. Be sure to check that your trainer has also renewed so that they can get points on your horse as well. Lifetime memberships are available. Contact a board member with questions. Also talk to your trainer about the best system for you and your horse(s) based on where you mostly compete. Last chance to dispute points for shows that took place through October is November 10th. For any shows taking place during November, all discrepancies must be reported before December 5th. e membership sign-up issues should be resolved. If you do nd an issue with your
Page 69
NovEmbEr 2018 www.orEgoNHuNtErJumpEr.org 672018 Awards Gala New this year: tables of 10 will be available to purchase at a discount. If you want to make sure that your sit with your favorite barn mates then buy a table! Tables only available until November 15th. Every table purchased will be put into a drawing for a 1 night stay at the Marriot. Ticket sales are coming soon, you can also buy the normal individual tickets, so keep an eye on the website. e Banquet will be held at the Marriot Downtown Waterfront in January 2019. Special AwardsIt's that time again! Please submit nominations for Special Awards no later than November 11th. Special Awards include Father of e Year, Mother of e Year, School Horse of e Year, e Smooth Jazz Horse Welfare award, Senior Sportsmanship Award and Junior Sportsmanship Award.Social MediaDon't forget to tag the OHJA in your social media posts using #oregonhunterjumper to share your equine experiences. Keep track of the news and events by following the ocial OHJA Facebook page "Oregon Hunter Jumper Association" or on Instagram "oregonhunterjumper." SponsorshipsDo you have a vacation home that you would be willing to auction a few days at to help fundraise? Do you have of know someone with a business that would benet from being seen by 5,000+ equestrian enthusiasts? Do you make or sell equine products or services? Would you like to support academic scholarships, educational seminars for riders, or junior equestrians?If you answered "yes" to any of these questions, the OHJA would love to hear from you!e OHJA is a non-prot, volunteer run organization that relies on sponsorships and donations to provide everything from ribbons at the year-end awards banquet, to prizes for medal nals, to educational scholarships. If you are interested in supporting the OHJA or know someone who might be, please contact the OHJA fundraising chair at fundraising@oregonhunterjumper.orgBoard NominationsAnyone interested in running for the 2019 OHJA Board, please contact Dustin Goodwin at dustingoodwin00@gmail.com Board positions are three-year terms. All dierent skillsets are needed for the board positions. Last day to submit board nominations is November 5th.Scholarshipse OHJA Scholarship Application deadline is November 15th. Each year OHJA awards up to three academic scholarships. You may apply for a scholarship if you are attending, or planning to attend college (community or university), graduate school, or a vocational school.Scholarships are awarded based upon information provided in the scholarship application, academic transcripts, and three letters of recommendation. Finalists are invited to interview with the Scholarship Committee in December. Scholarship recipients are announced at the Annual Awards Banquet and Fundraiser; funds are disbursed directly to the recipients' chosen accredited educational institution.e amount of the scholarship awarded varies based upon funds raised throughout the year. e OHJA relies on donations to the Scholarship Fund to oer scholarships. If you are interested in donating directly to OHJA's scholarship fund please contact the Scholarship Representative.We encourage applicants to begin the application process early in order to complete their application on time. Application materials can be sent directly to the Scholarship Representative.Upcoming Shows and EventsNovember 5 – Board Nomination DeadlineNovember 6 – Rule Change Proposal DeadlineNovember 10 – Point Dispute DeadlineNovember 11 – Special Award Nomination DeadlineNovember 15 – Scholarship Deadline – Last day to purchase a table of 10 for the BanquetDecember 5 – Final Opportunity to Dispute Points Accrued in November
Page 70
68 2018 EvENt DatEs NovEmbEr 2018November 2018 3 LWSC Annual Awards Banquet December 2018 January 2019 TBC OHJA BANQUET May 2019 4 Quarry Ridge Horse Shows. Contact: www.quarryridgefarm.com, Facebook: Quarry Ridge Horse Shows, Text: 360-909-8605June 2019 1 Quarry Ridge Horse Shows. Contact: www.quarryridgefarm.com, Facebook: Quarry Ridge Horse Shows, Text: 360-909-8605 12-16 Oregon Trail Contact: Mollie Gallaway Main - 541-342-5432 | Fax 541-685-9088; Mollie - 541-914-0052 ; triplerise@earthlink.net, www.teamnw.com 15-16 Bedrock 1- Contact: Mollie Gallaway Main - 541-342-5432 |Fax 541-685-9088; Mollie - 541-914-0052 ; triplerise@earthlink.net, www.teamnw.comCALENDAR 12-16 Swiftwater Invitational, ,Washington State Horse Park, Cle Elum, WA. Contact: Barbara Baierle, (253) 350-6579, nancy@cascadehorseshows.com, www.cascadehorseshows.com 19-23 Early Summer Classic Contact: Mollie Gallaway Main - 541-342-5432 | Fax 541-685-9088; Mollie - 541-914-0052 ; triplerise@earthlink.net, www.teamnw.com 19-23 Alpine Preview, ,Washington State Horse Park, Cle Elum, WA. Contact: Barbara Baierle, (253) 350-6579, nancy@cascadehorseshows.com, www.cascadehorseshows.comJuly 2019 4-7 Country Classic Preview - Contact: Mollie Gallaway Main - 541-342-5432 | Fax 541-685-9088; Mollie - 541-914-0052 ; triplerise@earthlink.net, www.teamnw.com 6-7 Bedrock 2- Contact: Mollie Gallaway Main - 541-342-5432 |Fax 541-685-9088; Mollie - 541-914-0052 ; triplerise@earthlink.net, www.teamnw.comOF EVENTS 2018/2019Also @ FlyingChanges.com 10-14 Country Classic - Contact: Mollie Gallaway Main - 541-342-5432 |Fax 541-685-9088; Mollie - 541-914-0052 ; triplerise@earthlink.net, www.teamnw.com 11-14 Pacic Crest Open, ,Washington State Horse Park, Cle Elum, WA. Contact: Barbara Baierle, (253) 350-6579, nancy@cascadehorseshows.com, www.cascadehorseshows.com 13-14 Pacific Outreach, ,Washington State Horse Park, Cle Elum, WA. Contact: Barbara Baierle, (253) 350-6579, nancy@cascadehorseshows.com, www.cascadehorseshows.comAugust 2019 23-26 Oregon Summer Classic - Contact: Mollie Gallaway Main - 541-342-5432 | Fax 541-685-9088; Mollie - 541-914-0052 ; triplerise@earthlink.net, www.teamnw.com 24-25 Bedrock 3- Contact: Mollie Gallaway Main - 541-342-5432 |Fax 541-685-9088; Mollie - 541-914-0052 ; triplerise@earthlink.net, www.teamnw.com 28-1 NW Spectacular - Contact: Mollie Gallaway Main - 541-342-5432 | Fax 541-685-9088; Mollie - 541-914-0052 ; triplerise@earthlink.net, www.teamnw.complEasE sEND2019 sHow DatEs to maIl@flyINgcHaNgEs.comKeeping Horses Healthy, Happy & Performing At Their Best 360.568.3111pilchuckvet.com | Snohomish
Page 71
69 www.flyINgcHaNgEs.com NovEmbEr 2018Hunters, jumpers, equitation, dressage, sales, clinics. Complete indoor/outdoor facilities & grass paddocks. Field jumps & 75 acres of elds & trails. Our Virginia roots oer you a three generation business. Brawley FarmsSouth Salem, OR (503) 743-4414brawleyfarm@aol.comwww.brawleyfarms.com Trainer:Judy BrawleyHunters, jumpers, equitation, sales, clinics& basic dressage. Quality school horses & lease program. Beginning to ad-vanced—Pleasure to show ring; We have the experience to help you reach your goals. Brawley Farms North, LLCWilsonville Equestrian Center, Boeckman Road Wilsonville, OR 97070(503) 932-9283 (Cell)dbrawley1962@yahoo.comwww.brawleyfarmsnorth.comTrainers: Debbie & Judy BrawleyPremier training facility. Stalls w/runs, large grass turnouts, all weather no mud turn-outs. Stableguard system, providing 24hr camera surveillance for individual monitor-ing and control of your horse's health and safety. Charlton Ridge Farm, LLCKaitlyn Eigner, Trainer503-349-4533, kaitlyneigner@gmail.comwww.charltonridgefarm.comHunters,Jumper, Equitation, Sales, Ponies.The Pacic Northwest's Premier Equine Brokerage and Marketing Company. Consignments, Guided Buying Tours, Online Marketing.cascadiasporthorses.comCascadia SporthorsesKelly Marriner-Smith17528 Painter Loop Rd. NE Hubbard, OR 97032503-913-0887TRAINER & STABLES DIRECTORY - OREGONHunters, Jumpers, Equitation, Training, Lessons and Clinics. Positive training for both horse and rider. Located just minutes from Hunter Creek show facility. Echelon Training, LLC34680 NE Kramien RdNewberg, Or 97132(541) 420-9711 echelonhunterjumpers@gmail.comwww.echelonhunterjumpers.comTrainer: Kathy Kerron. USEF "R" Hunter/Equitation JudgeHunters, jumpers, equitation - training, lessons, sales, clinics. School horses available. Large, beautiful barn 90x200 indoor, lovely outdoor arena, turnout. Quality training, instruction & care for your horse.Christus Farm, Inc.PO Box 2261Jasper, OR 97438(541) 726-1505 linda@christusfarm.comwww.christusfarm.comAmy Gau, Linda Kienlen, Melissa BrotzThe Sherwood Forest28303 SW Baker Rd.Sherwood, OR 97140www.flipsidehorses.comPhilippa Melski & Kristen Whiteside(503) 516-4965 Jumpers, Hunters, Equitation, Young Horses and Investment HorsesFlip SideCornerstone is a beautiful, full-care hunter/jumper facility specializing in the preparation of horse & rider for the show ring. Quality school horses & lease horses.Cornerstone Equestrian, LLC8310 NW Kaiser Rd, Portland, OR 97231 (503) 351-3253 farm(503) 351-1002 celljump@cornerstonehj.comwww.cornerstonehj.comTrainer: Linda WorleyPremiere Hunter/Jumper facility with emphasis on equitation & horsemanship. Covered arena & grass derby eld. Two miles west of I-5 at exit 271. Arbor Grove Equestrian, Inc. 7359 Highway 219 NEWoodburn, OR 97071(503) 981-1978(626) 644-6771 (cell)www.arborgroveequestrian.comRob Perkins - Owner/TrainerJoe Regan - Owner/ TrainerFallBrooks Farm is a beautiful dressage & vaulting training facility w/indoor & outdoor arenas, round pens, pastures, trails & a friendly, supportive atmosphere. We teach in a kind, enthusiastic & compassionate style. Top horse care in large, clean, matted stalls with runs and 3x/day feeding.FallBrooks FarmNorth Plains, OR 97133Barn: (503) 647-2755FallBrooksFarm@gmail.comwww.FallBrooksFarm.com Manager/Vaulting Trainer: Suzanne DetolDressage Trainer: Ashlyn WaggonerFoxre FarmsNancy Barnes, Owner/Operator/Instructor.Kassi Morgan, Trainer28880 SE Folsom Rd Eagle Creek, OR 97022(503) 630-6951 home; (503) 860-0802 cellfoxfirefarms2@aol.comQuiet, congenial complete-care boarding facility with many TLC extras. Indoor arena - roundpen - trails & trail obstacles - jumps - 20 min. from I-205. Horses go out to pasture every day, all day, all year. Dressage lessons using biomechanical & natural horsemanship techniques to inspire confidence & harmony between horse & rider.Premier Facility 100x200, 60x120 Arenas, 60' Round Pen, 12x12x42' Stall/Paddock, Adult Hobby Riders, Quite Peaceful Setting, Year around Pasture. Equitation Instruction, Professional Training, Horseback Birthday Parties, Experienced Horse Rental/Leasing.Herrold Stables & Farm32900 SW Wohler StHillsboro, OR 97123(971) 235-4529 call/text www.HerroldStables.com French Hill Farm & Riding Academy15770 NE Eilers RdAurora, OR 97002 (503) 678-6336; www.frenchhillfarm.com Owners: Nancy & Al JubitzPremier riding academy for ages 6 & up. All abilities. Excellent instructors. Experienced lesson horses. Summer Camps. Horse Shows. Beautiful facility. Board and training with Stellar Sport Horses.Crescendo FarmsKatie & Allan TwomblyBarn: 14245 SW Pleasant Valley RdMail: 19809 SW Aten Rd, Beaverton, OR 97007Cell: (503) 703-7950katie.crescendofarms@gmail.comwww.crescendofarms.comExcellent full care boarding facility, includes daily turn out in large grass fields. Specialized care & handling for young horses & lay up situations. Lessons & lease horses also available. Hunters/Eq., Dressage, Centered Riding, Contemporary Alexander Technique and Natural Horsemanship.
Page 72
70 www.flyINgcHaNgEs.com NovEmbEr 2018Hunter, jumper, equitation. School horses available, lease horses also available.Rain Creek Farm20833 S Redland RdOregon City, OR 97045(503) 631-8000(503) 819-7651 cellwww.raincreekfarms.comTrainer: Vicki ZachariasPO Box 92525475 SW Baker RdSherwood, OR 97140(503) 625-9550 (b); (503) 702-4215 (c)www.RollingRockFarm.com Premier training facility for horse & rider. 2 covered arenas 80x200 for hunters & 60x90 for young horses & riders. 100x200 all-weather outdoor arena. Access to trails. Acres of turnout. Owners on-siteRolling Rock Farm LLCLessons for all ages & skill levels. Quality lesson horses in a safe, fun, family-friendly environment—whether you are preparing for the 'A' rated show program or simply want to get your basics down.Quiet Rein Riding School9470 S Bakers Ferry RdOregon City, OR 97045 Trainer: Jill McGrady/Jill@quietrein.com(503) 544-7999Trainer: Robin Rothe/robin.quietrein@gmail.com(520) 358-1079 - www.quietrein.comMartha Brooks and Brook McLeodBanks OR(541) 944-1797 or 541 821 3444Personalized training program to meet your needs. School horses avail-able. Small barn in private setting. Sales horses available.Pax Diem Equestrian CenterTRAINER & STABLES DIRECTORY - OREGON2725 Iron Mountain BlvdLake Oswego, OR 97034lohmanager@lakeoswegohunt.com www.lakeoswegohunt.com Lovely historic LOH provides full service boarding, including 4 feedings per day and daily turnout in all weather paddocks with grass option in summer. Our Riding Academy offers beginning English lessons and wonderful summer camps and we offer advanced training programs in a variety of disciplines. Our prime central location on 19 acres in the heart of Lake Oswego can't be beat in terms of convenience and gas savings. Visit us today!Lake Oswego Hunt ClubLibbi L. Peltz, DVM, TrainerLocated at Venture Farm20130 South End Rd, Oregon City, OR 97045Mailing: PO Box 1168, Mulino, OR 97042(503) 998-7319 cellHunters/Jumpers, Equitation. Lessons & Training for all ages, beginners to show ring competitors. Lesson / Lease horses. Libbi L. Peltz DVM available for your horse's Veterinary care.Libbi Peltz TrainingHunters, jumpers, equitation, investment horses, sales, training, lessons & clinics.Oz Incorporated22665 S Central Point Road, Canby OR 97013Barn: (503) 651-3418 / Shelly (503) 704 7985ozinc@yahoo.comwww.ozincorporated.comTrainers: Je & Shelly Campf Dustin GoodwinIngrid Thornquist & James Hook, OwnersSherwood, OR 97140(503) 819-8519 (c) Ingrid@merlinswood.com; www.merlinswood.comDressage & basic horsemanship lessons. School horses available. Private, quiet, full-care facility. Rehabilitation & layup care available. 12x12 stalls w/runs, 70x144 covered/lighted arena, pasture turnout, individual or group. 15 min. from I-5 Wilsonville exit, 15 min from 99w Sherwood.Merlin's WoodHunters. Jumpers. Equitation. Investment. Sales. Daily turnout with a large indoor arena. NCEA riding help. All levels welcome.Imagination Lane, LLC36851 NE Wilsonville RdNewberg, OR 97132Nicole Bourgeois (503) 310-9982Kendall Bourgeois (503) 476-7862imaginationlanellc@gmail.comwww.imaginationlanellc.comRosey Paulson B.H.S. P.I18241 SW Mountain Home Rd. Sherwood, OR503-459-1634Intuneeventing@gmail.com Full care boarding, Lessons and training in Eventing, Dressage and show jumping. Show coaching. School and Lease horses available. BHS certificat-ed instructor. Supportive and fun environment, Lessons for all ages. Young horse starts and sales programs available. Haul in's welcome.www.intuneeventing.net In Tune EventingLara Schleining, Owner1313 E Nevada St, Ashland, OR 97520silverspringequestrian.com(541) 601-9895 Hunters/Jumpers/Equitation & Dressage training • Sport Horse sales & leases • Unparalleled equestrian facilities • 60 fully fenced acres • Spacious stables & turn-out paddocks w/indoor & outdoor arenas • Nestled in the hills overlooking Ashland • Minutes from I-5.Silver Spring Farm775 SW Advance Rd Wilsonville, OR 97070(503) 682-8897Quality full-care boarding, full-size indoor dressage & jumping arena, turnout, clinics, instruction in basic equitation to CT in a friendly, supportive atmosphere.Sleepy Hollow Farm, LtdShannon Vandermolen, Trainer22262 SW Staord RdTualatin, OR 97062(503) 927-7190madeventer1984@yahoo.comFull and Partial training packages for hunters, jumpers and eventers. Limited school horse lessons. Quality show barn in relaxed family farm setting. Sales and Leases available. Call Shannon.Pete's Place LLCDisciplined, compassionate, and methodical training to awaken a horse's love and eagerness for its work as well as lessons and training for beginning through advanced riders of all ages. Full care board of the highest quality.Hawkins Equine, LLC(503) 475-6236hawkinsequinellc@gmail.comwww.hawkinsequinellc.comTrainer: Ashley Hawkin
Page 73
71 www.flyINgcHaNgEs.com NovEmbEr 2018TRAINER & STABLES DIRECTORY - OREGONTrainer: Nancy StearnsOwners: Nancy and Mark Stearns5553 SW Quarry Ave Redmond, OR 97756(541) 923-6349; www.stoneponydressage.comQuality full care boarding w/individual grass turn-outs. Lighted covered arena w/mirrors. Large outdoor dressage court. Dressage instruction. School horses available. Dressage clinics w/Danica Yates & Sue Sherry.Stonepony DressageOregon City, OR 97045 ((971) 285- 2144 (503) 631-3289; www.strowbridgestables.comDressage training 30 years experience. Relax & enjoy the journey with your horse. Lessons designed individually for each horse & rider team. Indoor/outdoor arenas w/excellent footing. For more information contact Katie Gustafson (503) 631-3289 or stubbiedog@ccgmail.net.Strowbridge StablesSwan Training16091 SW Wilsonville Rd. Wilsonville, OR 97070(503) 349-0314Trainer: Rebekah Swanwww.swantraining.netHunters, Jumpers, Equitation. Whip 'n Spur continues with a tradition of the highest quality training & horse care in the Northwest. Home of Swan Training.Tom Murray DressageViola Farm28815 S. Needy Rd.Canby, Oregon 97013(626) 644 3008tommurraydressage@gmail.comNow accepting clients at this exciting new facility.Full-care boarding, dressage training & sales. www.TomMurrayDressage.comDressage training/lesson program & clinics. Full care, daily large turnouts year round, large mirrored indoor arena, round pen, large matted stalls, & superb amenities. Surrounded by over 3,000 acres of BLM land w/year round trails. Trailer parking, fully fenced, gated, & video monitored. Conveniently located just 15 min. east of I-205. Owner lives on site for 24 hour care.Templeton Equestrian CenterDave and Shanna Templeton Owners21285 S. Lower Highland Rd., Beavercreek, OR 97004(503) 632.2433 Barn(503) 388.1809 Megan Pugh – TrainerCarrie Harnden – Clinician, Alfredo Hernandez - ClinicianTracie Bjugan Dressage LLCLocated at West Side Stables17265 SW Swank RdSherwood, OR 97140Tracie Bjugan (503) 705-2207 traciebjugan@gmail.comwww.tbjugandressage.comUSDF Gold, Silver, Bronze medalist. Accomplished competitor with multiple awards. Dedicated instructor, international horse shopping, using technology enhancing instruction, starting horses, retraining difficult horses. Available for clinics and travel. Triple Rise Equestrian Center85687 Pine Grove Rd, Eugene, OR 97405 (541) 954-5312 Owners: Mike & Mollie GallawayTrainer: Mike GallawayTrainer: Lauren Buck 541-543-1467www.triplerisehorseshows.comHunters/jumpers, equitation, school horses boarding, training, indoor/outdoor arenas.valleyvistafarm.com11355 NW Valley Vista Road, Hillsboro, OR(503) 647-0444 or valleyvistafarm@gmail.comSelf care boarding in Helvetia area. 10 minutes from Tanasbourne or Bethany. Small, private, mud-free facility. 12'x12' matted stalls with outdoor covered 12'x12' paddocks. Covered 80'x160' arena with Equiloft footing, 60' all-weather round arena. Summer pastures, winter all-weather turnouts. Quiet country roads for hacks. Daily self care required.Valley Vista FarmPO Box 60Lorane, OR 97451(541) 359-8040UnicornRanch@msn.com 80 acres of pastures, woods, trails, cross-country course. Outdoor arena & big, mirrored indoor arena w/viewing, tack & club rooms. Cross ties, 2 round pens, big holding pad-docks. Birthing stalls w/insulated viewing room. Daily turnout, stall cleaning. Feeding 2x per day. Blanketing. Special needs horse care. Surveillance cameras, gated. Trainers welcome. Standing pure Lusitano stallion, Disco Daydream.Unicorn RanchJumpers, Hunters, Equitation & Sales. Competitive show barn, catering to beginners thru Grand Prix. Full service care w/daily turn-out, indoor arena & all-weather outdoor. Full/Half Lease/School Horse Lessons available.Venture Farm20130 South End RoadOregon City, OR 97045Owner/Trainer: Megan Jordan(503) 539-2283 / meg@venturefarmincAssistant Trainer: Heather Northup (541) 914-0407 Antonio Castellanos (503) 209-7109 www.venturefarminc.comHunters, Jumpers, Equitation, Leasing & Sales. Focusing on complete horsemanship & preparation for the show ring.Stellar Sport HorsesFrench Hill Farm15770 NE Eilers RdAurora, OR 97002(503) 678-2025stellarsporthorses@gmail.comTrainer: Akiko HamadaEventing, Dressage and Vaulting.Full care board, daily turn-out Julie Hook, Trainer, USEA Level IV InstructorMalcolm Hook, operations managerKayde Undraitis, AssistantTalisman Farm15988 NE Eilers RoadAurora, OR 97002503-678-1016 julie@talismanfarm.us/malcolm@talismanfarm.usAreas of focus include: equitation, hunter jumper training, horseback riding lessons, professional horse training, horse boarding, and also has a variety of horses for sale. We can accommodate your needs and help to shape you into the kind of rider that ts your goals and objectives.Some Day Farm20361 Tumalo RdBend, OR 97701Trainer: Cathrine Cruger(541) 848 8519catcruger@yahoo.comwww.somedayfarmllc.comOnly $170 per yearCall 503 317 4957or emailmail@yingchanges.comYour FacilityYour AddressYour Contact InformationLOGO
Page 74
72 www.flyINgcHaNgEs.com NovEmbEr 2018Nancy Free, Trainer26919 112th St. E.Buckley, WA 98321(360) 829-9181 farm; (253) 381-2533 cellwww.brassringfarmllc.netHunters, Equitation, Investments, Leases, Sales & Clinics.Brass Ring Farm, LLCPremium Full Service Hunter/Jumper equestrian facility located above the wine country in Woodinville, WAHeidi Snider Kauman oers Training, Sales, Leases, and Showring Success coaching.Hillcrest TrainingHeidi Snider Kauman 206-795-5900www.hillcresttraining.netwww.showringsuccess.comInternational competitors Ann and Vinton Karrasch bring decades of excellence in hunter/jumper training, clinics, showing and sales. Now located in the Pacic Northwest.EQUESTRIAN PERFORMANCEAt Shelburne Farms in Redmond, WAVinton Karrasch 949.795.1104Ann Karrasch 949.291.1407info@equestrianperformance.comwww.equestrianperformance.com TRAINER & STABLES DIRECTORY - WASHINGTONOutstanding facility, with excellent horse management in a nearly mud-free facility. Indoor 60X120 arena with rubber and sand footing. Outdoor 200x75 arena which can be used for dressage or jumping. Reasonable Board rates, with daily turnout and full care services!Chalice Farms - Performance Boarding Facility - Focusing on Dressage and Eventing9390 Orchard Ave. SEPort Orchard, WA 98367www.chalicehorsefarms.comContact: Lea Wilson, Owner206-718-7662Jonnie Brooks Owner/Trainer7014 180th St SESnohomish, Wa. 98296425-269-2605brooksideeq@gmail.comBrookside-equestrian.com Hunters, Jumpers, Equitation, Lessons and Sales. Located just 5 minutes north of Woodinville, o of Highway 9. Fully inclosed indoor arena, spacious outdoor arena and large grass pastures for daily turnout. Training programs are individually tailored to each horse and rider.Brookside 23118 NE 37th Ave.Ridgefield, WA(360) 887-8087 www.farmhillequestriancenter.comHome of Suzan Davis Atkinson Dressage & Rebecca Buehler \Dressage and Jump Instruction. A full-service dressage & jump facility, located 2 mi. east of the I-5 exit 11, FarmHill features a 60x150 mirrored indoor dressage arena, full-court outdoor dressage arena, 100x300 outdoor jump arena, covered round pen. We provide superb care for our horses & their humans!Hunters, Jumpers, Equitation, Lessons, Leases & Sales. Training program customized to meet your riding goals. Indoor & outdoor arenas, individual paddocks for daily turnout, large stalls & heated viewing lounge.Encanto Valley Farm24246 275th Ave SE, Maple Valley, WA 98038(425) 766-1625encantovalleyfarm@gmail.comwww.encantovalleyfarm.comTrainer: Morgan Carr, USHJA CertiedPremier full-care facility w/excellent management. Daily turnout on mud-free surface. International Dressage Training/Instruction, lesson programs. FEI - Hobby Rider. School horse program. Top-quailty show venue. Two indoor arenas, sand/Nike footing & mirrors, numerous outdoor arenas, sand/rubber footing. Race track, cross country jumps. Located on 80+ manicured acres.Donida FarmDavid & Gwen Blake(253) 833-4870Auburn, WA www.donidafarm.comFarmhill Equestrian Center, LLCKorina Winkler Owner/Manager1613 NE 259th StRidgefield, WA 98642(503) 730-7490 officeemeraldvalleystables@gmail.com Equi-librium Equestrian, Jessica Wisdom 253-230-9764 features a "135x62 newly remodeled, mirrored indoor arena & a newly renovated 235x121 outdoor arena with all-weather footing over 25 newly renovated turnout paddocks. Located on 50 acres with trails.Emerald Valley StablesInternationally renowned, CSJ offers training for the serious athlete ranging from beginners to the Grand Prix level.Our state of the art facility is conveniently located just North of Bellevue. Crooks Show Jumping9390 Orchard Ave. SE16530 Robinson Rd, Snohomish WA 98296Lauren Crooks 206-660-1992crooksshowjumping@gmail.comwww.CrooksShowJumping.com At a gorgeous facility minutes from downtown Bellevue and close to Seattle, owner-trainer Alexis Taylor Silvernale and her sta oer customized top-level training and quality care for horses and riders. Aleron Training Stables5800 125th Lane NEKirkland, WA 98033(206) 295-4122Trainer: Alexis Taylor Silvernalewww.aleronstables.comClare Warren / Corene Smith 22815 NE 200th StreetWoodinville, WA 98077Oce: (425) 877-1715www.archwayequestrian.com Archway, established in 1991, is an exceptional hunter, jumper training facility. We prepare horses and their riders for the competitive show circuit. USHJA Certied TrainersClare: 206-669-1287 cwarren@archwayeqsports.comCorey: 206-200-7101 coreys@archwayeqsports.comArchway Equestrian, LLCDerby Farms was established in 1980 by Pamela Pentz who has been a dressage trainer/instructor and USEF "R" Dressage judge ever since. We provide excellent boarding (full care with turn out), training and instruction in dressage at all levels and we have a few excellent school horses for riders in need of mounts. We are also an Oldenburg breeding farm and breed wonderful horses for the amateur market. We stand the amazing Grand Prix stallion Rodioso.Derby Farms17720 NE Woodinville-Duvall Rd.Woodinville, WA 98072425-483-9583www.derbyfarms.com
Page 75
73 www.flyINgcHaNgEs.com NovEmbEr 2018Shannon Morris6504 44th Ave NE, Olympia, WA 98516(360) 280-3191www.forestparkequestriancenter.comQuality boarding, training, lessons. Incredible facility. 14x14 stalls, individual tack lockers, huge indoor & outdoor rings. Miles of trails. Dressage & jumping lessons offered. Haul-ins welcome.Forest Park Equestrian Center25722 SE Tiger Mountain RdIssaquah, WA 98027HarmonyRidgeEquestrian@gmail.comwww.HarmonyRidgeEquestrian.net(425) 246 6786Conveniently located just 10 minutes off I-99 and Hwy18, our beautiful facility includes a 90 x 200 covered arena with brand new footing, turn out 7 days a week in our completely dry private paddocks, flexible training schedule, heated tack room, meticulous care and plenty of other amenities for both horse and rider to enjoy. Come be part of the Harmony Ridge team and family.Harmony Ridge Equestrian CenterHunters Run Equestrian Center LLCColleen Armstrong, OwnerColleen Armstrong, Angie Chamberlin & Meghann Armstrong, Trainers22216 Sweeney Rd SE, Maple Valley, WA 98038(425) 432-8962info@huntersruneq.com, www.huntersruneq.comHunters. Jumpers, Equitation, Sales, Leases, school horses, boarding, training, indoor/outdoor arenas, daily turnout on grass pastures.TRAINER & STABLES DIRECTORY - WASHINGTONTop-of-the-line establishment with full amenities. Small community but large facility, for dressage, horsemanship progress, and fun. Over-sized stalls, indoor & outdoor arenas, round pen, etc. Variety of turnout options. Beautiful elds, hills & woods, with direct access to trails. Tucked away at the end of two lanes, 2.8 miles from Hwy 520 & downtown Redmond.Lane's End LLCNancy Thacher, owner/ trainer, USDF Gold Medalist, retired dressage judge(425) 868-1655; Nancy_thacher@hotmail.com20430 NE 108th St.Redmond, WA 98053www.lanesendfarmnw.comTraining with respect for the horse and his nature. Natural methods based on traditional dressage. Improve contact, straightness, exibility .School horses, personalized attention. Six years training in Philippe Karl's Ecole de Legerete, USDF 'L' Graduate with Distinction, Bronze medalist 25 years experience. Training, lessons, clinics, judging.Jane Judson DressageJane JudsonLocated @ Hilltop Haven EquestrianCarnation,WA. 98014425-466-5611Janejudsondressage@gmail.comDressage JJHunters, jumpers, equitation, training, clinics, lessons, sales, leases. Full care boarding facility with state-of-the-art indoor & outdoor riding rings & Grand Prix eld. Adjacent to equestrian park & extensive riding trails.Potcreek Meadow Farm18804 NE 106th StRedmond, WA 98052(425) 882-3558Trainer: Cara Anthonywww.potcreek.comFull service providing great care & education at an aordable price. Indoor & outdoor arenas, round pen, locker room, wash rack. Lesson horse pro-gram for all skill levels.Phoenix Farm Hunters & Jumpers8832 222nd St SEWoodinville, WA 98077(206) 229-2711Trainer: Teri Duplasswww.phoenixfarm.comRed Gate Farm is a full service training facility.We oer everything from Lessons to "A" circuit horse shows and have horses and ponies available for lease. We also provide a fun Summer Day Camp for ages 6-12.Red Gate Farm23836 SE 24th StreetSammamish, WA 98075 jamie425@earthlink.net / (425) 392-0111Trainer: Jamie Smithwww.facebook.com/redgatefarmtrainingWashington's leading Hunter & Jumper training facility.Easily accessible from Seattle and all points on the Eastside. We provide top level training for horse and rider in a comfortable, family atmosphere. First lesson to the National level, our trainers can support you and your hunter, jumper, and equitation goals. We will help you reach your full potential.Parkside Stables Morgan & Nora Thomas Trainers13020 NE 39th Street, Bellevue, WA. 98005. (425) 885-5025 Parksidestables@msn.comwww.parksidestables.comBuilt for the horse and rider a full care dressage training and boarding facility 35 minutes from Bellevue and 10 minutes from Evergreen Fairgrounds in Monroe. Facilities include 204x72 mirrored indoor arena, FEI sized all-weather outdoor, 2 20m covered round pens, numerous all weather T/O paddocks, grass paddocks & 14x12 stalls with run outs. The facility is set on 17 lovely acres & includes a 10 acre riding and conditioning eld. We provide the very best in personalized care for horse and rider. Pumpkin FarmsMatt Eagan, Trainer (720) 641 7319matt@ecdressage.com17732 Butler Rd, Snohomish, WA 98290Susan Cheney, Owner (805) 490 5907, www.pumpkinfarmsdressage.comDenison Rauw, Owner/Manager2056 Palo Alto RoadSequim, WA(360) 582-9514www.nodawayfarm.comExperienced, quality full-care specializing in retirement, post-surgery, injury, and equine senior care • Tranquil 20-acre farm provides superior climate for horse health • Year-around pasture board or lay-up stall board with state-of-the-art barn and field shelters • Vacation board with close access to Olympic National Forest and Olympic National Park • Partners with Still Creek CPR & First Aid Training for Equestrians www.stillcreekcpr.com. • Nodaway Farm – Horse Care with Heart.Nodaway FarmHORSE CARE WITH HEARTHunter Jumper training facility operated by third generation horse trainer, Shelly Kerron. Quality lesson horse program. Beginner thru accomplished show rider.Legacy Hunters & Jumpers, Inc.19802 NE 148th StWoodinville, WA 98077trainer@legacyhuntersandjumpers.com(425) 869-1527Trainer: Shelly Kerron Trainer: Lizzie Kerron Assistant Trainer/Instructor: Hannah Podgorski Barn Manager/Instructor: Leanne Wortleywww.legacyhuntersjumpers.com 15811 NE 175th St Woodinville, WA 98072(425) 481-7866; http://www.fivecfarms.comHome of Molly Martin Dressage Training, Stones Throw Farm with Sarah Lorenz, & Stephanie Craig and Cherry Blossom Farm Hunter Jumpers. We are a full service boarding facility with large individual turnout paddocks & fields, indoor & all weather outdoor arenas, grass jumping field, & covered roundpen. A positive atmosphere for both horse & rider. Sales, lease & training programs available. Welcoming Kristi Gravrock, now providing lesson horses for hunter/jumper instruction. Also has openings for training horses.Five C Farms10710 S Sherman RdSpokane, WA 99224Owner: Christel Carlson Manager: Gail Mackie Phone Mgr. (509) 999 6611 Owner(509) 993 6786 www.spokanesporthorse.com Training, Boarding, Showing, Breeding Farm on 150 Acres. 7 Level 3 USDF Shows, 2 USEA Events, All levels, Many Clinics, schooling shows and events.Great lay over just off I-90.Spokane Sport Horse Farm, LLC
Page 76
74 www.flyINgcHaNgEs.com NovEmbEr 2018Summervale Premier Dressage provides an Elite Equestrian Sales experience in dressage horses for sale. We make dreams come true matching top quality dressage horses to their partners.Summervale Premier Dressage29722 - 22nd Ave ERoy, WA 98580www.SummervalePremierDressage.comdressagespecialties@yahoo.com253-381-2811TRAINER & STABLES DIRECTORY - WASHINGTONWe oer training for both the horse & rider looking to compete & have fun in a team environment. Hunters, jumpers, equitation, sales, leases, & clinics. Full care boarding & beautiful covered arena.Sundance Equestrian Industries18221 236th Ave NE, Woodinville, WA 98077(425) 205-3775USHJA Certied Trainers: Katherine Wade-Easley & Chelsea CrabbAssistant Trainer: Danika Greenwww.sundanceequestrian.comBeautiful, full service equestrian facility.Hunter, jumper and equitation.A great place to ride.TL2 Farms3208 300th Ave SEFall City, WA 98024(206) 499-1065Owners: Loren and Tammy Kaneshigewww.tl2farms.comTrainers: John Turner, Jack Hammond,Quinn Partridge & Keri Bailey24221 NE Union Hill Road, Redmond, WA 98053Mailing address: P. O. Box 816, Mercer Island, WA 98040 (206) 396-2681 John; (253) 686-0221 Quinnthumbsupfarm@aol.comwww.thumbsupfarm.com Hunters, Jumpers, Equitation, Sales, Leases, ClinicsThumbs Up FarmTheresa Leahy Training, LLCEnumclaw, WA 98022(253) 736-4888 tmqleahy@gmail.com Hunters, Jumpers, Equitation, and Dressage thru FEI. We offer focused, goal-oriented lessons and training, in a positive, fun atmosphere. A-Circuit showing throughout the west coast. Lesson & lease horses/ponies available. 10821 Wacky Nut Way, Bainbridge Island, WA 98110(206) 780 1617. Barn Manager: jo@wackynutfarm.com (206) 353 3358www.wackynutfarm.comA premier dressage training & boarding facility offering lessons and training at all levels through FEI. Regular clinics and active show participation. Excellent individualized care includes 4 daily feedings, stalls cleaned twice daily, year-round turn out, all 15 stalls w paddocks. Indoor arena 80x180 w excellent footing, mirrors, heated viewing area, outdoor 100x200. All season farm trail. Heated tack room w private lockers, rider kitchen, heated groom areas. Resident caretaker.Trainer, Emily Sorensen: www.sorensendressage.com/about/ Wacky Nut Equestrian Farm9368 NE Derby WayKingston, WA 98346 Trainers: Cindy Daniels, Sara Petersen, & Lisa Crittenden(360) 860-1335; (425) 466-5662woodsidestables@msn.com; woodsidestables.comHunters, Jumpers, Equitation, Sales, Leases, School Horse Lessons. Full-care facility with indoor & outdoor rings, state-of-the-art footing, & daily turn out. Close to trails.Woodside Stables31807 South Carlson RdKennewick, WA 99337(509) 521-1100; tulipsprings@aol.com www.tulipsprings.comThree day eventing venue with full professional courses thru Prelim. plus some Intermediate. Clinics, private camps, & available by appointment for group schooling. See website for information & calendar.Tulipsprings EventingSonja Vracko, S Judge, Dressage Trainer, Clinician14050 18th NEWoodinville, WA 98072(425) 417-3222; sonjavracko@msn.com; www.sonjavracko.com'S'JUDGE DRESSAGE, CLINICIAN, TRAINER.BEGINNERS THROUGH GRAND PRIXView Ridge FarmINSTRUCTOR DIRECTORY Suzan Davis Atkinson Dressage@ Farmhill Equestrian Center,LLC23118 NE 37th AveRidgeeld, WA(503) 476-4125 SuzanDavisAtkinson@gmail.comBHSI certied FEI Dressage, with over 35 years experience. Positive and constructive classical dressage training. Unique ability to create a harmonious working partnership for you and your horse. Master in the art of long lining as well as in-hand techniques through piae and passage. All breeds welcome!Blake Dressage has over 50 years of training and competition experience on local, national and international levels. We oer instruction, training, clinics and coaching for all levels thru FEI.Blake DressageGwen Blake 360 507-9306Rebecca Blake 360 507-1438Breeland Equestrian SchoolCorvallis, OR (541) 753-4000USDF Bronze medalist, triple-credentialed teacher, former OSU Horse Center Director, offers lessons/training in dressage, jump/trails. Focus on freeing energy blocks in spine & centered riding, releasing true potential. 4H/PC discounts. Customized clinics, will travel.38206 SE Gibson Road, Washougal, WA 98671Owner: Rick Bishoprick (360)-831-4304info@windyridgewashougal.com; windyridgewashougal.comWe offer full care boarding, blankets and fly mask changing (weather depending), feeding of Eastern Oregon hay included (grain not included). We are on 86 acres with access to trails, indoor and outdoor arenas, 5/8 mile race track, cross country course, several guest trainers, 60 foot lighted indoor round pen, 12x12 stalls, large group or individual turnout, tack lockers, cross tie tack up areas, and hot water wash racks.Windy Ridge Farm Inc.Windy Ridge Farm
Page 77
75 www.flyINgcHaNgEs.com NovEmbEr 2018Only $170 per yearCall 503 317 4957or emailmail@yingchanges.comYour FacilityYour AddressYour Contact InformationLOGOUSEF "R" Dressage judge. Available for private instruction, training & clinics.Deborah Spence849-28 Gore RdOnalaska, WA 98570(360) 985-7438; (360) 269-1119 cellcbds@tds.netCurrent openings available at Riders Edge Farm for boarding, full or partial training & private lessons. Classical dressage instruction & training oered with an emphasis on relaxation & suppling exercises. Improve your communication & partnership with your horse.Jana Steffen DressageJana Steen@ Riders Edge FarmRedmond, WA(206) 920-2902; janastef@yahoo.com www.jsteendressage.com;27311 56th Ave NWStanwood, WA 98292(360) 708-9992 scollins@collinswoodfarm.comSpecializing in hunters, jumpers, & equitation. Available for private coaching at home or on the road. Single or multi-day clinic dates available. USEF "r" Licensed Judge.Sally CollinsLisa WeisDressage Training & Instruction(508) 693 1704lis8weis@gmail.comStanwood, WA 98292Over 25 years experience, USDF L Graduate and medalist, Bachelors of Education, Potomac Horse Center Graduate, Two year apprenticeship with german F.N.Reitlehrer. Available for travel.Pacic Moon Equestrian CenterKaren Moore, Owner23502 Wallitner RdArlington, WA(360) 403-3035www.pacificmoondressage.com USDF Bronze and Silver Medalist, Karen Moore. Dressage is good for every horse and rider. All breeds and levels welcome. Build the partnership with your horse at Pacific Moon. RiderPilates® LLC19610 NE 116th StRedmond, WA 98053(425) 246-9033 cell bglosten@gmail.com; www.riderpilates.comImprove body awareness, balance & function for better riding. Beth teaches studio pilates lessons & classes & riding position lessons.S Judge, Dressage Clinician, Trainer(425) 417-3222View Ridge Farm14050 18th NE, Woodinville, WA 98072sonjavracko@msn.com; www.sonjavracko.com'S'JUDGE DRESSAGE, CLINICIAN, TRAINER.BEGINNERS THROUGH GRAND PRIXSonja VrackoINSTRUCTOR DIRECTORY @ FarmHill Equestrian Center, LLC23118 NE 37th AveRidgefield, WA(503) 719-2795REBuehler@gmail.com Jumping and dressage. Kind, beneficial instruction for riders, and careful, effective train-ing for horses. Rebecca has evented through the Advanced level, and holds her Pony Club "A" rating, CHA certification, and "Stage 3" with the British Horse Society. Rebecca BuehlerTraining and instruction from current CDI trainer and competitor. Developed numerous successful FEI horses from youngsters. Beginners through Grand Prix,all levels and breeds welcome. Also available for clinics.Heather Oleson DressageEagle, Idaho(503) 887-0995olesonh@gmail.com, www.heather-oleson.comInstructor, clinician, small "r" judge, trainer thru Grand Prix Level. Many state & regional championships. Successfully bringing young riders & adult amateurs up thru the levels. Kathy Casey Dressagekathycaseydressage@gmail.comWhistle Star Farm11871 S Riggs Damm RdCanby, Ore. 97013971-506-7786Kind and correct Dressage training focusing on happy horses and progression. Four years assisting Sabine Schut-Kery in CA has given her extensive experience with young horses, troubled horses, stallions, a wide variety of breeds, and training all levels of horses and riders. Clinics and sales. Julie Ronning DressageNewberg, ORJulie @ (406) 531-6443 juleskr3@gmail.comSee us on FacebookJulie RonningDressageCathy Mahoncathy@harmonyandhealingwithhorses.com(360)430-0430www.harmonyandhealingwithhorses.comExperienced certified Centered Riding instructor with 30 years as rider, trainer and teacher. Offering top quality lessons to beginners as well as experienced dressage riders in balanced, classic riding. Private lessons at your own arena with one on one approach to improve body posture and awareness with immediate results. Available in Cowlitz, Clark and Lewis Counties.Centered RidingARIA-certied in eventing, dressage and recreational riding. Individual-ized and eective instruction for horse and rider success for over 20 years. Regular clinics in Woodburn.Claudia Ingham, PhDEquine EssentialsMarion County, OR(503) 341-0743Eco.Ag.Consultation@gmail.comEquineEssentialsOregon.com
Page 78
Services DirectoryPage 76 November 2018We produce ground rubber for athletic surfaces & arena footing. 1/2" granules $225/ton; 1/4" granules $300/ton. Call for more info or plant specials. Rubber Granulators, Inc.Rubber Arena Footing Marysville, WA 98271(360) 658-7754(360) 653-6430 fax www.rubbergranulators.comArena Rehab Specialists™Rick TriplettSultan, WA 98294(425) 923-7909; www.Arena-Rehab.comImprovements Plus, Inc. IMPROPI 085 J3Experts in riding arena renovation & construction, with decades of experience in the Pacific NW climate. Sales of the finest footing additives & indoor dust control that REALLY WORKS. Consultation services. We offer services with your horses in mind, by a life-long horseman. Efcient Arena, Inc.Mark RowleyCanby, OR 97013 (503) 266-1563CCB#155808; efficientarena.comExpert installation of indoor/outdoor arena bases & footings in the Pacific Northwest. All weather, laser graded, full con-struction or repairs. The experience of over 385 arenas with corresponding references. Exclusive distributor of Equiloft™ rubber/fiber mixtures, sands, organics, fibers, felts.Equine Facility DesignMatt Johnson, Architect107 SE Washington St., Ste 265Portland, OR 97214(503) 650-1663; office@equinefacilitydesign.comequinefacilitydesign.com Building design, site planning, planning approvals for large & small scale equestrian facilities; private homes, barns & acreage; boarding, training & breed-ing facilities.Storybook Horse FarmJohn Hartley & Alexis Atchinson5852 Scotts Valley RoadYoncalla, OR 97499Owners/operators (541) 849-2251Breeders of outstanding Canadians, Warmbloods & Sporthorses for eventing, jumping and dressage. Bred for quality, raised for performance.www.storybookhorsefarm.comwww.facebook.com/storybookhorsefarmEQUESTRIAN SERVICES DIRECTORYALU Jumps USA 933W. Potrero RoadThousand Oaks, CA 91361(800) 287-1738www.ALUJumpsUSA.comAordable - Virtually Indestructible - Lightweight but sturdy - Weather Resistant - Easy to Handle and Carry. Customization available.The ALU Jumps collection oers something for every taste, from simple white to vibrant colors with many dierent designs - ideal for training as well as competition. Wellington, FL(888) 247-8169 www.valuefoams.com sales@valuefoams.comWe oer aordable lightweight (30 lb), 4' x 6', interlocking, cushioned, and waterproof stable mats for a more comfortable and healthier stable oor matting -- as oppose to hard and heavy to move rubber mats. Reduces use of shavings, aids against hock sores, reduces stocking, and encourages rest and lying down. Our comfortable Performatz™ mats are also ideal for injured horses, older horse with hoof/joint/arthritic issues, equine hospitals/clinics on concrete oors, trailers, and equine aircraft transportation. With Performatz™ your special horse will be comfortable, healthier, and happier. Performatz™ is a product of Value Foam, Inc., a Southern California based medical and veterinary orthotic foam company. Los Angeles, CA(909) 260-0094BREEDERS & BREEDING SERVICESEQUINE SALES / LEASE AGENTSARENAS AND EQUINE BUILDINGSQuality Riding Arena Bases & SurfacesPre-Engineered Traditional Wood Barns, Equestrian Facilities, Timber Frame Barn Homes, Barn Shops and Recreational buildings, Shipped to your site nationwide!Barn Pros Equestrian FacilitiesNationwide14567 169th Drive SEMonroe, WA 98272barns@barnpros.com866.844.2276www.barnpros.comfarm+barnLinda Royer(503) 789-565014432 Livesay Rd, Oregon City, OR 97045Linda@farmplusbarn.comwww.farmplusbarn.com Design of sites+structures for horses+people.Founded in 2003 by Joan Curtin, a professional horsewoman with more than forty years of experience in the hunter/jumper industry. Proven record of success training horses & riders for the most competitive hunter/jumper competitions in the country. High-quality competition horses, offered in peak condition to the serious rider.Select SalesBiglow Farms23303 Buena Vista Road, Clements, CA 95227425 681 9571joanselectsales@gmail.comwww.selectsales.comCLIPPING Stacey Sikorski(425) 501-5997eqclippingservices@gmail.com 20+ years professional experience clipping horses for show & work. Reasonable rates, references available. Western Washington & beyond. Call or e-mail for appointment.Back o'Beyond FarmMaggi Clark, B.H.S.A.I.Foaling Service(360) 435 - 047321521 Jordan RdArlington, WA 98223Equine Nursery and Maternity CenterUnwed Mares Welcome.Chalice Fitness9390 Orchard Ave. SEPort Orchard, WA 98367chalicefitness@gmail.comwww.chalicefitness.comWhy Equestrian Fitness?Feel stronger and more balanced in the saddleSafety is key. If you are strong, you can be safe!Be a better partner to your horse. We require them to be athletes in their sport. We should return the favor.Look GREAT in those white breechesFeel empowered and self-confidentLove the skin your in!FITNESS TRAININGCUSTOM RIDING BOOTSKatie NubelTucci Made To MeasureTel: 503.457.7560Email: Katie@francotucci.comwww.francotucci.com
Page 79
Page 77November 2018Services DirectoryKathryn A. Hall, PCKathryn A. HallAttorney at LawPO Box 771, Hillsboro, OR 97123(971) 404-5296; khall@pnwequinelaw.comwww.pnwequinelaw.comA full-service equine law firm, licensed to practice in Oregon & Washington. Horse sales, leases, & breeding • Boarding, training & riding instruction • Risk assessment & management • Ownership & registration • Business entity formation, gov-ernance, taxation, & employment • Veterinary malpractice & negligence • Liability for horse injuries • Debt collection & creditors' rights • Litigation & appeals • USEF, USHJA, USDF & OHJA member.Herrold Stables & Farm32900 SW Wohler StHillsboro, OR 97123(971) 235-4529 call/text www.HerroldStables.com FUN HORSE CAMP - Spring/Summer 2016, Horse-manship, Equitation, jumping, trail, driving, Crafts, Horse Painting, ages 4-16. Camp divided by ability. Experienced school horse provided. See website to sign up.HORSE CAMPSREAL ESTATEThoroughbred Real Estate GroupRyann Reinhofer16365 Boones Ferry Rd. Lake Oswego, 97035503.709.2370ryann@thoroughbredREGroup.comwww.thoroughbredREGroup.com Assisting all levels of Buyers and Sellers with Equestrian Property Expertise. Residential Hobby Farms to Commercial Boarding Facilities and Everything in Between. Serving the Portland Metro Areas and Beyond. Home is Where the Hooves Are!INSURANCEPHOTOGRAPHY AND VIDEOLEGALJana Peterson PhotographyVancouver, WA(310) 804-4848info@janaphotography.comwww.janapetersonphotography.com Turning your memories into art… Equine & Human Photography & Fine Art.Equine Legal Solutions, PC24150 S. Highland Crest Dr. Beavercreek, OR 97004Toll free: (866) 385-2972; www.equinelegalsolutions.comA full-service equine law firm licensed to practice in Oregon, Washington, California & New York. See our website for a wide variety of equine legal forms.EQUESTRIAN SERVICES DIRECTORYMary Cornelius PhotographyServing the Pacific NW & beyond since 1980Based in Portland, OR(503) 936-4503; mary@marycornelius.comwww.marycornelius.comAll things Equestrian Sport, portraiture, promotion, equestrian product & Fine Art Imager. Select competitive events. Movement & conformation specialist. Photo Sessions at your location. Accredited international photojournalist.EMO Agency, Inc.400 Rosedale CourtWarrenton, VA 201861 (800) 347-3552 home ofce(540) 347-5906 faxDaran Lockhart, Agent (541) 513-4776 www.RideEMO.comInsurance services for equine & equine farm & liability & related products.Year round deliveryTest results for every cuttingVolume discountsCall for prices and availability Maricle Land & LivestockFrank Maricle541-280-1054Premium Eastern Oregon Hay Delivered to Your BarnHAY AND FEED SUPPLY & MANAGEMENTUnion Mills Feed14822 S Union Mills Rd, Mulino, OR 97042(503) 829-2386umfeed@molalla.netwww.unionmillsfeed.com English & Western Tack. Horse supplements & sup-plies. Western Gift items. Custom feed made daily. Friendly service & custom orders. In business since 1877.Charles WhiteHay Broker | USDA ReporterWholesale: (707) 396 7989Retail: (707) 396 7988charleswhitehay@gmail.comAlfalfa | Alfalfa Grass | Orchard GrassMeadow | Timothy | Grain | StrawPurina Feed QUALITY | CONSISTENCY | VARIETYEcological & Agricultural Consulting Claudia S. Ingham, PhDSalem, OR 97306(503) 341-0743Eco.Ag.Consultation@gmail.comEquineEssentialsOregon.comPasture management for equestrian and small farms seeking to maintain animal health, forage quality & site stability. Meet your farm goals with Claudia's com-prehensive and practical approach developed through her knowledge as ARIA-certied riding instructor and published ecologist. Heidi Pace Davalosheidid@johnlscott.com(425) 870-3334Nancy Reillynancyreilly@johnlscott.com(425) 417-0024Raquel DavalosRaquelD@johnlscott.com(425) 760-8600Specializing in equestrian & farm properties, serving North King & Snohomish Counties. Providing protection for your horse, your farm, your equine liability. • Mortality • Medical • Surgical • Colic • Farmowners • Liability It's your way of life… It's our business to protect it! Call 800-526-1711 or 908-735-6362 For info visit bluebridle.com Blue Bridle Insurance Agency, Inc. P.O. Box 27, Pittstown, NJ 08867 Licensed in 42 states.
Page 80
Services DirectoryPage 78 November 2018Custom SaddleryStacy Berger(530) 409 3199stacy@mysaddle.comwww.mysaddlefitter.net Saddle fitting consultation, re-flocking, tree adjust-ments, billet replacements on most brands. All work done on-site. Oregon rep for Custom Saddlery. Dressage & Jumping models to test ride. Kendis Saddlery, LLCAmy Kendis36408 NE Washougal River RdWashougal, WA 98671Phone/fax (360) 835-5070 E-mail: amyk@pacifier.comProfessional saddle fitting by Amy Kendis. Complete evalua-tion, measurement & explanation of biomechanics of proper fit for horse & rider. Amy is certified in adjusting saddle trees & in the fitting of Flair Air Panels.Lemke Saddle Services, Inc.www.LemkeSaddle.comSDLsaddle.com925-286-1434Sheryl Lemke/SDL specializes in fitting New & Used saddles for all riders & horses since 1984. Exams, Reflocking, Consultation & Clinics around the USA.Double D Blanket Cleaning & MendingHillsboro, OR(503) 781-3954; doubledblankets@gmail.comPick up & drop off at your barn. 15% discount for vol-ume orders (12+ blankets/sheets). Fast turn around.KiamaLise HerresKiama@windermere.comwww.EnchantingHomesandFarms.com11000 151st Ave NE, Redmond, (Cell) 206-679-5322/ (Office) 425-462-8000Windermere Stellar Realty Group, Inc.Casey Franklin220 A Ave, Ste 200Lake Oswego, OR 97034(503) 539-7709 cfranklin@windermere.com; www.caseyfranklin.withwre.comLISTING • BUYING • REFERRALS • Buying & selling farm & residential properties in the greater Portland & Willamette Valley areas. Providing trusted & reliable real estate services for equestrian enthusiasts & profes-sionals. Albion SaddlesPaula Helmwww.HelmSaddles.com(425) 457-1105 I believe horse & rider can be comfortable in their saddle. Let my problem-solving skills & the full spec-trum of Albion's options achieve that for you.Balanced Equine Saddle FittingServices, LLCFormarly Anderson Equine Saddle Fitting Services23515 NE Novelty Hill Rd, Suite B221 #391,Redmond, WA 98053(425) 954-6559www.balancedequinesaddlefit.com Offering the only independent SMS Qualified saddle fitter in the PNW. Proud retailer of six brands of quali-ty english-made saddles. For the love of the horse.Custom SaddleryAnja Swenson(208) 841-5730 Based in Monroe, WAanja@mysaddle.comwww.mysaddle.com Saddle fitting consultation, re-flocking, tree adjust-ments, billet straps replaced on most brands. All work done on-site. NW rep for Custom Saddlery. Dressage & Jumping models to test ride. "Simply the best dres-sage saddles on the market."—Steffen Peters. Rep for NSC SaddlesTACK AND TACK STORES REPAIRS AND BLANKET CLEANINGSADDLE SUPPLIERS AND FITTINGBarb's BlanketsServing Clark County, WA(360) 904-3617; (360) 882-1469widbarb@msn.com; barbsblankets.comWashing, repairing, & waterproofing of horse blan-kets. Serving Clark County, WA. Free pick up & deliv-ery at most barns. Quality service, reasonable rates.Absolute Horse, Inc.2221 NE 3rd St, Ste BBend, OR 97701(541) 388-3855www.TheAbsoluteHorse.comThe Absolute Horse has been dedicated to providing English and Western riding equipment, apparel, gifts and more to Central Oregon horse enthusiasts. By providing quality products and friendly, expert customer service The Absolute Horse has become Bend's largest equestrian specialty store!Addiken Saddle Fitting LLCKelsey Nicholls info@addikensaddlefitting.com(425) 954-6559www.addikensaddlefitting.com Independent Saddle Fitter trained by the Society of Master Saddlers serving the Pacific NW. Specializing in English saddle fitting, reflocking, and repair ser-vices. Retailer of Hastilow, Kent & Masters, Fairfax and Thorowgood Saddles. Consignments available!Providing expertise in everything equestrian from estates to full working facilities.Kimberly Crouse TenhulzenTenhulzen Real Estate Equestrian & Estate Property Specialist(206) 409-0771kimberly@tenhulzenRE.comwww.tenhulzenrealestate.comEQUESTRIAN SERVICES DIRECTORYHorsewears25053 S Pike AveOregon City, OR 97045www.horsewears.com(503) 632-1550; info@horsewears.com "Horsewears for what your horse wears" In contin-uous business since 1994. Horse blanket laundry & repair. Pick up/delivery (minimums apply).N2 SaddlesN2 Saddlery offers custom-fittted dressage saddles designed for a perfect fit. Linda PoetschNorthwest Contact for custom fitting and purchase. (503) 830-0337Linda is located in Portland, ORNorthwest Saddles, LLCKari WetherillWA/OR State Agent for County Saddlery(360) 771-3663kari.wetherill@countysaddlery.com www.nwsaddles.com; www.facebook.com/countypnwwww.countysaddlery.comProviding a solution to all your saddle fitting needs. Services include a full evaluation of your horse & current saddle, new saddle fittings, & saddle adjust-ments.At Schleese, we make innitely adjustable saddles specically for female riders and their horses to deliver maximum comfort, performance and prevent long-term damage. Custom designed for the physiology of women, riders will experience truly life changing comfort and responsiveness. Our craftsmanship is world class and our superior tting practices are unparalleled in the industry.Schleese Saddlery Service Ltd.34 Centennial AveHolland Landing, ONL9N 1H2800.225.2242saddlesforwomen.comA Bit Less Consignment165 NE Greenwood Ave, Ste CBend, OR 97701(541) 323-3262Facebook: A Bit Less2,500 sf of gently used tack, clothing, stable supplies, blankets, boots, saddles, & horse related gear, English & Western. Check Our Deals of the Week Connect On Facebook @TheAbsoluteHorseHooks Leather and Tack5605 146th St. SWEdmonds, WA 98026(425) 743-6387; (425) 772-7665 (cell)tackmantoo@gmail.com; www.chuckhooks.comSaddle & tack repair, & hand crafting of leather. Twenty-two years in the same location. All work guar-anteed.
Page 81
Page 79November 2018Services DirectoryEast Meets WestAcupuncture & ChiropracticAudrey Staton, DVM(541) 683-6373; www.eastwestdvm.com Certified in Traditional Chinese Veterinary Medicine & Chiropractic.Equine Sports Massage Therapy ServicesRachel Pekala, E.S.M.T.Portland and Corvallis, OR541-760-3747Offering experienced, multi-modality equine mas-sage services in the Portland tri-county and Corvallis/Eugene areas. Serving all breeds and disciplines. Find us on Facebook by searching "Rachel Pekala, ESMT". Appointments can be scheduled via call or text.Heart to Heart HealingLiza Burney, J.D.(503) 502-5186www.heart-to-heart-healing.com In person & remote healing for you & your horse. Experience the benefits of energy healing. Personal appointments support physical as well as mental/emotional health for people and horses. Clinics & classes so you can learn to maintain your horse's health & well-being, reduce stress, develop inner peace.High Point Equine MassageJennifer Lovell, certified LAMP971 217 8131www.highpointequinewellness.comServing Oregon since 2014. Massage, bodywork and exercise plans tailored to your horse's needs, whether they are a retired pleasure horse or an actively competing show horse.Matrix Therapy ProductsDeborah Powell503-632-7187www.therapyproducts.netinfo@therapyproducts.netMatrix Therapy Products is your source for therapy equipment. Best-Vet Microcurrent for locating soreness and injury recovery, Infrasound Qi Gong Massagers, VibraVM for COPD, Laser/LED Light Therapy,Thermotex Infrared Blanket, and more. Courses available for bodyworkers and DIY therapy.Free catalogs & e-mail newsletter sign-up upon request!Campf Transport, Inc.Jay Campf,PO Box 293, Canby, OR 97013(503) 329 - 0412(503) 651-1342 (Fax)campftransport@yahoo.comLocal & Long Distance hauling. For show and pleasure, mares & foals. Small trailer or semi trailer.TRANSPORT & TRAILERSVETERINARY AND EQUINE HEALTHTack shop specializing in Eventing, Hunter/Jumper & Dressage, with experts on-site for advice & custom saddle-tting; UPS shipments daily. Gallops Saddlery17937 SW McEwan Rd. TIgard, OR 97224(503) 639-6347www.facebook.com/gallops www.gallopssaddlery.comOlson's Tack Shop Saddle Fitting Specialist, Courtney Dale has trained with Certied Master Saddlers as well as attended numerous horse anatomy training courses. Contact Courtney to learn more about how to alter your existing saddle to better suit your needs or schedule a tting for a custom saddle from Prestige, Pessoa, and Beval. Visit Olson's Saddle Resource Guide at olsonstack.com. Olson's Tack Shop2105 140th Ave NEBellevue, WA 980051(877) 654-9453www.olsonstack.comColumbia Equine Hospital27841 SE Orient DrGresham, OR 97080(503) 663-1515 24 Hrswww.columbiaequine.com Experienced, quality equine are in Portland & SW WA. We offer a full range of services including lame-ness evaluation, pre-purchase exams, state-of-the-art diagnostics, dentistry, surgery, acupuncture, repro-duction, & preventative care.EQUESTRIAN SERVICES DIRECTORYEquine Sports Massage TherapyJackie Paul, certified E.S.M.T.(503) 631-8457; cell (503) 267-1045jackie@arabianvines.com; www.arabianvines.comSince 1993. Barn calls, clinics, shows. Ease muscle spasm, improve circulation, enhance muscle tone & boost athletic performance & endurance through SPORTS MASSAGE. Call today to help your horse achieve maximum potential.One to Win Horse Transportation Portland area(888) 663-3804 toll free(503) 703-7703 cellGive Your Horse the Ultimate Ride.Extra care at no extra cost. Long distance & local shows. Priority service on every horse. Layovers on long runs. Over 20 years experience. Referrals available.  ADVANCEDLAMENESSTHERAPIESANDDIAGNOSTICSPRP •IRAP•STEM CELL THERAPY•SHOCK WAVE THERAPY• DIGITAL RADIOGRAPHY •DIGITAL ULTRASONAGRAPHY• REHABILITATION 541.689.0205•www.deloeste.vet•Eugene,ORGid-De-Up Boutique511 North Main Street Phoenix, OR 97535541-535-1588giddeupbarkins@aol.comwww.gid-de-up.comGid-De-Up Boutique is an English tack store located in the Rogue Valley of Southern Oregon. We special-ize in tack and apparel for Hunter/Jumper, Dressage, Eventing, Pony Club and 4-H riders. Blankets, tack, apparel, boots, helmets, horse care, y care, supple-ments, and so much more!
Page 82
Services DirectoryPage 80 November 2018Pegasus Equine Rehabilitation7620 260th Ave NERedmond, WA 98053(425) 898-1060 officewww.pegasustrainingcenter.comState-of-the-art rehabilitation center for all breeds & disciplines. Featuring a hyperbaric oxygen chamber, swimming pool, underwater treadmill, eurocizers & more! Great for post surgery recovery, physical thera-py & conditioning.Performance Horse Massage TherapyKristi L. Zimbelman, LMP, CCST, LAMP14325 200th Ave SE, Renton, WA 98059(425) 922-3919 www.performancehorsemassagetherapy.comTreatment tailored to the horse's individual activity levels using deep tissue, trigger point, myofascial release to decrease muscle pain, increase range of motion, decrease recovery time & promote overall well-being.Pilchuck Veterinary Hospital360-568-3111 Equine Care & 24/7 ER11308 92nd St SESnohomish, WA 98290www.pilchuckvet.com; www.facebook.com/pvhequineFounded in 1963, Pilchuck Veterinary Hospital offers comprehensive equine referral & ambulatory ser-vices, 24/7 emergency, & specialized care for the sport horse through the Equine Performance Sports Medicine Institute.Pioneer Veterinary Services, P.C.Medicine & Surgery of the Horse Since 1977Steven M. Haugen, DVM(503) 648-647233845 SW Tualatin Valley HwyHillsboro, OR 97123 PioneerVet@att.net; www.pioneervetservices.comEquine ambulatory veterinary practice providing quality, personalized care & practices preventative medicine. We offer dentistry, pre-purchase exams, lameness exams, Cold Laser therapy for lameness, eye, tendon & suspensory problems.Rocky Bay Equine Veterinary Services12604 189th Avenue KPN, Gig Harbor, WA 98329(253) 858-4529www.rockybayequine.comQuality, compassionate veterinary care for the life of your animal companions.Your trusted health care partners serving equine and small ruminant patients in Gig Harbor, Key Peninsula, Port Orchard, Belfair, Silverdale, Poulsbo.S. Moore TrainingShelly Moore33431 Nieblock LnCreswell, OR 97426(541) 895-3196; wisdomhorse@hotmail.com Offering outstanding personalized care and training for both you and your horse. New indoor arena. Clinics, consulting, bodywork, rehab, lay-up, training and lessons. Systematic Mindful Teaching. TTouch, TTeam, Equine Touch, Horseoneship, Centered Riding, Bio-Scan/Light, Alpha-Sonic, Vitafloor.Northwest Veterinary AcupunctureMegan Wickersham, DVM, CVAMobile Services based out of Battle Ground, WAServing SW Washington & NW Oregon(360) 666-9501; www.nwvetacupuncture.comMobile equine veterinary acupuncture. Acupuncture can be used to ease pain, promote healing & allow your equine athlete perform to the best of its ability or lead a comfortable retirement.Oregon Equine, Inc.Janine Wilson, DVM, CAC(503) 631-4100; www.orequine.comAmbulatory PracticeServing the Greater Portland Tri-County Area Dr. Wilson offers a personalized, experienced approach to diagnosis & treatment of your horse. Her practice philosophy emphasizes client education, treatment options, & open communication while practicing evidence-based lameness, medicine, & chiropractic care. As a rider, Dr. Wilson understands the relationship between you & your equine partner & welcomes the opportunity to help you with your horse.Pacific Crest SporthorseBarb Crabbe, DVMJennifer Posey, DVM15056 S. Spangler Rd.Oregon City, OR 97045PO Box 526, Beavercreek, OR 97004 (503) 632-6336; www.pacificcrestsporthorse.comVeterinary care for the performance horse including lameness diagnostics & treatment, dentistry, preven-tative health plans & emergency care. We offer full reproductive services including breeding with fresh & frozen semen, foaling & limited boarding for brood-mares & foals at our farm. Now offering acupuncture. Warmblood horses for sale.Peak Performance EquineSport Horse Veterinary MedicineCierra Dedeker, DVM(503) 403-9617 Office/Appointments(503) 403-9617 Cell/EmergenciesDrCierra@gmail.com Mobile equine veterinary practice specializing in sports medicine. Mobile digital radiology & ultrasound available. Everything your sport horse needs to perform at their peak! Leave your trailer unhitched & we will come to you. Practice area includes Yamhill, Washington & Clackamas counties in Oregon. Check out our website for more information: Peakperformanceequinepllc.com.Spinnaker Farm Equine Veterinary ClinicHeather J. Wenzell, DVMPO Box 3384, Lacey, WA 98509(360) 584-3964 Ambulatory equine practice serving WA & OR. Performance dentistry, lameness, reproduction, pre-ventative health care, & emergency services offered. Comprehensive veterinary care for the performance equine utilizing power dentistry, digital radiography & ultrasound capabilities. See our website for specifics & experience: www.spinnakerfarmequine.comWest Winds Equine MassageSabina Pariser (206) 661 3263Equine massage therapist that encourages an organic and intuitive therapeutic process with all of the horses in her care. Sabina specializes in a wide variety of modalities, including, myofascial release, stress point, and trigger point therapy. EQUESTRIAN SERVICES DIRECTORYProviding Excellence in Diagnostics andComprehensive Veterinary Careof the Equine Athlete for over 20 Years18175 NE Hwy 240, Newberg, Oregon 97132503-554-0227Please visit us at www.oakhurstequine.comOakhurstEQUINE VETERINARY SERVICESSaddleFit4Life oers a unique philosophy that mirrors your own care and concern about horses, health and the riding industry in general. Our superior training and gender specic tting techniques represent the only equine ergonomic centre that helps you deliver comfort, health and safety not only for the horse but for the rider too.Saddlet4Life®Holland Landing, ONsaddlet4life.cominfo@saddlet4life.com1.800.225.2242 x30ANNUAL SERVICES DIRECTORY LISTINGIN PRINT AND ONLINE$150 LINE LISTING AND LOGO $180 PER YEAR LINE LISTING, LOGO AND WEBSITE OR EMAIL LINK $300 CUSTOM DESIGN LISTINGCONTACT US TO RESERVE YOUR SPOT IN OUR NEXT ISSUEmail@yingchanges.com or call or text +1 (503) 317 4956
Page 83
Publication Advertising Rates (includes digital version and link embedding)Ad Submission* Responsibility lies with client or agency for the following:Embedded image quality (300dpi, high resolution and applicable for image size)Meeting ad placement specicationsImages and copy remain within safe zone for trim and nishingProong Process:Camera ready ad = Client approved adWe will do our utmost to take note and advise you of any issues, and will try to assist to resolve before going to print. *Publisher retains right to approve submissions and ad placement.PREMIUM PAGES / SPECIAL REQUESTS / ADVERTORIAL / PRODUCT OFFERS & CONTESTSPlease call for next availability and rates.+1 (503) 317 4956Online & Social Promotion RatesINQUIRIES / SPECIAL REQUESTS Please call for next availability and rates.+1 (503) 317 4956Social MediaPlease call for availability, options and rates.+1 (503) 317 4956Website design from $2,500Ad design from $150Event programseBlasts and morePlease contact us directly to share requirements.Contact: Lorna Lowrie +1 (503) 317 4956 or editor@TheCompetitiveEquestrian.comDesign ServicesJaNuary 2018 www.orEgoNHuNtErJumpEr.org 111
Page 84
www.francotucci.comItalyPh. Tiziano Scaffai.itKatie Nubel Ph: 503. 457. 7560katie@francotucci.comFRANCOTUCCI.COMFRANCOFRANCO TUCCIItaly212x262-katieNubelDEF.indd 5 14/12/17 11:14