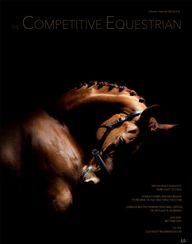 Return to flip book view
TCE Digital Mag JAN/FEB 2020
Page 1
THE COMPETITIVE EQUESTRIANJANUARY / FEBRUARY 2020 ISSUE 25INDOOR FINALS HIGHLIGHTSFROM COAST TO COASTDOUBLE H FARM'S ONGOING MISSIONTO PRESERVE THE PAST AND FORGE THE FUTUREELEMENTA MASTERS PREMIERE FIERACAVALLI VERONATHE SPOTLIGHT IS ON REININGLENS ENVYMATTHEW SEEDTCE LIFECLAYOQUOT WILDERNESS RESORT

Page 2
Learn more online www.dechra-us.comwww.osphos.comThe intramuscular bisphosphonate injection for control of clinical signs associated with Navicular Syndrome in horses 4 years of age and olderFOR EVERY EQUINE DISCIPLINE * Freedom of Information Summary, Original New Animal Drug Application, approved by FDA under NADA # 141-427, for OSPHOS. April 28, 2014. Dechra Veterinary Products US and the Dechra D logo are registered trademarks of Dechra Pharmaceuticals PLC. © 2019 Dechra Ltd.CAUTION: Federal law restricts this drug to use by or on the order of licensed veterinarian. As with all drugs, side effects may occur. In field studies and post-approval experience the most common side effects reported were signs of discomfort, nervousness, and colic. Other signs reported were: renal insufficiency/failure, anorexia, lethargy, hypercalcemia, behavioral disorders, hyperkalemia, hyperactivity, recumbency, hyperthermia, injection site reactions, muscle tremor, urticaria, hyperglycemia, and fracture. In some cases, death has been reported as an outcome of these adverse events. The safe use of OSPHOS has not been evaluated in horses less than 4 years of age or breeding horses. OSPHOS should not be used in pregnant or lactating mares, or mares intended for breeding. NSAIDs should not be used concurrently with OSPHOS. Concurrent use of NSAIDs with OSPHOS may increase the risk of renal toxicity and acute renal failure. Use of OSPHOS in patients with conditions affecting renal function or mineral or electrolyte homeostasis is not recommended. Refer to the prescribing information for complete details or visit www.dechra-us.com.OSPHOS® (clodronate injection)Manufactured for: Dechra Veterinary Products7015 College Blvd., Suite 525, Overland Park, KS 66211 866-933-2472© 2019 Dechra Ltd. OSPHOS is a registered trademark of Dechra Ltd. All rights reserved. Approved by FDA under NADA # 141-427Bisphosphonate. For use in horses only.Brief Summary (For Full Prescribing Information, see package insert)CAUTION: Federal (USA) law restricts this drug to use by or on the order of a licensed veterinarian.DESCRIPTION: Clodronate disodium is a non-amino, chloro- containing bisphosphonate. Chemically, clodronate disodium is (dichloro-methylene) diphosphonic acid disodium salt and is manufactured from the tetrahydrate form.INDICATION: For the control of clinical signs associated with navicular syndrome in horses.CONTRAINDICATIONS: Horses with hypersensitivity to clodronate disodi-um should not receive OSPHOS. Do not use in horses with impaired renal function or with a history of renal disease.WARNINGS: Do not use in horses intended for human consumption.HUMAN WARNINGS: Not for human use. Keep this and all drugs out of the reach of children. Consult a physician in case of accidental human exposure.PRECAUTIONS: OSPHOS has been associated with renal toxicity. Concurrent administration of other potentially nephrotoxic drugs should be approached with caution and renal function should be monitored. Use of bisphosphonates in patients with conditions or diseases affecting renal function is not recommended. Horses should be well-hydrated prior to and after the administration of OSPHOS due to the potential for adverse renal events. Water intake and urine output should be monitored for 3-5 days post-treatment and any changes from baseline should elicit further evaluation. As a class, bisphosphonates may be associated with gastrointestinal and renal toxicity. Sensitivity to drug associated adverse reactions varies with the individual patient. Renal and gastrointestinal adverse reactions may be associated with plasma concentrations of the drug. Bisphosphonates are excreted by the kidney; therefore, conditions causing renal impairment may increase plasma bisphosphonate concentrations resulting in an increased risk for adverse reactions. Concurrent administration of other potentially nephrotoxic drugs should be approached with caution and renal function should be monitored. Use of bisphosphonates in patients with conditions or diseases affecting renal function is not recommended. Administration of bisphosphonates has been associated with abdominal pain (colic), discomfort, and agitation in horses. Clinical signs usually occur shortly after drug administration and may be associated with alterations in intestinal motility. In horses treated with OSPHOS these clinical signs usually began within 2 hours of treatment. Horses should be monitored for at least 2 hours following administration of OSPHOS.Bisphosphonates affect plasma concentrations of some minerals and electrolytes such as calcium, magnesium and potassium, immediately post-treatment, with effects lasting up to several hours. Caution should be used when administering bisphosphonates to horses with conditions affecting mineral or electrolyte homeostasis (e.g. hyperkalemic periodic paralysis, hypocalcemia, etc.). The safe use of OSPHOS has not been evaluated in horses less than 4 years of age. The effect of bisphospho-nates on the skeleton of growing horses has not been studied; however, bisphosphonates inhibit osteoclast activity which impacts bone turnover and may affect bone growth.Bisphosphonates should not be used in pregnant or lactating mares, or mares intended for breeding. The safe use of OSPHOS has not been evaluated in breeding horses or pregnant or lactating mares. Bisphosphonates are incorporated into the bone matrix, from where they are gradually released over periods of months to years. The extent of bisphosphonate incorporation into adult bone, and hence, the amount available for release back into the systemic circulation, is directly related to the total dose and duration of bisphosphonate use. Bisphospho-nates have been shown to cause fetal developmental abnormalities in laboratory animals. The uptake of bisphosphonates into fetal bone may be greater than into maternal bone creating a possible risk for skeletal or other abnormalities in the fetus. Many drugs, including bisphosphonates, may be excreted in milk and may be absorbed by nursing animals.Increased bone fragility has been observed in animals treated with bis-phosphonates at high doses or for long periods of time. Bisphosphonates inhibit bone resorption and decrease bone turnover which may lead to an inability to repair micro damage within the bone. In humans, atypical femur fractures have been reported in patients on long term bisphospho-nate therapy; however, a causal relationship has not been established.ADVERSE REACTIONS: The most common adverse reactions reported in the field study were clinical signs of discomfort or nervousness, colic and/or pawing. Other signs reported were lip licking, yawning, head shaking, injection site swelling, and hives/pruritus.POST-APPROVAL EXPERIENCE (December 2018): The following adverse events are based on post-approval adverse drug experience reporting. Not all adverse events are reported to FDA/CVM. It is not always possible to reliably estimate the adverse event frequency or establish a causal relationship to product exposure using these data.The following adverse events are listed in decreasing order of reporting frequency: renal failure, polyuria, polydipsia, abdominal pain, anorexia, lethargy, hypercalcemia, behavioral disorder, discomfort, hyperkalemia, hyperactivity, recumbency, hyperthermia, injection site reactions, muscle tremor, urticaria, hyperglycemia, and fracture. In some cases, death has been reported as an outcome of the adverse events listed above.INFORMATION FOR HORSE OWNERS: Owners should be advised to:• NOT administer NSAIDs.• Ensure horses have access to adequate water before and after administration of OSPHOS.• Observe their horse for at least 2 hours post-treatment for signs of colic, agitation, and/or abnormal behavior.• If a horse appears uncomfortable, nervous, or experiences cramping post-treatment, hand walk the horse for 15 minutes. If signs do not resolve contact the veterinarian.• Monitor water intake and urine output for 3-5 days post- treatment.• Contact their veterinarian if the horse displays abnormal clinical signs such as changes in drinking and urination, appetite, and attitude.Osphos_CompEQ_10.19.indd 1 10/2/19 6:57 PM
Page 3
Page 4
4 TCE January / February 2020________________ThECompETiTivEEquEsTrian2020The Competitive EquestrianNovember / December© 2019 by Equestrian Communications USA LLC, all rights reserved. This publication may not be reproduced or quoted in whole or in part by any means, printed or electronic, without the written consent of the publisher. Not responsible for replacing issues not delivered due to address changes received after mailing date.Submissions: Magazines will gladly consider all articles, news, letters, and photographs for publication, but assumes no responsibility for unsolicited material. Submissions may be edited. Congratulations and News & Reviews items are published free of charge. Letters are assumed publishable unless we are advised otherwise. All submissions should meet our ad deadline to facilitate inclusion in next issue.CONTENTSContributing WritersMARTY BAUMAN - CLASSIC COMMUNICATIONSLINDSAY BROCK - JUMP MEDIASIMONA DIALEGEORGIE HAMMOND - PHELPS MEDIA GROUPALLYSON LAGIOVANEVANDY LIPMANLENORE PHILLIPS - PHELPS MEDIA GROUPEMILY RANDOLF - JUMP MEDIAELIZABETH RHODESPATRICIA SALEMContributing PhotographersALDEN CORRIGAN MEDIABEN RADVANY PHOTOGRAPHYBONAGA COMMUNICATIONSCLAYOQUOT WILDERNESS RESORTDOUBLE H FARMSHAWN MCMILLEN PHOTOGRAPHYTAYLOR RAINS - PHELPS MEDIA GROUPMATTHEW SEED - THE HORSE PHOTOGRAPHERAMY MCCOOLJUMP MEDIAELAINE WESSEL - PHELPS MEDIA GROUPTISH QUIRKKATHY RUSSEL PHOTOGRAPHYCreative DirectorLORNA LOWRIEPublisher & Executive EditorLORNA LOWRIEThe Competitive EquestrianEquestrian Communications USA LLCeditor@TheCompetitiveEquestrian.com6 Two in a row for Sternlicht in the Longines FEI Jumping World Cup™ By Patricia Salem34 Toronto's Royal Horse Show Crowns New Champions By Emily Randolph/Jump Media56 The Oldest Indoor Horse Show in the Country Revitalizes Its Mission by Focusing on the Next Generation of Equestrians By Lenore Phillips and Georgie Hammond66 Excitement Building for the 2020 FEI World Cup™ Finals in Las Vegas By Classic Communications72 Element Masters Premiere Fieracavalli Verona - The Spotlight Is On Reining By Simona Diale80 Paso Park Fall Classic and Oak Tree Classic Gallery Photos By Alden Corrigan Media106 LENS ENVY Matthew Seed - The Horse Photographer130 TCE LIFE Clayoquot Wilderness Resort - Remote | Rened | Remarkable 150 Double H Farms' Ongoing Mission to Preserve the Past and Forge the Future By Allyson Lagiovane157 A Quick Perspective On Equestrian Logo Design By Elizabeth Rhodes158 Just Keep Swimming, Lenore Phillips Finds Her Passion at Phelps Media Group166 Meet Lillie Keenan - A Grand Prix Rider with a Heart For Heart By Vandy LipmanOn the CoverMatthew SeedContent© Matthew Seed
Page 5
Taylor, Harris Insurances ServicesWorldwide Equine Insurance SpecialistsTHIShorseinsurance.com800.291.4774IS YOUR TIMEPhoto Alden Corrigan Media
Page 6
  TCE ________________TheCompetitiveEquestrianTwo in a row for Sternlicht in the Longines FEI Jumping World Cup™ BY PATRICIA SALEMPHOTOS BY ALDEN CORRIGAN MEDIAAdrienne Sternlicht of the USA took her second qualifying leg in as many weeks for the North American League, winning gold in Las Vegas aboard Bennys Legacy. Countryman Andrew Ramsay had to settle for silver in a two-person jump off, with American Sarah Segal and Uma O'Neill of New Zealand tying for third. Sternlicht's victory on Bennys Legacy is a testament to how quickly the new pairing has formed. She was ecstatic to beat the speedy Andrew Ramsay, who nished faster but racked up 4 points when a rail hit the ground in the jump off. "I think my jump-off round showed the quality of my horse." Sternlicht's plans extend beyond this Las Vegas event...Segal and O'Neill both rode clear in the rst round of competition, but each picked up 1 penalty for time at 73.39 seconds on the course by Leopoldo Palacios of Venezuela, leaving them out of the jump off and tied for a bronze medal. Said Sternlicht of her 11-year-old gelding, with whom she debuted in September, "He's a horse that goes exactly the way I like to ride: strong and aggressive. I like to help and support the horse, and he leans on me as a rider in that capacity." "I think Andrew has the fastest horse in the class, probably the fastest horse in FEI this week," Sternlicht said of her jump off competitor. "I knew that if I didn't stick to my plan, it might be costly. I think my jump-off round showed the quality of my horse. I think, personally, there are a few things I want to work on, but I couldn't be happier with the way he jumped, and I'm happy that I stuck to my plan." Sternlicht's plans extend beyond this Las Vegas event to the big show there in April of 2020. "World Cup Finals are 100 percent on my radar." Working with trainer McLain Ward, her schedule is booked out for the next ve months. "I plan on being here and look forward to coming back!"Click to Watch Sternlicht's Winning Round...
Page 7
 TCE________________TheCompetitiveEquestrianWinner of the $100,000 - LONGINES FEI Jumping World Cup™ Las Vegas Adrienne Sternlicht & Bennys Legacy
Page 8
Page 9
Page 10
Uma O'Neill & Clockwise of Greenhill Z
Page 11
Winner of the $100,000 - LONGINES FEI Jumping World Cup™ Las Vegas Adrienne Sternlicht & Bennys Legacy
Page 12
 TCE ________________TheCompetitiveEquestrianWinner of the $100,000 - LONGINES FEI Jumping World Cup™ Las Vegas Adrienne Sternlicht & Bennys Legacy
Page 13
 TCE ________________TheCompetitiveEquestrianSarah Segal & Camira
Page 14
Behind the scenes celebration~McLain Ward & Sean Kissane
Page 15
Page 16
LAS VEGAS NATIONALPHOTO GALLERY BY ALDEN CORRIGAN MEDIAAdrienne Sternlicht (with Sean Kissane) receiving last minute coaching from McLain Ward
Page 17
LAS VEGAS NATIONALPHOTO GALLERY BY ALDEN CORRIGAN MEDIA
Page 18
 TCE ________________TheCompetitiveEquestrianParade of Nations (Will Simpson with the American ag)
Page 19
 TCE ________________TheCompetitiveEquestrianRobert Ridland congratulating McLain Ward
Page 20
 TCE ________________TheCompetitiveEquestrianAdrienne Sternlicht & Bennys Legacy
Page 21
 TCE ________________TheCompetitiveEquestrian
Page 22
 TCE ________________TheCompetitiveEquestrianJenni McAllister & Escada VS
Page 23
 TCE ________________TheCompetitiveEquestrian
Page 24
$100,000 - LONGINES FEI Jumping World Cup™ Las Vegas rider autograph signing
Page 25
Page 26
 TCE ________________TheCompetitiveEquestrianMcLain Ward, Bennys Legacy & Sean Kissane
Page 27
 TCE ________________TheCompetitiveEquestrian
Page 28
Will Simpson leading the group course walk
Page 29
Page 30
The VIP experienceFEI Rider name cards for autograph signing
Page 31
THE COMPETITIVE EQUESTRIANINTERACTIVE DIGITAL PUBLICATIONREDEFINING THE EQUESTRIAN MAGAZINE DELIVERING IN DIGITALAn effective tool to advertise and promote your business. The Competitive Equestrian also offers design and website development services. BRINGING ADS TO LIFEEXPERIENTIAL CONNECTION WITH A CLICKCLICK FOR MORE INFORMATION ENDLESS OPTIONS AND ACTIONS THAT BUILD RELATIONSHIPSMEANINGFUL COMMUNICATIONS THAT DRIVE BUSINESS SUCCESS
Page 32
Sonoma Valley Stables would like to congratulate our clients and entire SVS team on an outstanding 2019 Show Season Looking forward to a fabulous 2020 season with great things to come!BARN PHONE707-769-0180Winner of the $30,000 USHJA International Hunter Derby Sponsored by Friends of Franktown Meadows Kylee Arbuckle and Fanciful with Best Groom Award Winner Luis AlemanSHP Circuit Champion Adult Equitation 18 & over Shabnam Behzadpour & EscherSHP Circuit Champion 3'6" Junior Hunter Clara Bonomi & Cobalt Blue RWinner of the $10,000 USHJA International Hunter Derby Presented by Devoucoux Kylee Arbuckle & FancifulSHP Circuit Champion Modied Children's Adult Jumper Cash Delia & Trewithian HawkweedSHP Circuit Reserve Champion 3'6" A/O Hunter Darby Bonomi & Davinci
Page 33
Congratulations to Avery Glynn for an extremely successful 2019 Show SeasonA heartfelt thank you to Jim Hagman and the amazing team at Elvenstar for all or your great coaching and support, my SVS family and wonderful horses. Highlights Include:Winner: CPHA Junior Medal FinalWinner: CPHA Foundation Finals 9th place Overall Finish in the Dover Saddlery/USEF Hunter Seat Medal Final at the Pennsylvania National Horse ShowRecipient of the Lindsay Maxwell Charitable Fund WIHS Equitation ScholarshipSONOMAVALLEYSTABLES.COMAvery Glynn & Cocon 4 Photo © Alden Corrigan MediaAvery Glynn & Cocon 4 Photo © Shawn McMillen Photography""
Page 34
Toronto's Royal Horse Show Crowns New Champions By Emily Randolph/Jump Media / Photos by © Ben Radvanyi Photography Ireland's Bertram Allen, 24, made his inaugural trip to The Royal a memorable one, topping the $210,000 Longines FEI Jumping World CupTM Toronto aboard GK Casper.
Page 35
Toronto's Royal Horse Show Crowns New Champions By Emily Randolph/Jump Media / Photos by © Ben Radvanyi PhotographyWhen Ireland's Bertram Allen and GK Casper raced TMthunderous applause.                                                                     TM Toronto on                                            TM                                                      
Page 36
The 97th Royal Agricultural Winter Fair attracted thousands of visitors of all ages and welcomed sold-out crowds to the Coca-Cola Coliseum during much of the 10-day Royal Horse Show.
Page 37
Jos Verlooy, 23, and Igor nished runner-up following an exciting jump-off for the $210,000 Longines FEI Jumping World Cup™ Toronto. Eighteen-year-old Brian Moggre of the U.S. concluded a successful rst trip to Toronto's Royal Horse Show with a third place nish in the $210,000 Longines FEI Jumping World CupTM Toronto with his mount MTM Vivre le Reve.
Page 38
                                                                Eric Lamaze Makes Triumphant Return to Toronto                                                                                                In a triumphant return to the Royal Horse Show, Eric Lamaze and Fine Lady 5 won the $37,000 McKee Family International Challenge.
Page 39
In a triumphant return to the Royal Horse Show, Eric Lamaze and Fine Lady 5 won the $37,000 McKee Family International Challenge.
Page 40
Ben Maher Wins Battle of Olympic Gold Medalists             spot.                                
Page 41
Olympic gold medalist Ben Maher rode Tic Tac to victory in the $85,000 Big Ben International Challenge.
Page 42
 TCE ________________TheCompetitiveEquestrianDaniel Coyle, Kent Farrington, Brian Moggre, and Rowan Willis Race to Wins                                                                  The win in the $37,000 Jolera International Strength and Speed Challenge went to Kent Farrington and Austria 2.
Page 43
 TCE ________________TheCompetitiveEquestrian Australia's Rowan Willis and his own Blue Movie won the $50,000 Canadian Open International Challenge over Eric Lamaze and Fine Lady 5 on Friday night.               TM    
Page 44
Riding Count Me In, Beth Underhill was crowned the 2019 Canadian Show Jumping Champion.
Page 45
Eric Lamaze was awarded the Leading International Rider and Leading Canadian Rider titles, presented by GroupBy, as well as the Leading Canadian Horse Award for Fine Lady 5, presented by John Grange (left) and Ariel Grange (right) of Lothlorien Farm.A New Canadian Champion is Crowned                                                                                           
Page 46
Page 47
The iconic Royal Canadian Mounted Police (RCMP) Musical Ride highlighted the Royal Horse Show's opening weekend.
Page 48
The Royal Horse Show PHOTO GALLERY BY JUMP MEDIATwenty-four-year-old Bertram Allen of Ireland topped a four-horse jump-off riding GK Casper to win the $210,000 Longines FEI Jumping World CupTM Toronto.
Page 49
U.S. Olympic team gold medalist Laura Kraut and Ireland's Bertram Allen talk strategy for the $210,000 Longines FEI Jumping World CupTM Toronto, which Allen won in his Royal Horse Show debut.Living legends! Eric Lamaze (left) accepts his ribbon from Ian Millar following the $85,000 Big Ben International Challenge, named for Millar's most famous mount.Canadian Olympic Champion Eric Lamaze and Fine Lady 5 led the victory gallop following the opening class of The Royal's international show jumping division, the $37,000 McKee Family International Challenge. Based in Belgium, Lamaze, who has been battling a brain tumor for the past two years, last competed at the Royal Horse Show in 2011.
Page 50
U.S. Equestrian Team member Kelly Soleau-Millar with her husband and Canadian Show Jumping Team member, Jonathon Millar.Rayne Dubois holding Ferraro K poses for a photo with her trainer, Kelly Soleau-Millar, after winning Canada's most prestigious equitation title, the Running Fox CET Medal National Final.Color commentators Jon Garner (left) and Adam Cromarty kept the sold-out crowds entertained in the Coca-Cola Coliseum.The Royal Canadian Mounted Police performed the iconic Musical Ride in front of a full house in the Coca-Cola Coliseum during the Royal Horse Show's opening weekend. 2018 ASPCA Maclay National Championship winner Sam Walker, 17, of Canada on a course walk with Amy Millar, who claimed the Canadian Show Jumping Reserve Championship title at The Royal for the second year in a row.Eric Lamaze talked openly with spectators during a question and answer session, moderated by Adam Cromarty, before signing autographs for his fans.
Page 51
Eric Lamaze's Fine Lady 5, pictured with groom Kaytlyn Brown, received the Leading Canadian Horse Award at this year's Royal Horse Show while her rider took home the Leading International Rider and Leading Canadian Rider titles.
Page 52
Beth Underhill being interviewed after winning the $125,000 Henry Equestrian Show Jumping Championship aboard Count Me In.Mac Cone (left) and Ian Millar (right) with 2019 Royal Horse Show course designer Michel Vaillancourt (center).Margie Engle, Ben Maher, and Eric Lamaze topped the podium in Thursday evening's $85,000 Big Ben International Challenge.Canadian Olympic individual gold medalist Eric Lamaze (left) and U.S. Olympic team gold medalist McLain Ward share a laugh.
Page 53
Page 54
www.eventclinics.comLearn MorePhoto: KTB Creative GroupCONNECTING RIDERS WITHTHE BEST OPPORTUNITIES
Page 55
Page 56
 TCE ________________TheCompetitiveEquestrian THE OLDEST INDOOR HORSE SHOW IN THE COUNTRY REVITALIZES ITS MISSION BY FOCUSING ON THE NEXT GENERATION OF EQUESTRIANS By: Lenore Phillips and Georgie HammondThe National Horse Show is synonymous with history. Most everyone knows that, at one point, the National Horse Show was in Madison Square Garden and that it launched the careers of some of the most famous hunter and jumper athletes in the country. Presently based in Kentucky, the National Horse Show is the last stop in the championship indoor season and the host of a Longines FEI Jumping World Cup™ Qualier. One facet of the National Horse Show that has withstood the test of time is the ASPCA Maclay Finals, which arguably makes the horse show the most important place for young equestrians to make a name for themselves early in their competitive careers. In recent years, the National Horse Show has sought a way to revamp its audience, so it looked at its most popular events – the junior classes. With that in mind, in 2019 the National Horse Show focused its efforts on junior and amateur athletes, which ultimately received an astounding response. The idea behind focusing on age group competition and creating a space for more competitors came in 2017. The National Horse Show Board decided to expand the show's competition schedule with the addition of an opening weekend that catered to age-specic equitation. The response was resounding, and, over the last two years, the new equitation divisions have morphed into an enormous success. Since its inception in 2017, the opening weekend has helped to expand the National Horse Show to exhibitors that otherwise did not have the opportunity to attend.
Page 57
 TCE ________________TheCompetitiveEquestrian THE OLDEST INDOOR HORSE SHOW IN THE COUNTRY REVITALIZES ITS MISSION BY FOCUSING ON THE NEXT GENERATION OF EQUESTRIANS By: Lenore Phillips and Georgie HammondASPCA Maclay 2019 Class Photo. Photo by Phelps Media GroupThe most important classes that accomplished this were the Taylor Harris Insurance Services National Horse Show 3'3" Adult Equitation Championship and the Hamel Family Foundation National Horse Show 3'3" Equitation Championship. "The 3'3" equitation championships lled a huge void at our horse show," said Geoff Teall, Chairman of the Equitation Committee. "Suddenly we had Intercollegiate Horse Show Association (IHSA) athletes from top universities competing in the adult divisions and the young riders that needed some more mileage before entering the Maclay Championships had a space to hone their skills. The additions were meaningful in a way that we could not have anticipated." Jennifer Burger, President of the National Horse Show, mirrored Teall's thoughts, saying, "When we started Opening Weekend, we were never prepared for the kind of success that it would receive. We realized that we might have gotten lost in the hype of the bigger classes, but the bigger classes weren't going to sustain the horse show. We really took stock of our core constituency and our future, which helped us to embrace the groups of people that were going to sustain us and help us grow. Those people are the youth of our sport." Following the initial success in 2017, the National Horse Show began to brainstorm what else it could do to support the younger riders. In order to do that authentically, they enlisted the junior
Page 58
 TCE ________________TheCompetitiveEquestrianriders that had been most affected by the new programs and were standouts in the development of horsemen and horsewomen. These young athletes formed the Junior Leadership Committee and took it upon themselves to develop programs that would not only encourage the success of their peers but also help make the competitive atmosphere around the National Horse Show more inclusive and comfortable. Tasked with two primary responsibilities, the Junior Leadership Committee members acted as a sounding board for the National Horse Show and helped to facilitate the experience for other juniors attending Maclay Finals. Committee members oversaw the Junior Leadership Program's initiatives and worked closely with the National Horse Show team to improve the overall experience for junior riders and to provide them with opportunities for personal development. Throughout the year, members were challenged to brainstorm and collaborate with the National Horse Show team, giving them an in-depth look at the operations and management behind the prestigious horse show. Their responsibilities extended into the two weeks of competition in November, during which committee members were deeply involved in the junior events, helping to manage and support the events to make them as successful as possible."One of the things that the Junior Leadership Committee brought up right away and what we knew, but dismissed, was how stressful and competitive the atmosphere around the Maclay was," remarked Burger. "When we looked at it objectively, the thought of spending so much time and money to make it to compete in just one class and the nerves associated with that, as a young person it must be unbearable. Also, what would happen if the class didn't go well, how could they combat the feelings surrounding disappointment? So, we talked to our committee members and decided to create more events that focused on peer bonding, helping them to manage their stress and gain some perspective of their accomplishments in even making it to the National Horse Show." The Junior Leadership Committee brought together the passion and ideas of seven founding committee members: Hailey Johns (chair), Alex Alston, Alexis Ortiz, Dominic Gibbs, Jordan Allen, Juliette Joseph and Sophia Pilla. The core team worked together with National Horse Show management to develop new experiences for their peers that could be added to the already expansive National Horse Show schedule. Each event supported the goal of being both a learning opportunity and a chance for young riders to meet and network with one another, thus creating a safe atmosphere for personal and competitive growth.The rst event that the Junior leadership committee hosted was the Wrenwood Farms Junior Welcome Party as a lead-up to the ASPCA Maclay draw meeting. This event was open to all junior competitors of the National Horse Show and featured food and a live DJ. The Draw Party is regarded by many as the rst time that Kent Farrington, Lillie Keenan, and Dr. Jennifer Speisman, Psy.D, HSP at the Pizza and Positivity Event. Photo by Phelps Media Group
Page 59
Winners of the Leo Conroy Equitation GrantParticipating IHSA athletes and trainers at National Horse Show. Photo by Phelps Media Group
Page 60
Photo by Phelps Media Group
Page 61
Page 62
 TCE ________________TheCompetitiveEquestriancompeting at the ASPCA feels 'real.' All of the riders and trainers gather in one room, during which time rules are read and one rider is chosen to be the rst in the ring when it is time for the championship. The Welcome Party worked to set everyone at ease and helped them to enjoy the address of the Equitation Committee Chairman, regardless of the outcome of Sunday's event. The highlight events that came from the Junior Leadership Committee were hosted on Saturday, with the class photo and the "Pizza and Positivity" event gathering the majority of competitors. Early in the afternoon, junior riders ocked in front of the iconic Alltech Arena for the rst ever ASPCA Maclay National Championship class photo, which symbolizes the unity that all of the Maclay athletes shared by qualifying for the class. Exhibitors were subsequently invited to join the committee for a "Pizza and Positivity" event in Maxwell Place, where Dr. Jennifer Speisman, Psy.D, HSP, addressed the athletes that were entered to compete in the ASCPA Maclay Equitation Championship alongside international show jumping athlete Kent Farrington and 2013 ASPCA Maclay National Champion and international show jumping athlete Lillie Keenan. Dr. Speisman, Farrington and Keenan gave the young riders personal advice, anecdotal experiences and tools to use to help them remain calm and positive during their time in the Alltech Arena and opened the oor to a question-and-answer portion that many attendees found to be exceedingly insightful, leaving a lasting impression."I don't know if it was the timing or the fact it was the end of indoors and everyone was stressed out, but the 'Pizza and Positivity' event made me feel like a huge weight was lifted from my shoulders," shared competitor and rising star, Jordan Allen. "To hear from the top of the sport, especially from two riders I have looked up to for so long, and to hear that they also struggle and get nervous was such a big relief. In this sport it is easy to feel like you are going through things alone, so it was so nice to hear that the top show jumpers deal with the same things as us junior riders. When you were watching you just didn't want it to end!""We were honestly overwhelmed by the response that we received not only from the athletes but from their families and trainers," Maggie Hill and O'Ryan. Photo by Phelps Media Group
Page 63
 TCE ________________TheCompetitiveEquestriancommented Burger. "It was such a simple event that was so meaningful. Honestly, I wish that we would have thought of this sooner!" To add to the list of accomplishments by young athletes at the 2019 event, young riders took center stage in some of the other most important classes featured at the horse show. Brian Moggre, who at just 18 years old has made his way from the equitation ring into the grand prix ring, stole the show with rst prize in the $225,000 Longines FEI Jumping World Cup™ Lexington CSI4*-W. This was not only meaningful because of the level of competition in the class, but also because he was the youngest person in the history of the horse show to win this contest. "The moment I realized that I was going to win the class was for me something that I never expected to feel, especially in this year and where I am in my career," commented Moggre. "MTM Vivre Le Reve is so special to me and has taken me through all of the ranks. I won my rst FEI grand prix with him at Live Oak in the spring, which was another World Cup class, so to be able to win that and the 4* at the National Horse Show was not even in my imagination." On the nal day of the 2019 National Horse Show, Ava Stearns took home the top place in the prestigious ASPCA Maclay Equitation Championships, presented by Chansonette Farms. Stearns topped the list of over 175 athletes with 8-year-old Acer K after competing in three rounds of intensely competitive riding. Other impressive performances included Taylor St. Jacques' win in the $25,000 Hollow Brook Wealth Management Show Jumping Hall of Fame on Upsilon De Le Liniere, and Maggie Hill swept the hunter divisions with Cassanto to earn the Overall Junior Hunter Grand Championship. "Seeing the achievement of so many talented young people is so rewarding," said Burger. "I think that the hard work and creativity of the National Horse Show management and the committee members has made an enormous impact on our event and truly is a breath of fresh air. I cannot wait to see some of these athletes come back again and again as they grow and mature. Whether they become professionals and show in the grand prix or whether they continue to compete as a hobby and show in our adult equitation classes, we are proud to say that we will always have a place for them at our event." Brian Moggre with MTM Vivre Le Reve after winning the $225,000 Longines FEI Jumping World Cup™ Lexington CSI4*-W. Photo by Phelps Media Group
Page 64
SPORTSDRESSAGEPO OELITE PROPERTIESmarketingpublic relationsphotojournalismevent management561-753-3389 | info@phelpsmediagroup.comsocial mediawebsite developmentPHELPS MEDIA GROUP CLIENTOAKLAND STABLES'HARDIN TOWELLPHELPS MEDIA GROUP CLIENTSVICTORIA COLVIN (TOP) AND LEATHERDALE FARMS' DAMSEY FRH WITH HELEN LANGEHANENBERG (BOTTOM)ELEVATING YOUR BRAND BEYOND THE IN-GATE
Page 65
Menlo Charity Horse ShowBeneting Vista Center for the Blind and Visually Impairedsave the dateMENLOCHARITYHORSESHOW.ORG #MENLO2020AT THE BEAUTIFUL MENLO CIRCUS CLUB IN ATHERTON, CALIFORNIAAugust 4 - 9, 2020
Page 66
Excitement Building for the 2020 FEI World Cup™ Finals in Las Vegas: Entertainment Capital of the World Ready to Welcome World's Top Jumping and Dressage AthletesThe Strip PavilionThe excitement is building for the 2020 FEI World Cup™ Finals in Las Vegas! The biggest names in the sport, including Olympic, World, European, Pan American and World Cup champions, will come from all four corners of the globe to battle it out for the prestigious titles of Longines FEI Jumping World Cup™ and FEI Dressage World Cup™ Champions at the Thomas & Mack Center in Las Vegas on April 15-19.The FEI World Cup™ Finals are like no other competition, and Las Vegas – the Entertainment Capital of the World – showcases the sport like nowhere else. The 2020 Finals mark the seventh time that Las Vegas is hosting these prestigious annual individual championships. Nearly 74,000 spectators came to the 2015 Finals in Las Vegas and more are expected in 2020. Not only will spectators be treated to thrilling competition from start to nish, but the shopping will be superb with more than a hundred vendors on-site, and there will be special events and entertainment throughout the Finals that will be absolutely incredible – all done with that world-famous 'Las Vegas style' of course!"We are just a few months away from hosting the FEI World Cup™ Finals in Las Vegas for the seventh time and we are so excited to welcome the world's top riders, horses and their fans back to Las Vegas!" said Pat Christenson, President of Las Vegas Events, Inc., producer of the Finals. "We have so many exciting things planned for the 2020 Finals – it's going to be like nothing anyone has ever seen before!"
Page 67
Excitement Building for the 2020 FEI World Cup™ Finals in Las Vegas: Entertainment Capital of the World Ready to Welcome World's Top Jumping and Dressage AthletesThomas & Mack Center: A Major Facelift and Ready to ImpressStarting in 2015, the Thomas & Mack Center underwent a two-year overhaul with $75 million of renovations and improvements. Upgrades include enhanced stabling for the horses, new arena seats, new entrances and escalators, upgraded concessions and restrooms, new oors and additional ADA seating, plus improvements to the sound system. The Taylor Harris Club presented by Lugano Diamonds is one of those improvements and will be open to all VIP ticket holders. Located in the brand new Strip View Pavilion, the magnicent new 36,000 square-foot, two-story VIP space has an outdoor patio overlooking the stabling area with spectacular views of the world-famous Las Vegas Strip. VIPs will have access to all the bells-and-whistles including luxurious surroundings, culinary delights and cool cocktails, as well as VIP seating in the rst four rows of the venue, easy access from seats to the VIP area, live music, large screen TVs so no one has to miss any action, complimentary World Cup Souvenir Program and complimentary Day Sheets. What an incredible VIP experience!Dressage Final Back in PrimetimeThe schedule for 2020 features the return of the Dressage Grand Prix Freestyle, the class that determines the World Cup Champion, to its previous Saturday evening timeslot. Based on past experience, this promises to be one of equestrian sports' most exciting nights of the year.
Page 68
Taylor Harris Club presented by Lugano Diamonds
Page 69
TicketsAll-Session tickets for the jumping, dressage, or as a combination, are now on sale. Tickets for individual sessions will go on sale early this winter, so it's best to get your tickets now to be sure you get the best seats available. Everyone is welcome to join the World Cup Club at www.worldcuplasvegas.com/world-cup-club. Membership is FREE and members receive all the latest breaking news, information on host hotels, hospitality and much more.2020 FEI World Cup™ Finals Tentative Schedule (Pacic Time and subject to change)Wednesday, April 15, 20209:30 a.m. - Longines FEI Jumping World Cup™ Warm-Up1:30 p.m. - FEI Dressage World Cup™ Warm-Up Thursday, April 16, 202012:00 p.m. - FEI Dressage World Cup™ Grand Prix 7:00 p.m. - Longines FEI Jumping World Cup™ Final I Friday, April 17, 20208:30 a.m. - FEI Dressage World Cup™ Freestyle Rehearsal1:00 p.m. - Devoucoux Dressage Showcase7:00 p.m. - Longines FEI Jumping World Cup™ Final II Saturday, April 18, 202012:00 p.m. - Las Vegas Jumping Grand Prix 7:00 p.m. - FEI Dressage World Cup™ Final (Grand Prix Freestyle) Sunday, April 19, 202012:00 p.m. - Longines FEI Jumping World Cup™ Final III About the FEI World Cup™Started in 1979, the FEI Jumping World Cup™ Final is an annual international showdown among the world's best show jumping horses and riders. In the 41 Finals held through 2019, the United States has emerged with the most titles (11) with Germany (10) in second. U.S. riders have won two of the last three Longines titles – McLain Ward in 2017 and Beezie Madden in 2018. Previous FEI World Cup™ Jumping Finals held in the United States include Baltimore (1980), Tampa (1989), Del Mar, CA (1992), Las Vegas (2000, 2003, 2005, 2007, 2009, 2015) and Omaha (2017). The FEI Dressage World Cup™ Final was rst held in 1986 and features the world's best dressage horses and riders. A total of 34 Finals have been held through 2019, and the United States has won the championship twice – in 2003 (Debbie McDonald with Brentina) and 2009 (Steffen Peters with Ravel). The Final has been held in the U.S. six times previously – in Los Angeles (1995), Las Vegas (2005, 2007, 2009, 2015) and Omaha (2017).Further information on the 2020 FEI World Cup™ Finals in Las Vegas, and the chance to join the World Cup Club, is available at the event's ofcial website at www.WorldCupLasVegas.com.©Tish Quirk
Page 70
Outstanding OfcialsA prestigious event calls for highly experience ofcials. Heading the list of jumping ofcials is Anna Lindqvist of Sweden, who will be President of the Ground Jury. She will be joined by Ground Jury Members David Distler and Jack Robson of the USA, and Colleen Hoffman of Canada.The Course Designer is Olaf Petersen, Jr. of Germany, a FEI Level 4 Course Designer who was Co-Course Designer at the 2004 Athens Olympic Games and has also designed courses at the 2006 Asian Games, 2005 South East Asian Games, and over a dozen FEI World Cup™ qualiersDan Reed of the USA will be the Chief Steward, while Maria Hernek of Sweden will be the European Steward. Santiago Varela of Spain will be the Foreign Technical Delegate and Neil O'Connor of the USA will be the Limb Sensitivity Liaison Judge. The Jumping Final will once again be managed by Stephanie Lightner of Blenheim EquiSports. Heading the list of dressage ofcials is Anne Gribbons of the USA, who will be President of the Ground Jury. Joining her will be Ground Jury Members Elke Ebert of Germany, Raphaël Saleh of France, Eddy De Wolff of The Netherlands, Susanne Baarup of Denmark, Irina Maknami of Russia, and Peter Storr of Great Britain. First Reserve will be Maria Colliander of Finland, with Susie Hoevenaars of Australia as Second Reserve (Non-Traveling). Maribel Alonso of Mexico will be the Foreign Technical Delegate.The Judges Supervisory Panel (JSP) will consist of Henk van Bergen of The Netherlands, Linda Zang of the USA, and Mary Seefried of Australia. The Finals will be managed, as was the case for the Finals' previous appearances in Las Vegas in 2005, 2007, 2009 and 2015, by Glenda McElroy of Cornerstone Event Management.The Thomas & Mack Center©Amy McCool
Page 71
The Equestrian WorldReturns to Las VegasAPRIL 15 - 19, 2020WorldCupLasVegas.com/WorldCupLVAll-session tickets on sale now!
Page 72
Elementa Masters PremiereFieracavalli Verona: The Spotlight is on Reining By Simona Diale, International Horse PressPhotos by Bonaga Communication
Page 73
Morey Fisk & Chics Smokingun, Open ChampionsSince 1893, Fieracavalli is an exhibition dedicated to horses which has taken place annually in Verona, Italy, since 1898. This year, thanks to Maria Cecilia Fiorucci owner of Elementa, the spotlight was on Reining. The best horses and riders from around Europe made their way to the "City of Love" playing alongside the best of equestrian sports, including Verona Jumping, which showcased the Longines FEI Jumping World Cup™.Chics Smokingun rides Fisk to the $101,000-added Elementa Masters Premiere Open unofcially claiming the 2019 NRHA Open World ChampionshipIn the rst European $101,000 added Open, with Sabine Schmid's 11-year-old stallion Chics Smokingun an American Quarter Horse Association (AQHA) and American Paint Horse Association (APHA) bay stallion by NRHA Ten Million Dollar Sire Gunner between the reins, Morey Fisk slid to the win. The duo thrilled the crowd and was paid back by the judges with a 226.5 which put them in front of NRHA Million Dollar Riders Ann Fonck and Cira Baeck by a point. "Blue (Chicks Smokingun's barn name) is simply the best; he's a very special horse to me," said the 45-year-old Canadian professional and head trainer at Horse Academy in Moorslargue, France who has been riding this horse since 2016. "I love this horse and it's just awesome we won tonight. Doing well at this show was on my agenda it was our strategy to keep him fresh for this show. Everything went well and now we can celebrate this special title." Taking home over $27,500 for the win puts the ashy stallion unofcially on top of the 2019 NRHA Top Ten Open standings, thus making the pair the unofcial Open World Champions. "I'm very proud of my horse and Morey and I trust them both; they are such a great team!" said owner Schmid, a successful non pro rider. "For sure Blue will take a winter break now and then we'll see how to plan the future."Sharing reserve honors was Fonck riding Gunners Specialolena, an own daughter of NRHA Three Million Dollar Sire Gunners Special Nite owned by Diego Dalla Gassa, and Baeck on Maria Cecilia Fiorucci's Phantom Face.Sylvia Rzepka rode to rst place in the $40,000-added Elementa Masters Premiere Intermediate Open marking
Page 74
225 with Winnie The Boo (by Million Dollar Sire Spooks Gotta Whiz), owned by Florian Aubruner. "I absolutely love this horse, he's the sweetest in the world and is so special. I've had him for the past three years but during this show season we really found the key in understanding each other," said the Austrian professional. "He gets better and better at every show and has a heart of gold. We had a lot of ups and downs during this show, especially in getting used to the new rules, but I think it's normal and that's OK. I want to thank the organizers of this show for putting out that much money and making it possible for us to achieve this."Yet another unofcial NRHA World Champion was crowned in Verona: With a 223 score, Klaus Lechner of Austria reined Cody Rooster Delmaso to second place. The 14-year-old stallion, owned by his wife Julia [Gaupmann-Lechner], has been shown successfully by both the husband-wife team earning over $53,500 in the show pen. Niklas Ludwig was crowned $500-added Elementa Masters Premiere Limited Open Champion after closing his run with a 218.5 aboard 2013 stallion Whiz N Spook (by NRHA Five Million Dollar Sire Smart Spook) owned by Margot Van Doone. "My brother Grischa showed this horse before I started riding him two months ago and I can say he's really a great horse," said the 26-year-old professional. "I really love him, he's fun to train and I really need to thank my brothers, Grischa and Levin, who always help me and it's great to know that they are always by my side. Ours is really a family business and I love it." Ludwig not only took home the prestigious win and paycheck; he also left wearing the custom-made MS Diamonds TX by Sleipnir Champion ring offered by Oded Fein.Gina Schumacher and Shine N Whiz Clinch the Elementa Masters Premiere Non-Pro TitleThe $40,000-added Non Pro, $20,000-added Intermediate Non Pro and $500-added Limited Non Pro counted 107 total entries. With a 223 score, Gina Schumacher won with her mother's Shine N Whiz (by NRHA Twelve Million Dollar SireTopsail Whiz). "This is actually my mum's horse," said Gina in front of a smiling Corinna [her mother]. "I haven't been riding him very long, but since mum has less time to ride she has given him to me to show. This is our third outing together and he tries really hard, so I enjoy riding him every time." Gina also showed her 8-year-old stallion Snip O Lution (by NRHA Two Million Dollar Sire Einsteins Revolution) who ofcially retired after closing his show career performing to a 221 and taking third place.A point behind was Austrian Anna Lisec who closed her run with 222 aboard Sabine Lisec and Chuck Klipfel's ashy 9-year-old palomino This Wimps So Fly (by NRHA Eleven Million Dollar Sire Wimpys Little Step). The pair have left their mark in many a prestigious NRHA European competition and Anna was thrilled with her placing. "He is simply special and I am very fortunate to be able to show him to so many titles," she said.Tying for rst place with a 218 score in both the Intermediate and Limited Non Pro was German Justin Ketterer aboard his uncle's 7-year-old Jacs Electric Snap by Jacs Electric Spark and French Gregory Morat on OK Spook, a 12-year-old gelding by Smart Spook. "I have been riding reining horses since I was a kid and started competing more seriously when I was about 12; this is my third year showing this horse that was bred by my dad. I had a good feeling coming here and was really Sylvia Kzepka & Winnie The Boo, Intermediate Open Champions
Page 75
Gina Schumacher & Shine N Whiz, Non Pro ChampionsJustin Ketterer & Jacs Electric Snap, Intermediate and Limited Non Pro Co-Champions
Page 76
 TCE ________________TheCompetitiveEquestrianall he had," said Morat who also took home the custom-made MS Diamonds TX by Sleipnir Elementa Masters Ring presented by Oded Fein after a ip of the coin.$50,000-added Elementa Masters Premiere Freestyle: Wonder Woman Baeck takes the WinOn Saturday night, the Elementa pavilion attracted a huge crowd. The lights, the colors, the horses and the 29 riders pleased with the way my horse went. The show was cool as well: everything looked nice, the ground was good, and everything went smoothly," said Ketterer.Morat decided to turn to reining after completing the 2017 Paris-Dakar Rally by bike. A dream come true which in turn led him to make another dream come true: the beautiful Bo Ranch located close to Fontainebleau, the French horse capital. "I love horses and my horse was with me all the way today, giving me Gregory Morat & OK Spook, Intermediate and Limited Non Pro Co-ChampionsCira Baeck & Phantom Face, Freestyle Champions
Page 77
 TCE ________________TheCompetitiveEquestrianshowing in the Elementa Masters Premiere Freestyle, the very rst offered in Europe with an impressive $50,000 added, left their mark and a performance that will remain in the hearts of many. NRHA Million Dollar Rider Cira Baeck and Phantom Face performed a superhero Wonder Woman run paid back by the judges with a 231. "The idea was Cecilia's (Fiorucci)," said Baeck. "We chose Wonder Woman to make a powerful statement for women. I especially enjoyed the run because this is the rst event in which I showed in the Open earlier and later in the Freestyle with the same horse: Phantom Face was awesome and he was there for me all the way."Closing a half-a-point behind was Giovanni "Dido" Masi who told his 'horse riding story' along with his parents, Filippo and Paola, in the show pen. Dressed in perfect English attire, his performance aboard Katharina Dejori's 11-year-old stallion Majestic Okie (Okie Dun It Too X Majestic Ice x ARC Blueyed Redskin) turned to western and great reining run!Cira Baeck & Phantom Face, Freestyle Champions
Page 78
Giovanni Masi & Majestic Okie, Freestyle Reserve ChampionsGennaro Lendi & Yankee Gun, third place Freestyle
Page 79
Page 80

Page 81
 TCE ________________TheCompetitiveEquestrianPaso Park Fall Classic & Oak Tree ClassicPHOTO GALLERY | ALDEN CORRIGAN MEDIA
Page 82

Page 83

Page 84
Page 85

Page 86

Page 87
 TCE ________________TheCompetitiveEquestrian
Page 88
 TCE ________________TheCompetitiveEquestrian
Page 89

Page 90

Page 91

Page 92

Page 93
Page 94
Page 95

Page 96

Page 97

Page 98

Page 99
 TCE ________________TheCompetitiveEquestrian
Page 100

Page 101
Page 102

Page 103

Page 104
Page 105
Page 106
LENS ENVY | MATTHEW SEED THE HORSE PHOTOGRAPHERMATTHEW SEED | THE HORSE PHOTOGRAPHER | WWW.HORSE-PHOTOGRAPHER.CO.UK
Page 107
LENS ENVY | MATTHEW SEED THE HORSE PHOTOGRAPHERRICKY COOPER | © MATTHEW SEED
Page 108
LENS ENVY | MATTHEW SEED THE HORSE PHOTOGRAPHERSTALLION | © MATTHEW SEED
Page 109
LENS ENVY | MATTHEW SEED THE HORSE PHOTOGRAPHERSTALLION | © MATTHEW SEEDPEARL OF PEACE AKA THE GOLDEN HORSE AND OWNER ORO | © MATTHEW SEED
Page 110
LENS ENVY | MATTHEW SEED THE HORSE PHOTOGRAPHER
Page 111
LENS ENVY | MATTHEW SEED THE HORSE PHOTOGRAPHERINES | © MATTHEW SEED
Page 112
LENS ENVY | MATTHEW SEED THE HORSE PHOTOGRAPHER
Page 113
LENS ENVY | MATTHEW SEED THE HORSE PHOTOGRAPHERPEARL OF PEACE AKA THE GOLDEN HORSE | © MATTHEW SEED
Page 114
LENS ENVY | MATTHEW SEED THE HORSE PHOTOGRAPHERRACEHORSE AND TRAINER | © MATTHEW SEED
Page 115
LENS ENVY | MATTHEW SEED THE HORSE PHOTOGRAPHERRACEHORSE AND TRAINER | © MATTHEW SEED
Page 116
LENS ENVY | MATTHEW SEED THE HORSE PHOTOGRAPHER
Page 117
LENS ENVY | MATTHEW SEED THE HORSE PHOTOGRAPHERALEX HUA TIAN | © MATTHEW SEED
Page 118
LENS ENVY | MATTHEW SEED THE HORSE PHOTOGRAPHERCARL HESTER'S UTHOPIA | © MATTHEW SEED
Page 119
LENS ENVY | MATTHEW SEED THE HORSE PHOTOGRAPHERCARL HESTER'S UTHOPIA | © MATTHEW SEED
Page 120
LENS ENVY | MATTHEW SEED THE HORSE PHOTOGRAPHER
Page 121
LENS ENVY | MATTHEW SEED THE HORSE PHOTOGRAPHERDON | © MATTHEW SEED
Page 122
LENS ENVY | MATTHEW SEED THE HORSE PHOTOGRAPHERBOLERO | © MATTHEW SEED
Page 123
LENS ENVY | MATTHEW SEED THE HORSE PHOTOGRAPHERBOLERO | © MATTHEW SEEDDUKE OF WESTMINSTER | © MATTHEW SEED
Page 124
LENS ENVY | MATTHEW SEED THE HORSE PHOTOGRAPHER
Page 125
LENS ENVY | MATTHEW SEED THE HORSE PHOTOGRAPHERRICKY COOPER | © MATTHEW SEED
Page 126
LENS ENVY | MATTHEW SEED THE HORSE PHOTOGRAPHER
Page 127
LENS ENVY | MATTHEW SEED THE HORSE PHOTOGRAPHERCARL HESTER'S UTHOPIA | © MATTHEW SEED
Page 128
Page 129
Page 130
REMOTE . REFINED . REMARKABLE Click to watch video
Page 131
REMOTE . REFINED . REMARKABLE TCE LIFE
Page 132
Clayoquot Wilderness Resort is a Relais & Châteaux all-inclusive eco-safari resort destination located near Tono on the wild west coast of Vancouver Island, British Columbia, Canada.
Page 133
Page 134
Accessible only by seaplane, helicopter or boat and situated in a UNESCO-designated Biosphere Reserve, the resort offers guests a truly remote, rened and remarkable wilderness retreat amidst one of the last remaining ancient temperate rainforests in the world.
Page 135
Page 136
Fashioned after turn-of-the-century great camps, the resort features 25 white canvas prospector-style tents, each richly appointed with luxurious comforts including cast iron stoves, ensuite bathrooms with heated oors, private outdoor showers, antique furnishings 
Page 137
Page 138
Page 139
Page 140
Guests enjoy artfully prepared coastal gourmet cuisine, restorative spa and wellness experiences as well as an impressive menu of marine and land-based adventures including whale and bear watching, horseback riding, hiking, kayaking, yoga and heli-adventures. Truly an escape to the heart of the wild, in the lap of luxury.
Page 141
Page 142
Page 143
Page 144
Page 145
Page 146
20TH ANNIVERSARY1-888-333-5405
Page 147
Page 148
FULL CALENDAR OF NATIONAL AND FEI SHOWS WITH KEY INFORMATIONAlso access rider and horse profiles from the biggest database.HUNTER - JUMPER - EQUITATIONDownload the AMake your rider's life easier
Page 149
PRESENTS:We are a Swiss company specialized in the production and sale of feed supplements, cosmetic, and veterinary products exclusively for horses.TWYDIL® means superior quality as it has based its development on scientific criteria and has adopted the highest quality standards.• Global leader for over 50 years• Sold in over 70 countries• FEI Certified and approved for all Olympic disciplines• RCI Compliant for all International Group I races• Product can be used without risk during competition• Most comprehensive anti-doping protocol in the world WORLD RENOWNED FEED SUPPLEMENTS AND COSMETICS FOR TOP PERFORMANCE HORSESFor more information, contact: Shannon White (859) 621-2679 | shannonwhite@twydil.usDavid Orlando (561) 512-4054 | davidmorlando@outlook.comHelene Durand-Murphy (561) 602-9445 | hln.durand@hotmail.frWWW.TWYDIL.COM"C""M""H""O""X""S"A scientic blend specically formulated for excitable or nervous horses. Assists digestive and muscular well-being of the horse.Twydil M (Protect Plus) is a powerful, fast-acting antioxidant that modulates oxidative stress and combats inammation. An excellent choice to address tying-up and muscular tonicity. Twydil H (Hematinic) modulates erythropoiesis and preserves the integrity of red blood cells. A fast-acting antioxidant, excellent for improving tissue oxygenation, supporting exertion, and combating lethargy.The best nutrient optimizer on the market. A daily supplement highly concentrated in vitamins, minerals, amino acids, prebiotics, and probiotics.Respiratory support during exertion, strengthens capillaries and facilitates drainage. Powerful antioxidant to support metabolic stresses placed on the lungs.UNEQUALED DIGESTIVE CONDITIONERTWYDIL® S provides fat, ber, and necessary nutrients to sustain gastric health.
Page 150
Double H Farm's Ongoing Mission to Preserve the Past and Forge the Future By: Allyson LagiovanePerhaps one of the most recognizable names in show jumping, Double H Farm has more than a decade of experience in developing the world's leading sport horses and athletes. Their distinct "HH" preface has garnered an esteemed reputation on the international stage of show jumping in a relatively short time, a feat that can be attributed to the combined talents and efforts of the team at the farm as well as their whole-hearted dedication to transparency and excellence. Run by the husband-and-wife duo of Quentin Judge and Cayce Harrison out of both Connecticut and Florida, Double H Farm's storied past has paved the way for a promising future, rooting themselves on Harrison's late father's motto, "Do the right thing."Double H Farm's base in Ridgeeld, CT. Photo courtesy of Double H Farm
Page 151
Page 152
 TCE ________________TheCompetitiveEquestrianThe passion that lies behind Double H Farm can be dated back as early as Harrison's start in show jumping as a 10 year old. She quickly climbed the ranks as a junior rider, etching her name in the history books in 2002 when she earned a gold medal at the North American Young Rider Championships at 18 years old. At that point, Harrison's family committed to their daughter's interest and began the transition into a full-fledged business with intentions to rise to the top level of the sport."Whatever Hunter Harrison did, he did fully and at 110 percent. As soon as Cayce started getting serious enough about the sport, he got serious enough, too. When Cayce won the North American Young Rider Championships, Mr. Harrison really became dedicated to the sport and wanted to see how far she could go and how far Double H Farm could go as a brand," reflected Judge.Judge's counterpart mirrored his musings, saying, "The farm progressed in those years following my junior career, but while I was in college is when he started to own a few horses and truly commit to equestrian sport. It meant a lot to me to have my dad so dedicated to the lifestyle that I loved and it's something I'm happy we were able to share, both during the wins and the losses."What began as a private barn to support Harrison's thriving passion quickly grew into an unstoppable business operation. Double H Farm became a force to be reckoned with in the equestrian community, supporting competitive international riders such as McLain Ward (USA), Darragh Kerins (IRL) and Rodrigo Pessoa (BRA), each of whom have held top spots in the world rankings, with some of the world's top equine athletes. Aboard Double H horses, each equestrian achieved some of the greatest feats of their respective careers. With such an impressive – and still growing – list of top-performing horses in Double H Farm's roster, it is difficult to peg which horse could be considered the best throughout the stable's tenure, especially considering the extensive accumulation of accolades that could fill the largest trophy room."In a relatively short period of time of owning horses for different top riders, Double H had really incredible results on a national and international level. Mr. Harrison started to diversify not only supporting American riders but international riders too, and he jumped in head first and became something to model after for farms and owners in the sport," commented Judge.With Ward in the saddle, Double H Farm's star horse Sapphire took center stage at the 2004 Olympics in Athens, Greece, and the 2008 Olympics in Hong Kong, China, earning team gold medals in both outings. Pessoa and HH Rufus were awarded team gold and individual silver medals at the Pan American Games in 2007, while Judge helped the United States capture the top podium spot at the Cayce Harrison, Quentin Judge, Jeannie Harrison and Hunter Harrison at Double H Farm in Florida. Photo courtesy of Double H Farm
Page 153
 TCE ________________TheCompetitiveEquestrian2014 Furusiyya FEI Jumping Nations Cup™ CSIO5* in Gijón, Spain riding HH Copin van de Broy. Kerins brought the best out of Night Train, his partner from 2007 to 2009, as the duo won a series of national grand prix classes in addition to jumping double clear at Falsterbo to help Ireland win the Nations Cup and representing Ireland at the European Championship at Windsor in 2009. Night Train also experienced success with Pessoa, winning the $200,000 World Cup Qualifier in Wellington, Florida, and notching top placings on the Longines Global Champions Tour. Double H Farm also owned half of Cornet D'Amour when Daniel Deusser won the 2014 FEI Jumping World Cup™ Finals in Lyon, France. Pessoa piloted HH Rebozo to a fourth-place finish at the 2010 World Equestrian Games in Lexington, Kentucky. Most recently, Ward piloted HH Azur to the team silver medal finish at the 2016 Olympics in Rio De Janeiro, Brazil, and the partnership produced a gold medal at the 2017 Longines FEI Jumping World Cup™ Finals in Omaha, Nebraska, following an amazing five penalty-free rounds.As an up-and-coming professional rider, Judge joined the Double H Farm team in 2008, later marrying Harrison in 2011 on the picturesque grand prix field of their Ridgefield, Connecticut farm. Harrison's heart horse and longtime competitive partner, Coeur, was, of course, in attendance. The pair have worked together as the force behind Double H Farm ever since, with Judge serving as the head trainer while Harrison takes on the role of the Director to handle all things behind the scenes. Though the operation is steeped in history, the equestrian power couple are committed to offering a fresh perspective on traditional methods to continue growing with the evolution of show jumping sport. "Cayce and I compliment each other very well in the business. I'm terrible with numbers and keeping track of things, and she is very organized. She gives me a lot of grief for not being organized enough," laughed Judge. "Cayce and I are also able to offer insight to our riders based on our different backgrounds. She had a different experience than I did going through the ranks. When I was in my early twenties, I was just working as a flat rider in Europe, and she was jumping 1.60m classes around the world. Cayce can really relate with some of our riders that are quickly moving up in the ranks and, even though they may be entering a big class that they would like to do well in, she can help emphasize their goals and put things into perspective."Throughout the early stages of Double H Farm's business, Mr. Harrison placed the highest importance on ethics, passion, pursuit of excellence and love of horses. Since the stable's inception, these values have guided all the workings of Double H Farm, including everything from purchasing and selling horses, training practices and even horse show expenses. Cayce Harrison and Coeur at Spruce Meadows. Photo courtesy of Double H FarmQuentin Judge training Caitlin Creel at the Longines Global Champions Tour in New York. Photo by Callie Clement - Phelps Media Group
Page 154
 TCE ________________TheCompetitiveEquestrian"My dad was always very adamant with us that if we were running a business, we needed to have quality horses that we could stand behind and not hide anything from anyone while we make sure that all of the deals were very transparent. He wanted us to be an example of how you could properly operate a business while remaining truthful and still producing top results," remarked Harrison.Since Harrison's father's passing in 2017, Judge and Harrison have made it their mission to carry on the Double H legacy. Today, the operation is a multi-faceted business that includes individualized training, competition and top sales horses. Due to their unique backgrounds, the Judge-Harrison pair is uniquely situated to offer a fresh perspective on the traditional methods at the highest level."We've gone through trial and error to see what works and what doesn't for our business, and we're really trying to carry on my dad's legacy of doing a few things very well to keep the quality as high as we can - quality of horses, quality of training and quality of shows that we go to," stated Harrison. Double H Farm's current team of students is small but mighty, and Double H Farm prides itself on its ability to offer boutique training for serious students so that each individual can reap the full benefits of personalized attention. The farm's current roster of talented students, including Caitlin Creel, Joanna Wolffer and Anna Dryden, have already proven themselves as strong contenders in both the low and high amateur jumpers in addition to the U25 divisions, as well as 2* and 3* grand prix competition.Creel was Double H Farm's first official student. After forming a friendship with Judge and Harrison, she decided on a whim to ask if she could be a part of the Double H Farm team. "I wasn't sure if they even did anything like that at the time, but I asked if they would consider taking me on as a client," Creel explained. "Without a second thought, they both said 'yes.' Our relationship changed at that point, but only in the best ways." On having the support of both Judge and Harrison, Creel said, "It is really nice to have someone like Cayce to reel it in - her thoughts and opinions are so valuable. She has personally had such an incredible career, and Quentin is so attentive to your riding. He knows when it is time to push me and when to lay off on me because he knows I am digging into myself harder than he would." As a successful international competitor and former student of high-profile and esteemed equestrians such as Missy Clark and John Brennan, Joe Fargis, Jack Stedding and Linda Anderdani, Margie Engle and Jan Tops, Judge has soaked in a wealth of knowledge from a diverse group. As his riding and understanding of the horses has progressed, he has been able to channel that know-how into useful tools now for students of his own."The way Quentin chooses to phrase criticism really speaks to your potential as a rider. Instead of making you feel bad about it, he makes you feel like you know you are better than that mistake. It motivates you to do better next time," commented Creel.McLain Ward and HH Azur winning the Longines FEI Jumping World Cup™ Finals. Photo by Taylor Rains - Phelps Media GroupQuentin Judge and HH Conrad at the 2018 Palm Beach Masters. Photo by Elaine Wessel - Phelps Media GroupRodrigo Pessoa and HH Rebozo Photo courtesy of Double H Farm
Page 155
 TCE ________________TheCompetitiveEquestrianBoth Creel and Dryden moved up the ranks to compete successfully in 3* grand prix classes in 2019, with Woffler rising to the occasion in the High Amateur division with a strong start. "I think for all of us, myself and our students combined, we're all taking the next step up, and I think we're prepared. We have really great horses and a really solid team, so we're hoping to keep pushing forward and produce even better results in 2020," said Judge. Judge and Harrison attribute much of the success of Double H Farm to the team that they have carefully built behind it, which includes its trusted vets, farriers and working students. Ask any member of Double H Farm and they will tell you that what lies at the heart of their success is the group that stands behind the operation. The common phrase 'it takes a village' comes to mind when explaining the immense success that Double H Farm has earned and experiences over the years. "We have a great team of people and we are really lucky to have excellent staff and managers that help us manage the horses," Judge explained. "It's important to us to give the people that we work with everyday the confidence that we really trust their opinion and appreciate their effort. It's about knowing the good days are shared by everybody, and the bad days are, too." Headed into 2020, Double H Farm will rely on that troupe as it looks forward to an exciting season of growth for both its promising team of students and its up-and-coming sales horses. A few notable Double H Farm horses that have already gone on to find success include Exotik Sitte with Coco Fath, winners of the New York CSI2* 1.45m at the Longines Global Champions Tour in New York City. Moonlight has become a successful hunter mount after being sold to Isalou Inc., coming out on top as the Green 3'3'' Hunter circuit champion with Jimmy Torano at the 2019 Winter Equestrian Festival. Pessoa now has the ride on HH Venice Beach, and the pair is already competing successfully on the international stage. With a full docket of shows scheduled around the country, the Double H Farm team will be busily working towards excellence, an objective for which they consistently strive everyday. Regarding the 2020 year's goals, Judge said, "Of course, my individual goal is to ride at the top sport and get as far as I can, and I think it's important for us to bring our clients on that journey. Sometimes it's better to put yourself in a big pond as a small fish and really do the work, and I think not cutting down on the quality and not watering down the basic principles is what we do best."Reiterating Judge's thoughts, Creel added, "Everyone at Double H Farm steps up to be there for you, not because they are told to but because they want to. I think that is such an important part of working with a team, and you really find that at Double H. Double H is somewhere that you want to be, and more importantly, it is somewhere you don't want to leave."Cayce Harrison, Quentin Judge and son, Rhodes. Photo courtesy of Double H Farm
Page 156
S H O W C O M P L I A N C E R E C O R D S O N D E M A N DEVET CERTIFICATECREATION ANDEQUINE MEDICALDOCUMENT STORAGE SAFE.SIMPLE.SECURE. OUR EVET CERTIFICATEPRODUCT IS THE FIRSTCOMPREHENSIVE ONLINEEQUINE VACCINATIONRECORD
Page 157
 TCE ________________TheCompetitiveEquestrianA Quick Perspective on Effective Equestrian Logo Design By Elizabeth Rhodes, SP Rhodes Equestrian IdentityThey say that horse sense is the thing that keeps horses from betting on people. There is an incredible amount of irony in this statement considering that as equestrian small business owners we are continually betting on the horse to make our businesses go. Being in this position means we have to constantly jockey for position in a crowded eld. How do you end up betting on the right horse and landing yourself in the winner's circle? In a eld of dark bays, how will you know which one is the champion?Conformation, character, understanding of bloodlines, knowledge of performance history of those bloodlines, suitability and of course perspective. These skills when applied to horses are the foundation of success in matching riders with suitable equine partners. This is also a skill set that a competent equestrian logo designer should have when helping you create your equestrian logo. Understanding conformation of horses within your discipline, the character of your intended brand, intended use and suitability are all necessary. The ability to create a unique perspective is what separates that one logo from the herd of other logo designs. If we take a square and rotate it 45 degrees we get a diamond. Standing back and seeing things differently is an essential ingredient in the difference between expert designers and those who are not as practiced. Effective design does not happen by accident. Critical thinking, collaboration, asking the right questions, exploring, adapting and learning are all part of the process. These things combined will help you to stand out in an otherwise level playing eld full of dark bay mares.Here are the top three things that you should never compromise on when hiring an equestrian logo designer: 1. You typically get what you pay for. Good logo designers know their time is valuable and while they may come at a higher cost, your chance for success will be far greater. One logo concept can take anywhere from three to six hours to complete, and that's just for the initial concept. If you consider two to three concepts are normally prepared to start, time adds up. 2. When you nalize a logo design, it should become your property and only be available for your own personal use. Some designers will resell designs because they sell them at a low cost to start. Make sure you aren't agreeing to this in your initial discussion. 3. Your logo designer should guarantee you that the design is 100% original work and have no concerns about recommending your design for trademark. There should be little to no similarity between the new work created and past works. If there are, then likely, elements are being repurposed.Intelligent perspectives, transparent working terms and a solid skill set are all part of what it takes to create effective equestrian logos. It is a skill that is equally as impactful as being able to identify that perfect prospect in hopes of representing both you and your client in the ring. When you invest properly with the right team to help start building your equestrian brand, you will create an everlasting impression that will help you to build legacy in your equestrian business. 
Page 158
 TCE ________________TheCompetitiveEquestrianJust Keep Swimming: Lenore Phillips Finds Her Passion at Phelps Media Group
Page 159
 TCE ________________TheCompetitiveEquestrian
Page 160
 TCE ________________TheCompetitiveEquestrianrelatively green horses led to strong relationships that lasted the test of time. Perhaps earlier than most, Lenore recognized that the ribbons and clear rounds were about so much more than her own riding, but instead about the progress of the horse she was partnering with and the effort it took to achieve small victories. That devotion lead her to recognized as the state champion Child/Adult Jumper rider by the PA Jumper Association in 2004. "I am proud to say that there has never been a time in my life where I haven't been around a horse," said Lenore. "I was very fortunate to have had the opportunity to ride horses that I could grow with. Owning green horses was both a challenge and an opportunity because it made every achievement all the more special. Each milestone is something you and your horse accomplish together. It certainly wasn't easy, but I was fortunate to be raised in an environment where perseverance and hard work were vital keys to success."But riding horses was not the only thing Lenore loved to do. At a young age, she discovered she was also a gifted swimmer. She developed her talent in summer club leagues, then in high school competed with both a club team and her high school team, with the hopes of being awarded a college scholarship. Lenore's early start in the sport would go on to play an integral role in her growth and development as a competitive athlete and leader. She earned the esteemed title of team captain in her junior year of high school, making her one of the youngest team captains ever at Trinity High School, in Camp Hill, Pennsylvania.Lenore was accepted early to Hood College in Frederick, Maryland, where she had been heavily recruited by the swim coach, Don Feinberg. While pursuing her passion as a Division- 3 athlete, 18-year-old Lenore's ambition and determination led her to a leadership role once again. In her rst year of swimming for the school, she was 'Just keep swimming': a familiar phrase to most, often used to describe perseverance in the face of challenges. Lenore Phillips, however, brings new meaning to the three simple words, as her well-known, ambitious personality drives her to succeed in all facets of her life. With a history in both equestrian sport and competitive swimming, it is no wonder that 33-year-old Lenore ended up as vice president of Phelps Media Group (PMG), an international leader in equestrian public relations and marketing, while simultaneously co-coaching a Master's swim team and remaining a committed athlete in her own right. Her core values of hard work and determination have carried her throughout all stages of her life, including her time as a high school and college athlete, an FEI groom, and now, a thoughtful assistant swimming coach, a dedicated businesswoman, and an enthusiastic mentor. "I am most condent when I have to make decisions that I have to take responsibility for. Those situations bring out the best in me. While I wasn't expecting to become the vice president of an iconic equestrian marketing rm, when the opportunity arose, I said yes without hesitation. Although I took an unconventional road to become vice president, I have a wealth of creativity and tenacity in my blood. I have high hopes for the future of our sport and for Phelps Media Group," she asserts.From the beginning, Lenore has been the quintessential horse girl. She grew-up on her parent's breeding and training farm just outside of Harrisburg, Pennsylvania. Her parents, had her sitting a pony before she could walk. As she grew up, Lenore dabbled in most of the equestrian disciplines, leading her to become a well-rounded athlete and horsewoman. A strong competitive personality ultimately lead Lenore to concentrate her efforts in the jumper ring. As a junior, she competed off-the-track thoroughbreds in the Children/Adult and Junior Jumper divisions. Her dedication to her 
Page 161
 TCE ________________TheCompetitiveEquestriando it all," she reected. "Looking back on it now, that was such a formative experience for me. At the time, I didn't realize how much I was learning about standards, leadership, and business by working side-by-side with quintessential professionals like Leslie, Timmy Kees, and Chris Cawley."After completing two years with Howard and Burr Associates, Lenore went on to work for a few private clients as a rider and groom. In 2013, she decided it was time to shift focus from the irons and began working for then United States Show Jumping Team veterinarian, Dr. Timothy Ober at John R. Steele and Associates. Along with Howard, Dr. Ober became one of the most inuential people in her life. For two and a half years she worked under the tutelage of Dr. Ober's exacting standards as a veterinary assistant, as he attended to some of the most esteemed clients in the horse show industry."Working for both Leslie Howard and Dr. Ober were, without question, once-in-a-lifetime opportunities, though I didn't always see it that way at the time," Lenore recalls. The lessons I learned and the people I met were enormously inuential to me. I learned immeasurably from them both, and they opened so many doors for me. The older I get, the more appreciation I have for those times in my life," expressed Lenore.After two years as a veterinary assistant, Lenore again decided it was time for a change. Unsure of what sort of career path she would take on next, Lenore's soon-to-be husband, farrier Jason Phillips, encouraged her to take some time to identify her true calling. And from there, the rest is history. Lenore started-off by honing her public relations and marketing skills at JRPR Public Relations and then, in 2016, scored her dream job when she was hired by Phelps Media Group."I always wanted to be at Phelps, and although it took a while to get there, I never lost hope. When they offered me a job, it was a huge awarded Rookie of the Year, not only by Hood College but also by the AWCC conference. Lenore was also rewarded for her hard work and dedication once again, and as only a sophomore, she was selected as team captain, a title she would continue to hold throughout the rest of her college career."Being a competitive athlete gives you structure, an internal drive, and an achievement barometer that I think has put me in this space of being achievement-oriented and success-minded. I am not afraid of hard work or the length of time it takes to achieve a goal. I know that if I put my head down and put my mind to it, it will happen, no matter what," she added.Outside of the swimming pool, Lenore excelled in her education. She was routinely an honor student while double majoring in History and Art History, and minoring in International Business. However, upon graduating in 2008, Lenore's original plans for a job at a prestigious east coast art museum evaporated with the real-estate market crash, forcing her to move home to Pennsylvania where she would help her parents with their breeding business, while also looking for a job in the art industry. With the likelihood of a position in the art world lessening, Lenore contacted her childhood riding trainer, Chris Cawley, who suggested she consider an opportunity to work with him and for Leslie Howard at Burr Associates, in Danbury Ct. Lenore couldn't pass up the chance to work with one of her idols, nding the offer to be both exciting and terrifying. Her motivation to be self-sufcient was overriding, so she packed up her life and began what would be two of the most challenging but rewarding years of her life."I thought I was a hard worker, but Leslie worked circles around us! She is so passionate and driven. She has the highest expectations and she never wavers. You either gured out how to do things, or you did not belong there, and I took a lot of pride in being able to 
Page 162
 TCE ________________TheCompetitiveEquestrian
Page 163
 TCE ________________TheCompetitiveEquestrianmoment. I knew I was nally in a position to truly launch my career and also to make an impact on the sport I loved," she said with a smile.Working under the Phelps Media Group name, Lenore has thrived. Her previous experience in the industry has given her the chance to pair people and businesses together and create new opportunities within the industry. Her inherent drive to succeed, competitive personality, and determination to win meant that there were no limits to her achievements. With the help of president and founder Mason Phelps, Lenore has ourished, rising to the top as a distinguished leader. In 2019, she was named Vice President of Phelps Media Group. "When I realized that Phelps Media Group needed to continue to grow, I took real stock of what the company was built on and what our assets were," remarked Mason Phelps, Jr. "Lenore stood out to me immediately as being a natural t in a leadership position because of the work she had done with important Phelps clients and because of her background in our sport. She has done it all and really understands what makes our community tick. From where the company stands today and the growth we have seen, it seems to have been a good decision." "I was always impressed by what Mason Phelps was able to achieve. Working alongside him has been transformative. All my previous experience gratifyingly came together and made my position at PMG meaningful from the start. I love connecting people, and this profession is the perfect platform for that," remarks Lenore.In addition to securing her dream job, Lenore also came to a full-circle moment when she was offered the opportunity to become an assistant coach for the Wellington "Marlins" Masters Swim Team. After moving to Wellington, Lenore returned to the pool for the rst time since college. Swimming is a lifetime sport, and being part of a "masters" league has helped her make some of her more cherished friendships within the local Wellington community. Lenore is swimming faster than ever and, not surprisingly, is enjoying it more than ever. "When I started swimming again, I fell into this incredibly special community of people that all had different lives, but were getting up very early every morning to swim and pursue individual goals. For me, it is so gratifying to teach and watch swimmers of all ages and skill levels achieve their dreams. It just delights me to be with people who personify success, no matter the level. I am so fond of all the Wellington Swim Club swimmers, and I care deeply about the team at Phelps Media Group. I consider myself fortunate to be a part of these two unique sets of achievers," Lenore says. "Phelps Media Group is full of goal-oriented, hard-working people. I'm looking forward to fashioning the future with Mason, who is such a visionary," concluded Lenore. "The sky's the limit and everything is an opportunity. Mason had a dream for what this company could be and he has achieved it, and so much more. I plan to continue his legacy by helping Phelps Media Group achieve things that people wouldn't have thought were possible before."'Just keep swimming' is a mantra for Lenore. As she looks back on the past and ahead to the future, she understands her passion continues to grow with each new experience. Lenore hopes to take equestrian sports into a new era, breaking into the mainstream media -- starting with the valued clients at PMG. Her perseverance is sure to cross boundaries and foster growth and development of all around her, as she continues to inspire as a leader, businesswoman, equestrian, swimmer, and friend to so many. And while the details may be undened, one thing is for sure: Lenore will just keep swimming.
Page 164
Meet Lillie Keenan – A Grand Prix Rider With A Heart For HEART By Vandy Lipman Lillie Keenan & Ikea
Page 165
Show Jumping star Lillie Keenan is no stranger to the winner's circle. Her impressive resume is overwhelming with huge accomplishments in the sport: as a championship Pony Hunter rider, to her junior years where she won three major equitation nals, the USHJA International Hunter Derby Finals, the Prix Des States & NAYRC Individual and Team gold medals. Her International career moved her to multiple Nations' Cup appearances with Team USA. In addition, Lillie won the CSIO5* Spruce Meadows Master's Nations Cup and helped Team USA clinch the bronze medal at the Nation's Cup Final in Barcelona. Lillie has travelled the world competing and training and now trains at home in NY under the watchful eye of McLain Ward.We caught up with Lillie for a Q & A before her trip to Wellington, Florida for the show season and asked her about how she began and continues her life with horses:How did your love affair with horses begin?As a very young girl I remember gazing up at the pictures of my mom riding that cover the walls in our hallway at home. I begged to ride a pony and eventually my mom gave in and brought me to Claremont Riding Academy in New York City. I had tried a lot of sports and activities, but it was the only thing I really loved. Lillie Keenan 2008 Pony Champion at Hampton Classic
Page 166
 TCE ________________TheCompetitiveEquestrianWho is your "heart horse"?It is very difcult for me to pick a favorite because all of the horses I work with become my family. They give so much to us in training and competition. Right now, I would say my "heart horse" would have to be Super Sox. I have had Sox for 5 years and he has given me so many incredible moments.Who do you rely on for the care and training of your horses?The care and management of the horses is one of the most important parts and I am extremely lucky with the team we have now. Our stable manager, Craig Pollard, is the epitome of a horseman so my horses and I are very lucky to depend on him. I train with McLain Ward so I am very fortunate to have his mentorship. Can you describe the routine of a typical day?I don't think I have a "typical day"! We are often traveling for competitions and living out of a suitcase - that is just part of life as a Show Jumper. I usually start my day training with some of the horses….This is usually atwork and sometimes gymnastics, but we always try to keep it simple so the horses and I can build condence together. I usually ride between 4-8 horses a day. Then after we ride, some of the horses will go relax in the paddock and I usually go get my workout in - my favorite is Pilates. By the end of the day I am usually quite tired so I t in any emails or paperwork I need to get done and relax before night check and then bedtime. I am lucky to live at the barn now so I am always close to my horses. You're an Ambassador of the HEART Equine Ambulance. Can you describe what HEART does and tell us why you chose to become an Ambassador for them?I was thrilled to be asked to be an Ambassador for HEART. HEART is the equine ambulance that provides emergency transport for horses in need of urgent care. At every single competition, there is a human ambulance on site because we compete in a sport with a risk so it is only the responsible choice to be prepared for any accident. Our equine partners give so much to us, so I strongly believe that it is our duty to provide the same level of care and preparation for any emergency for our horses as we do for the human athletes. I chose to become an Ambassador for HEART because I believe this service should be required at every equine event and I want to be an advocate for this. We owe it to our horses. Have you encountered horse ambulances at shows in other parts of the world?I have shown around the world and have found that at some high-prole events, the show is organized in favor of the horse and prepared for anything. For instance, one year as I was watching the Grand Prix of Aachen in Germany, a horse had an accident on course that required emergency transport. The horse ambulance was rushed into the ring and arrived even more quickly than the human ambulance did. This is a great example of how the horses are respected as elite athletes. I also continue to be dumbfounded that there are still many horse shows around the world, and even in this country, where an equine ambulance with trained and capable staff is not required on site — and if an accident happens it takes 30-40 minutes to provide emergency care for the horse. If for any reason a horse is need of emergency transport, those moments of waiting for an adequate vehicle are excruciating and can make the difference in the outcome for the horse. The ambulance should always be present to cut down on this risk, and it should always be up to the standards for which HEART stands. Having an equine ambulance on site also educates the general public on the compassionate care these horses receive during competitions and at home. And that we care about the welfare of each animal.
Page 167
 TCE ________________TheCompetitiveEquestrian When you're not at the barn, what are some of your favorite things to do?When I am not in the barn, I am still thinking about the horses and the sport - how I can be better. I do try to make the most of my down time through relaxing or enjoying it with friends and family. After a long day at the barn, I enjoy cooking a healthy dinner for my friends, good laughs and fun. I enjoy traveling and spending time with my boyfriend. When I have a break between competitions, I always look forward to going to Europe to be with my boyfriend and enjoy seeing the foals and young horses we have there — the next generation of champions. Where does your busy show schedule take you in 2020?My show schedule for 2020 is still up in the air! But we will begin the year in Wellington for the Winter Equestrian Festival. I look forward to every show that comes my way.HEARTThe safety of our equine partners is rst and foremost at every equine competition. HEART (Humane Equine Aid and Rapid Transport) Equine Ambulance partnered with 38 equine competition events in 2019 to provide an important service in the event of an injury to horses in the ring, an emergency at the barn or an accident on the road. Our goal is for every equine competition to provide a fully equipped ambulance and well-trained staff on site and available 24 hours a day. HEART is as important as having human ambulances on site. HEART's mission is to provide every equine athlete with swift, professional and compassionate aid and transportation when they are in need. HEART is thankful to Lillie for helping to raise awareness about this important cause. HEART is a not-for-prot corporation with a 501.c.3 charitable tax status. The modest fee they charge for their services covers less than 75% of annual operating expenses. This means that they simply cannot continue HEART's mission without funding from the individuals, corporations and organizations who support these highest standards of equine care. Contributions allow for improvements and maintenance of existing equipment, and salaries and provide professional training for staff. Lillie Keenan
Page 168
Page 169
©Liz Soroka photohamptonclassic.comThe Hampton ClassicAugust 23 - 30, 2020
Page 170